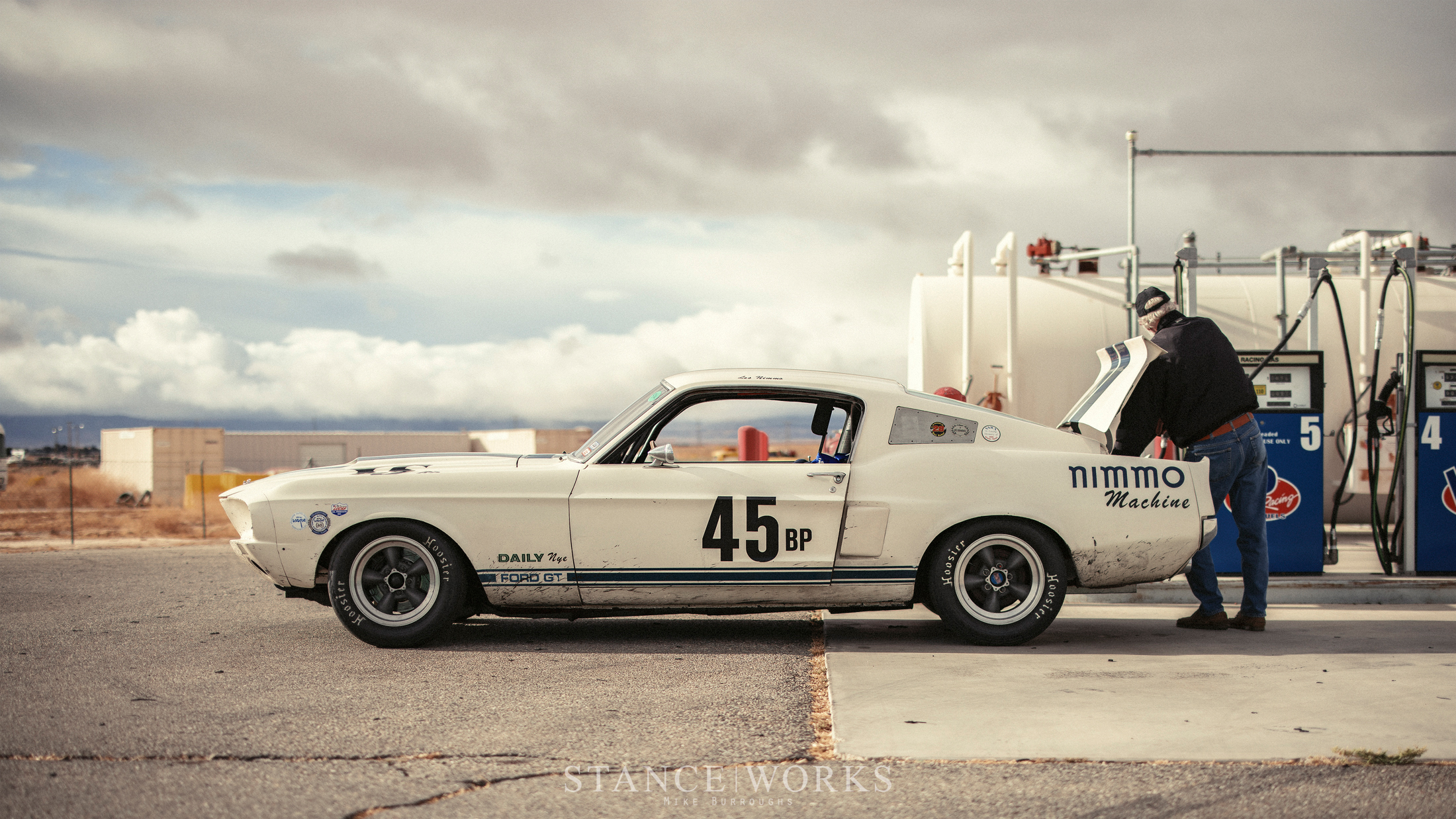 A Man and His Mustang – Les Nimmo and the "Nimmo Machine"
"That's ridiculous," exclaimed Les Nimmo, bordering somewhere between a laugh and a grimace. It was the first thing he ever said to me, following my explanation of the problem at hand. For reasons not worth explaining, it was imperative that I find a way to mate an S550 Mustang hub and bearing to an SN95 Mustang spindle, some six years ago. Three other machine shops had said it just wasn't going to work, and that I was better off finding an alternative. The .5-millimeter thick sleeve that needed to be machined and pressed onto the spindle itself was likely fail during the installation process, the others had said. Clearly, Les disagreed.
Unceremoniously, the story would end there if the others had been correct. Instead, though, it's the first page of countless in a story that has carried forth for years. Nimmo Machine seemingly has an answer for everything. I've found Les to be a bastion of brilliance in all things mechanical, and together with his partner, Brett Walker, they've yet to fail to solve a single problem I've plagued them with. Their competence alone merits considerable respect, but it's their demeanor that gives valuable context. Les and Brett are, without question, two of the best-hearted people I've been given the chance to meet in my career. And while both Brett and Les have been present and lent an invaluable hand in bringing my own dreams to life through their intellect, creativity, technique, and talent, I was finally afforded the chance to turn the tables, and instead, witness Les pursue what motivates him.
For starters, there's some important background information to be had. At 76 years old, Les still works six days a week. On his feet all day long, he meanders through his machine shop, filled to the brim with equipment and tooling. From one project to the next, his brain ticks, solving one problem after another, often only possible thanks to the experience earned from more than a half century behind the mill and lathe. Interrupt, though, and it's only a matter of moments before he mentions something about a Ford. Any Ford. And it'll be said with a smile.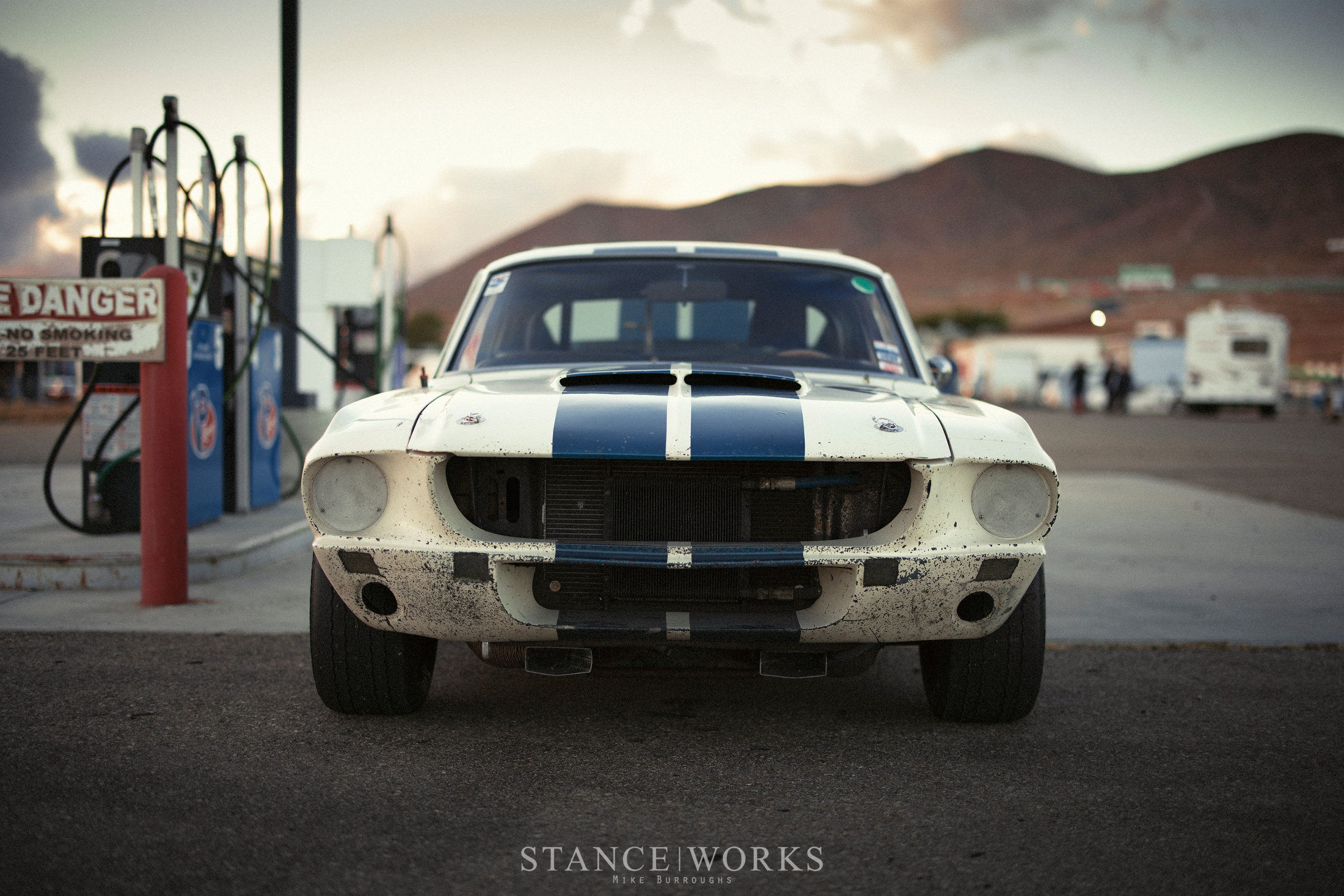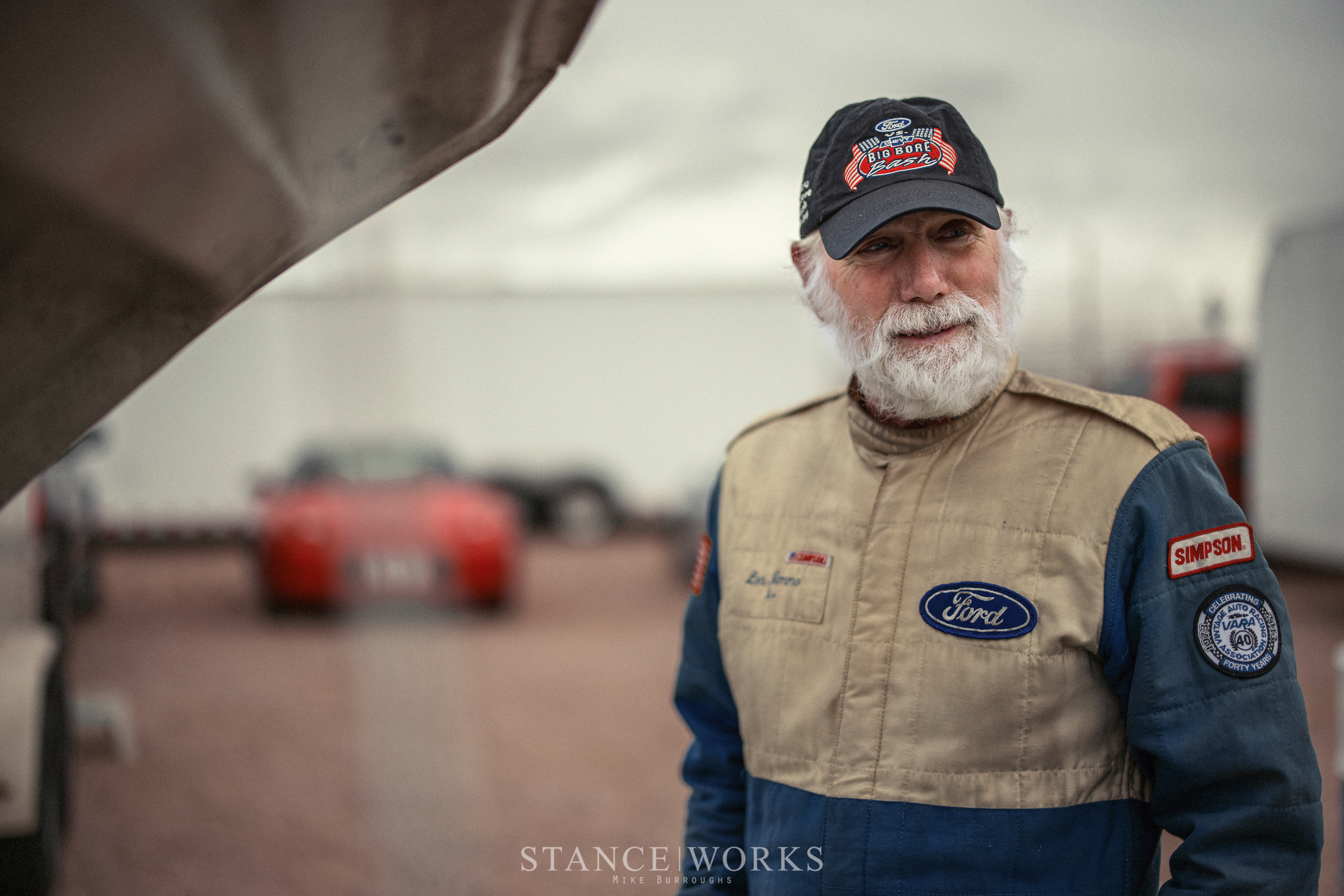 He's been a lifelong fan of the marque: his blood undoubtedly runs blue. His daily driver is still a first-generation Bronco, and in his garage at home is an early Thunderbird, owned almost since new. Ford parts are scattered throughout the shop, and you'll even find a Ford printed on his shop t-shirts: a '67 Mustang Fastback, with the number 45 emblazoned on the side. Sound familiar?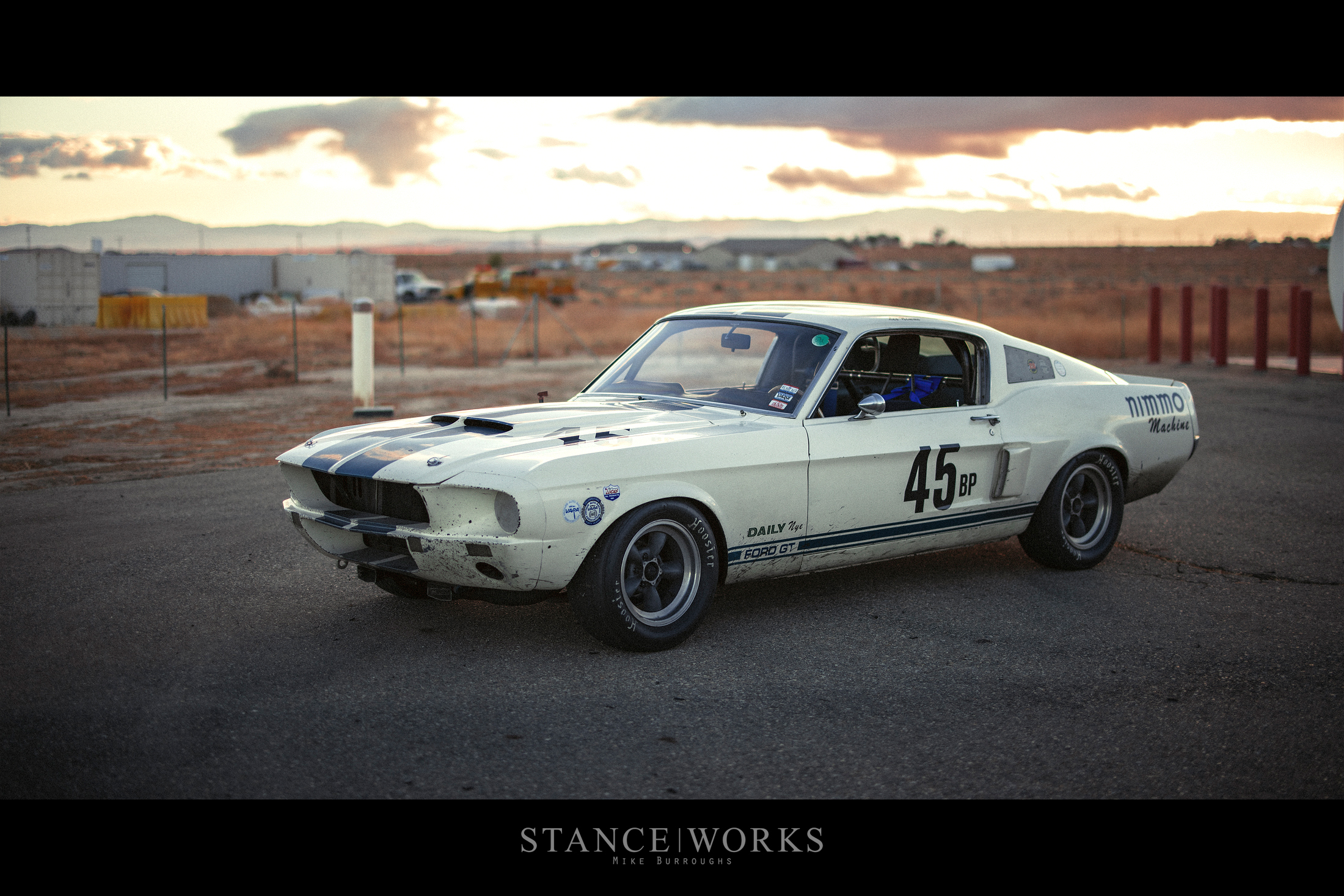 Once a year, every year, Les makes an effort to drive in VARA's "Big Bore Bash," an event he's yet to miss since its inception in the early '90s. An event that celebrates the Ford versus Chevy rivalry of the 1960s, it welcomes the two famed marques, and more, for wheel-to-wheel racing at the world-famous Willow Springs International Raceway. Les's drive of choice, unsurprisingly, wears a blue oval: the same mustang that adorns the tee shirts he wears on any given day. Without question, it's his pride and joy.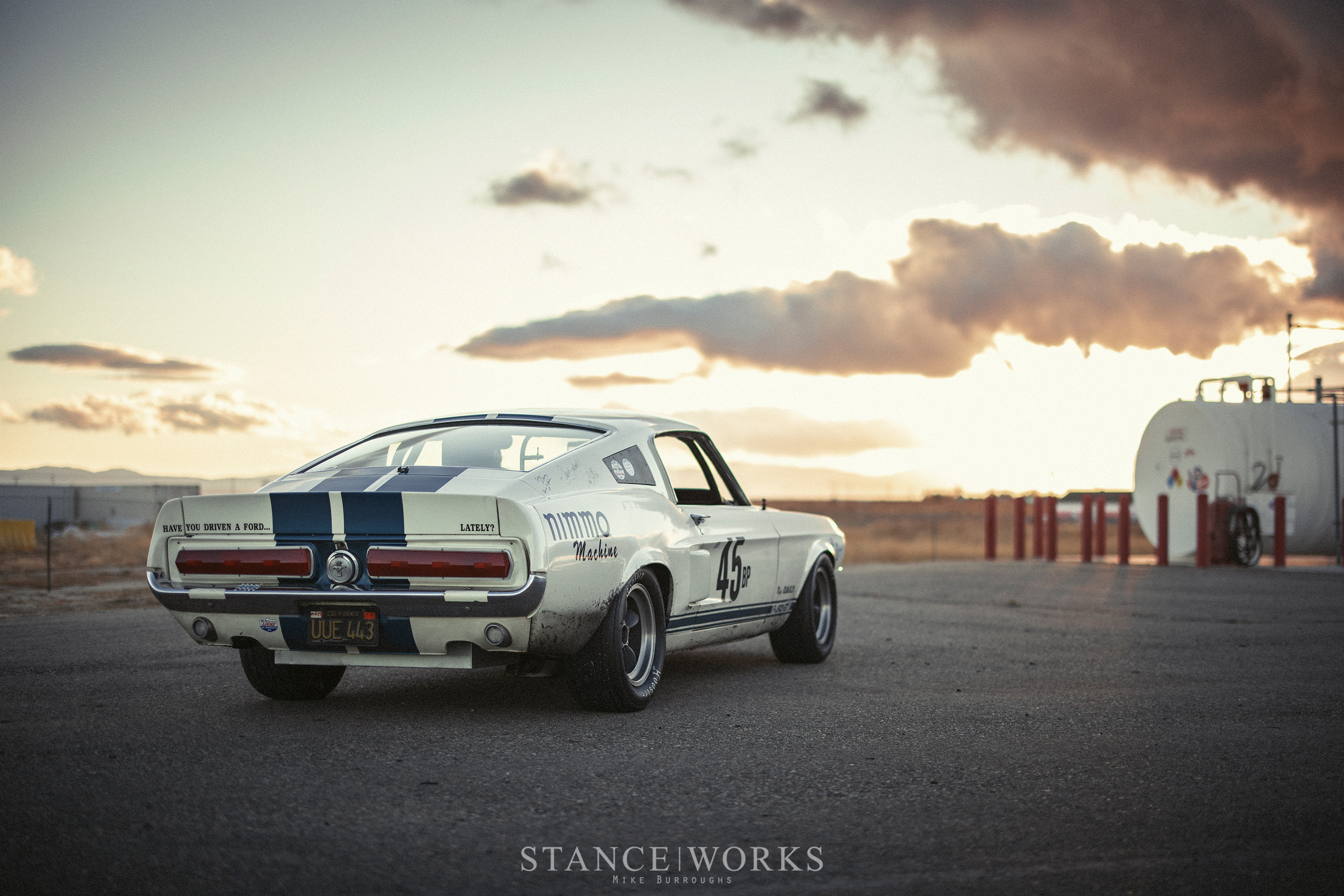 Locked away for the other some ~360 days a year, the Mustang made its annual appearance this past Saturday and Sunday for the 2020 running of the Big Bore Bash. Traditionally on the first weekend of November, it conflicts with SEMA scheduling, and thus has prevented my attendance since Les first clued me in. This year, though, with SEMA cancelled, I cleared the schedule and spent my Saturday trackside, Les at the wheel.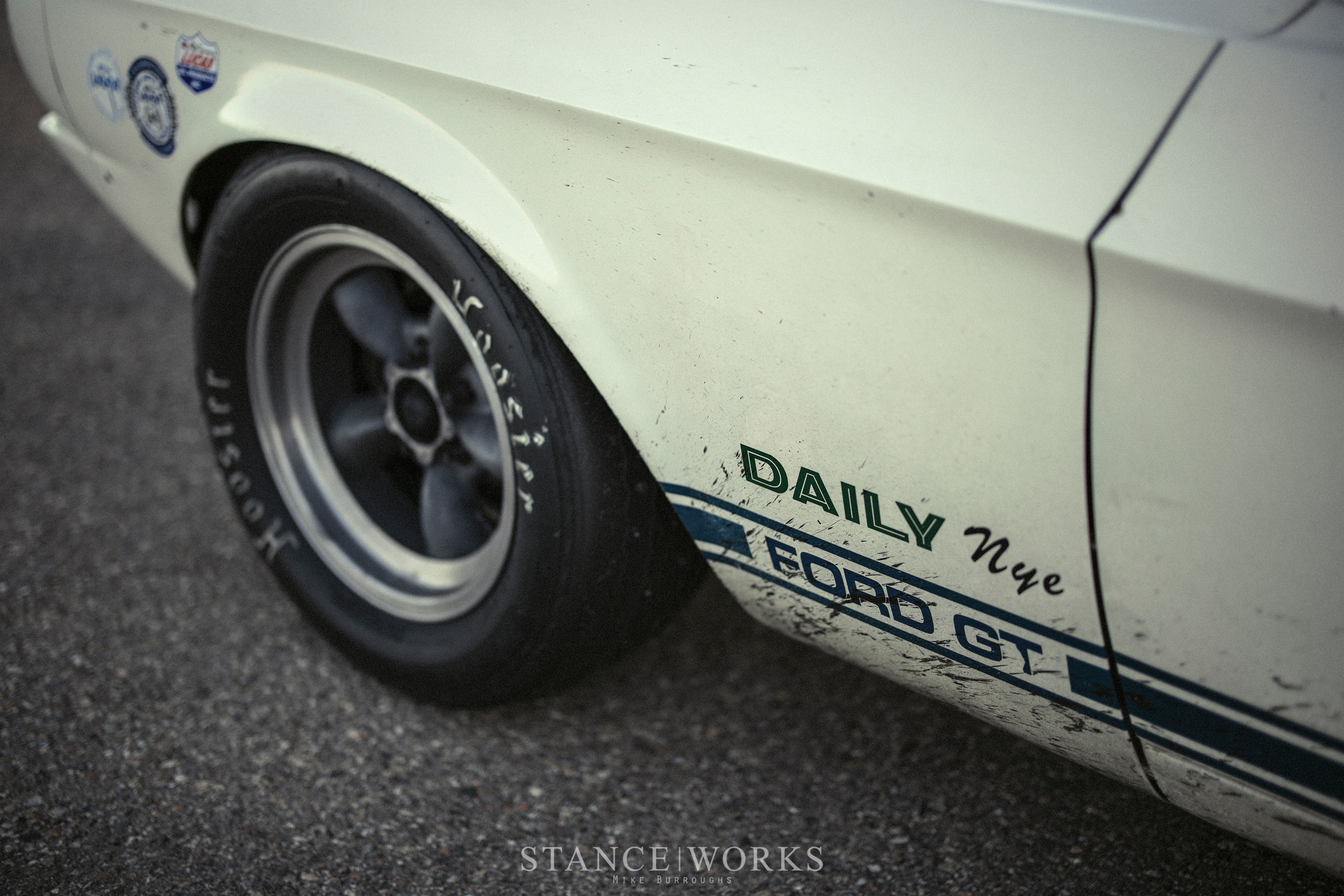 Surprisingly, I arrived at the track prior to Les and Brett. With a 4:45am alarm, I was eager to catch the early morning light blanketing the paddock as racers unloaded their machines and cars throughout the pit sputtered and burbled to life. Cloud cover and impending rain had everyone bundled up and curious about how the day may unfold: unthwarted, everyone pressed on.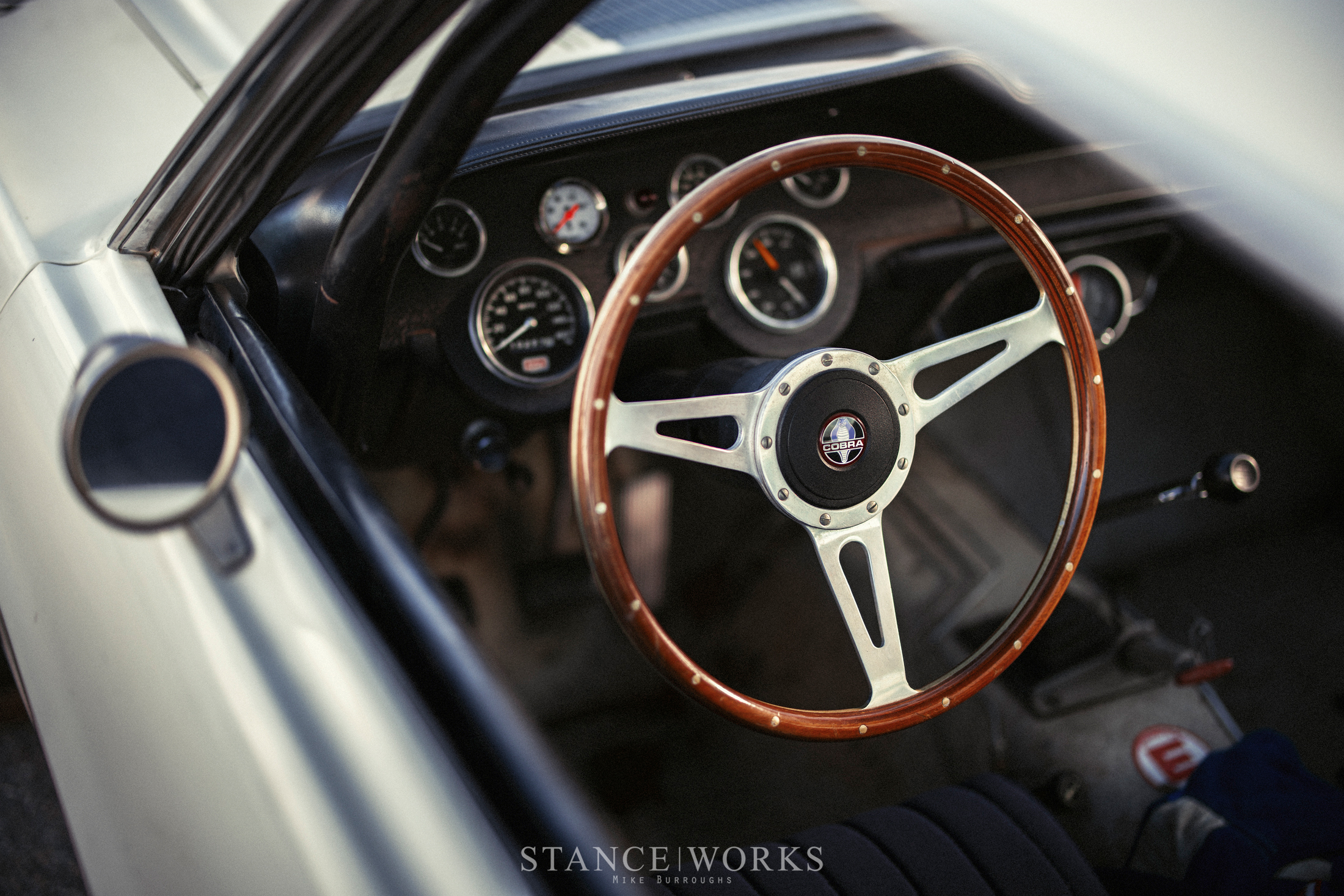 Before long, Les arrived, his Mustang in tow. It took no time before the car was unloaded and on the tarmac; Les has perfected the process over the last thirty-some-odd years.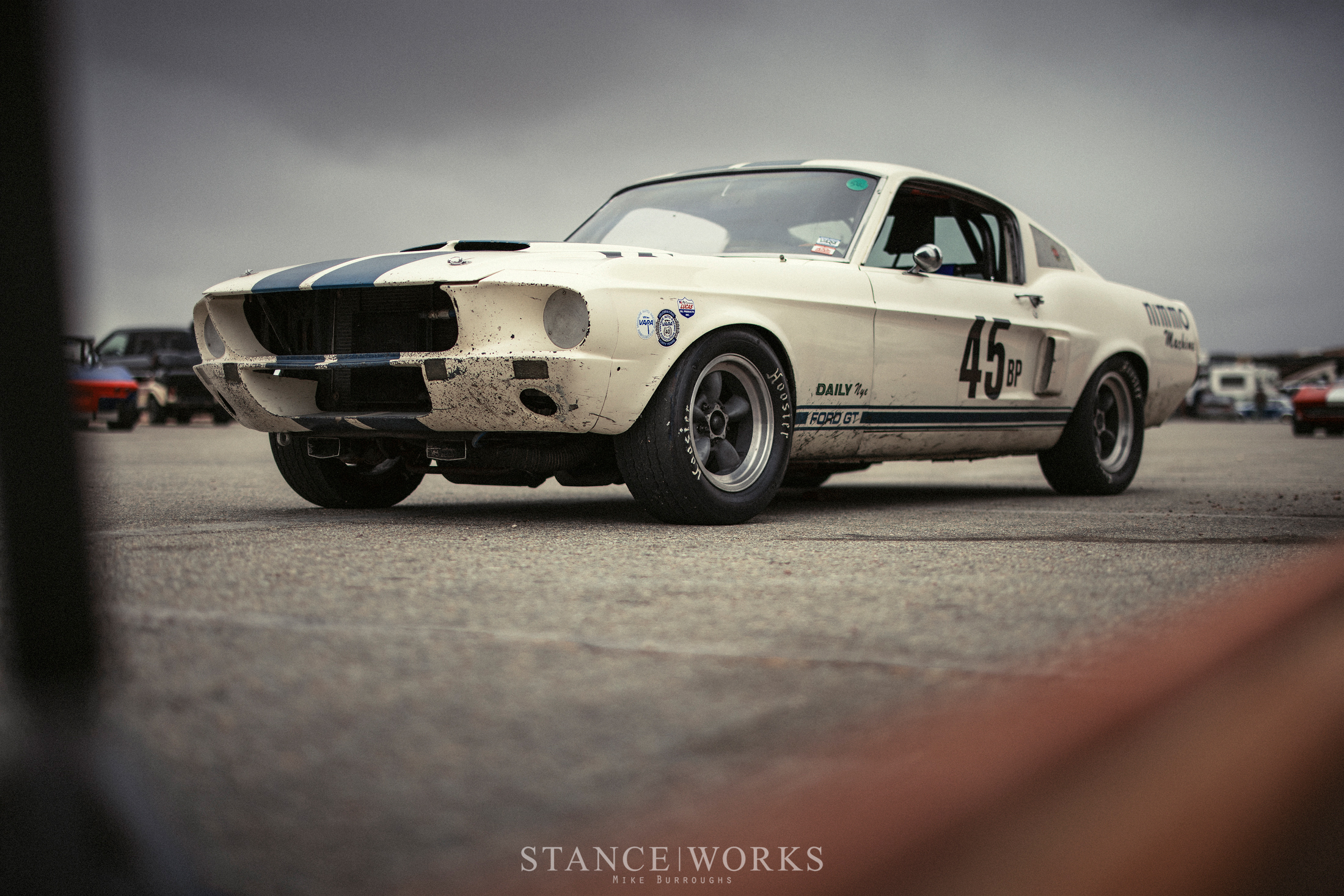 Heavy rain and a leaky trailer on the way meant the car was in need of a wipe down before the day began. With a rag in hand, Les worked his way around the car, commenting on the bumps and bruises it has amassed over the years. It was clear Les cares deeply for the car, lightly lamenting the loss of paint across the car's nose, or the black rubber that streaks the car's quarters. At one time, I'm sure: it was perfect. Today, though, I'd wager it still is.
The car wears a beauty that can only be earned: a patina forged on the race track itself, at the mercy of those it has scrambled past in the straights and dive-bombed in the turns. Rocks and rubber have had their way with the Mustang, giving it a look unbefitting of a showroom. Instead, it belongs in a winner's circle. Cracked and chipped enamel tell stories in ways that polished paint could only hope to, and it's what makes Les's 1967 Mustang one of a kind. As one might expect, though, it's not all about looks.
Under the hood of the Mustang is a 302 built by Les himself. 110-octane leaded fuel courses through it, churning out enough power to turn 1:36s on the big circuit, despite just 8.5-inch wide bias-ply Hoosiers under the car.The running gear under the car is all "B Production" compliant too, with no fancy new-fangled high-tech parts to be found. It is, by any measure, a quick car, and Les is proud to give the Corvettes a run for their money.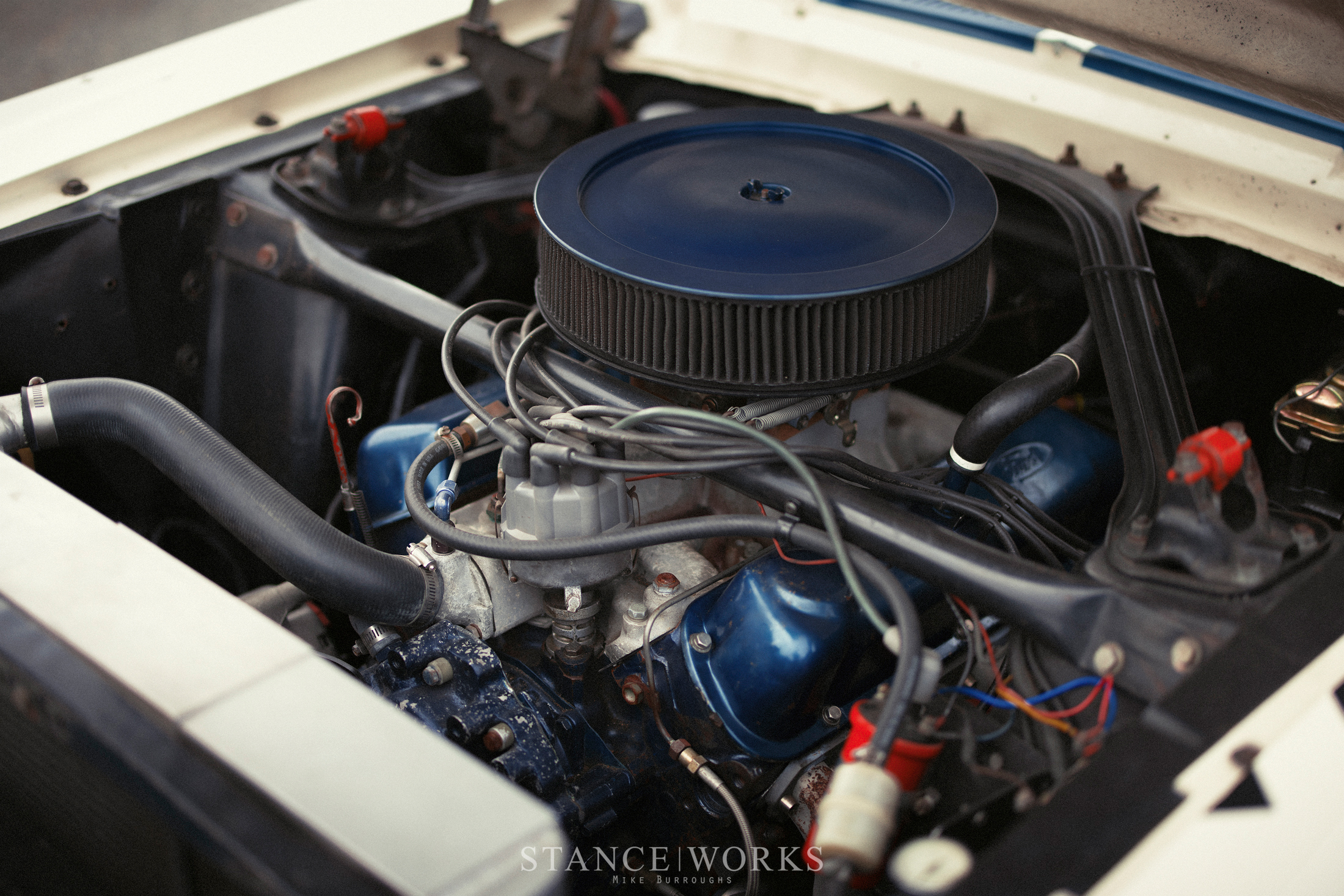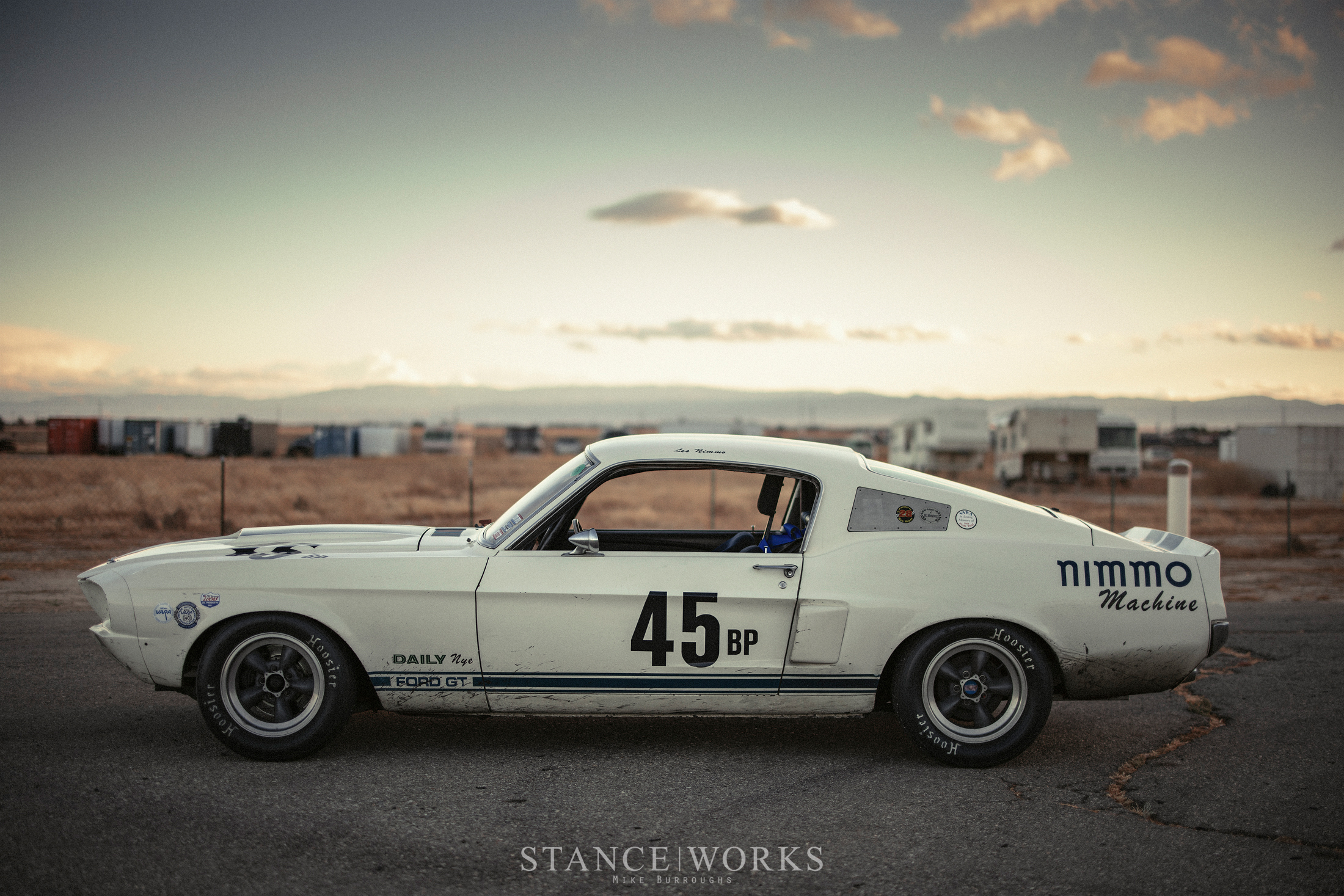 After clean up and following a fuel fill-up, Les patiently waited for his 9:10 A.M. session to begin. "I don't really get anxious or excited," he told me."....Not like I thought I would. I sure do look forward to it though," he said through his mask, as steady as could be. With the track wet down and light rain drizzling from the sky, Les set out on his first session. His times found him in second place in the B Production group, and fourth overall in the big-displacement cars: an impressive feat in contrast to some of the competition. Upon returning to the paddock, he climbed out of the Mustang and cracked off a smile before grabbing a rag and setting off to clean the old girl off once again.
The second session of the day went as swimmingly as the first, both sessions as practice/qualifying for Sunday's big race. With both under his belt, Brett, Les, and I kicked back, and I patiently waited for sunset. I had waited years for the opportunity to put the car in front of my lens. Mother Nature was in on the gig, providing clouds and a color palette that can't be beat. With ~40º winds blowing full force, though, I shot quickly, eager to get the three of us back to the trailer.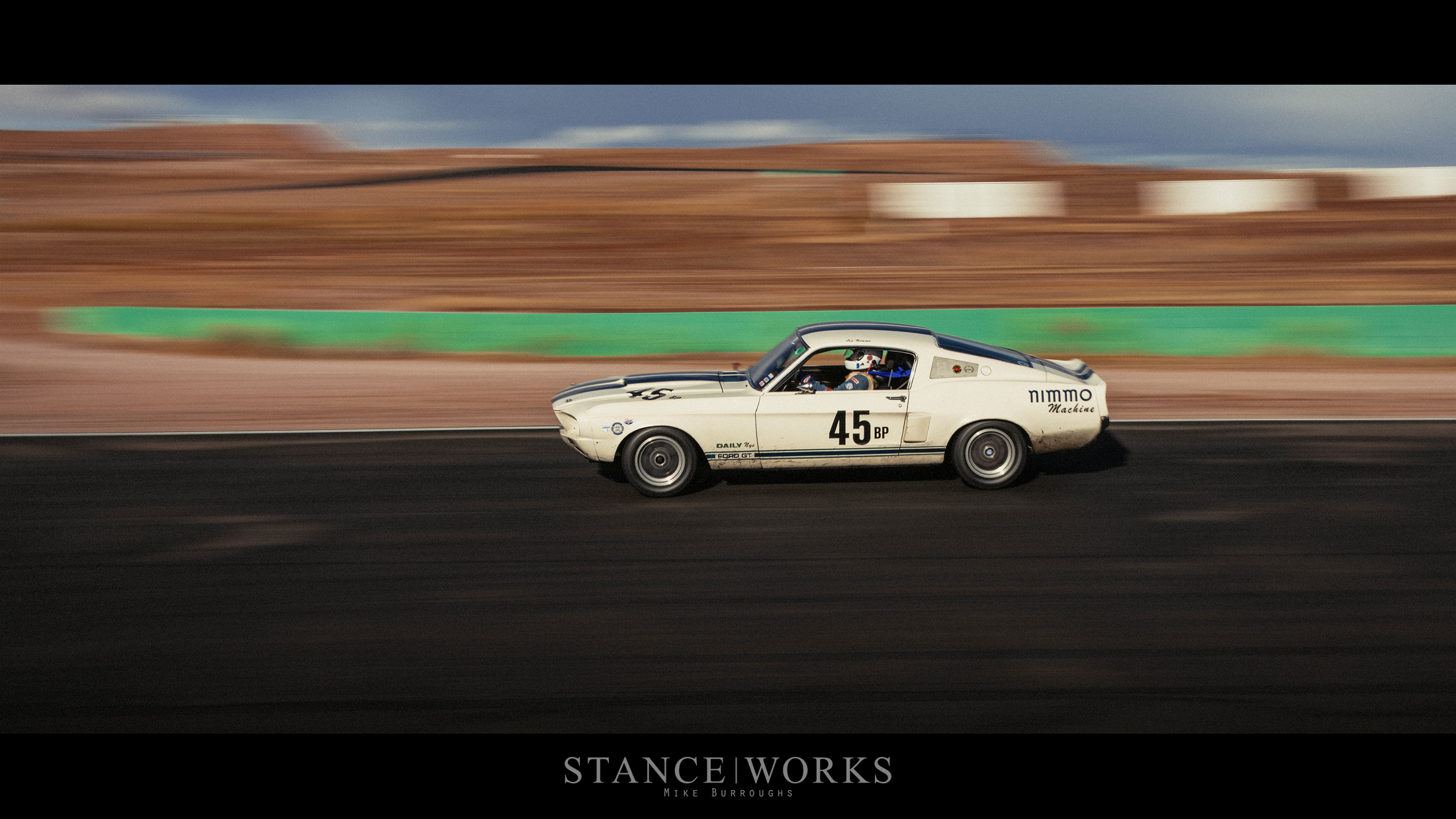 With that, the sun fell behind the Sierra Pelona mountains on the horizon, and the day drew to a close. Les prepped for the night ahead, which he'd spend camping in his trailer, while Brett and I departed for Orange County. Upon arriving home, I was simply eager to look through the day's photos... the first I've been excited to shoot in far too long. Moreover, I was thrilled to share his story, and that of the #45 Mustang he loves so dearly.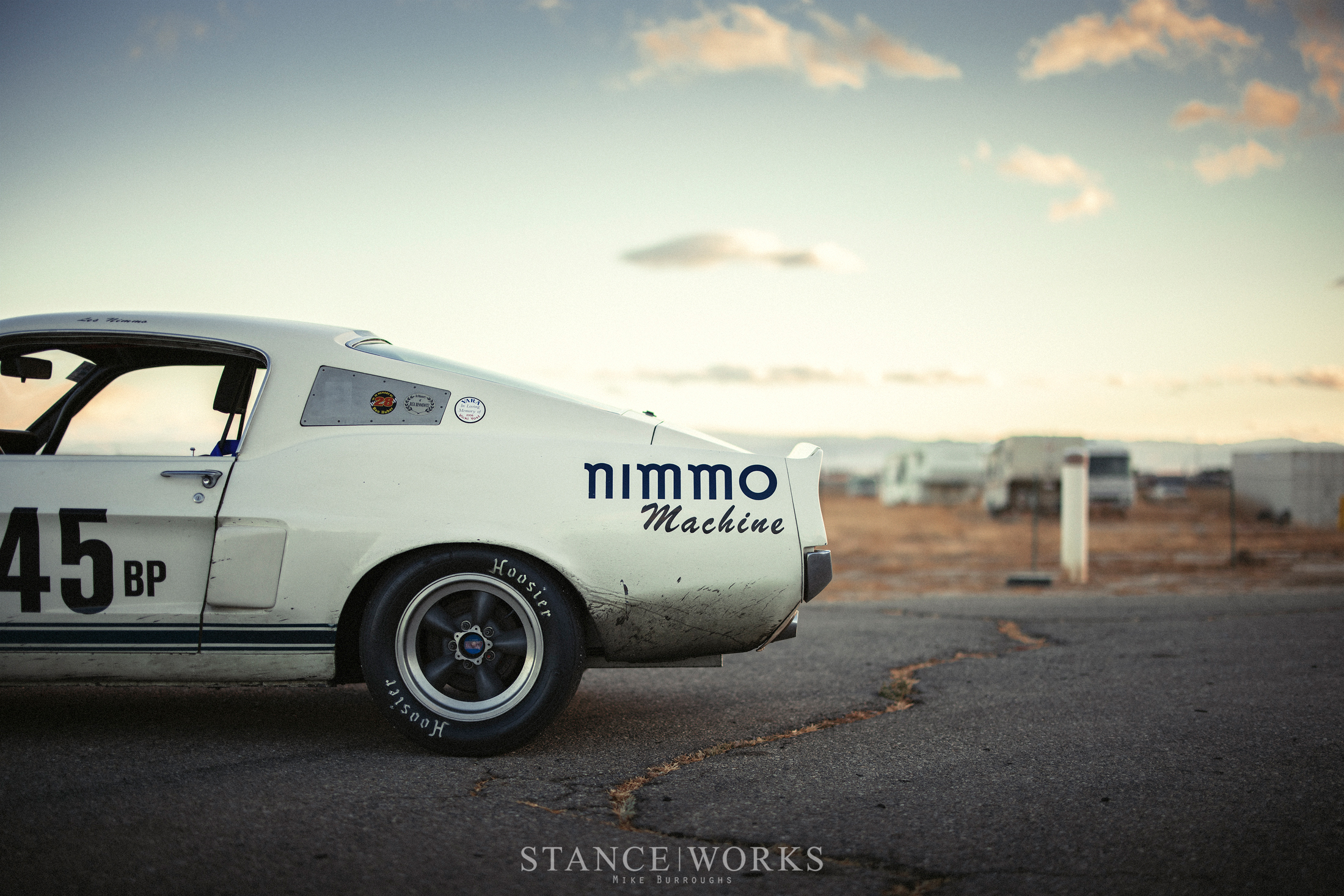 For some, race numbers play an important role, and Les's story is no different. For 31 years, he's raced his Mustang, all beginning on his 45th birthday: May 11, 1989. His wife purchased him a trip to racing school, where he learned the ins and outs of high performance driving and the rules of door-to-door competition. Prior to that, his automotive passion had been relegated to the streets... Three decades later, though, and it's a fire that still burns bright within him. There's no doubt: he's in it for life. Beyond the kindness he approaches everything with, and beyond the wealth of knowledge he's shared with me to further hone my own skills as a fabricator, he's instilled a valuable lesson any StanceWorks reader can take away: it's never to late to start something new. You never know, it may just turn out to be what drives you.