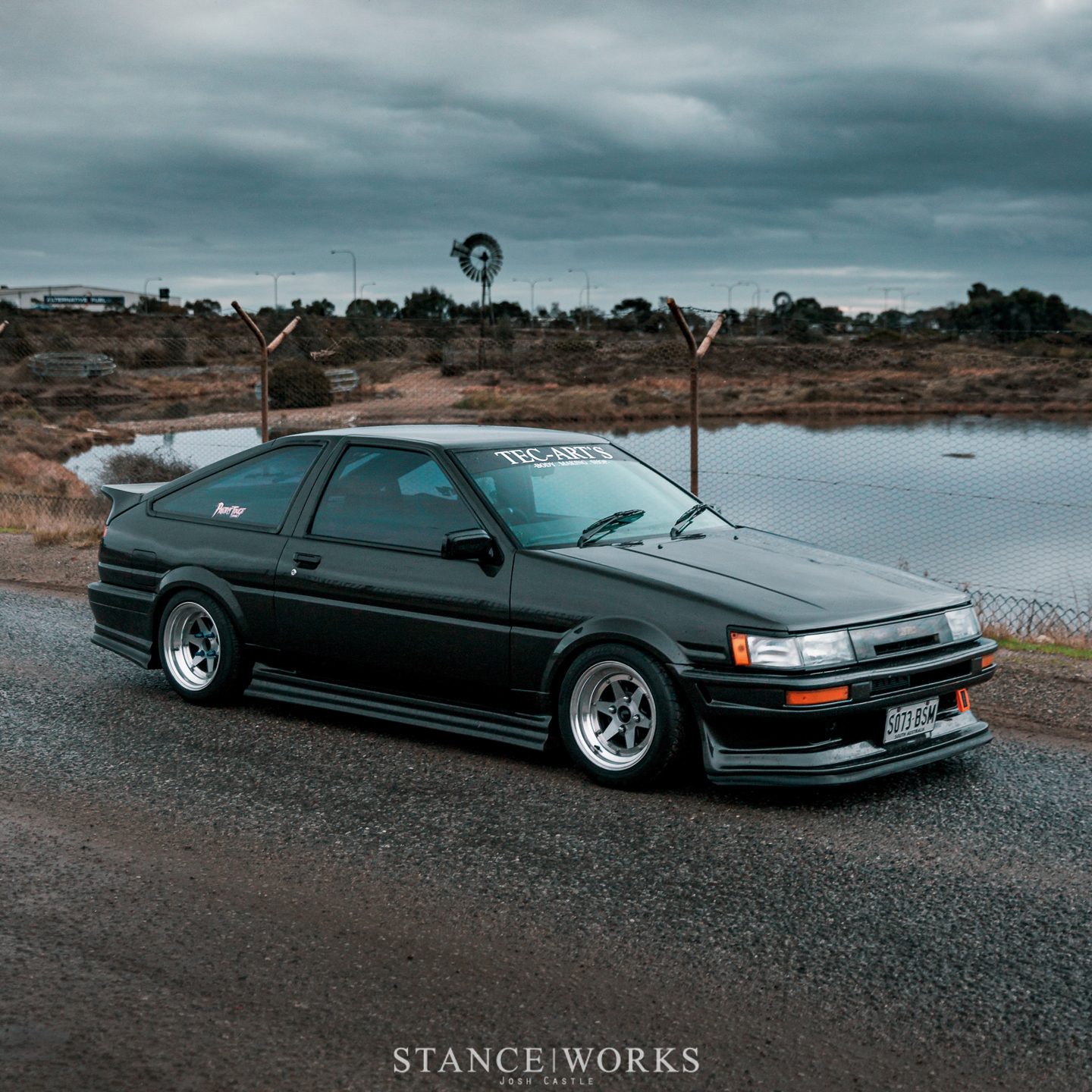 Thunder & Lightning – Matty Dowd's 1983 Toyota AE86 Corolla Levin – Photographed by Josh Castle
In 2020, the Toyota moniker, "Corolla," is unlikely to spark anything other than outright boredom. "Sporty," "lightweight," "rear-wheel-drive," and "driver-centric?" There's almost no chance those come to mind. The 2020 Toyota Corolla is, by nearly any measure, a transportation appliance and little more. To be clear, that's okay: there's a time and place for equipment like that, but as car enthusiasts, I don't see any of us lining up to buy one for any purpose other than commuting. However, nearly 40 years ago, the Corolla name was synonymous with something quite different. In a time when the industry was transitioning into front-wheel-drive layouts, the Corolla held firm, at least for a moment. While the Corolla E90 platform succumbed to the desires of the big wigs at the top of the Toyota food chain, the AE86 stands as a remaining, final beacon of what Toyota once was. That is, of course, until the Toyota 86 made its return in 2012.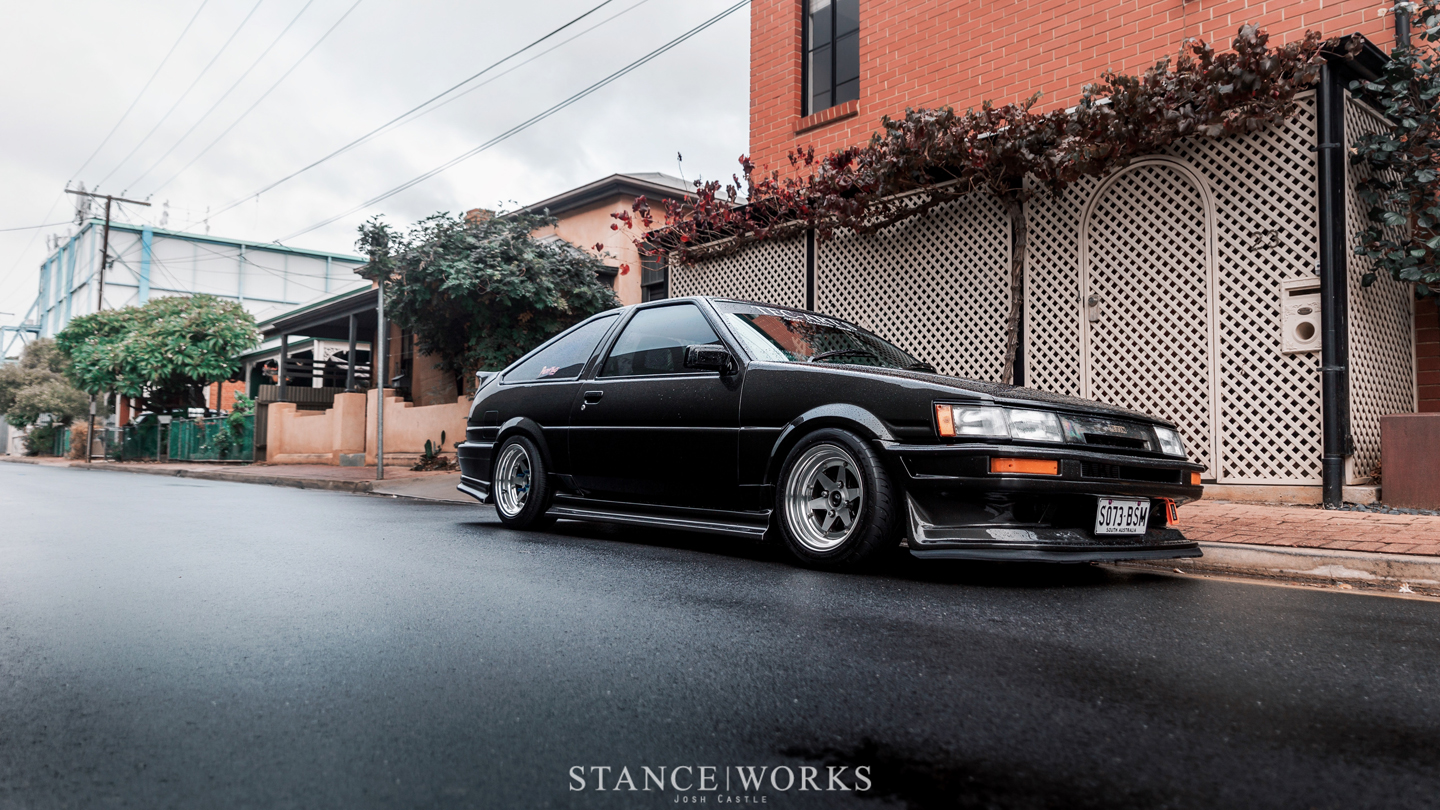 Back in the day, (1983, to be specific) the Corolla was in fact a driver's car, and in its purest form. With a simple twin-cam 1.6-liter 4-valve engine in its best form, making just 128 horsepower, it was never a high performance car, but its featherweight stature, macpherson struts, its 50/50 weight balance, and its front-engine, rear-wheel-drive layout make for a machine that is irresistibly fun to drive. Over the decades, the platform has garnered a cult following, thanks to a healthy history in Japanese motorsports and pop culture. Today, the "econobox commuters" fetch a price premium, but that hasn't stopped Matty Dowd from spending a further fortune to make one entirely his own.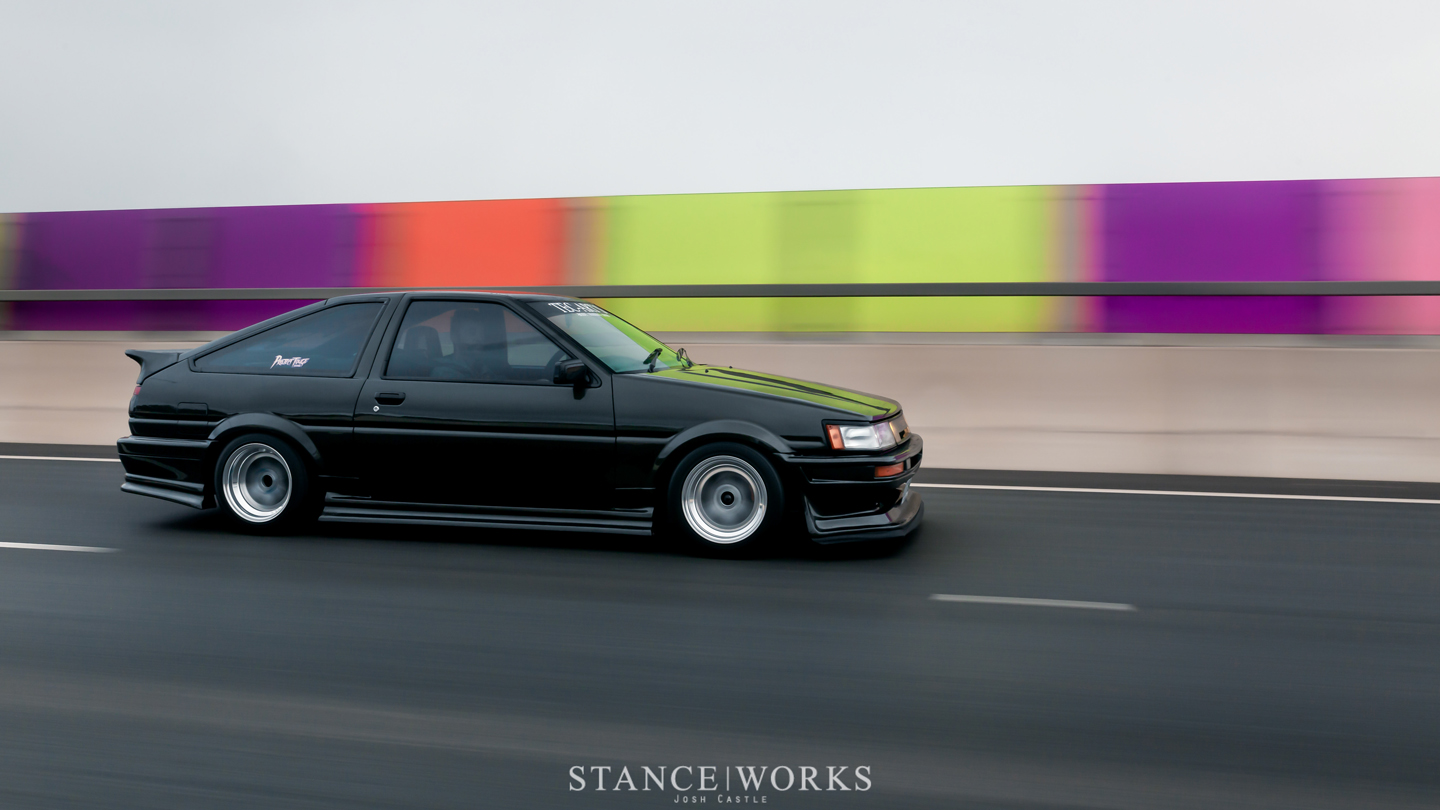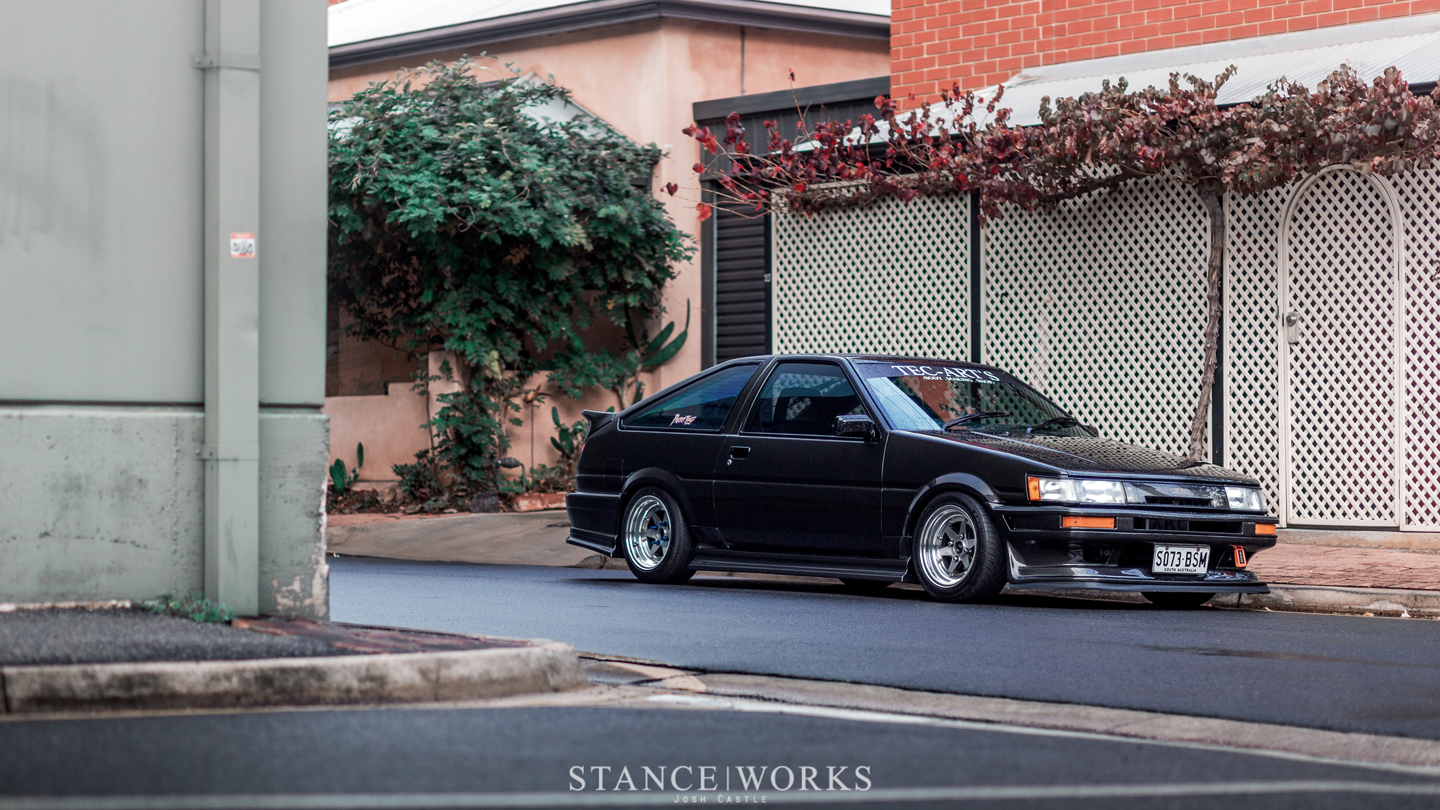 When it comes to the AE86 platform, there are two important designations: Trueno and Levin. "Trueno," stemming from the Spanish word for thunder, denotes the pop-up-sporting pointy-nosed version of the car, while "Levin," Middle English for lightning, denotes the less-common variant with the brick headlights, as seen here. Matty opted for the latter to base his build upon.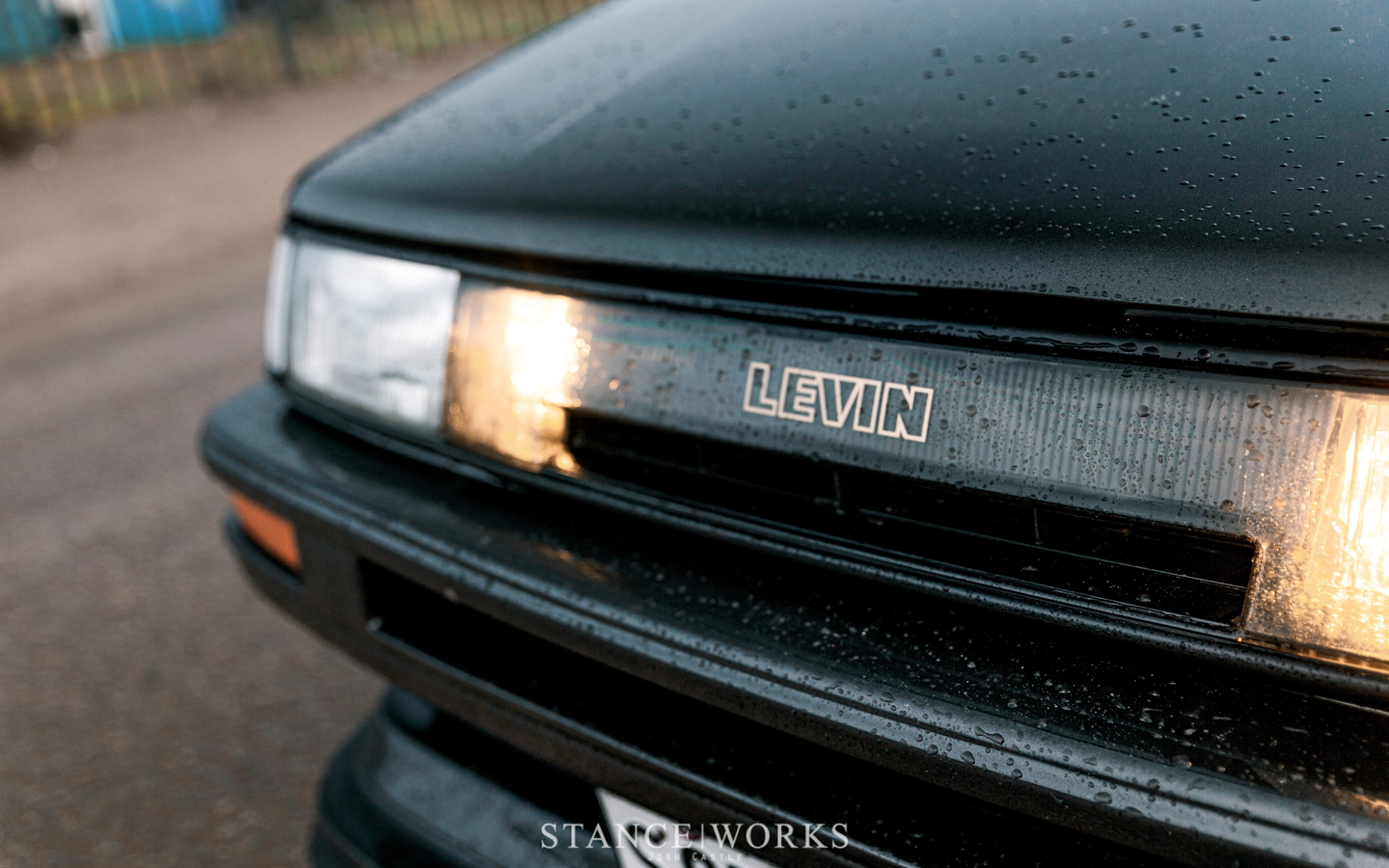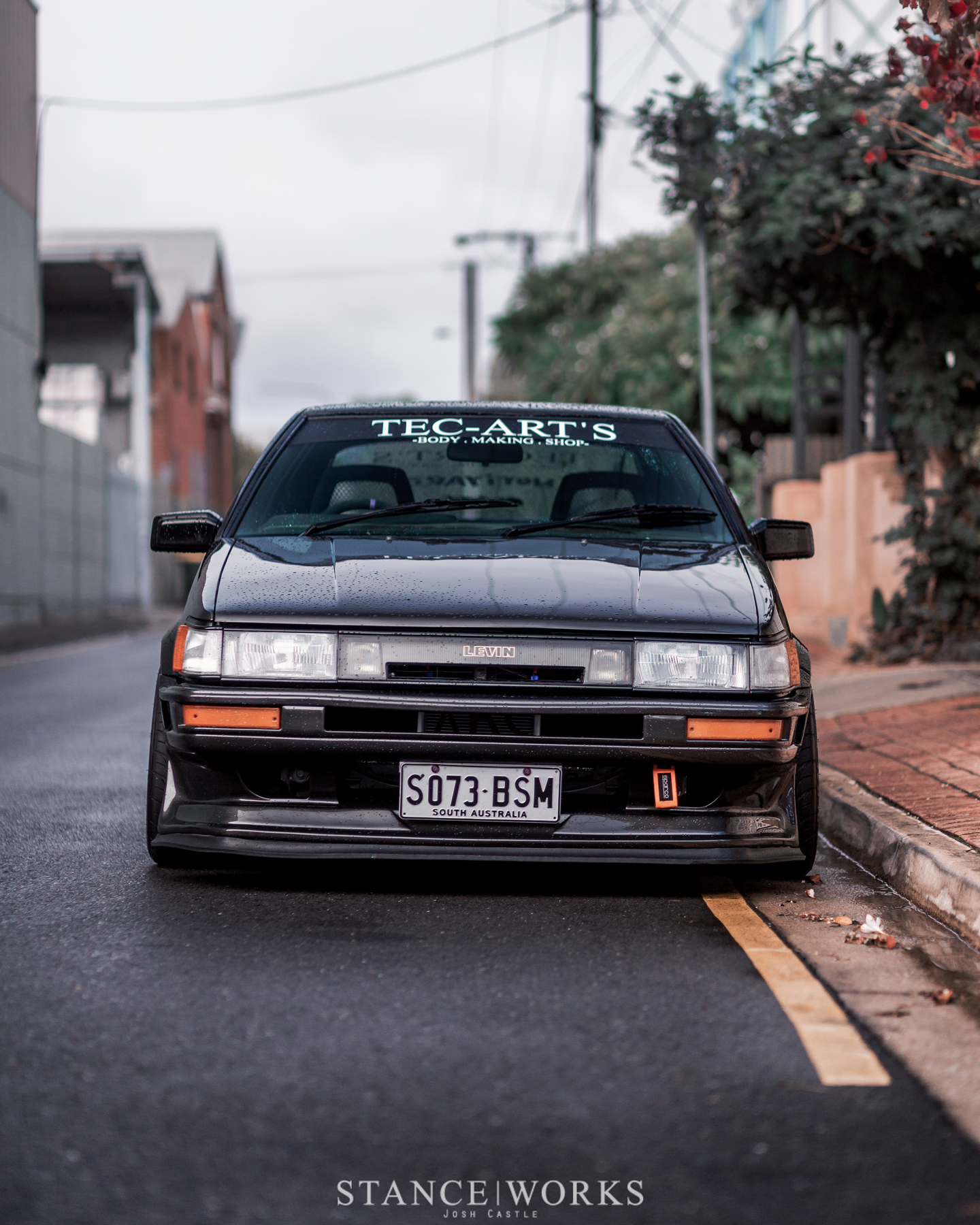 As relatively inexpensive economy cars, the AE86 platform was never built as resilient, meaning most have succumbed to issues like rust, damage, and often times, simple neglect. Wanting to build the 86 of his dreams and leaving no bolt left unturned, Matty began by stripping his example down to the unibody for professional rust repair. While under the knife, all of the car's original sound deadening was removed, and for bodywork, the wheel arches were flared and finished in a stock-like fashion. In the name of perfection, the car was sprayed in a beautiful coat of Dark Karki Metallic paint, outside, inside, and underneath. For body upgrades, Matty turned to D-Max for the side skirts and rear bumper, while a genuine CBY front bumper was sourced for the nose. A TRD spoiler sits atop the back of the hatch. For smaller touches, Matty turned to combining styles, utilizing Kouki (facelift) indicators and headlamps with a Zenki (early model) front grille. Rare yellow fog lights lurk behind the grille for a final, sleuthing touch. Inside the car, Matty has outfitted the AE86 with black carpet, mesh Recaros, and a retrimmed dash for an OEM-plus look. A DND steering wheel with a quick release is all that gives away the performance nature of the car...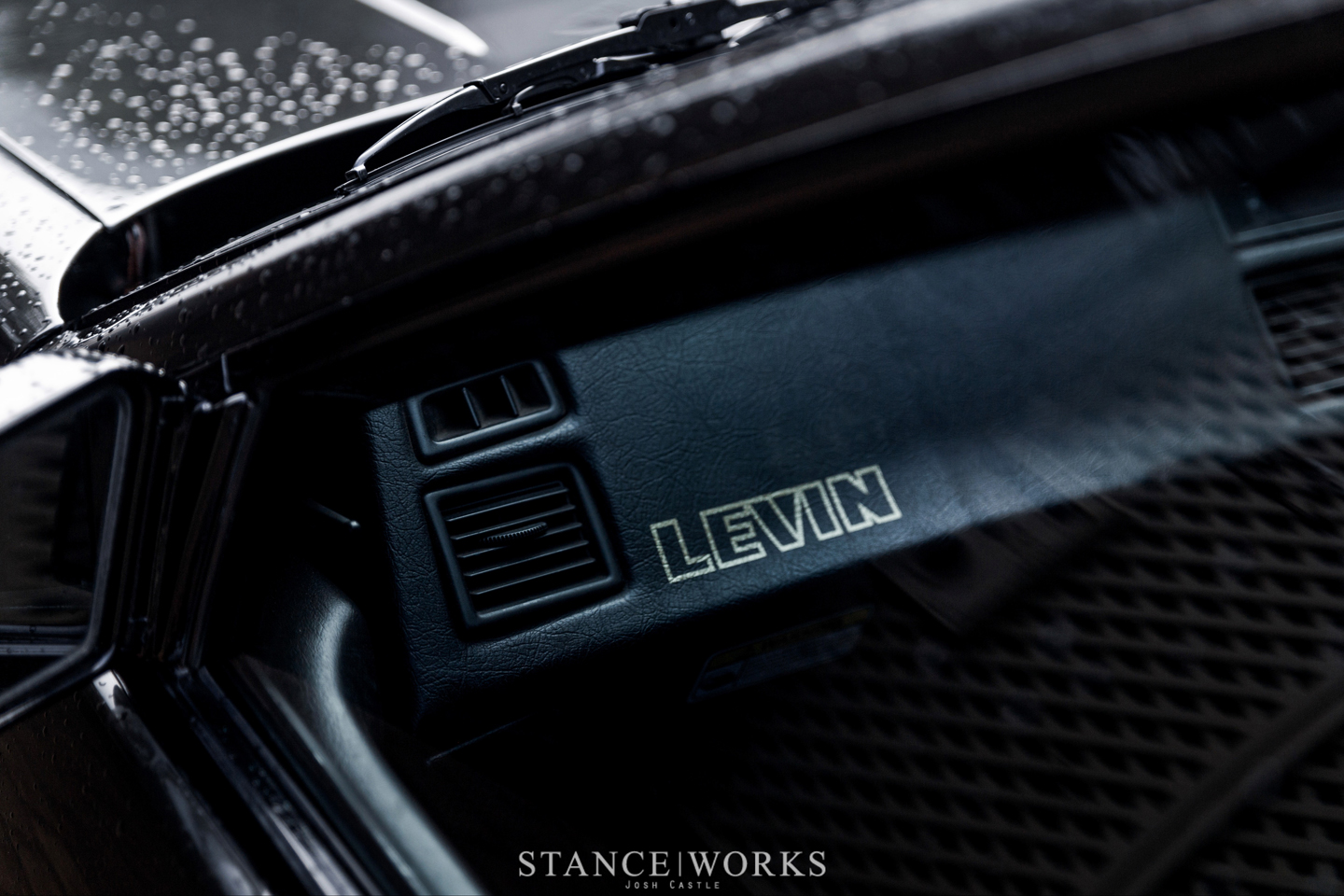 If you thought this AE86 might just be for looks, it was a grave misjudgment. Under the hood is a completely rebuilt 4AGE with all the fixin's. For the top end, the cylinder head has been reworked with a port and polish job, 272 cams, upgraded valve springs, and adjustable cam gears. A set of silver top quad throttle bodies have been fitted to a T3 manifold with red stacks. The "go" is provided by a revamped fuel system, sequential gen-3 coil packs, and a Microtech LTX 10 ECU. Exhaust gasses are pumped out through a custom set of CK Racing high rise headers and down through a custom exhaust. On the bottom end, Matty utilized a 20-valve bottom, paired with a high flow oil pump and a lightweight crank pulley. Auxiliary accessories include a front-mounted oil cooler, a Cusco catch can, and an upgraded Koyo radiator, to name a few. Last but not least for the driveline is an upgraded clutch and lightweight flywheel package, along with an AJPS shifter rebuild and a stainless clutch line.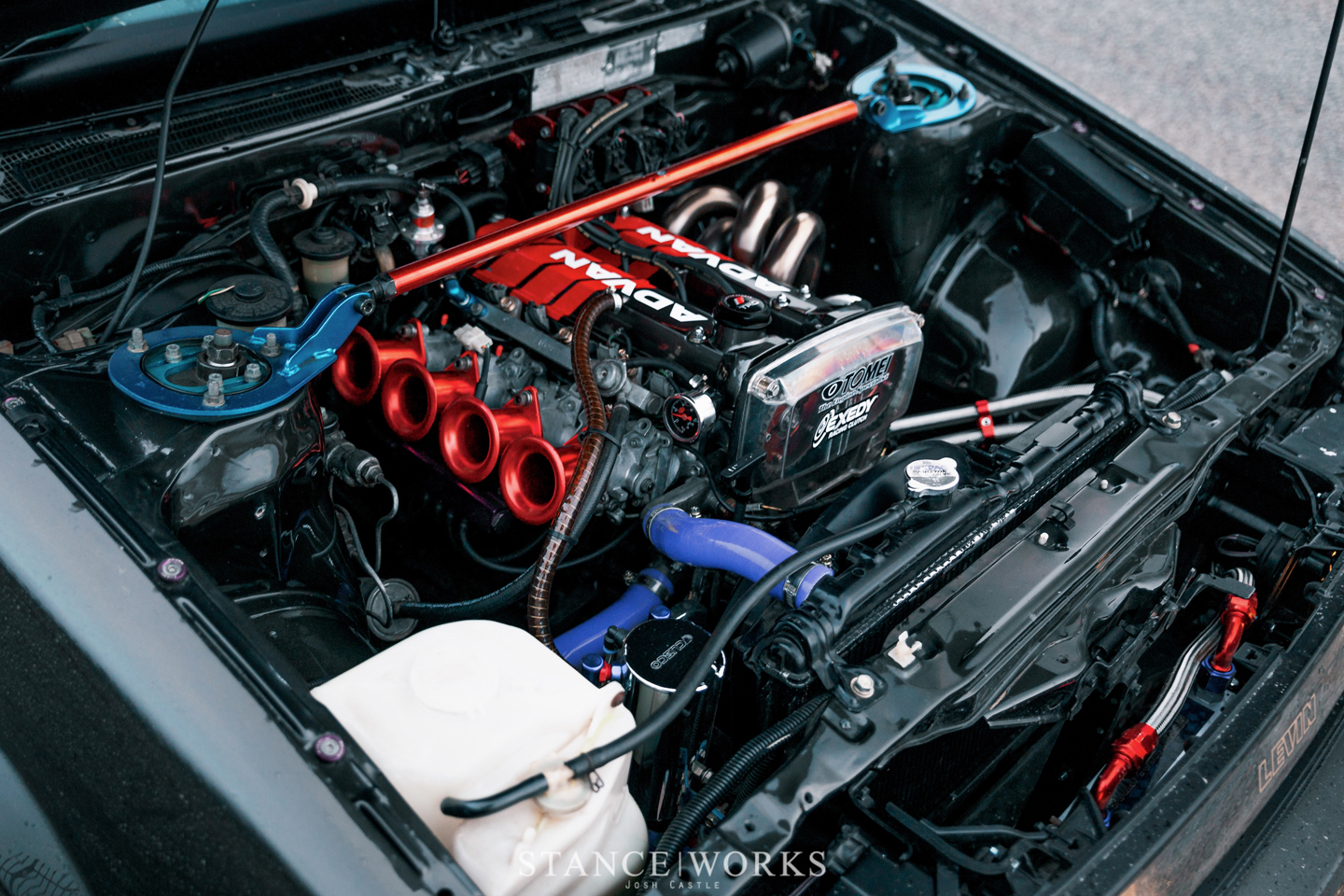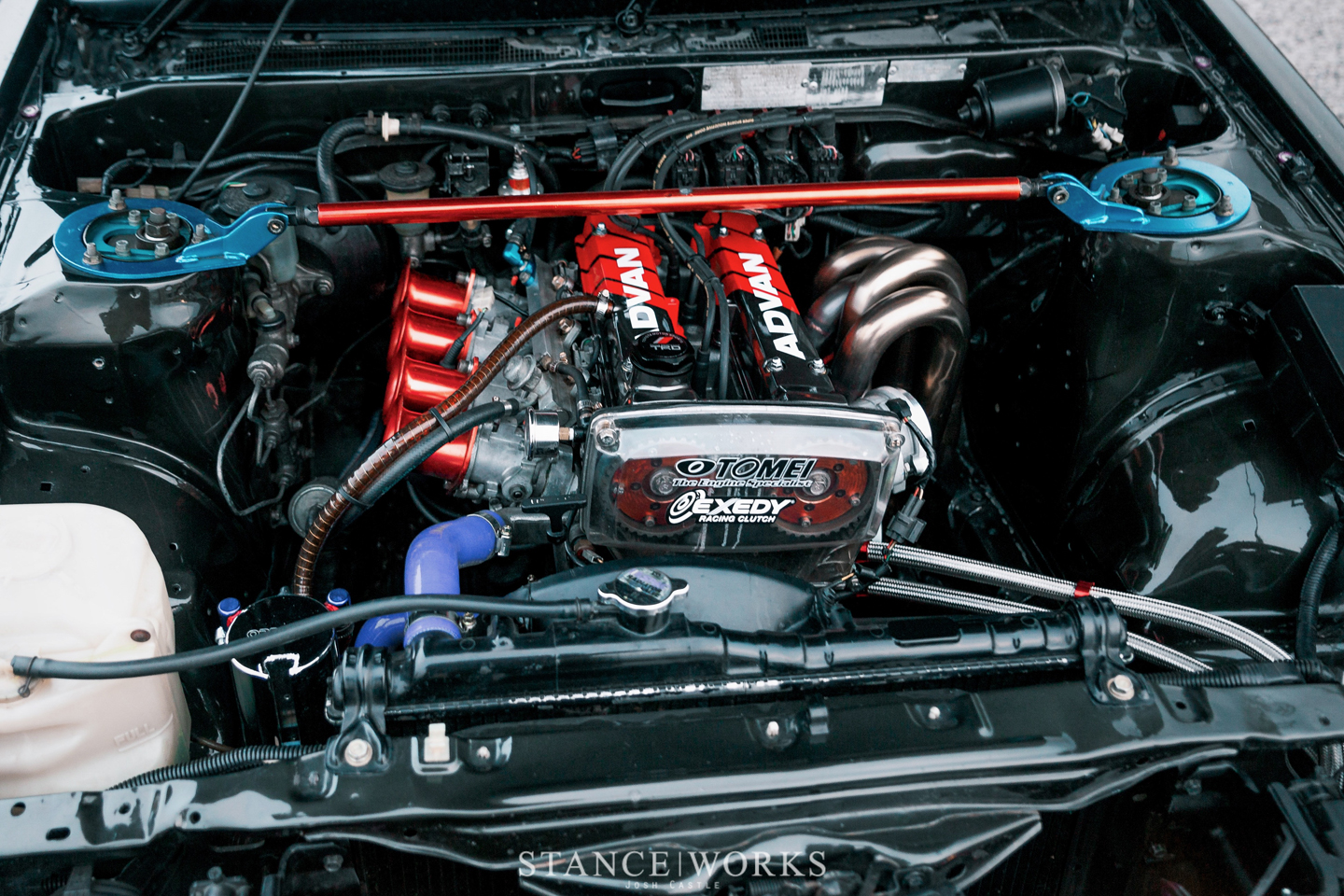 Matty cut no corners when it came to the suspension, either. The basis for the system is a set of Ultimate Tokico HTS 102 adjustable short-stroke shocks at all four corners, with AJPS coilover collars and adjusters at the front end of the car. Cusco camber plates top the front struts while Cusco strut braces reinforce both the front and the rear. Techno Toy Tuning was a clear go-to for Matty, to which he turned to for a slew of components, beginning with a Wilwood big brake kit and disc brake conversion for the rear. T3 heim-jointed LCAs, caster rods, steering arms, tie rods, and bump spacers build out the front end. Out back, Matty utilized a T3 adjustable heim-jointed four-link kit, attached to an axle which houses a TRD 2-way LSD. Last but not least are a pair of Whiteline adjustable sway bars, front and rear.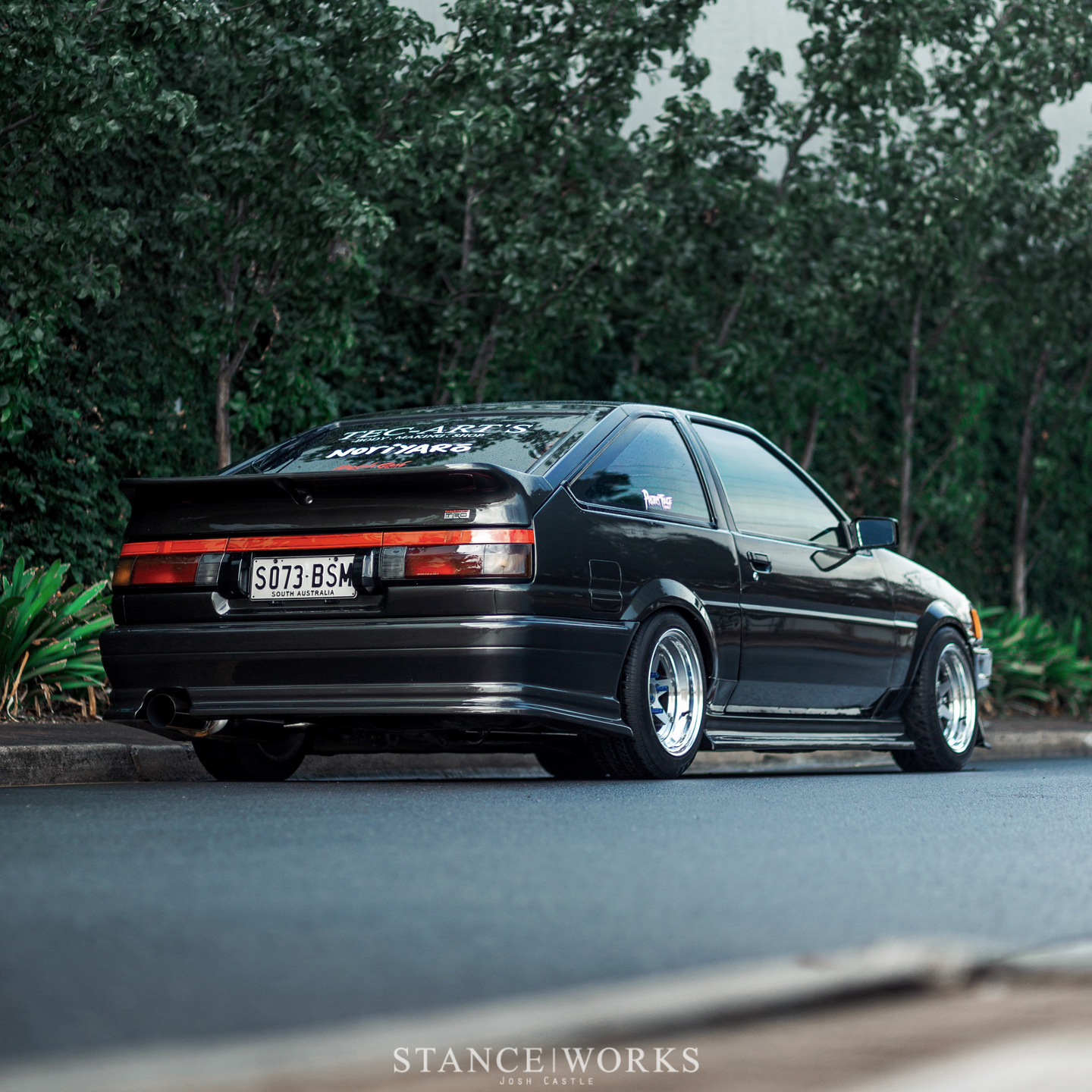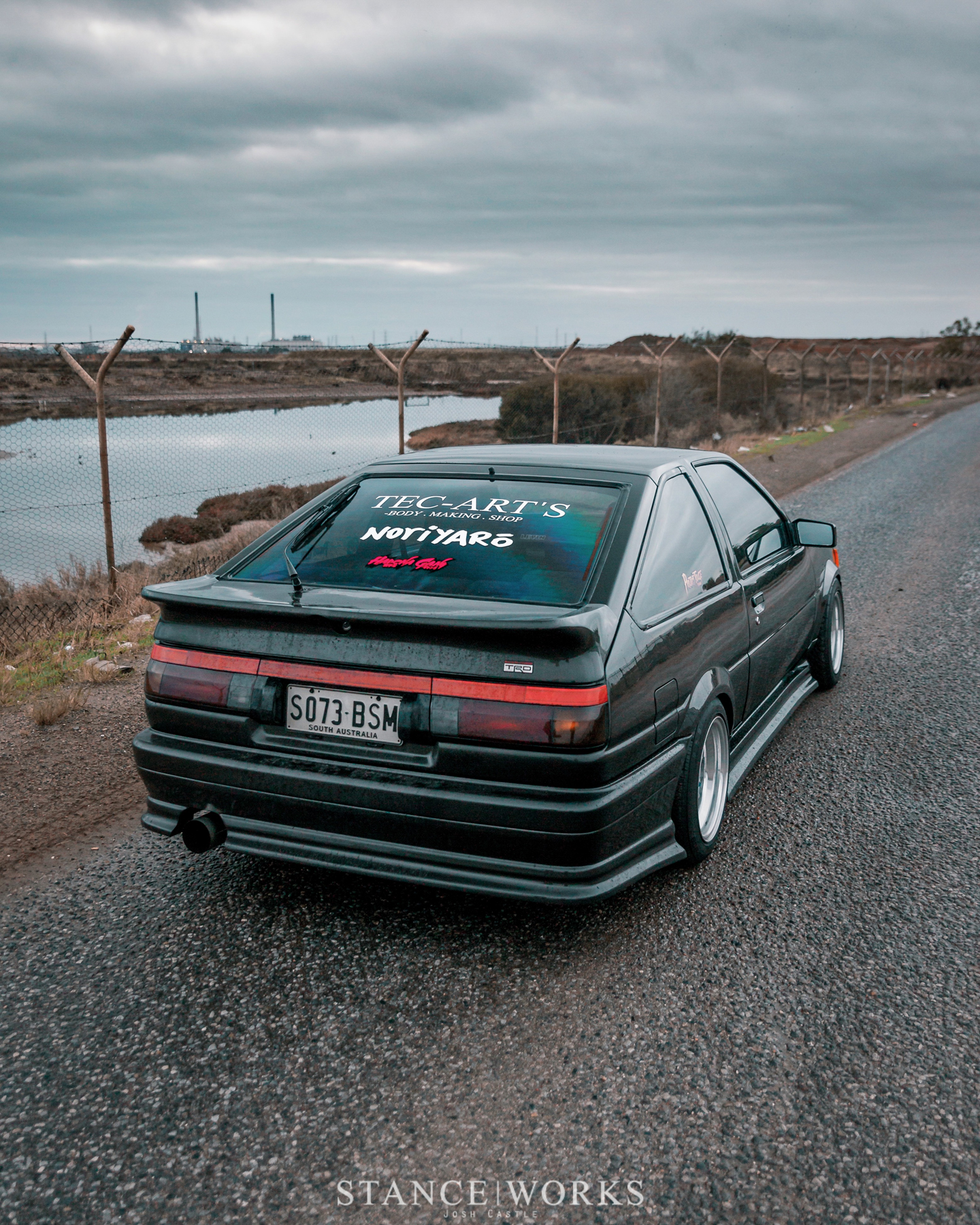 Matty's AE86 embraces everything the original car is said to represent, and is styled in a way to celebrate those bits and pieces of character, performance, and heritage. While Toyota may have lost their way with the Corolla platform, Matty turned the pages back to everything that makes the 86 platform worth remembering.