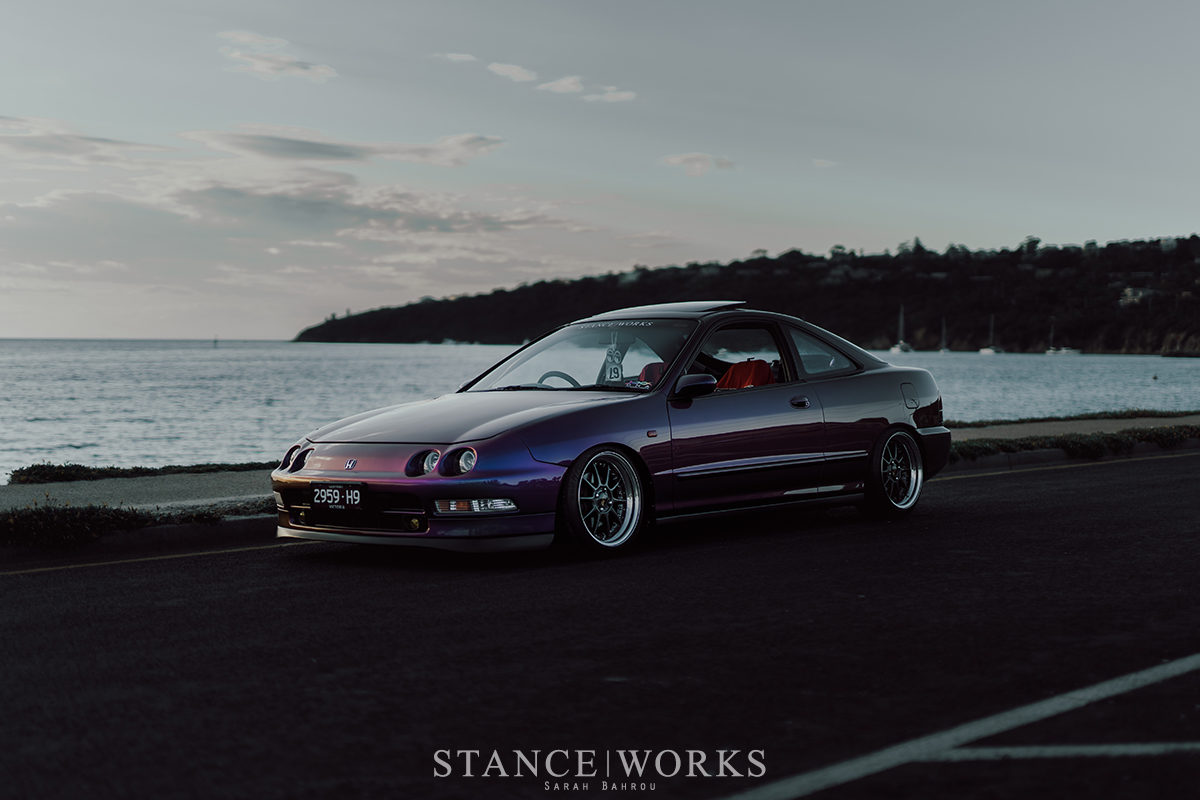 Locksley – Natally Jones's 1994 Integra GSI
How many people name their cars? I have always been a believer that if you name a car, it is a car that you intend to keep for as long as you can. Naming a car that you're going to flip or part out is pretty pointless in my opinion, but I guess like most things in life it's a matter of personal preference. In 2018 I purchased this car for my then fiancé to learn how to drive manual as she had been wanting to for years. Thinking about this write up and looking at the pictures I now think we may have gotten a little carried away, but sometimes life needs a little bit of excess when it is full of moderation. So with that, I'm excited to introduce "Locksley."
I had been looking for a cheap suitable car to teach my now wife Natally how to drive manual. I didn't want to spend more than $1000 as there was every chance that the car would be bashed around and mildly destroyed by the time we were done with it. I stumbled across an ad for an Integra that had a few kilometers on it, but in the photos was this pretty immaculate looking 1994 Integra Gsi for $2000. I called the guy, who told me he was selling it on behalf of his son. He said it wasn't running because it needed a distributor cap, but that was all it needed to get it started and driving. I had to go take a look, so my buddy Dom and I drove out one night with a dizzy cap in hand.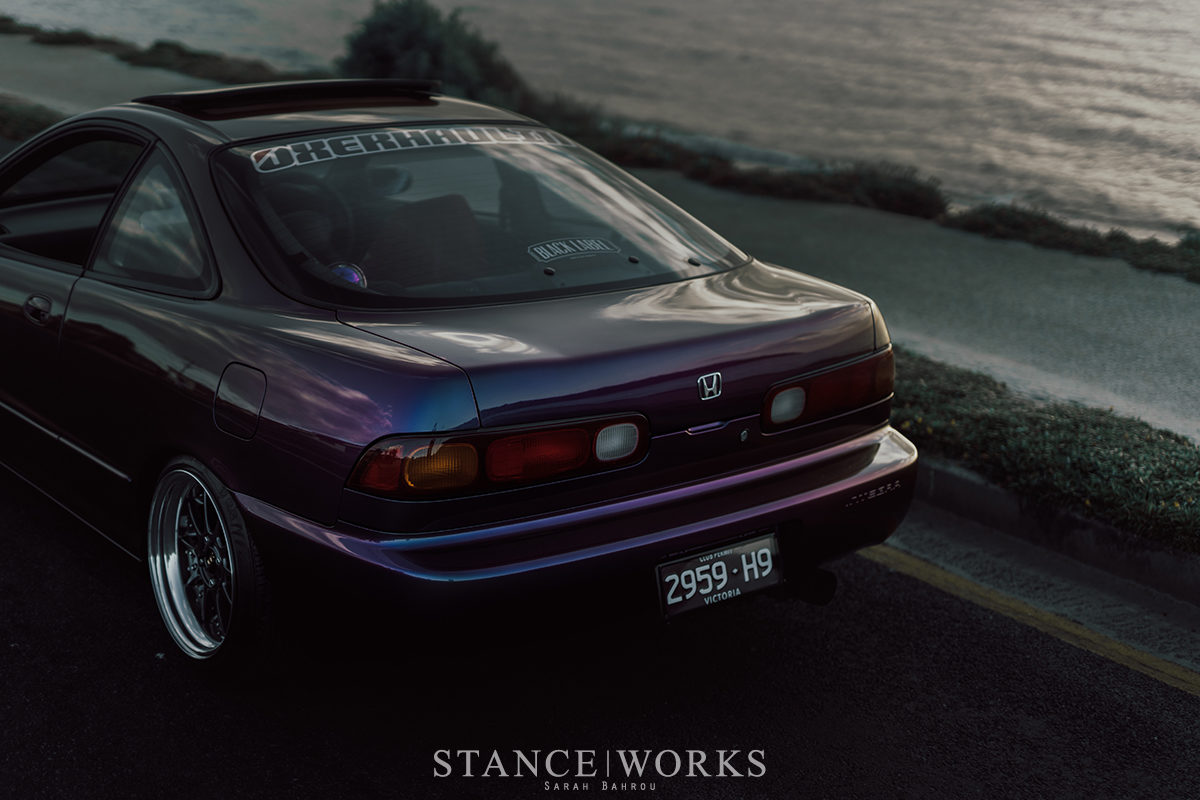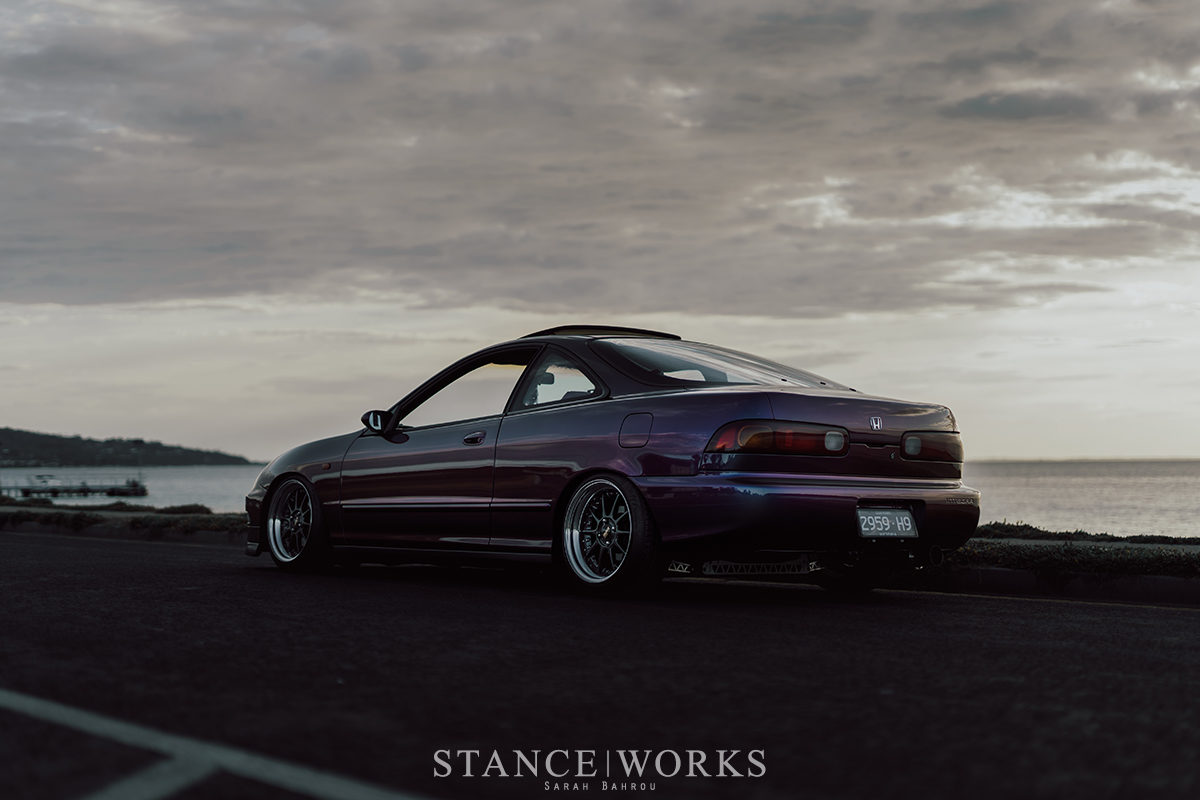 By the time we got there the sun had already set, with only a streetlamp to illuminate the car along with the torches on our phones. We both looked at each other in disbelief. The clearcoat was flaking, the bumpers front and rear had parking taps and cracked paint, and the top of the car was littered with hail damage. I instantly thought to myself "this isn't the car". I looked at the ad on the phone and showed Dom, and he too commented on how good the car looked in the photos of the ad. I knocked on the door and an older gentleman answered the door. He opened up the car to show us, the interior was relatively clean, but all of the stereo system had been gutted. We opened the bonnet and started inspecting the engine bay, the engine had the usual oil weeps from the rocker cover and cam seal, and overall looked like the 320,000 kms on the clock had been tough ones. Surprisingly it appeared unopened though, the car had never been lowered, most of the components hadn't been replaced and it seemed like it was a pretty honest car. The guy reiterated it wasn't running because of the distributor cap, to which I replied, "I have one here, how about we make a deal?". He looked at me with a smirk on his face, intrigued. "If we swap the cap and the car runs, I'll give you $1200, but if it doesn't start, I'll give you $800 and get it towed tomorrow". He laughed and said, "I know it will run, you have a deal!"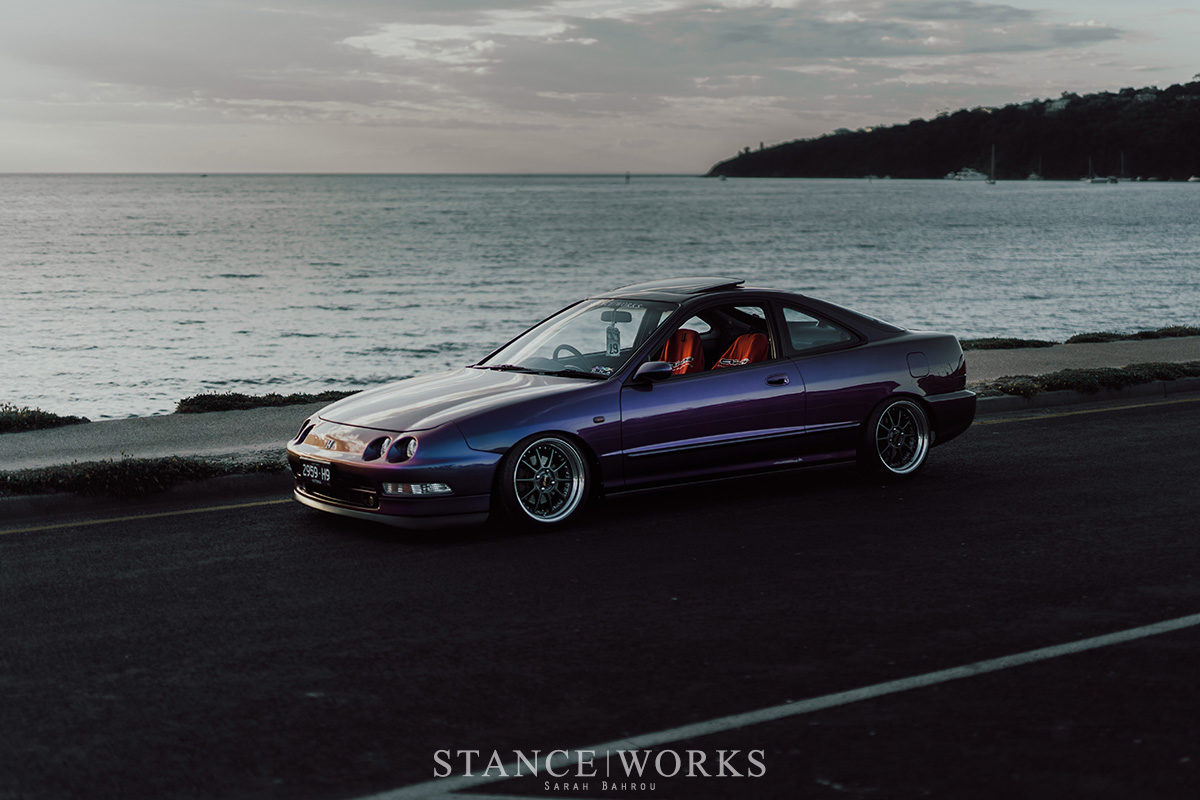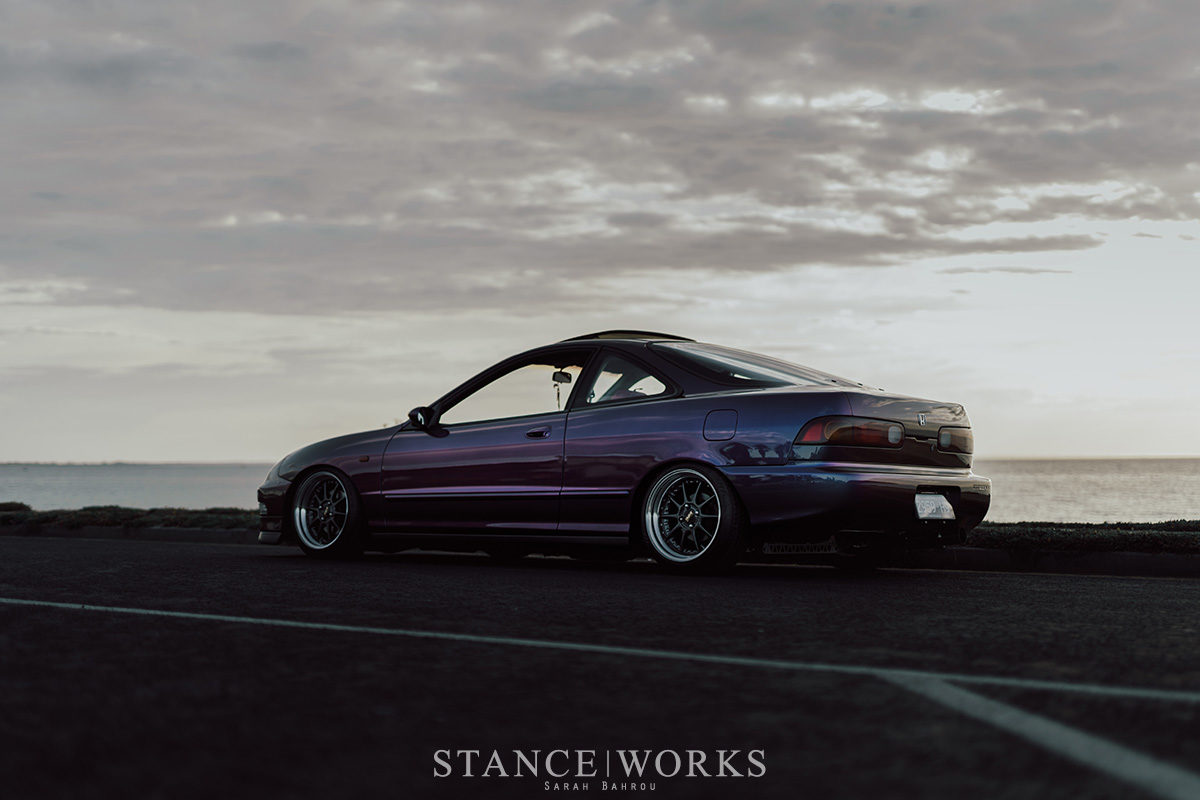 Having owned 90's Hondas for as long as I have, I was 90% sure it was the igniter/coil inside the distributor causing the issue, and not the cap, but since he agreed, Dom and I got to work. We struggled to get one of the bolts undone, stumping us for a good 5 minutes. I went back to the car to look through the tools I had brought to get a pair of vice grips, which eventually got it loose. Once on, I told him to give it a crank which turned into at least 20 attempts. Feeling defeated he gave in and shook my hand at $800. The next day I went back with a whole distributor, changed it over and drove the car home. I called Natally and told her I had a surprise for her as she was working out of state that weekend. When she got back, the first thing we did was take it for a drive and within 3 lessons in it she was shifting through the gears with no problem. Not having a lot of confidence in the car itself, we kept the driving to an industrial area doing long laps being able to shift through to 4th and back with no problem. I decided to do a major service on it, replacing everything from the timing belt to the fuel filter. While up on the hoist the fuel pump decided to quit too, a sign that the car really was welcoming all of the fresh components. After setting the timing and washing the car, we went back to doing lessons around the same course. 2 lessons in the car started hesitating, running really rough and barely made it home. A compression test revealed it was down across the board with one barely making any pressure. The correct timing had obviously made the head gasket feel unloved, and so it decided to follow suit of the fuel pump and give up.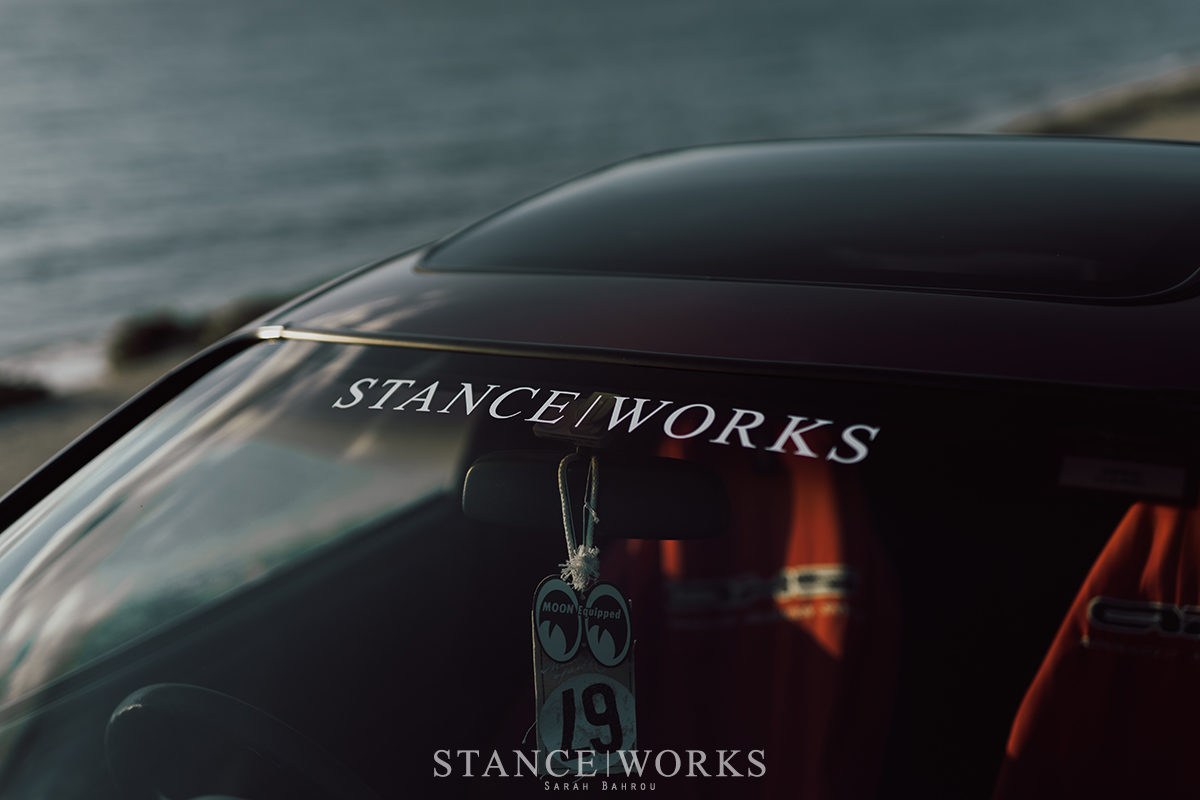 My uncle John, who had been a mechanic all his life, had recently been diagnosed with terminal cancer which would eventually take him from us. After a chat with him on what to do he said "how hard is it to pull the engine out? We'll do the rings while we're at it!". Covering all bases, it was decided that we would go the whole hog and refresh the whole motor, with new rings, bearings, a quick hone and a rebuilt head. A new clutch along with the slave and master cylinder were also changed, with new drive shafts and new brake rotors and pads all round. The $800 purchase had been forgotten quick, but at least the car was mechanically 100% new now. A lot of people have since asked about the motor, wondering if we were going to swap a VTEC plant into it, or go down the path of turbo with the non-VTEC motor. To be honest, the car didn't really mean anything to us until my uncle touched it. I had been trying to get him to work on one of his cars and put an engine or two together for his own stuff for the last 18 months he had left with us. I had always wanted to build something with him for us, but he was busy putting everyone else first. If the only engine I got to assemble with him was the stock powerplant in this car, it will stay that way for as long as possible.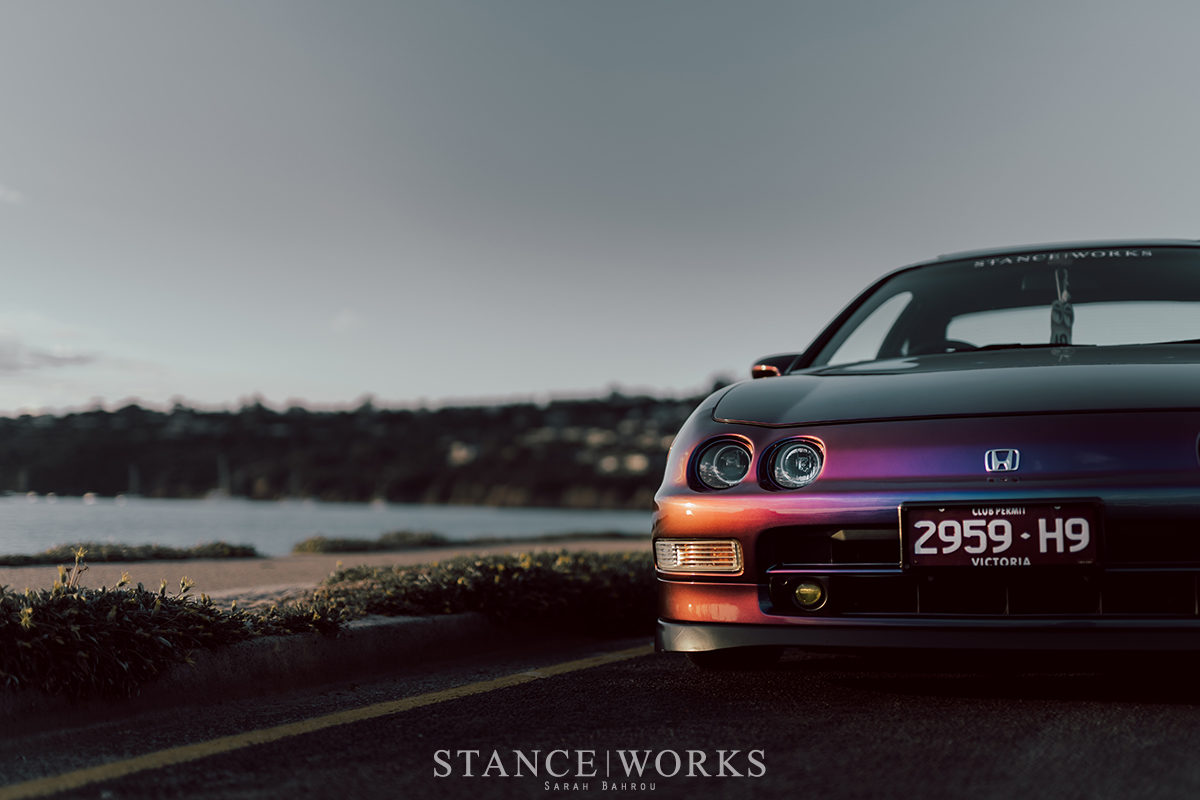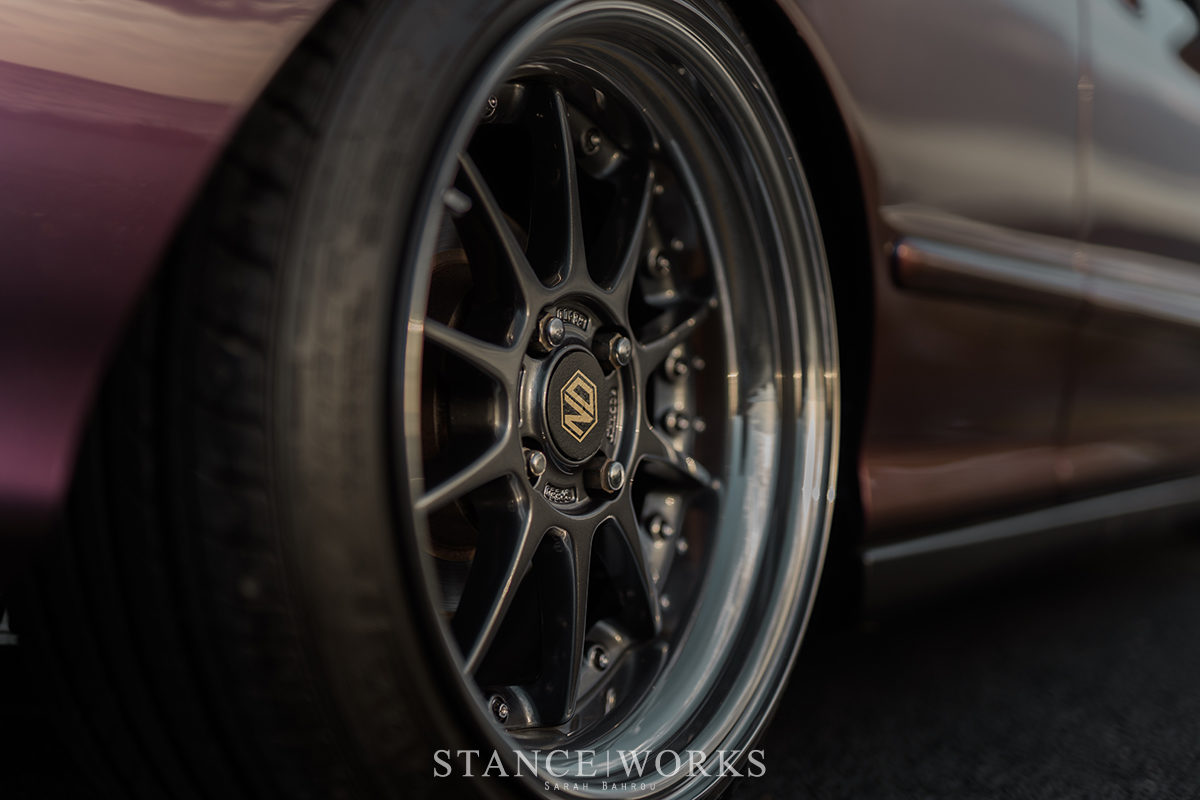 With our friends announcing they were going to hold a car show in 2019, Natally gave me the green light to make the body match the mechanical side of the car. I had been planning on doing the bodywork on the car at some point, and had started collecting some of the hard to get parts like the Si front lip and fog lights, a rear bumper that wasn't damaged, et cetera. I had a vision of building it with a late '90s-early '00s SoCal feel to it, with slightly sunken wheels, and keeping the interior relatively stock looking. The seats were swapped out for a set of Vti-r counterparts, along with a full sound system to make it more enjoyable to be inside. We found a set of 15x5 Blitz Techno speed Z1's on Yahoo auctions and sourced them via Jesse Streeter, along with some factory molds and trims from Honda in Japan, as most parts are discontinued in Australia. I had no intentions of making the body dead straight since I had my work cut out with all the hail damage. I spent a total of 55 hours getting the body ready for its first coat of hi-fill, with Natally's assistance in wiping the car down and masking it up. It sat primed in the garage for 6 months, with a lack of time a key factor, it allowed the primer to shrink back and build a solid foundation for the paint work.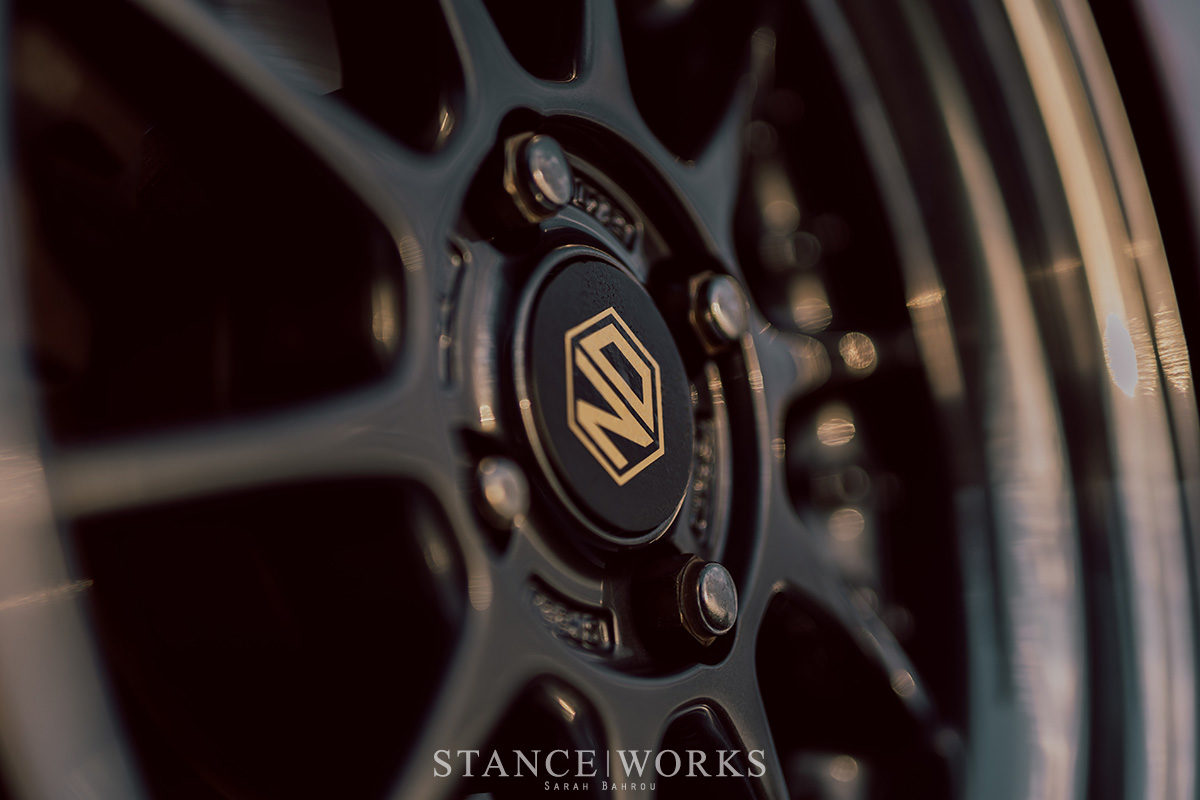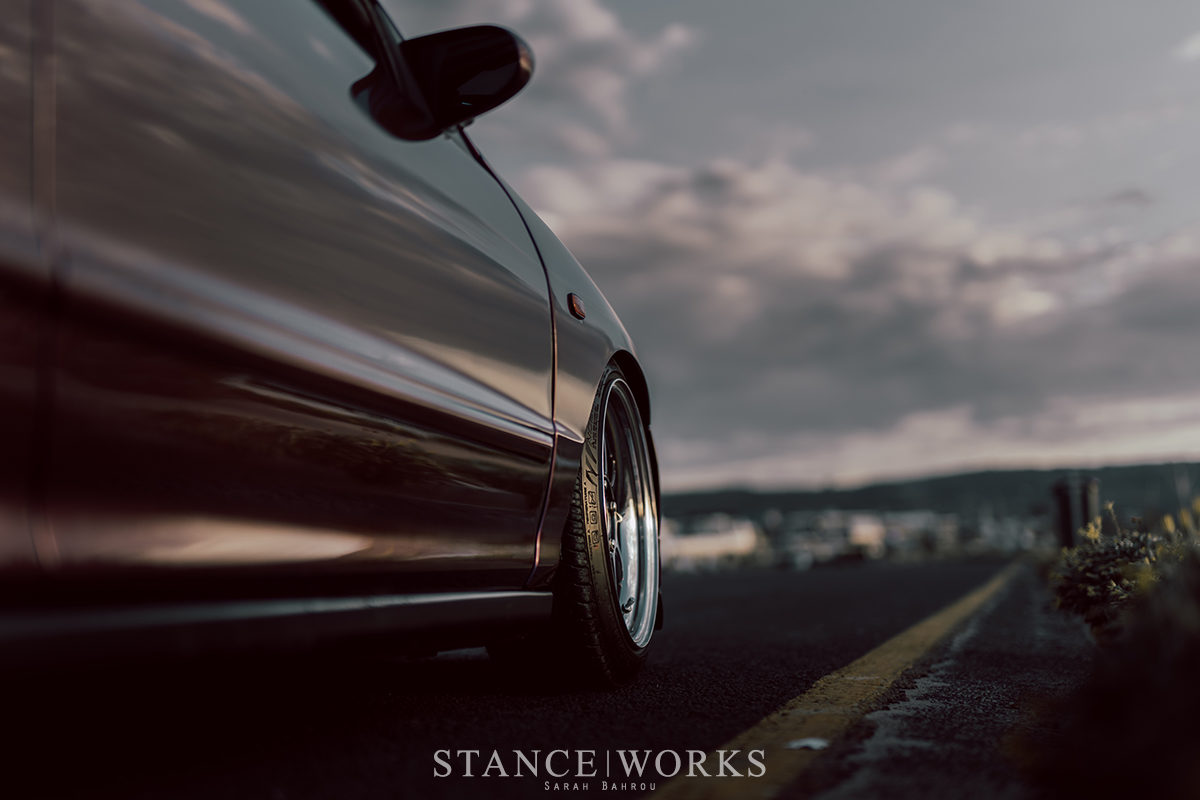 Whitehorse industries were given the job of spinning up the new lips and barrels to make the Z1's 16x8 and 8.5 respectively, during the time the car was sitting waiting for paint. Eventually the car came to work with me where it was blocked down and prepared for my good friend Max Mcginnis to lay down the final color chosen by Natally. It was one of the conditions of getting the car ready for the show, so of course she chose one of the most expensive colors which is the most difficult to paint. Our friends at DNA paints in Victoria supplied up with the color shift pearl name "People Eater." When I told Max the color, he was a little nervous, having never painted a whole car with a color shift pearl. I reassured him that it was no big deal, and that we weren't going to be painting things multiple times, to which he was even more concerned. The bumpers were painted off the car, and although the rear bumper color is spot on, the front is slightly lighter. Welcoming imperfections is part of character building and my response to people that question my work has always been "can YOU show me better?". It's always easier to point out negatives, but it is rare to be given time to be shown better ways and techniques.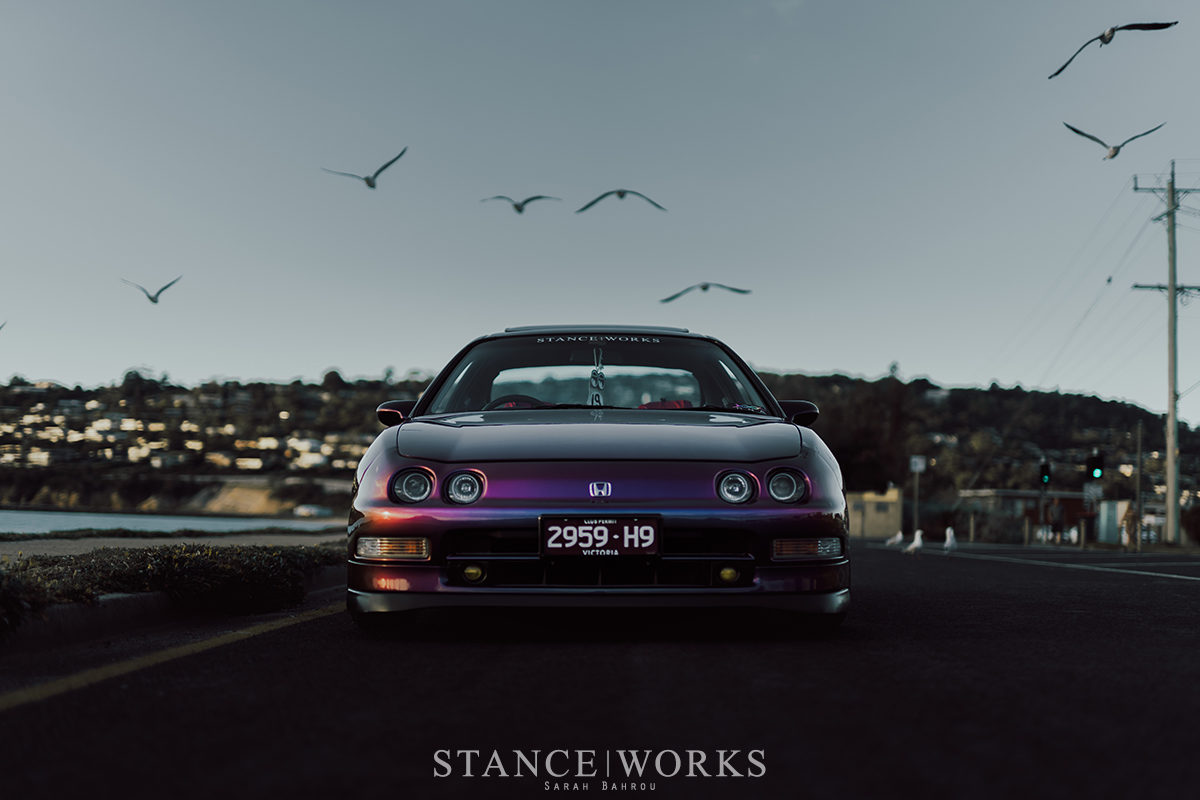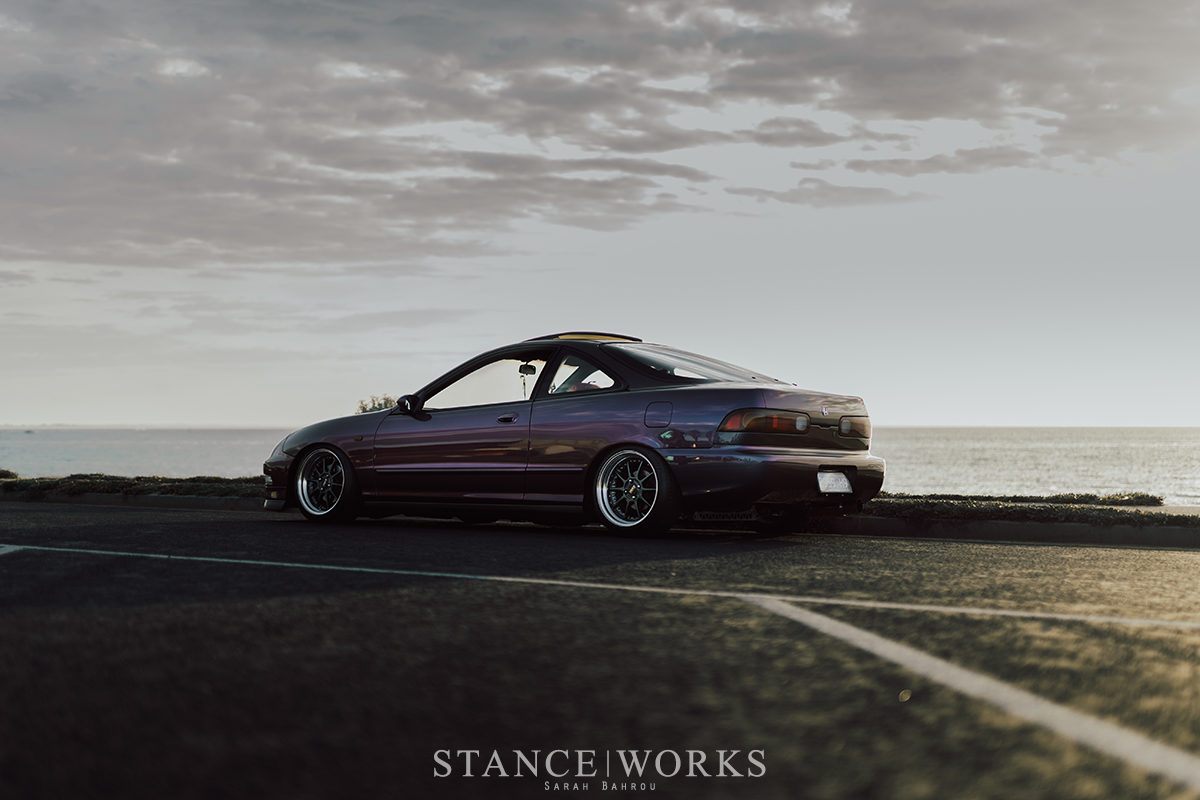 After paint, it was time to assemble the car, with new function 7 control arms and subframe brace in the rear, BC BR coil overs all around, and a JIC Magic muffler I had picked up along the way. Max mixed up a gunmetal metallic from left over paint he had for the wheel centers, which is exactly what I had pictured. Once dry, we assembled them and mounted the tires with a touch of stretch, nothing crazy, just enough to ensure there was no scrubbing unlike most of the other cars I usually put together.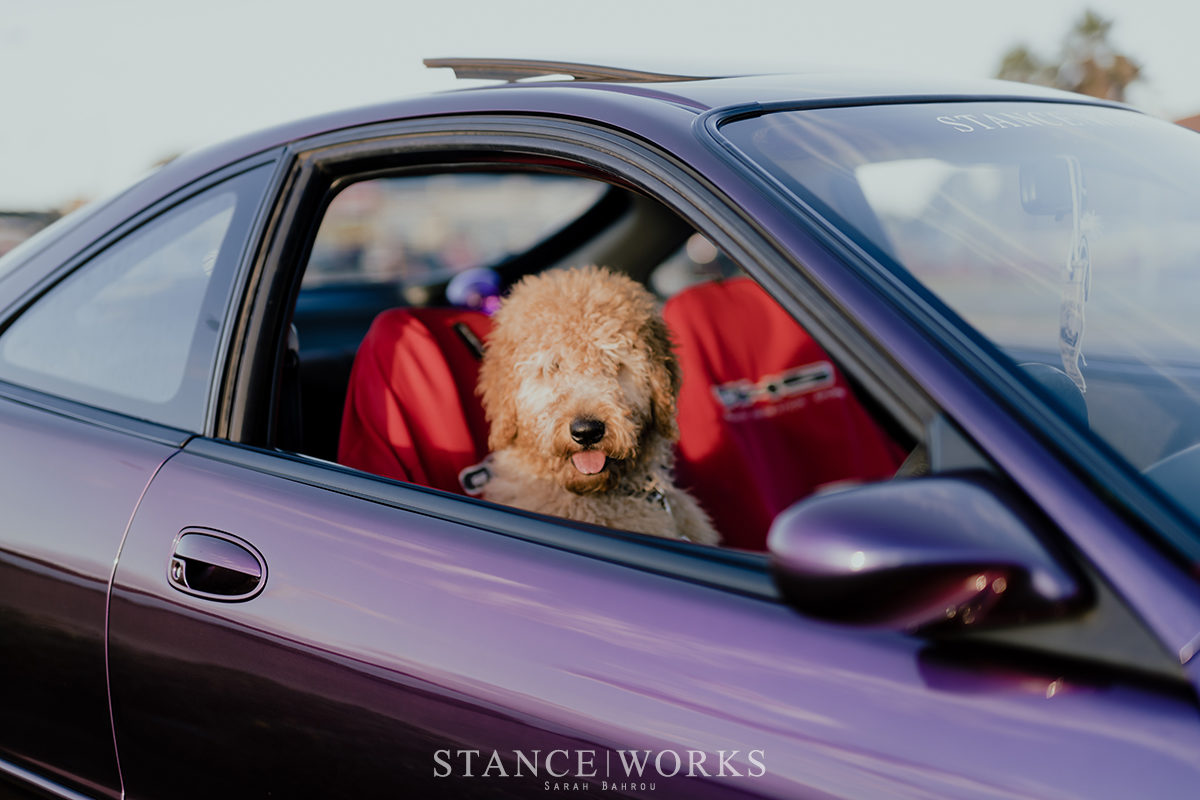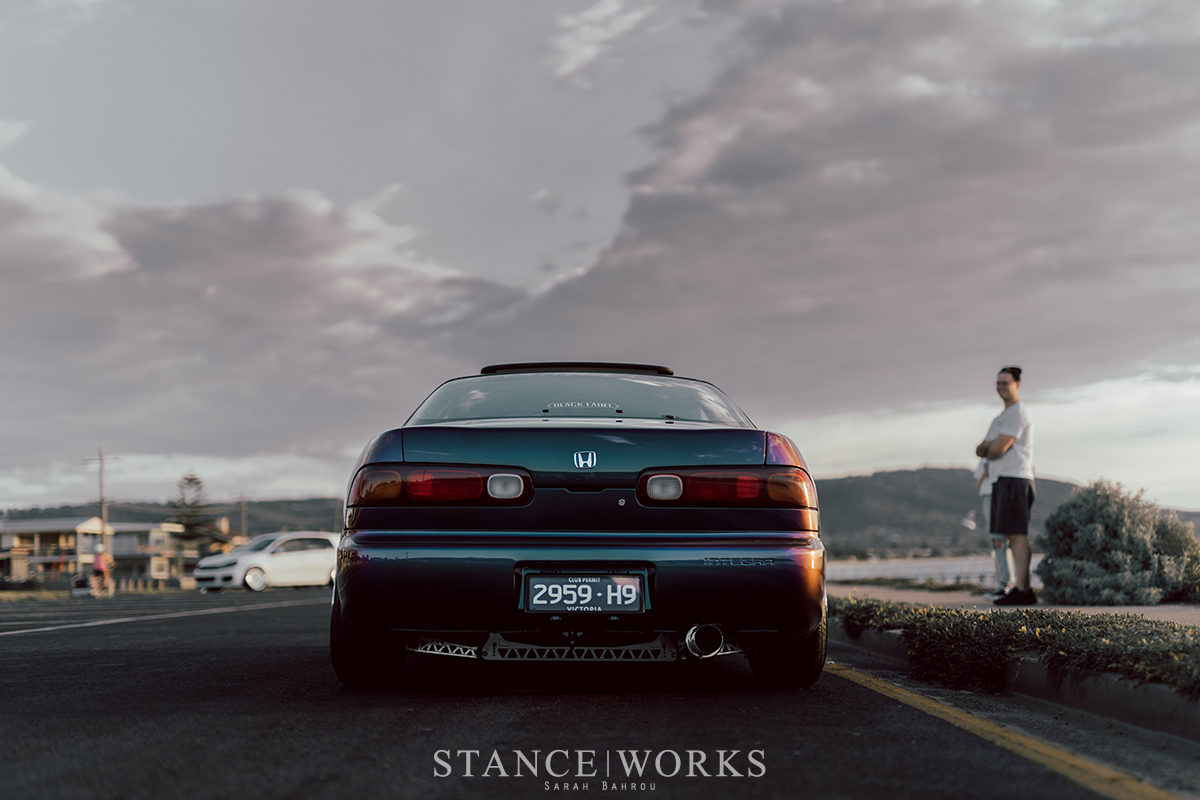 The car was debuted at Black Label Invitational in 2019 with a lot of positive comments. Natally and I are happy to have been able build a car in a relatively short space of time. Being able to teach her about my love of cars hands on enables her to understand some of my frustrations when things don't go right, and at the same time, enables her to get an understanding of how much things cost in both time and money. A lot of guys would never dare tell their wives how much parts are for fear of not being able to spend more in the future, but if putting this car together has taught us anything, it is that life is short and is supposed to be enjoyed. She is now afraid of damaging the car for fear of me having to spend more time and money on it, so I guess I'll have search for another manual car to teach her. See what I did there?