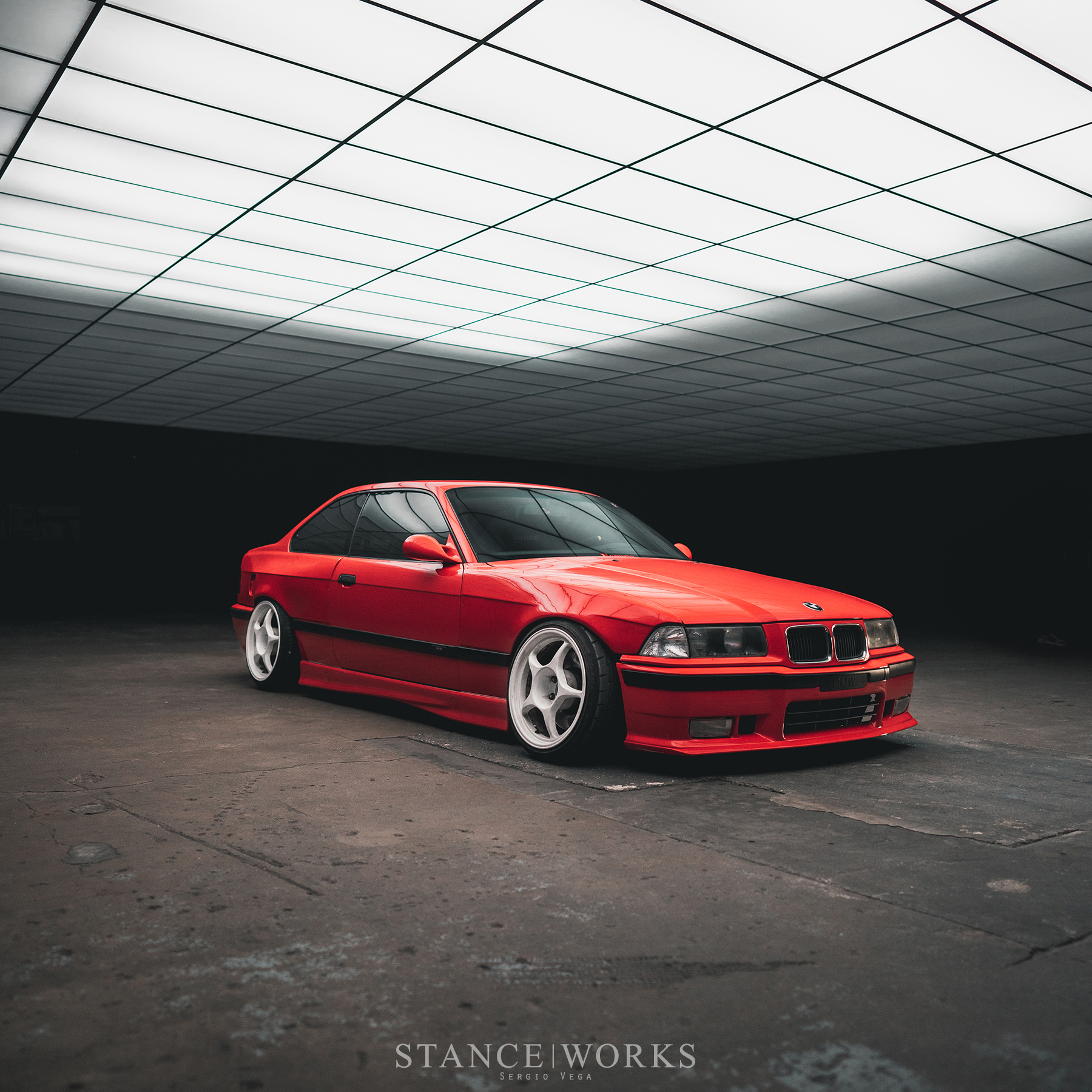 Under the Spotlight – Sergio Vega's 1995 BMW E36 M3
Born and raised amongst cars thanks to an uncle with a penchant for Datsun 510s, mini-trucks, and classics all around, it comes as no surprise that Sergio Vega's story isn't all too different from those that raised him. Now, at 29 years old, he finds himself settled in Long Beach, California, using the breadth of his talents to churn out incredible work as both a photographer and designer. His roots, however, are anything but forgotten, yielding an E36 track car that blurs the line between poise and purpose, shattering expectations of either and raising the bar for both.
Sergio reckons that things his interest in cars began with his uncle at car shows and events, emphasizing their importance in helping to shape him as an automotive enthusiast. As his first car, it was a beat up Datsun 510 that acted as the catalyst for transformation, allowing his excitement for automobiles to begin to flourish. Eventually, his focus on shooting and design forced his passion for vehicles to take a back seat; however, a stint spent working with the team at Deadend Magazine helped to reignite the flame.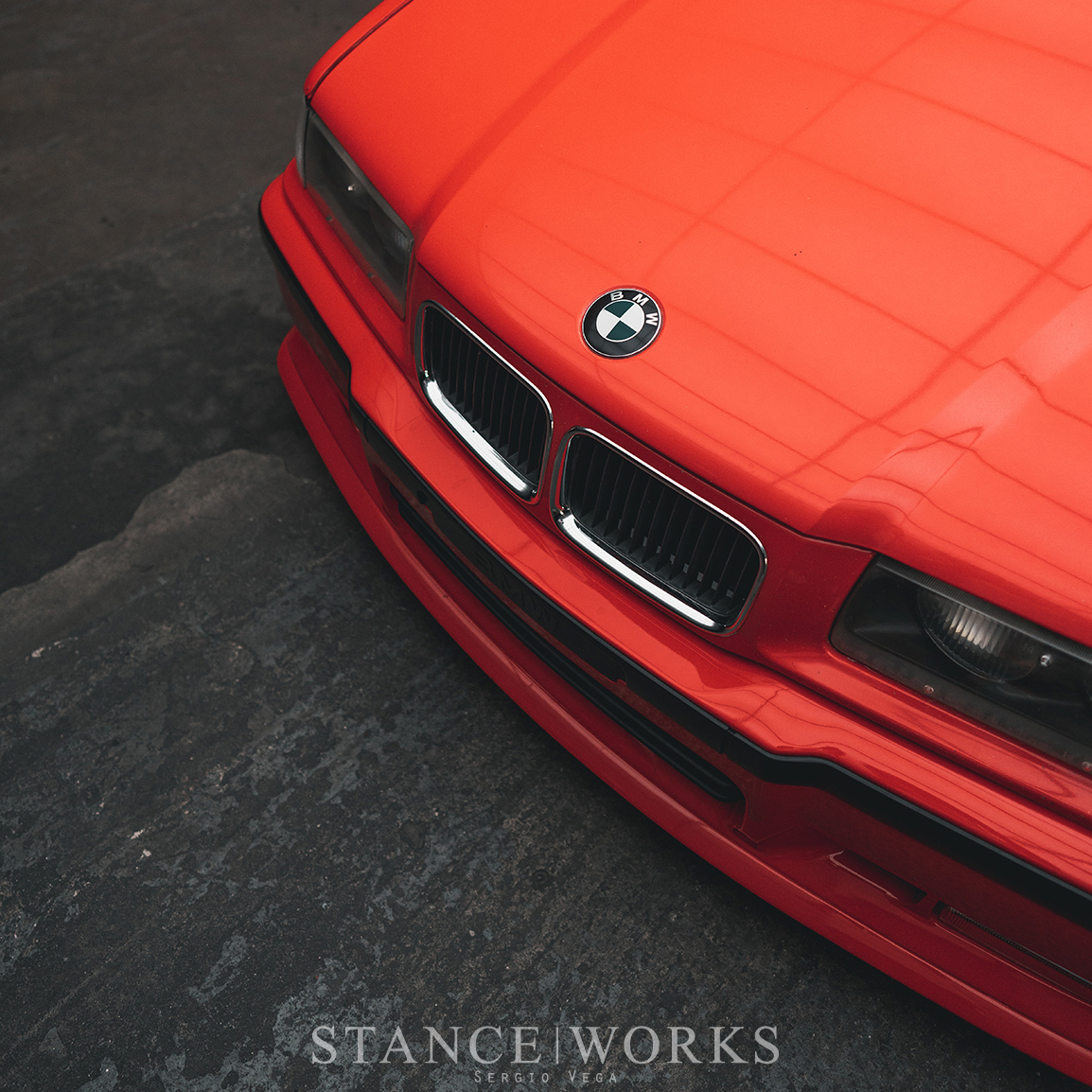 Eventually, Sergio's work brought him from the Monterey Bay area down to sunny Southern California, prompting the search for a new car. Without the space to deal with extensive work like engine swaps, Sergio had a list of criteria that needed to be met. Something relatively light, dynamic, and with a good aftermarket were all important, but topping the list was the ability to be tracked immediately upon purchase. The E36 M3 fit the bill to a T, and as a new chassis to Sergio, the excitement was doubled.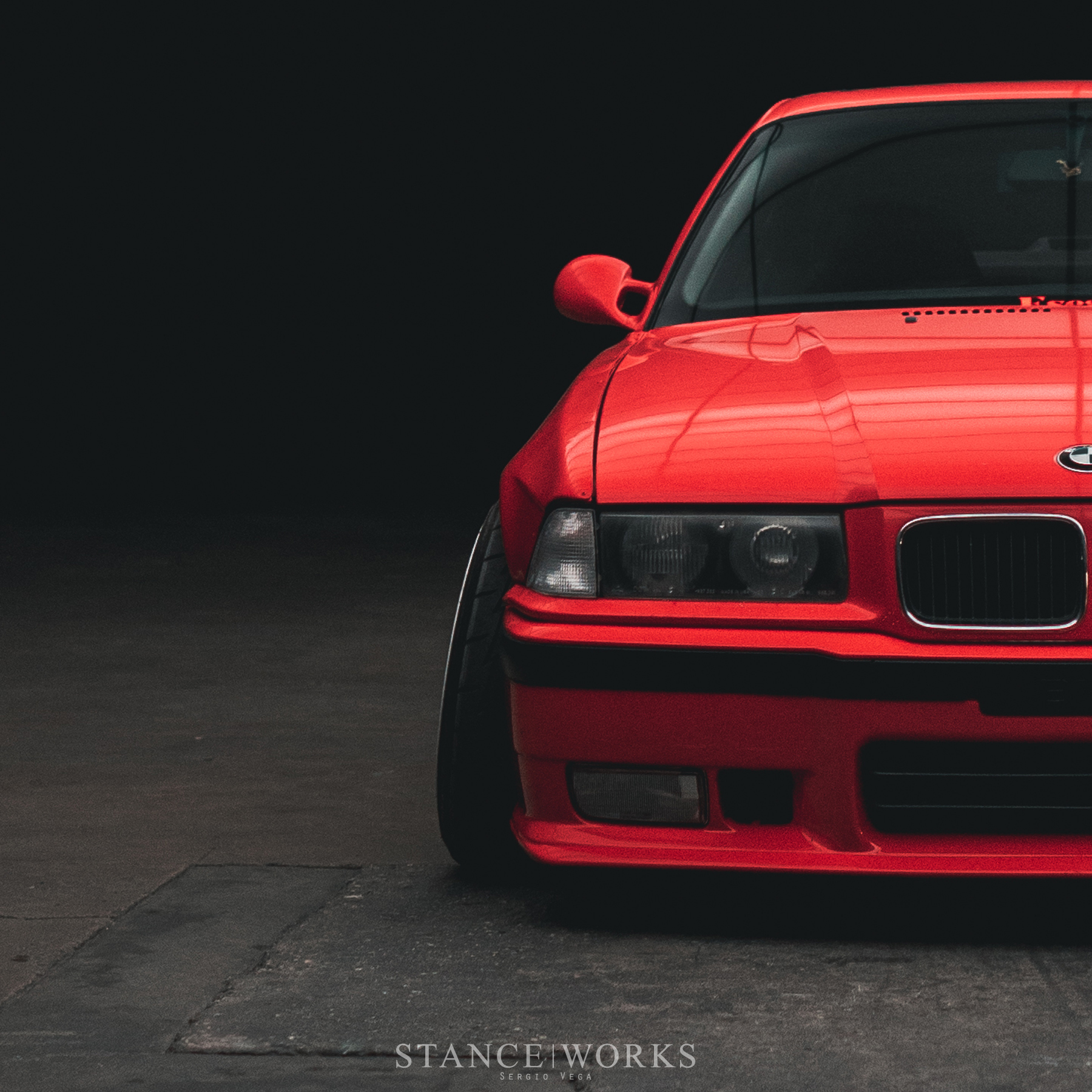 As context clues reveal, Sergio landed upon a 1995 E36 M3, clad in the always-desirable Mugello Red. Finding the car itself was a stroke of luck: with values of E36s climbing steadily, clean examples seemed to always fall just outside of budget. Thanks to a friend, however, Sergio was made aware of a single-owner car that hadn't hit the market but was soon to be for sale. Without hesitation, he made the purchase, and the rest is history.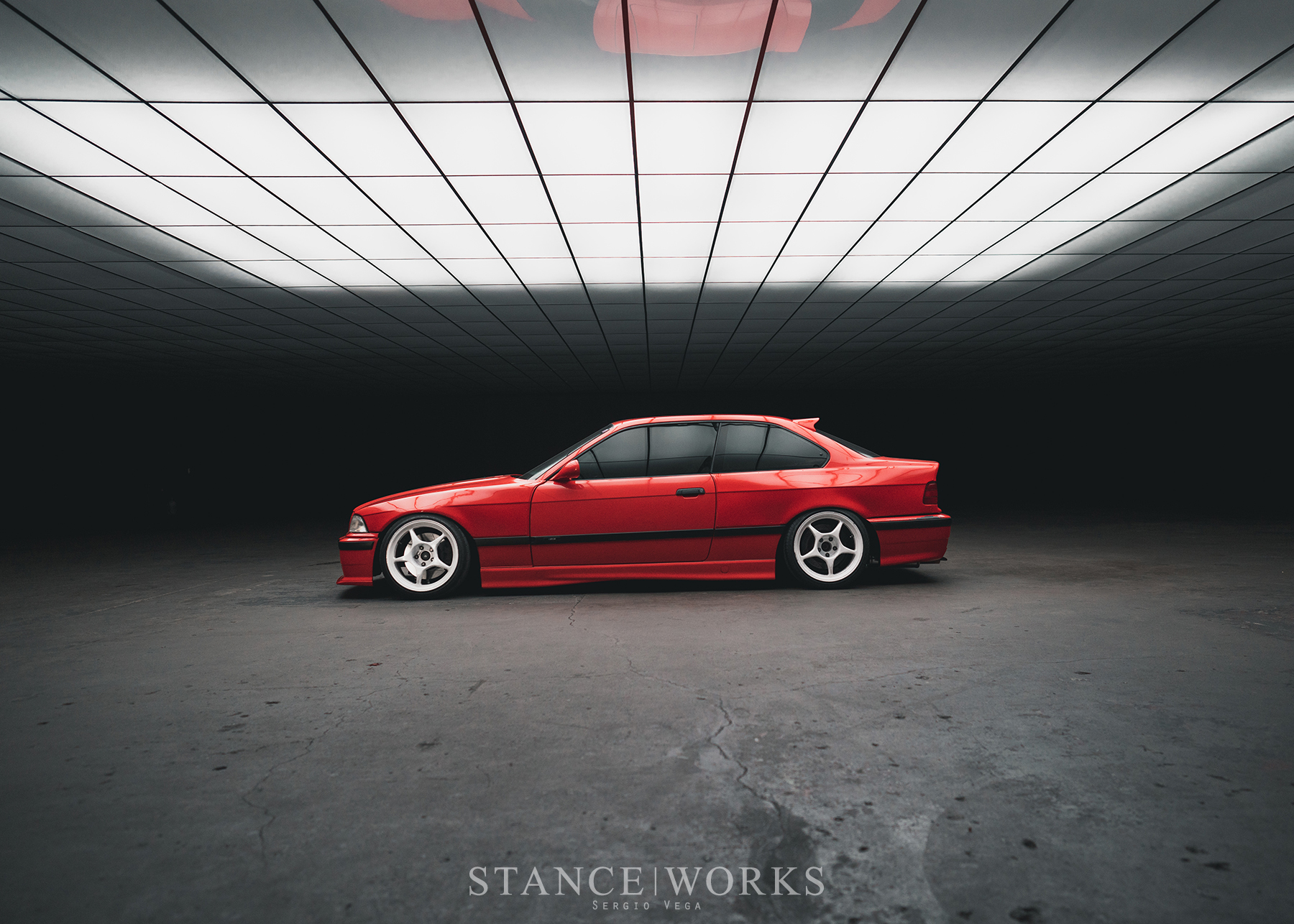 Sergio admits that, initially, his plan was to tear the car apart. "My original goal was to fully gut it and get Lexan windows to try to shave as much weight as possible," he says. With a desire to keep the engine relatively stock for reliability purposes, his focus was initially on the power-to-weight ratio. Removing weight often comes cheap, and the performance benefit is one of the best to be had on any car, period. That plan, though, changed quickly. "I didn't expect to find a clean example of an M3, so once I picked it up, I felt bad immediately gutting it, and decided to make it more of a street car."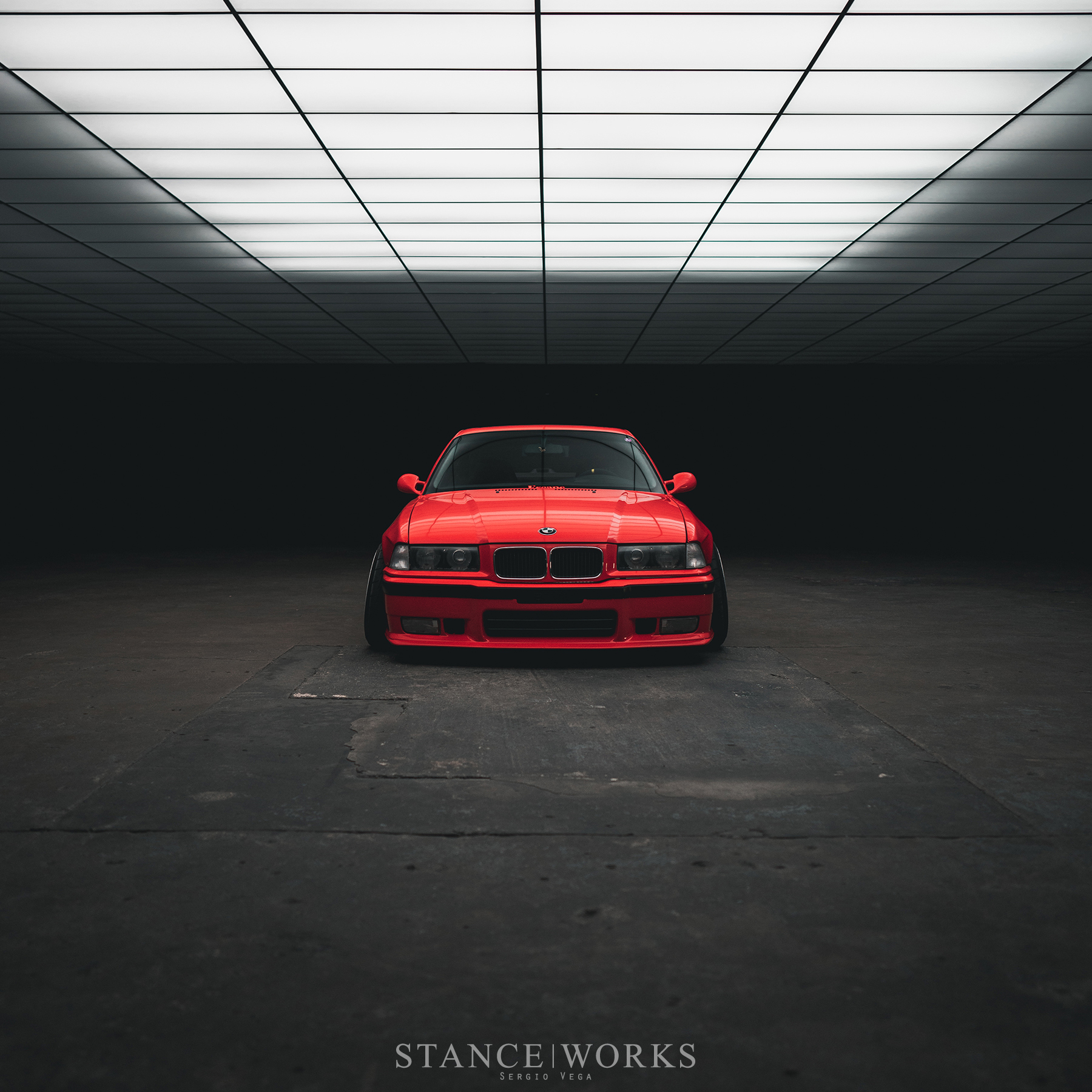 Today, the car sits with largely untouched interior, sporting stock trimmings and cards paired with a Personal Dakar steering wheel, a bucket seat, an IRP shifter, and a Nerptech E-Brake. Under the hood has received a similar treatment in the name of reliability: the S50 has been paired with a Dinan intake, a Bimmerworld exhaust, and upgrade engine and transmission mounts, which together give the inline six a bit of added bark with no added risk. Sergio is able to beat on the car until his limbs give out.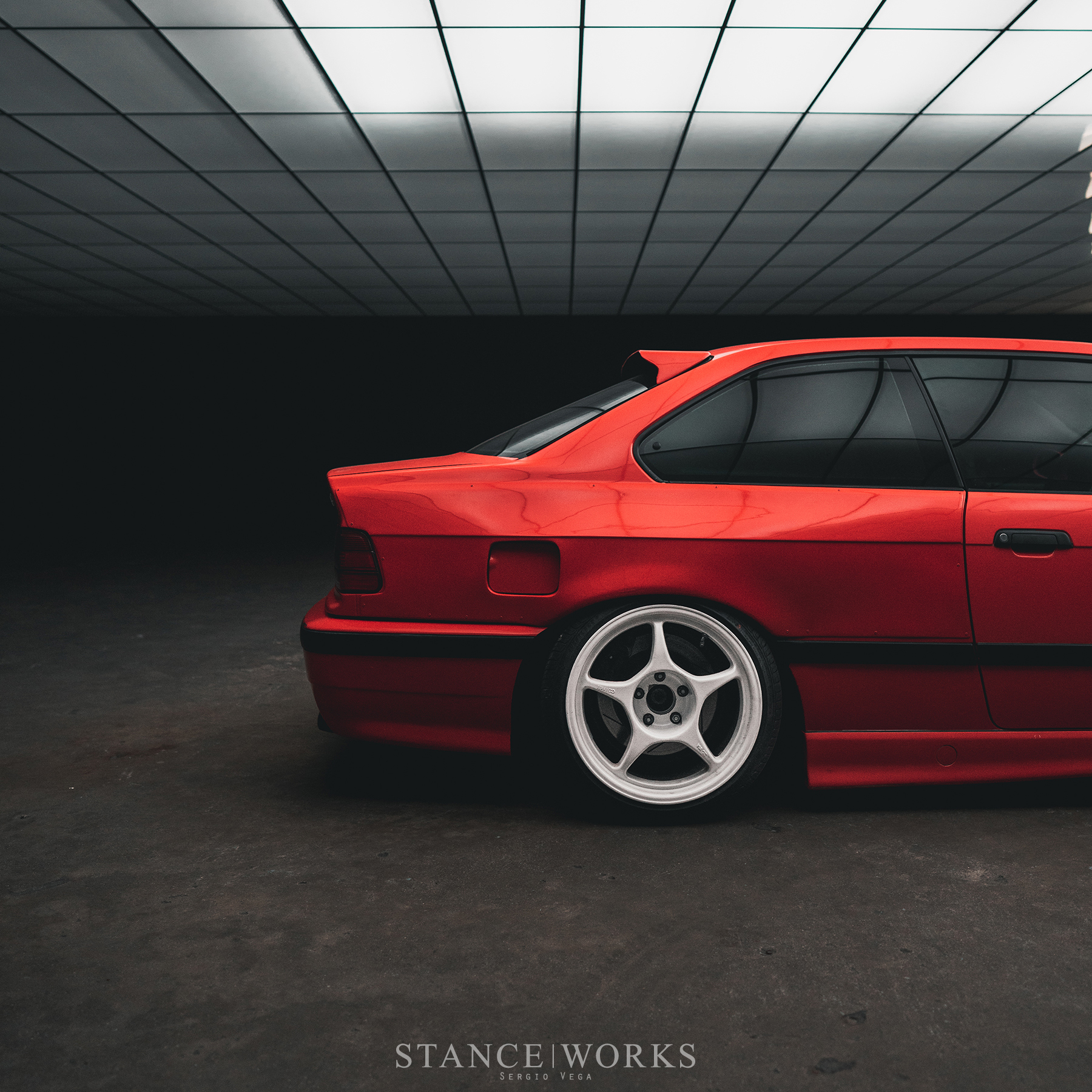 Obviously, it's the exterior and suspension setup of the car that have been given the most attention. Underneath the car is a set of BWS coilovers, at all four corners. SLR control arms act as a focal point of the front suspension, which completely transform the handling dynamics of the car. Out back, Sergio has installed PMC Motorsports rear lower control arms, Driftec trailing arm brackets, SLR sway bar endlinks, and Condor solid bushings and reinforcement plates at every applicable point. To say the coupe has been given a "once over" is an understatement.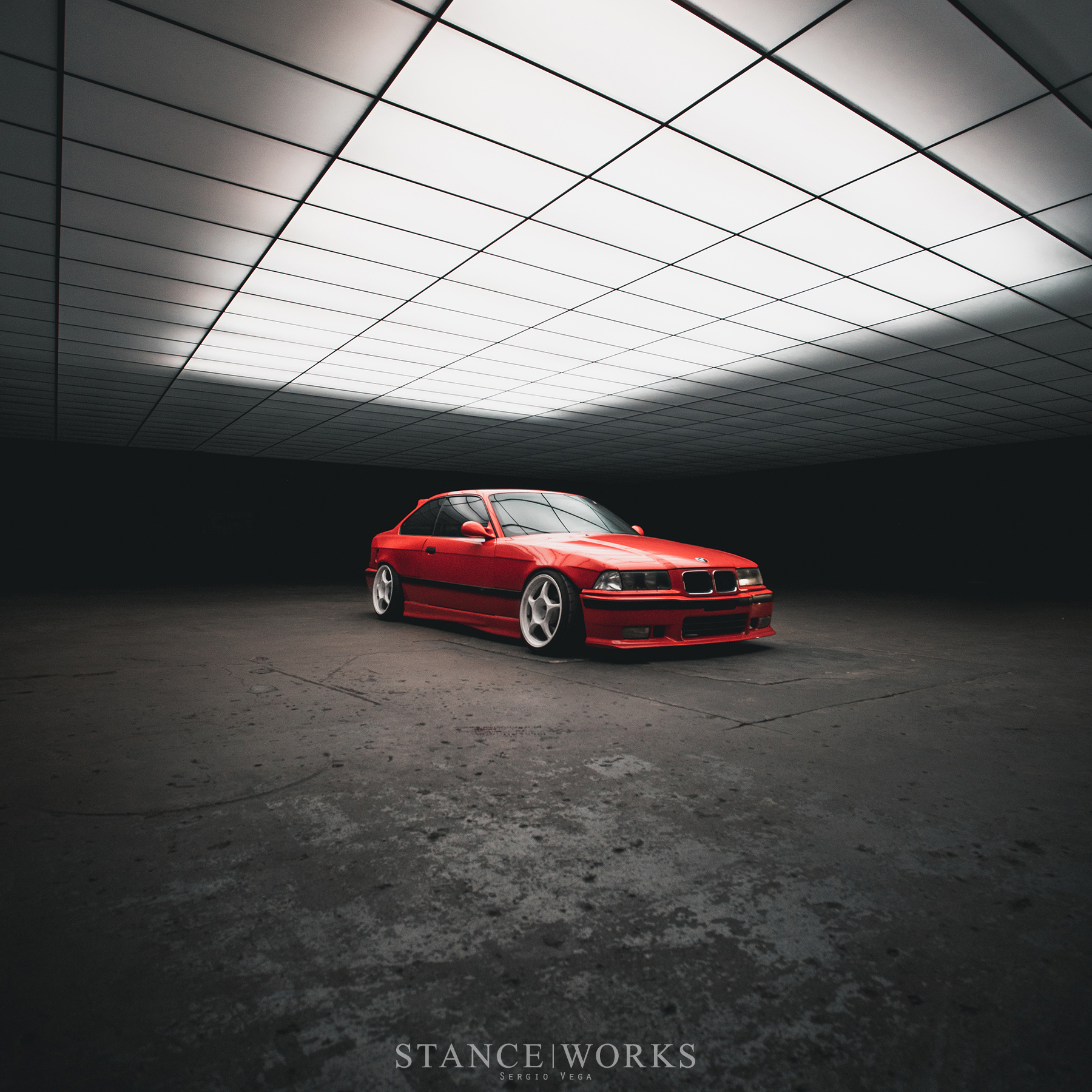 As one that loves the M3's stock body lines, Sergio chose overfenders that help embrace them, with a +30mm and +50mm kit, front and rear. An M3 lux package grille and an HM sports roof wing are all that further the exterior aesthetic in favor of a style that is true to the E36's roots. The sum of the parts makes for a beautiful track car and street car. Paired with the talents of a fantastic photographer, it makes for Monday Morning content that's hard to beat. With the kinks worked out, it's a car that Sergio has been able to track time and time again, leading to a focus on driving instead of working on it. For him, it's a dream come true. For us? Well, it means patience.. Idle hands means its only a matter of time before dives back in on that project 510.