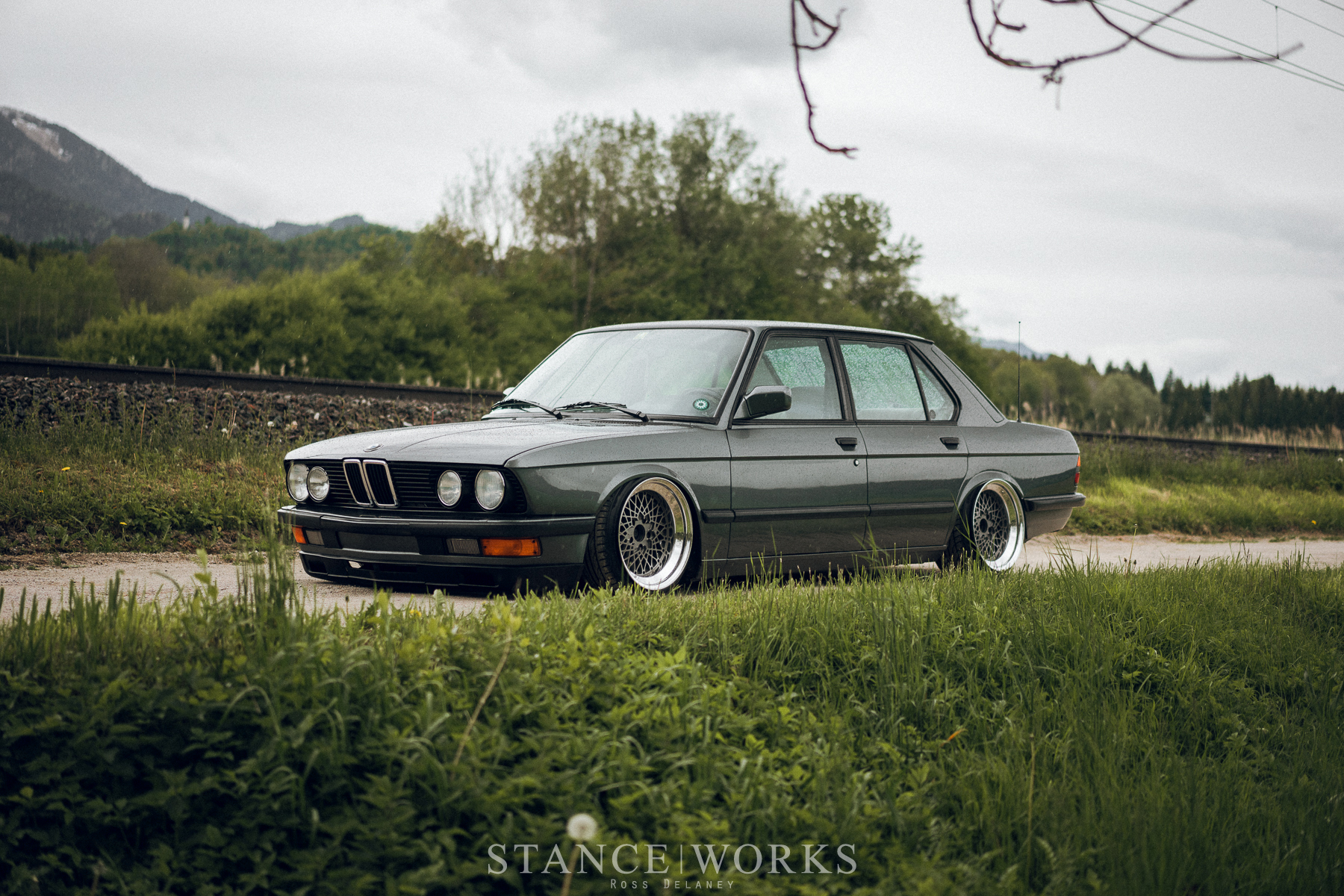 Knowing What You Want – Yannik Maier's 1987 BMW E28 520i – Photographed by Ross Delaney
It began at the race track. Yannik Maier, at just 14 years old in 2014, was lucky enough to see an oldtimer E28 turned race car during a visit to Germany's world-famous Hockenheimring, home of the German Grand Prix. Few and far between in contrast to both 3s and 6s, a 5er race car is a rare sight by nearly any measure; however, seeing such an oddity had a lasting impact on the youngster. "From then on I was crazy about the car, and I was sure that at some point, I must have an E28," he says. It's unsurprising, of course, seeing as both his father and his grandfather are BMW aficionados, and an affinity for the marque was passed on to him. "The BMW brand is special," he explains, "because all models follow a line that has always been recognizable. There is almost no model that I do not like." Both new and old he holds a certain fondness for, but it's the 2nd-generation 5 series that stole his heart.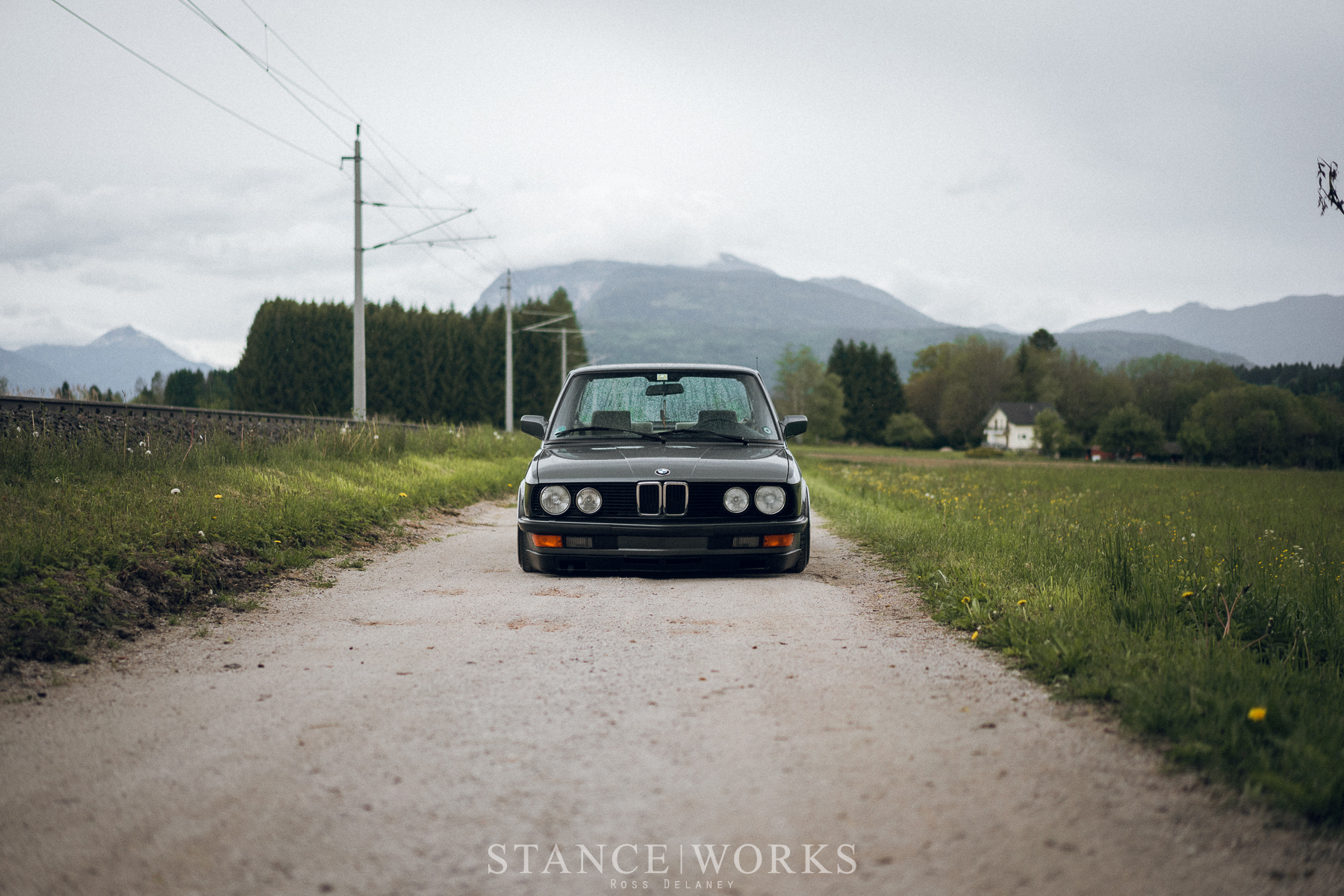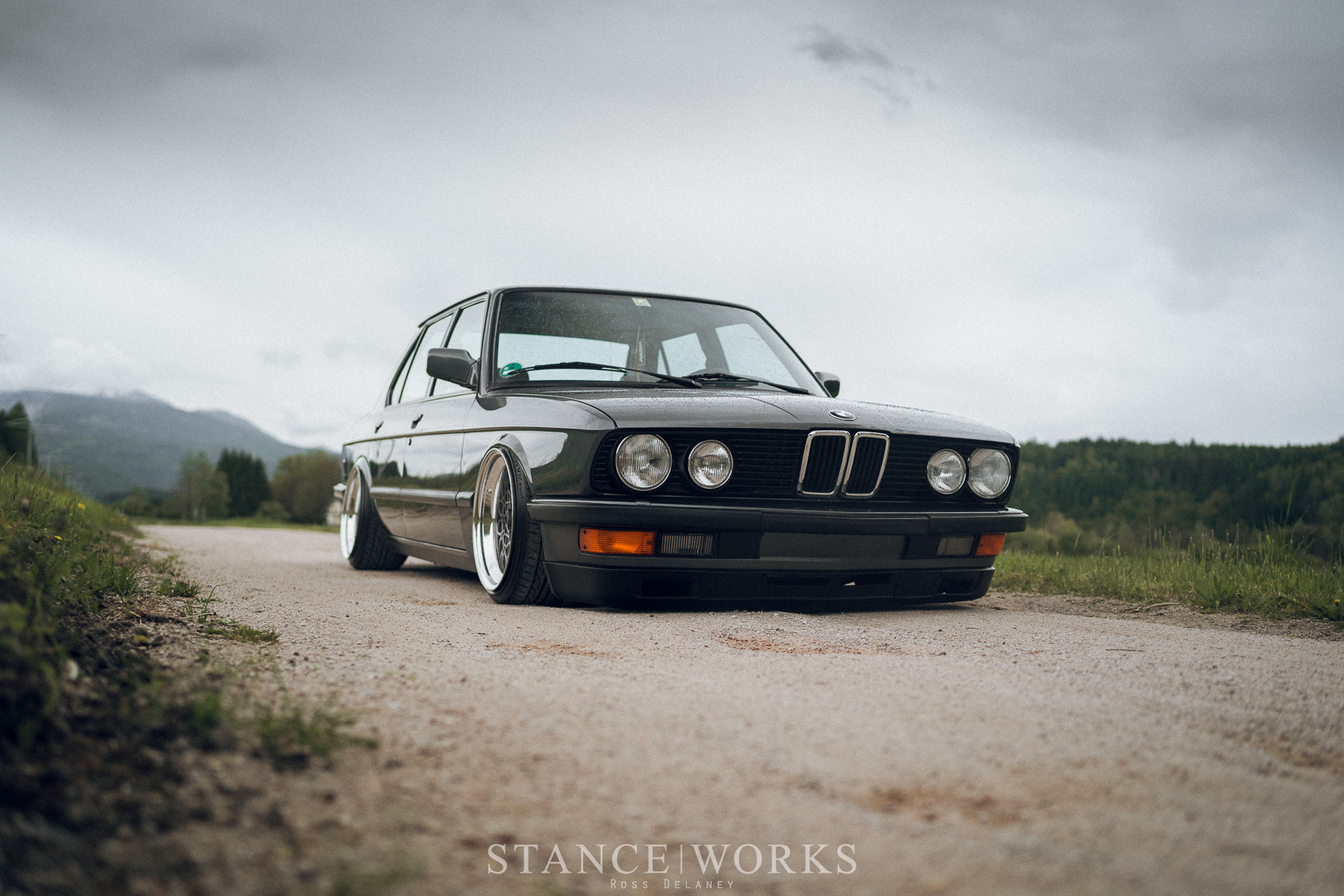 At just 14 when he encountered the E28 track build, there was only so much Yannik could do, other than to dream. He wasted no time though, beginning the hunt early for what could be his first car. His overall criteria was as simple as it gets: it must be an E28, and it must have factory "shadowline" trim: a car optioned with black window glazing and trim instead of the much more common chrome brightwork. Condition, on the other hand, he says was unimportant. Following a 2-year search that turned high and low, a suitable example finally surfaced: a 1987 520i, draped in Dolphin Grey and, as Yannik had hoped, equipped with shadowline trim.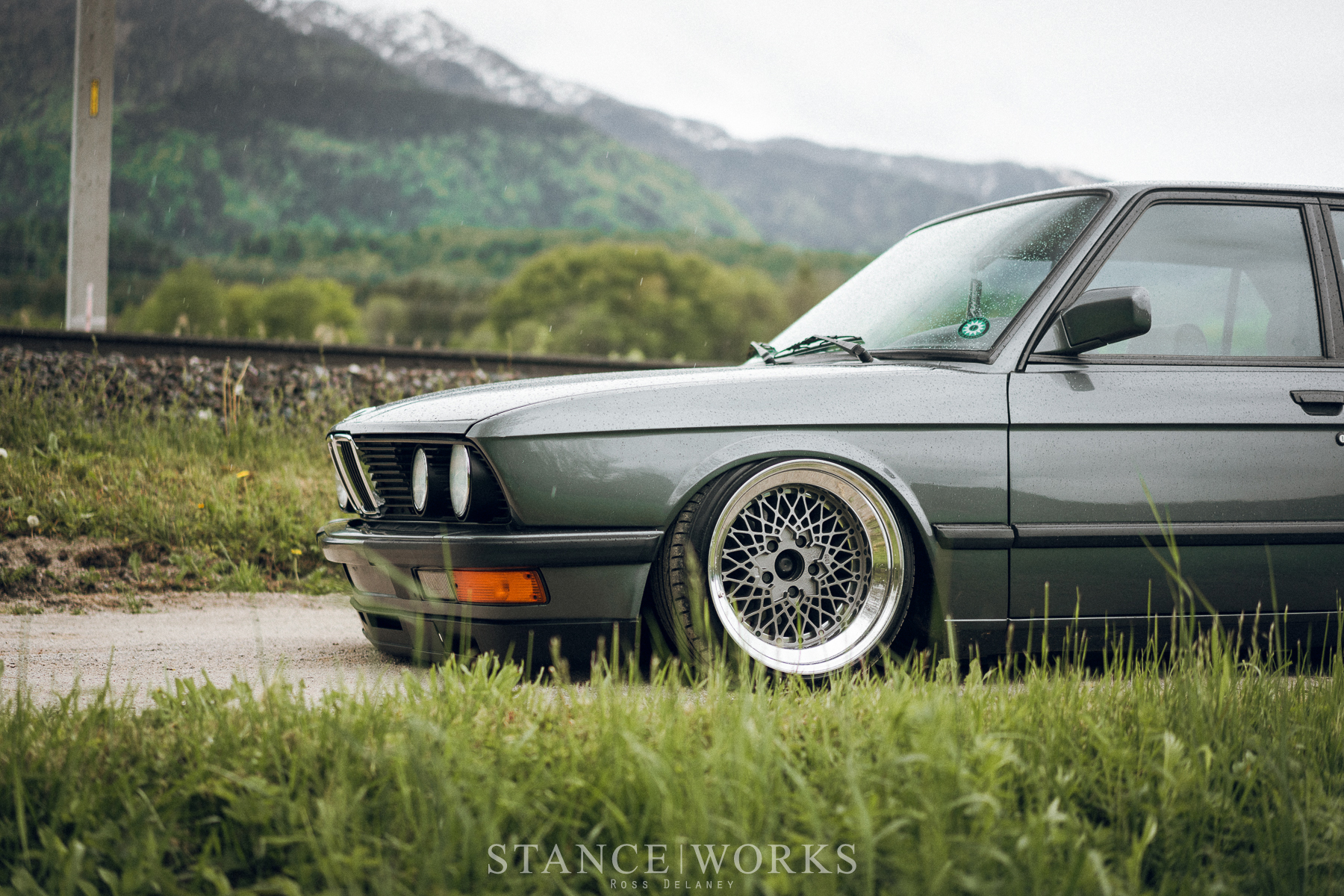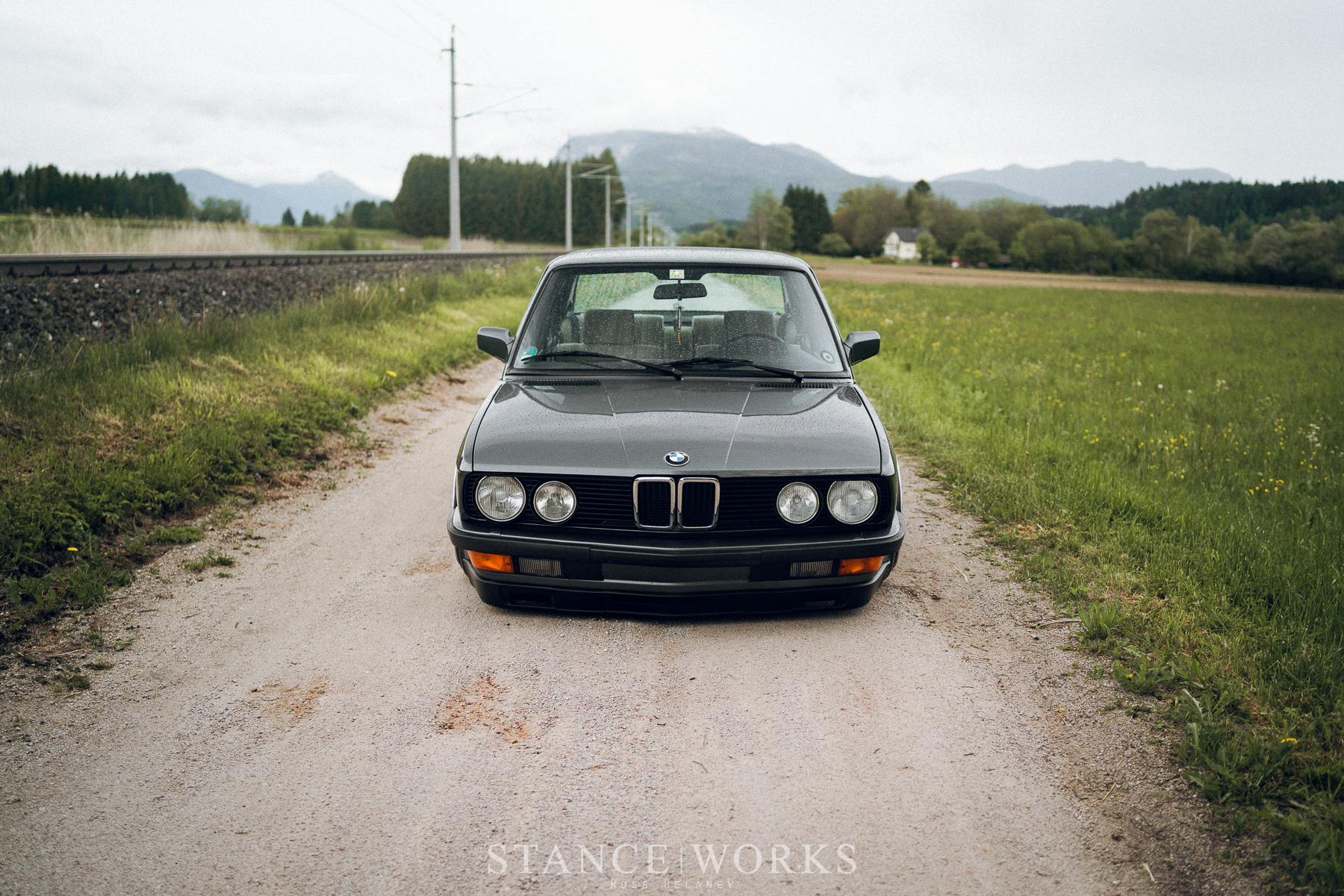 The car was, as Yannik puts it, "fine." At 30 years old, the car had earned its fair share of rust, nicks, dings, and dents. Far from perfect, but a good starting platform, it sounds. Unable to drive the car home himself, the E28 was loaded onto a trailer, and together with his father, the two dragged it home where the project began. The original goal was, as Yannik puts it, to buy an inexpensive vehicle that required little effort and could be used as a daily driver. Clearly, that plan changed course over time, beginning with a complete paint job.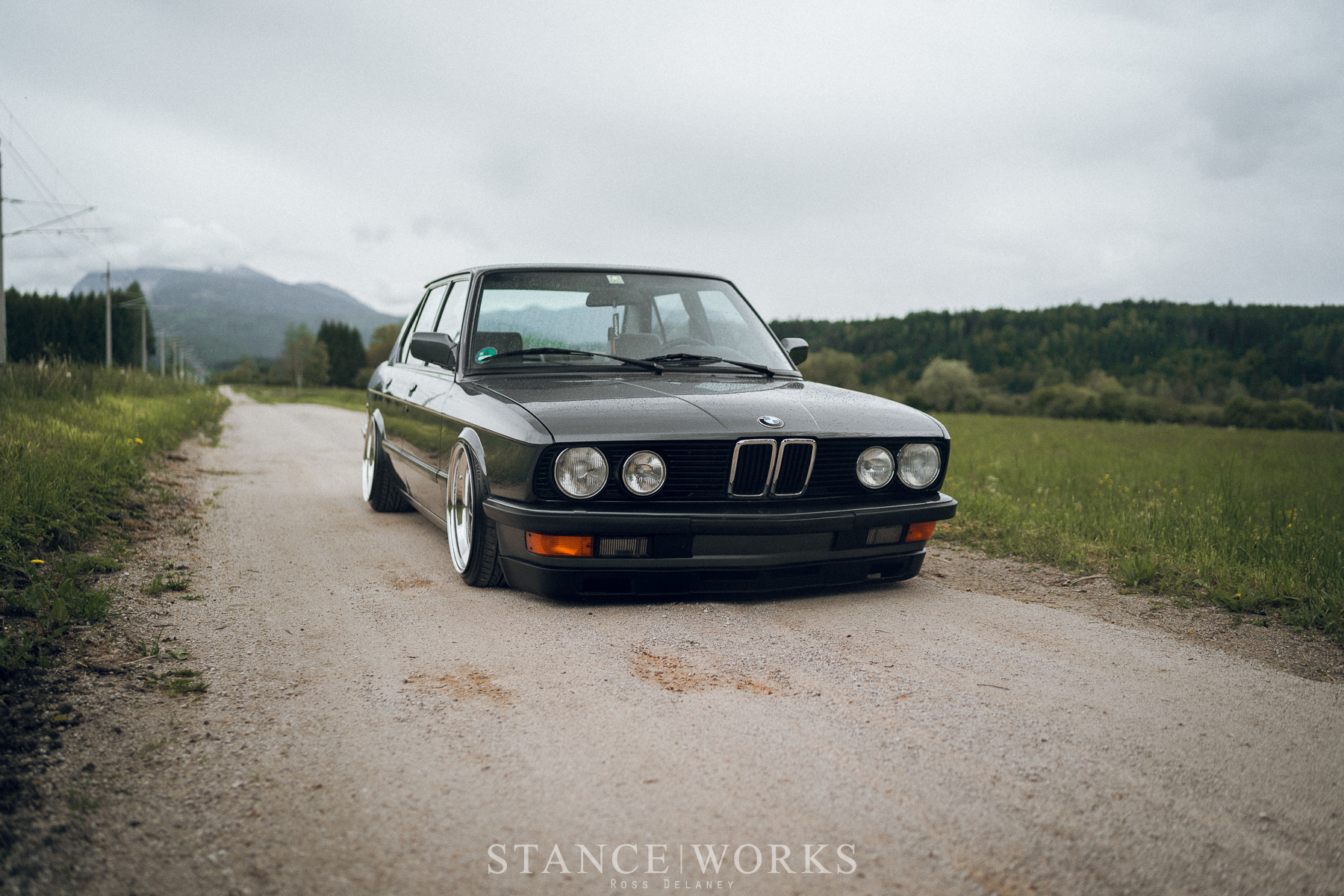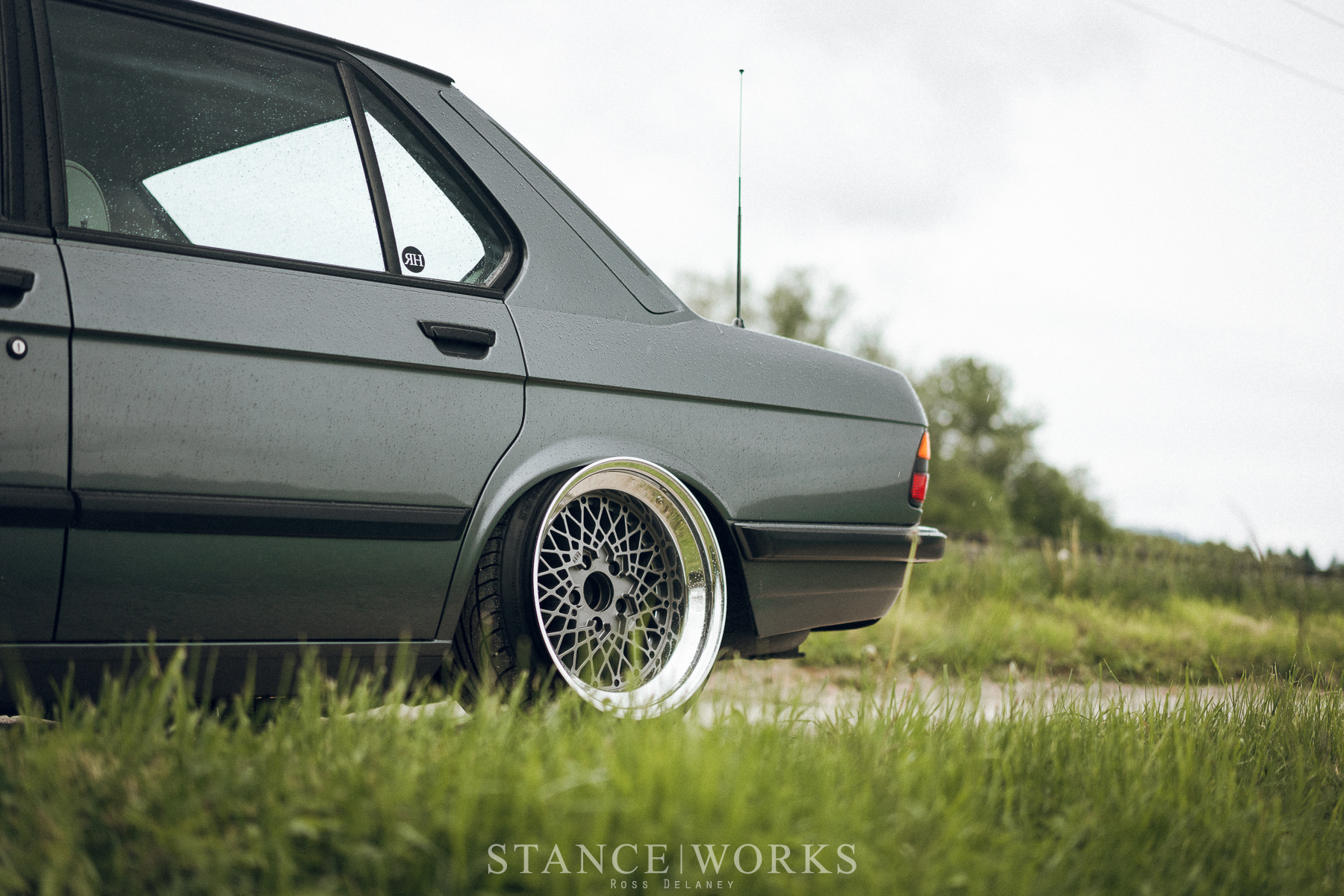 First and foremost was bringing the car's bodywork back to life. Yannik sought a full respray following bodywork and rust repair, and decided to finish the car in its original shade of "Delphin Metallic." "I wanted to maintain the originality in connection with the Shadow Line and not to impair it," Yannik explains. The body restoration was accompanied by fender work in preparation for the centerpiece of his E28 build. The arches were meticulously smoothed, and finished internally, to allow his choice of wheel to fit.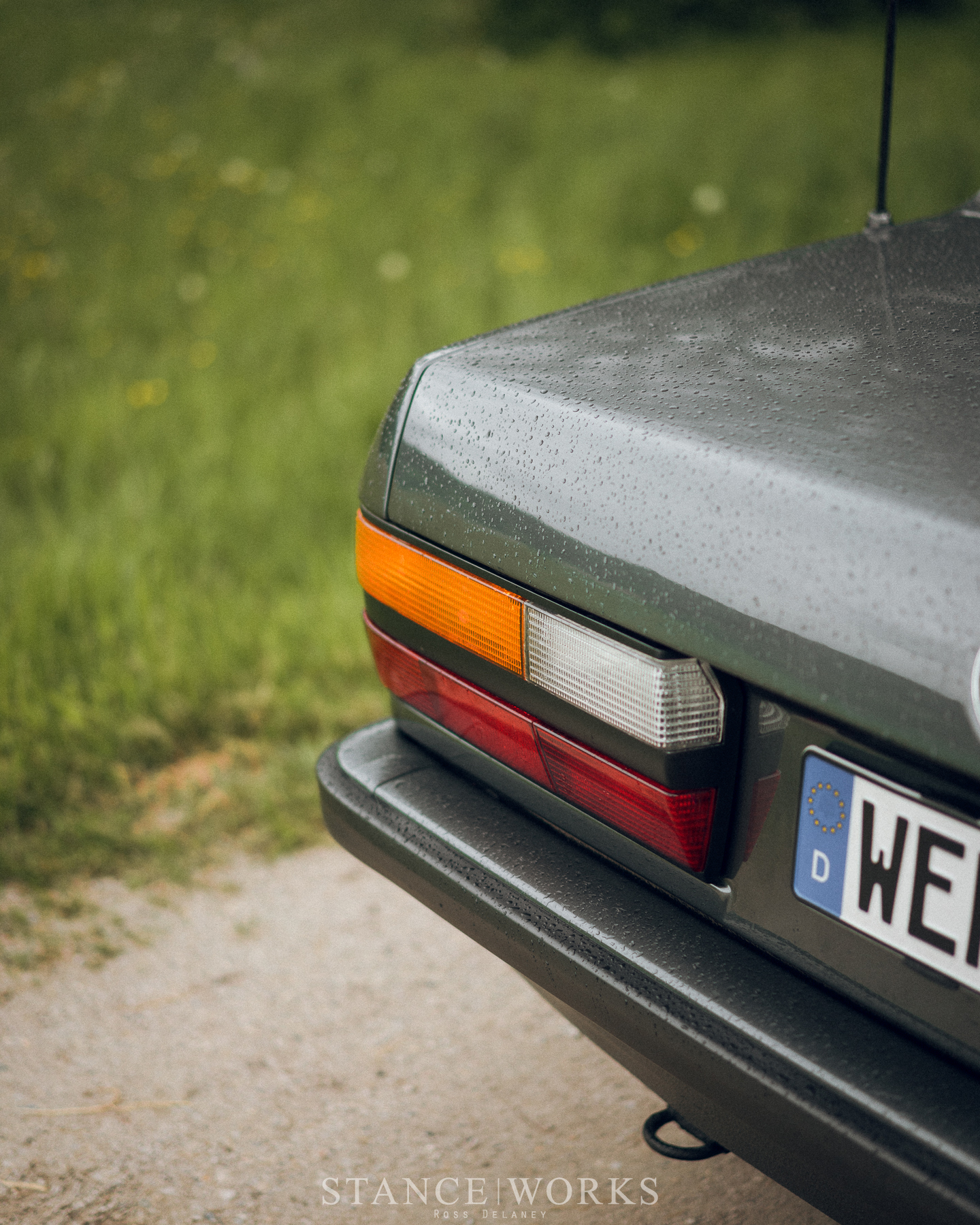 Inspired by the BMW race cars from decades passed, Yannik chose a set of BBS E50 motorsport splits for the sedan. Measuring out to 17x9.5 in the front and 17x10.5 in the rear, the wheels fill the arches to the brim with 4" lips at all four corners. Spacers that Yannik machined himself make for truly perfect fitment. Last but not least, the wheels are wrapped in rubber that measures to 205/40 in the front and 225/35 in the rear.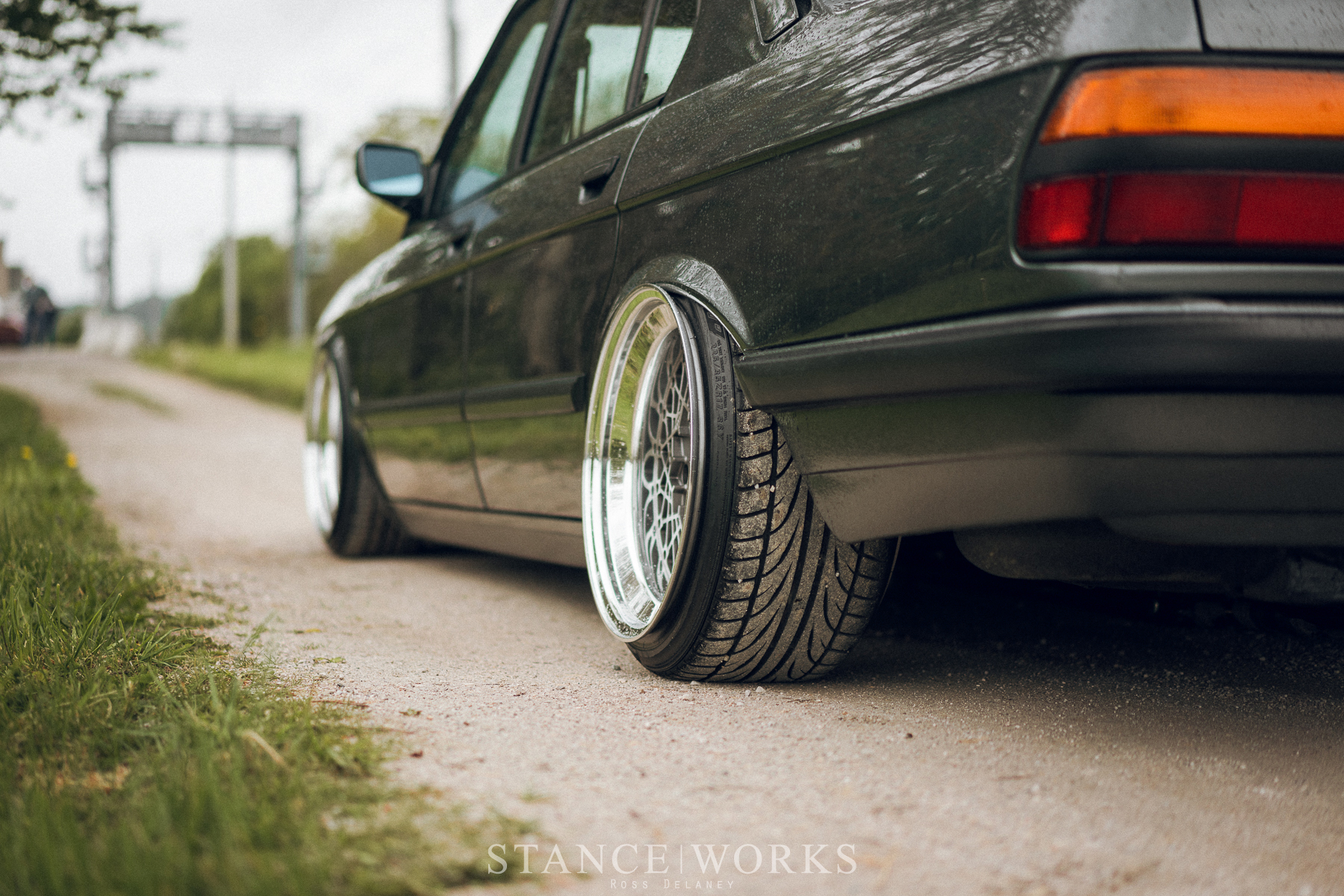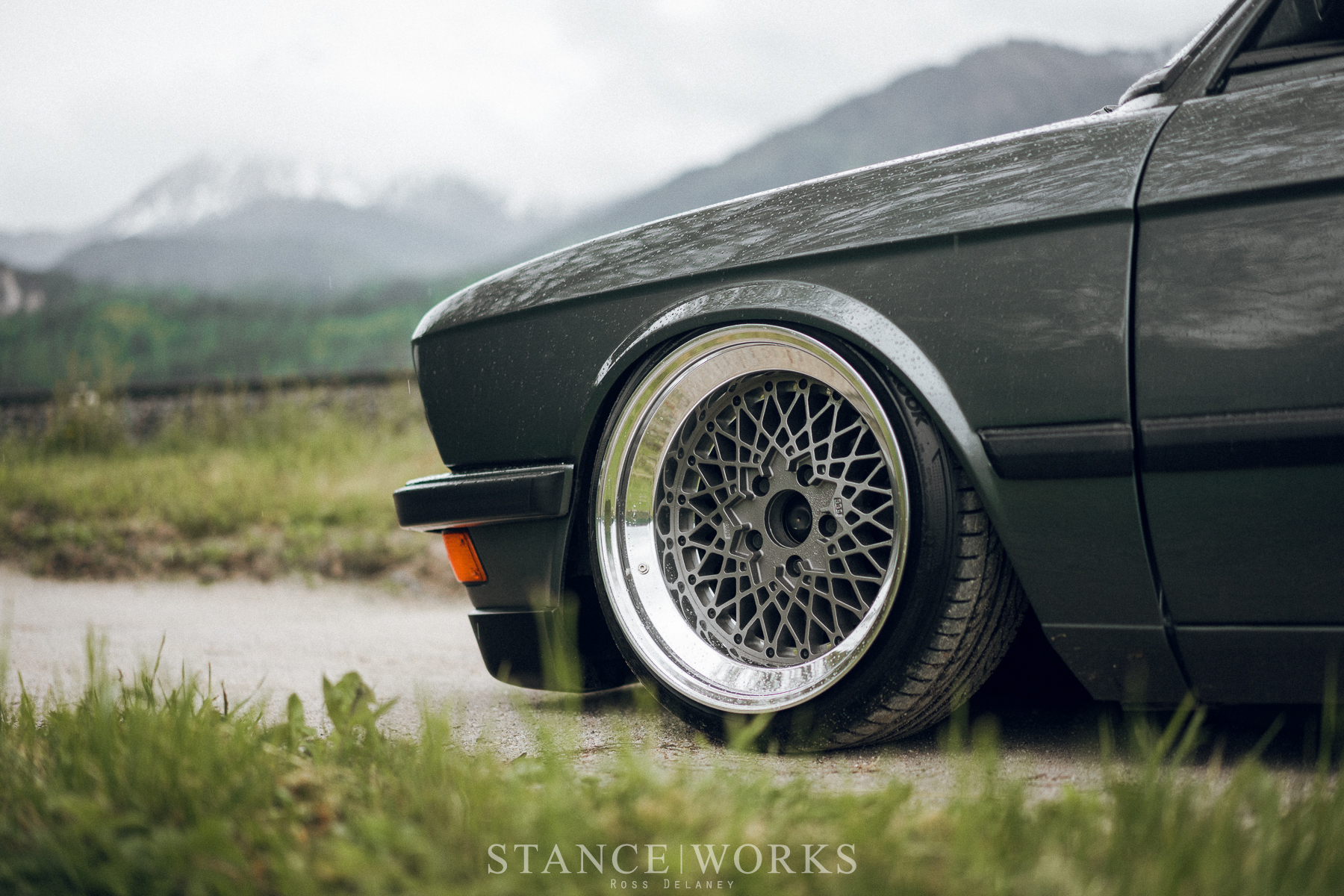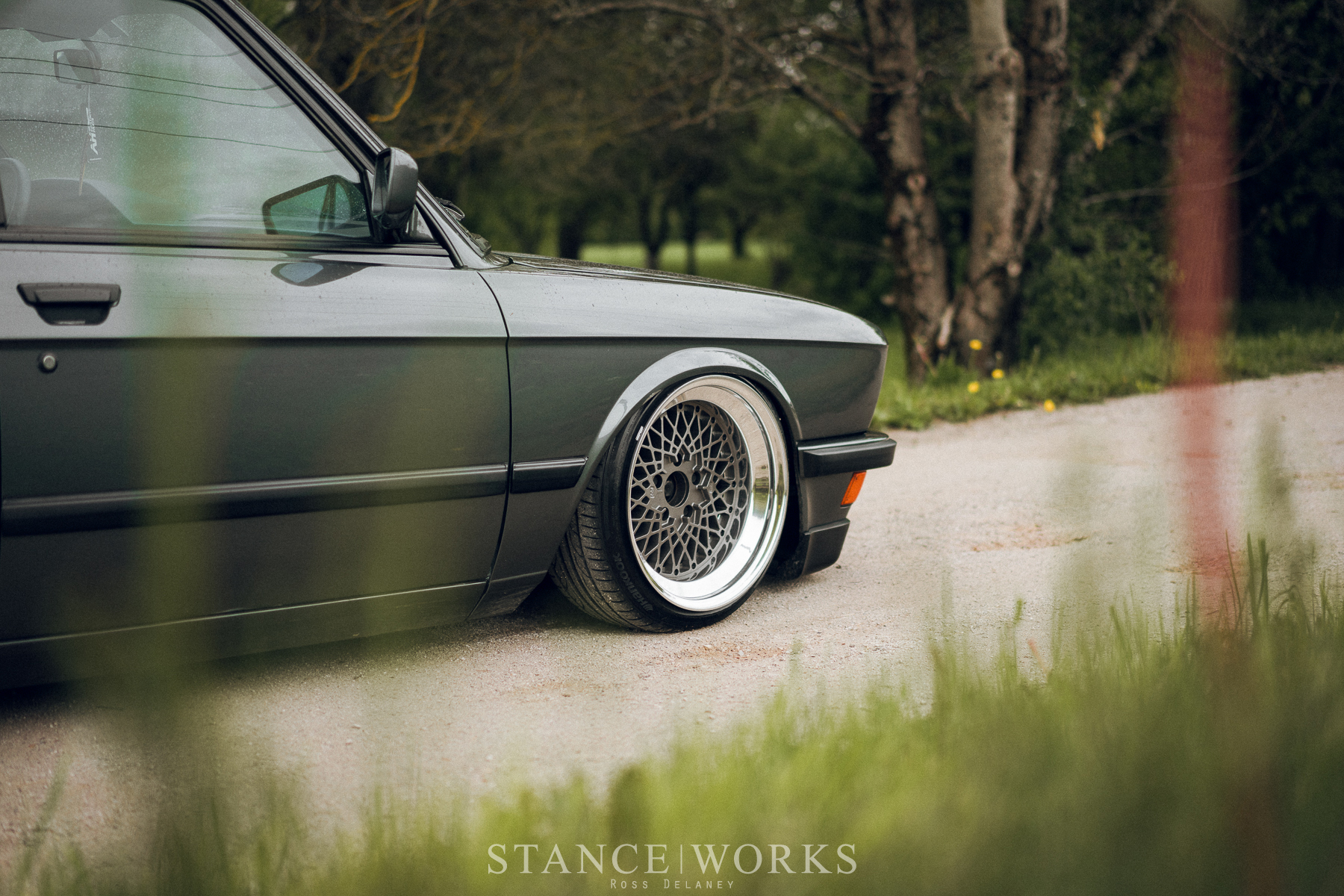 For suspension, Yannik turned to the help of AH Exclusive Parts, which helped to source and fabricate an Air Lift Performance universal system, perfect for classic BMWs like the E28, whose knuckles are an integral part of the Macpherson strut tube. The Air Lift Performance struts were paired with their 3P management: the latest version of their digital pressure-based management system, which helps to control ride height based on air pressures at each corner. Together, the components makes for a usable, user-friendly system that Yannik says he can drive in everyday life, and offers a perfect compromise between "optics and driving."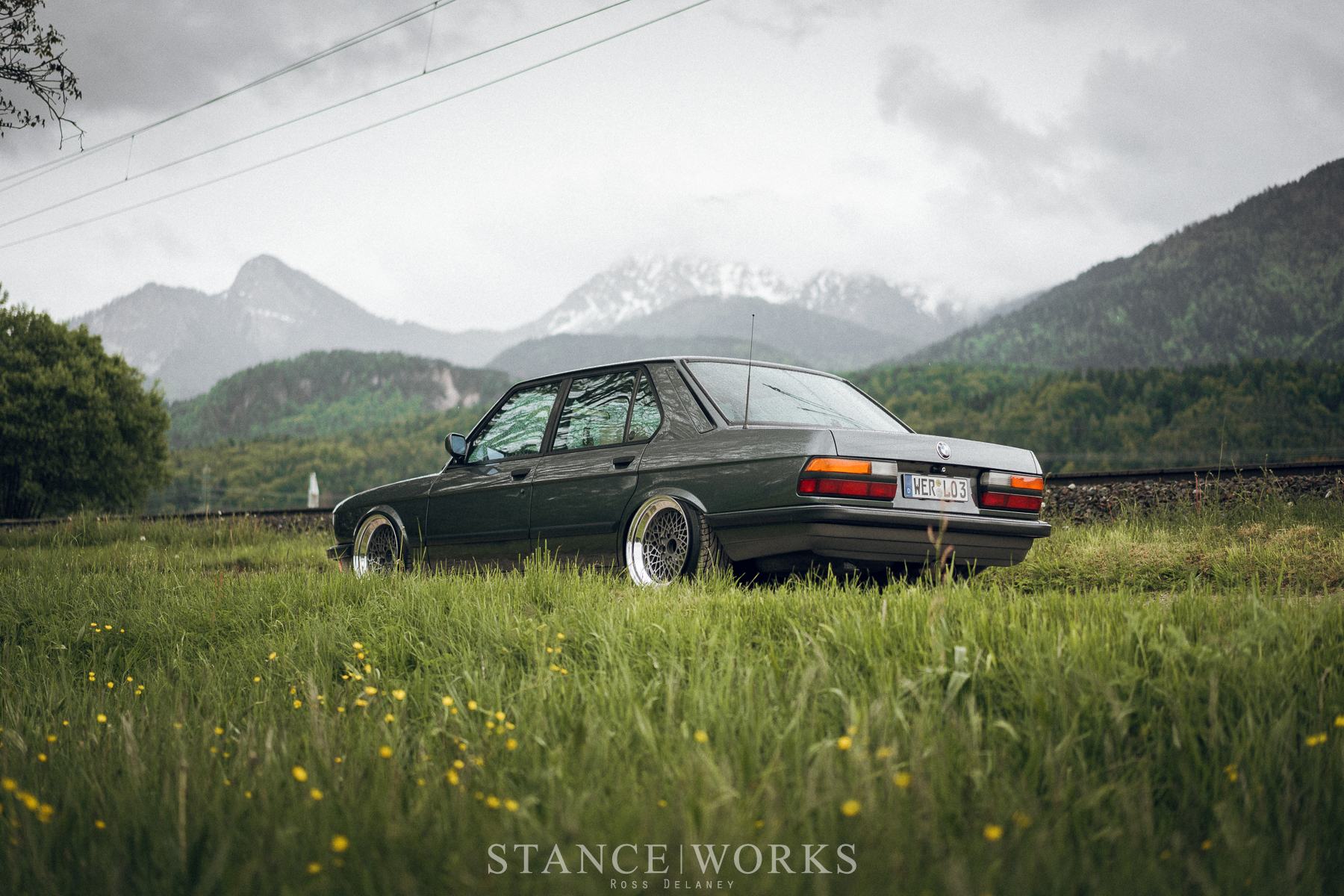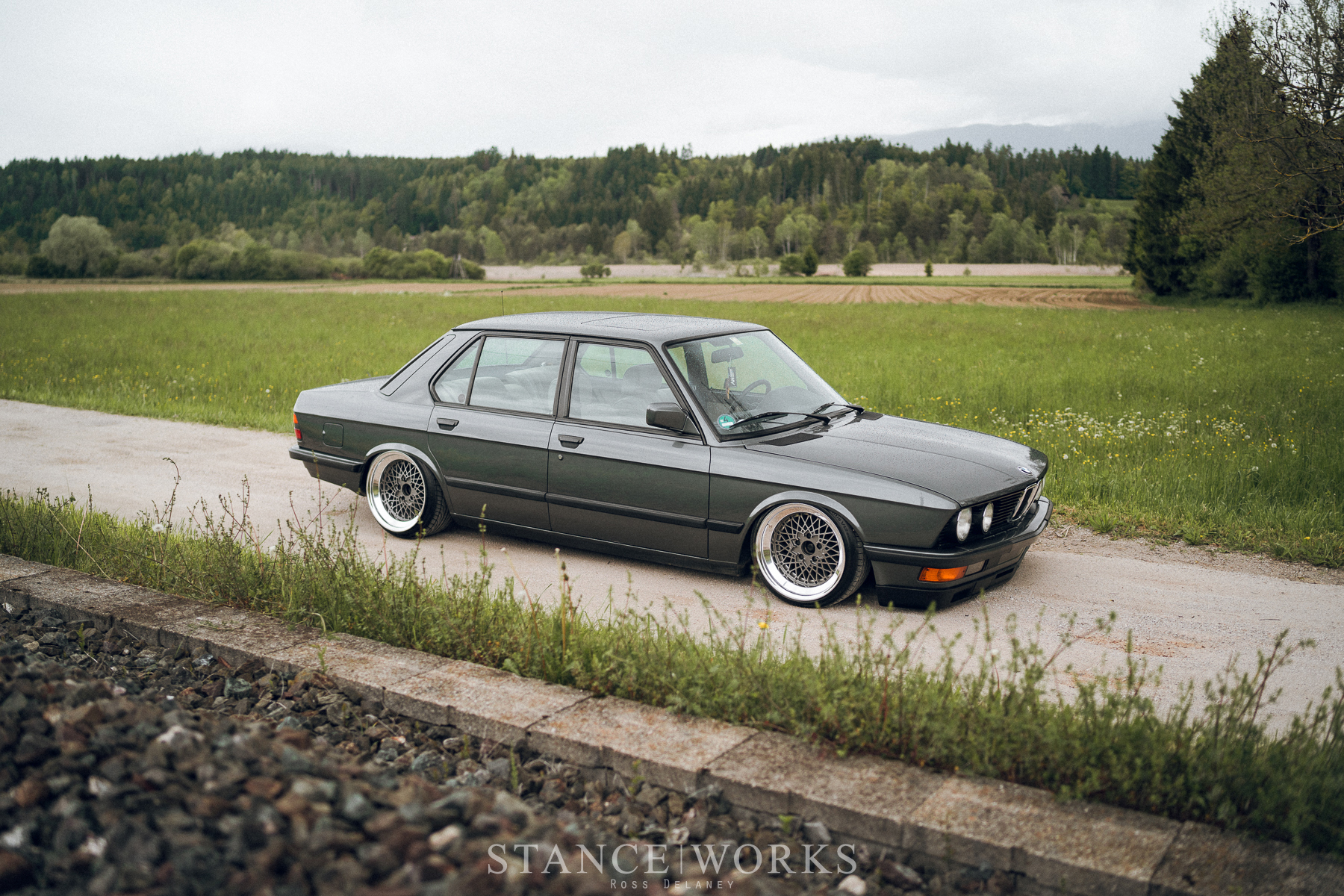 Due to buying the car from its original owner, the interior has been well preserved in contrast to the car's exterior. Sporting original beige velour, Yannik has left things untouched, aside from refinishing the steering wheel. The exterior has received a similar treatment: following the restoration, only an original E28 M5 front spoiler has been added. Clean and simple, and largely left as the E28 was intended.