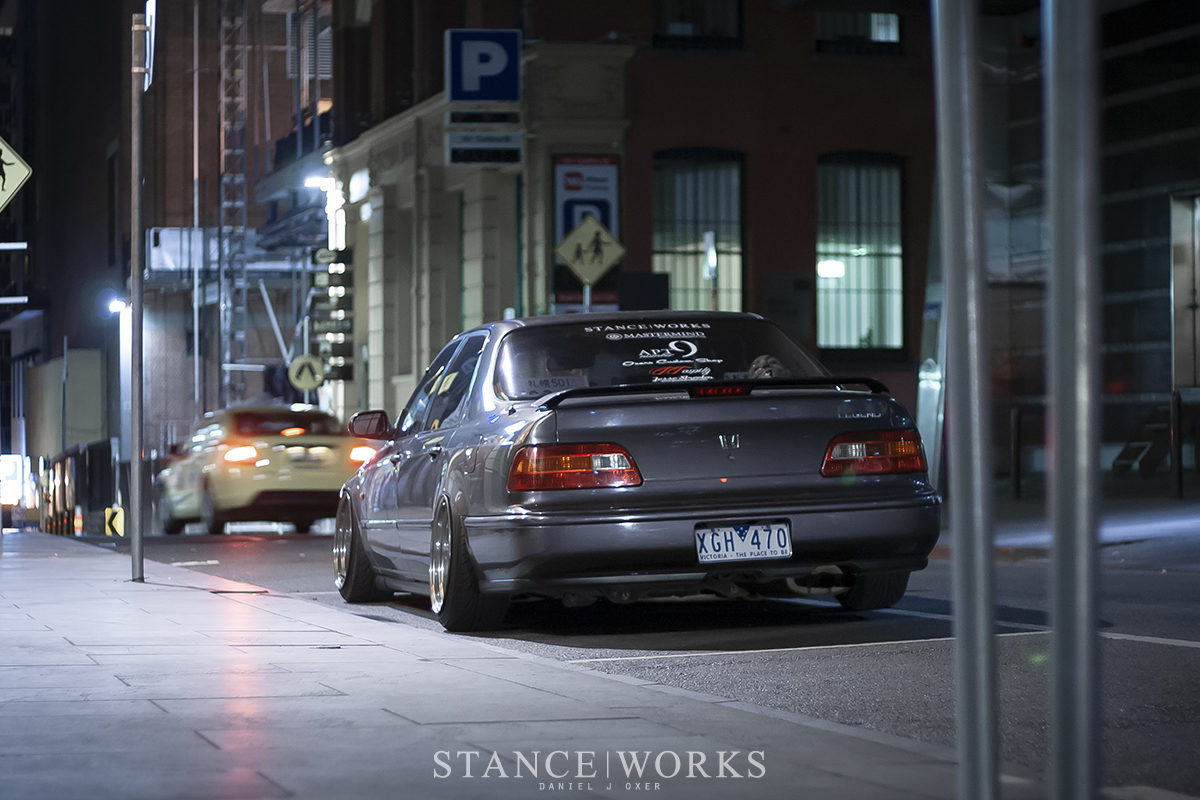 Sometimes, Legends Die – by Daniel J. Oxer
The year was 2012: hard to believe 8 years have passed, but being able to look back in time at how different things were can be refreshing. It was the night before my second trip to California, and I knew that there was a 13-hour flight ahead of me, so I figured I would spend the night capturing a moment in time. I didn't know at the time that the car wouldn't be with me for much longer, though. About 7 months after these photos were taken, I was driving home after a long shift at work. A car stopped short in front of me, but I was able to pull up. Unfortunately, the car behind me wasn't paying attention, hitting me at full speed.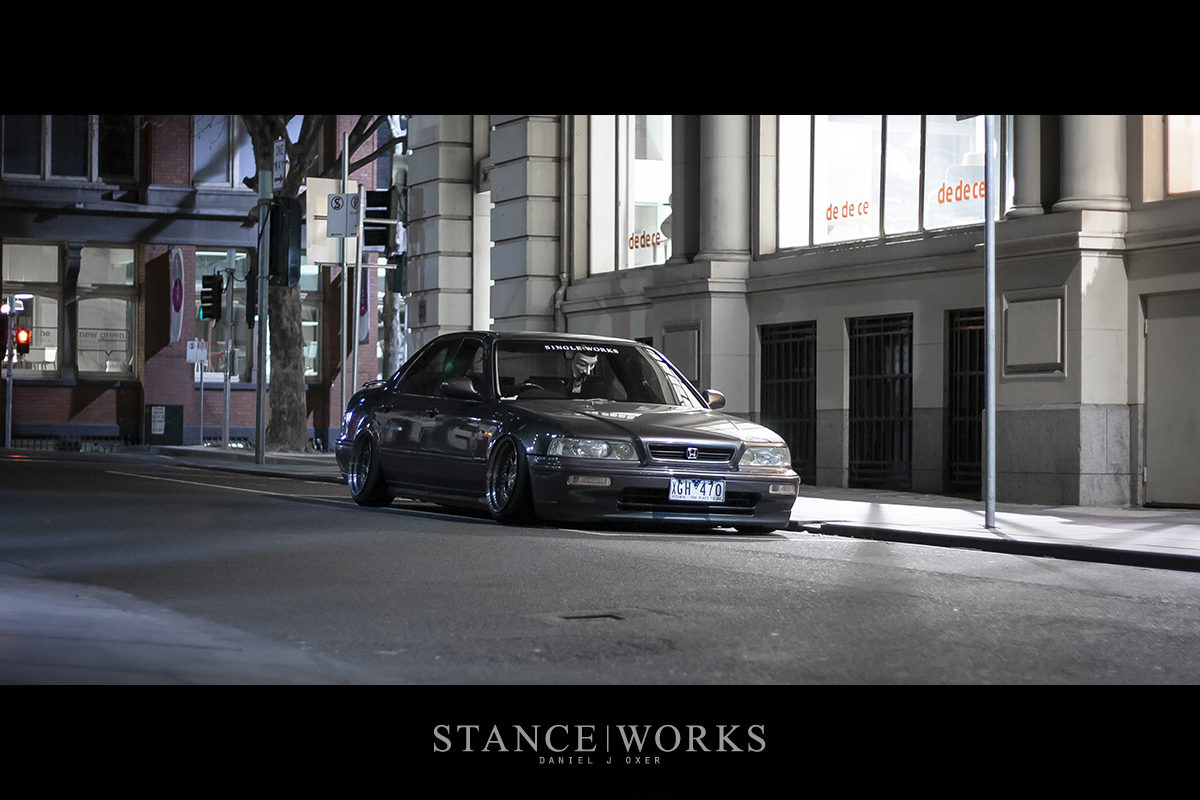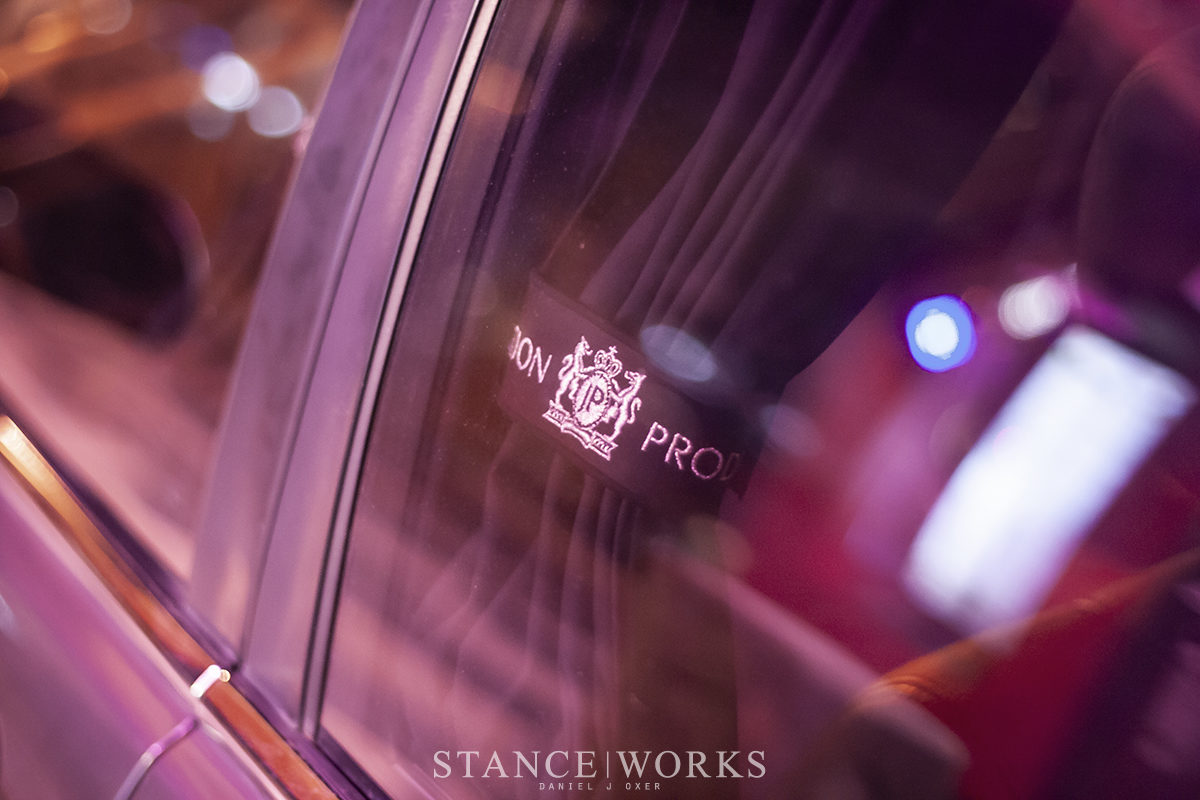 Getting the car to the point in the photos wasn't easy. At the time, a lot of people looked at the "stance scene" as wheels and a drop, with stupid offsets and overly stretched tires. Social media was still growing into the machine it has become in our daily lives, and it was a time of transitions for online forums. When I bought the car, I had a vision of building it with a VIP theme, but with my own personal twist to it. I was fortunate enough to find a clean imported version with a few optional extras, subtle things like the one-piece headlights and reclining rear seats.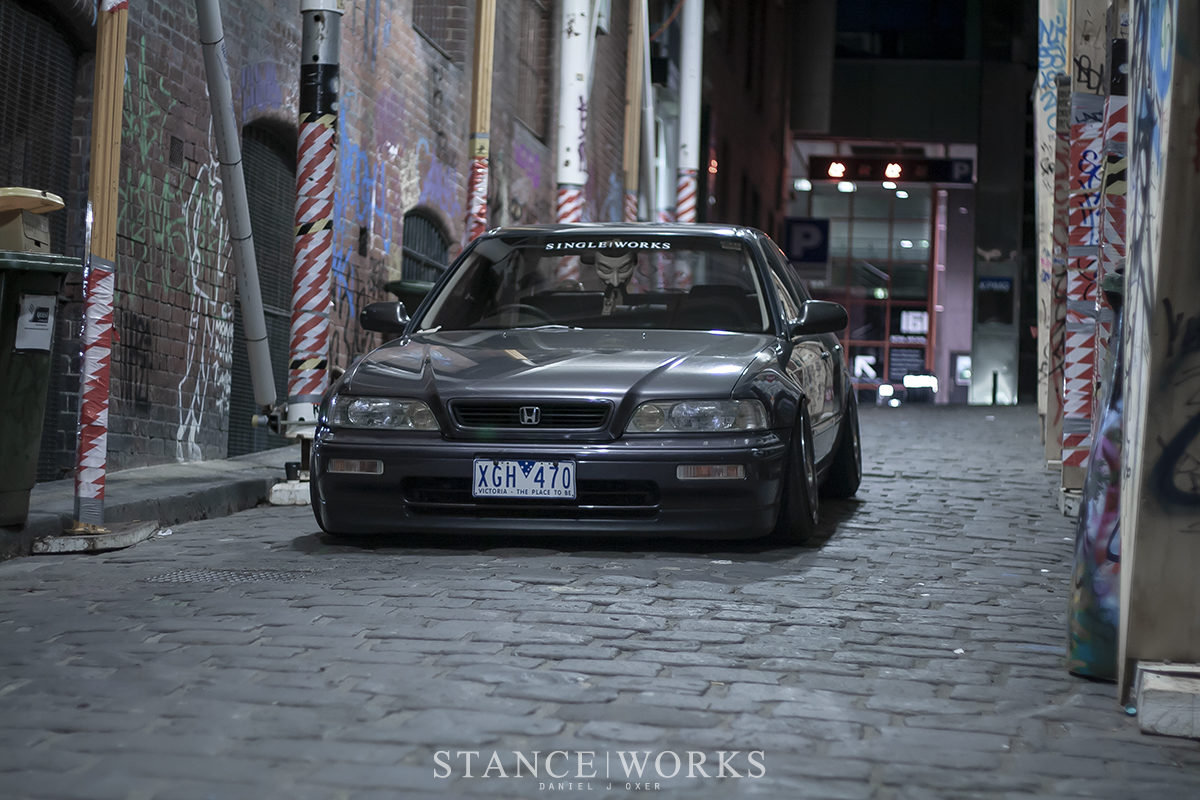 During the time I owned this car, it was a daily driven vehicle which presented challenges. The head gaskets let go so the painstaking task of replacing them was done at home over a weekend with the help of friends. The diff let go and I lost all motivation for it, so it sat on the street for over 12 months before deciding to put funds towards getting it back on the road. Like most of the cars I have owned and loved over the years, it gave me just as much grief as it did enjoyment, but the stories and memories, along with the friendships made through them are what we cherish most.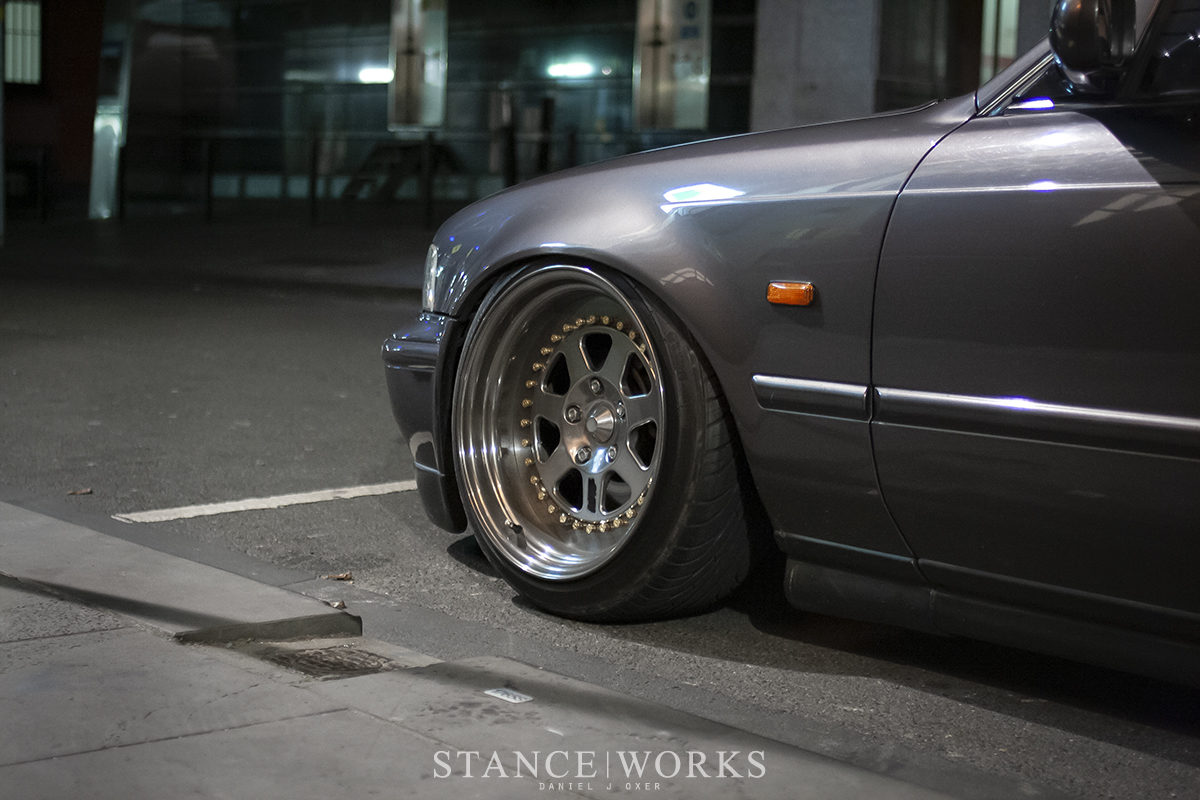 After the first adventure to the US in 2011 I had a new source of motivation. I was fortunate enough to establish many contacts, one being Rajeet from Mastermind North America. While at their shop, I spotted a set of amazingly refinished Mugen M7's and made a mental note of the specs to measure up when I got back home. I had started a new job upon return at Air Ride Suspension Supplies and figured it would be a good opportunity to put it on air, making life a little bit easier when it came to dealing with the authorities and low vehicles. Whenever I'd get a ticket for the car being too low, it wasn't a huge headache to get it back to the "correct" ride height to have the defective notice cleared.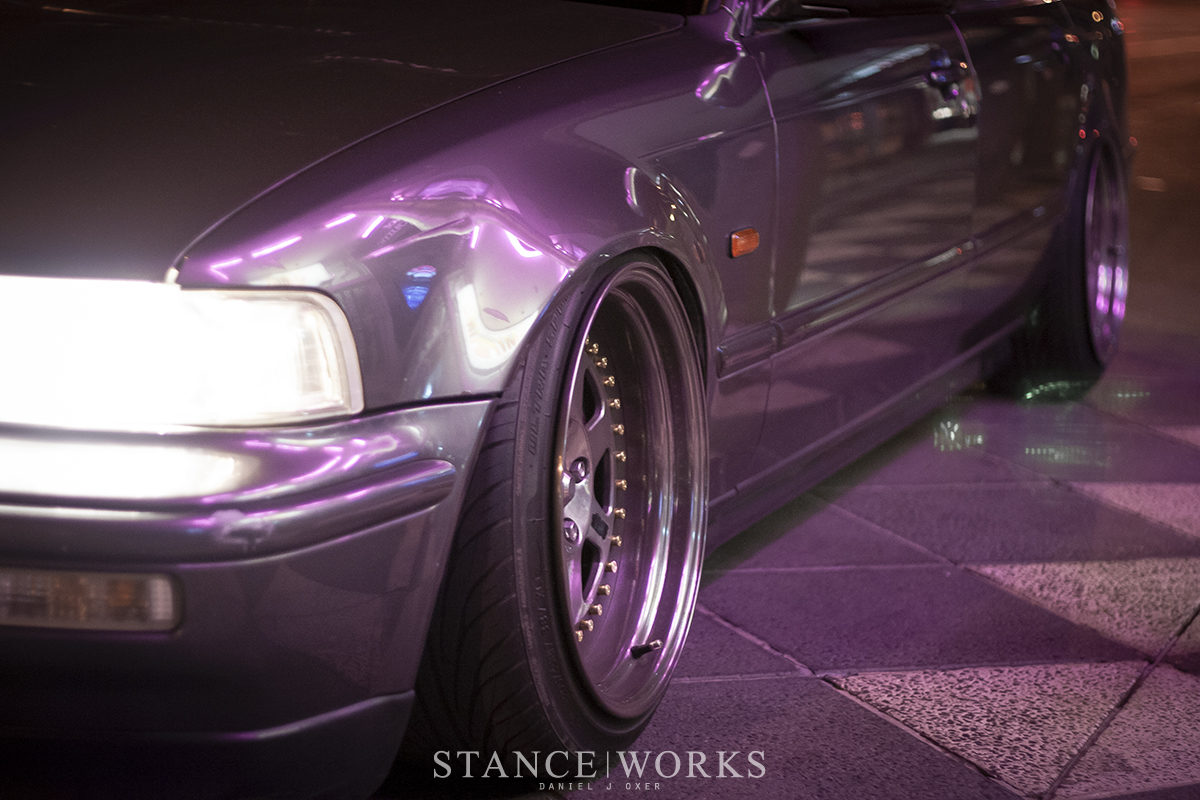 The energy of being stateside made me want to put together the legend with a bit of an OEM+ look with a dash of VIP style. When I emailed Rajeet to confirm the specs of the M7's he said they were 9's all round and based on that I made my calculations and figured I could space them out to achieve the perfect fitment. When they arrived, I stretched tires onto them, and that same night jacked the car up to test fit. I figured Id try first with no spacers, so we put them on and let the car down and it looked exactly as you see. I was trying to work out where my measurements had gone wrong: I had calculated they would need around 8-10mm of spacing to achieve the ideal fitment. Dom D'acri and I were dumbfounded, so we decided to measure the offsets on the wheels. Turns out they were 9.5inch square, not that I was complaining, I emailed Rajeet to thank him for the free half inch all round.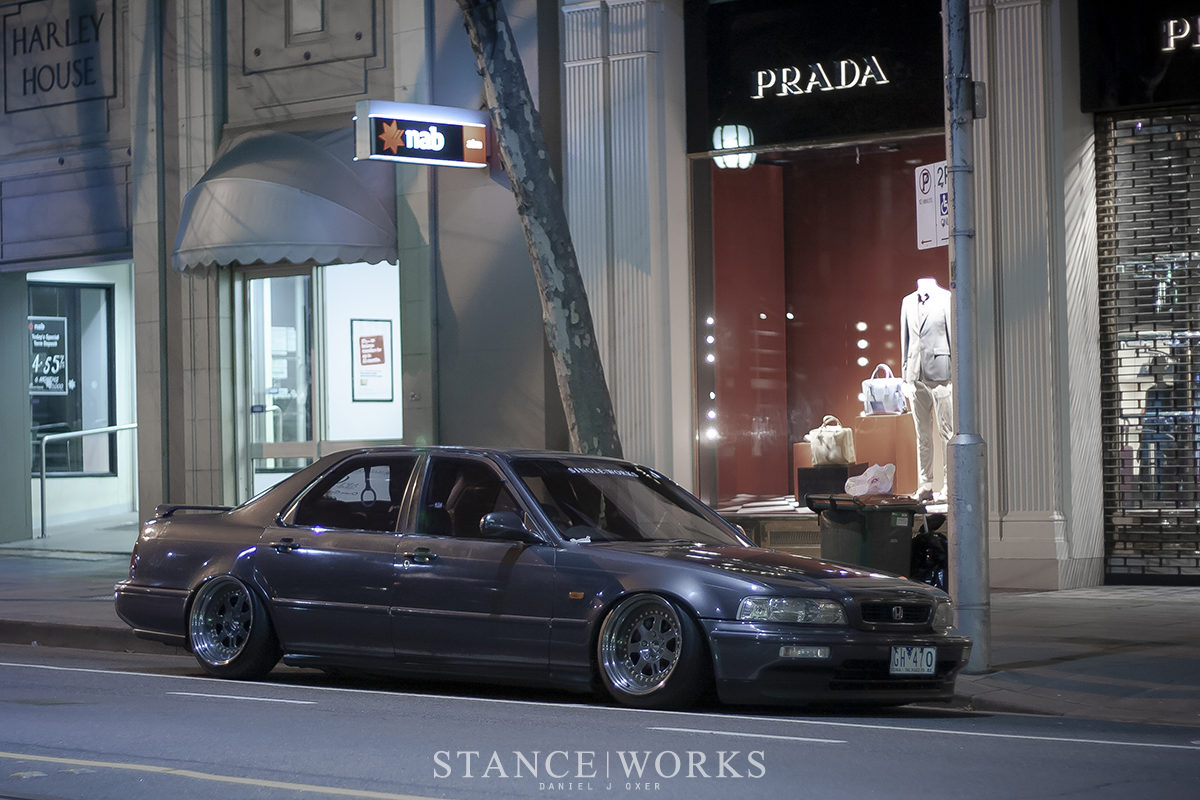 Sometimes I look back at the cars that I have owned. Some were temporary to fill in the gaps, Some were to turn around and make a quick buck. Some were regrettable but necessary sales in times of need and a couple have been taken by accidents caused by other people. The Legend was one of the latter, and one of my most cherished cars. From interstate car shows to local get together meets, it would usually have people intrigued and with a clash of styles made it difficult for people to dislike it, and that's what I loved about it. Bringing people with common interests together has always been the underlying tone to what we do at Stanceworks.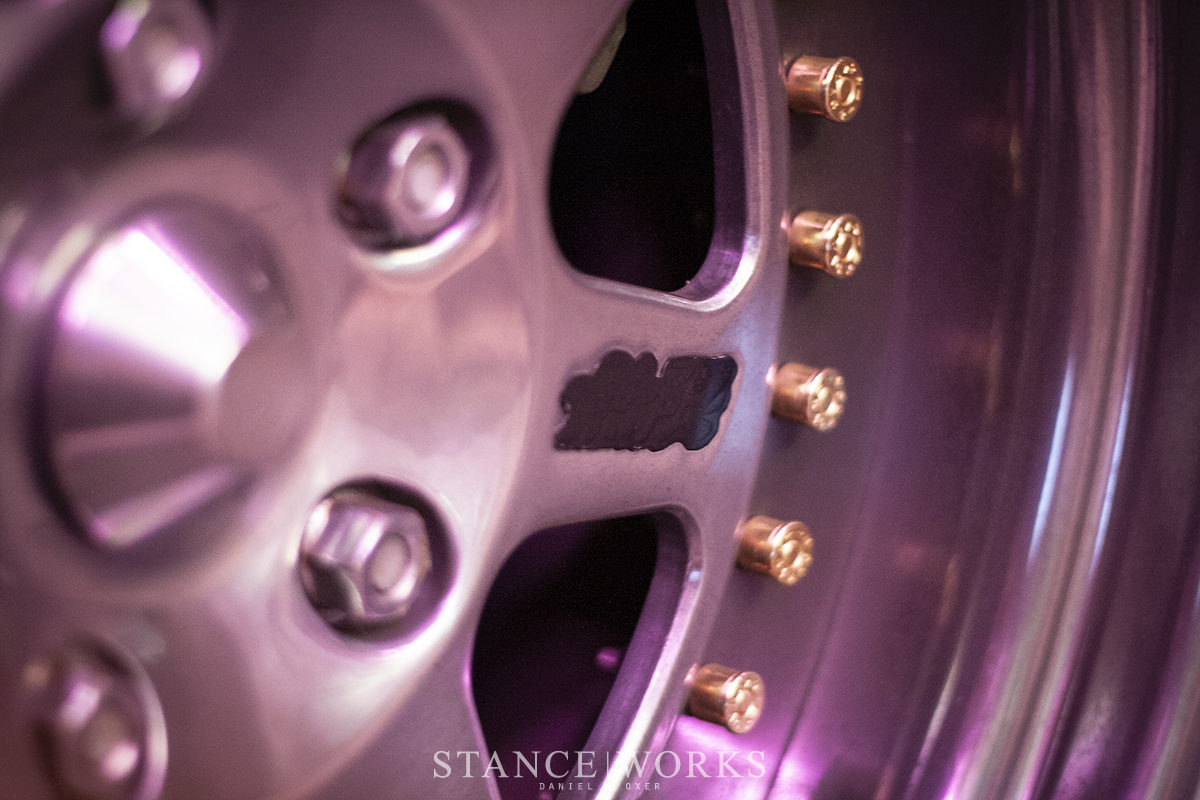 If this car was still in my life it would most likely have received a fresh coat of paint and a retrim as the original leather had been through the battles of wear and tear. I might have upgraded the sound system and maybe changed the wheels, but It would have still been a daily driver. Hindsight is a wonderful thing, but it also makes you realize how short life can be. I have since found other clean examples over the years that have tempted fate, one was even an import that was the same color and had all the same options, but they have come when life has thrown financial curveballs, and to be honest life has only gotten crazier. If a time arises where I have the finances, space and time I will search for another as I never really achieved my end goal I had in mind, but until then, we can only look back at moments in time captured by the shutter.