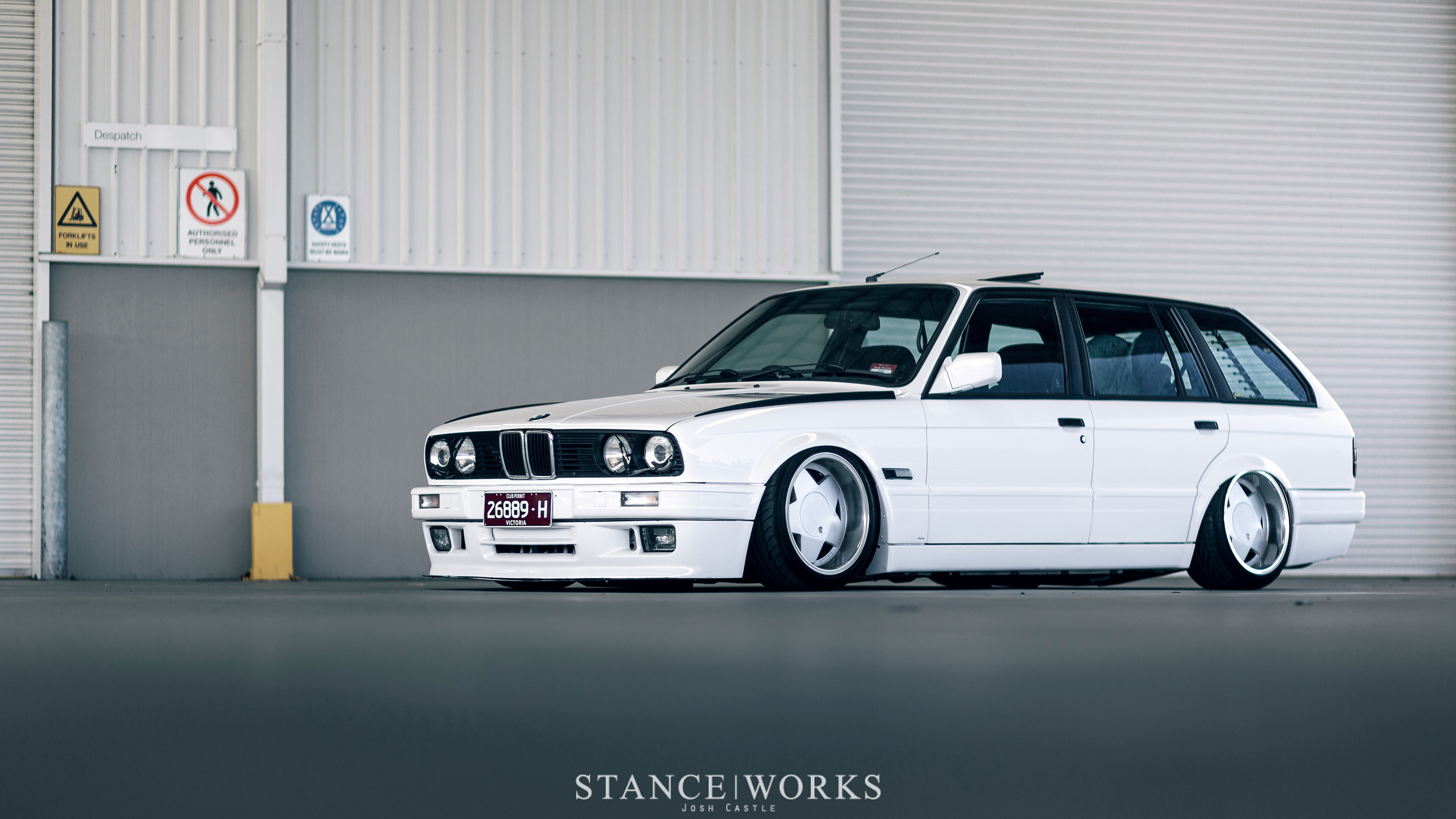 Wagon Fever – Michael Hack's E30 325i Touring – Photography by Josh Castle
Photography by Josh Castle

"We never got 'em." It's a trope at this point, but this is a wagon article, so you saw it coming a mile away. It's the truth, though: we always want what we can't have, and for Michael Hack, the story is no different. After falling in love with the E30 platform following a 2-year stint with a 318is coupe, Michael turned his sights towards the alluring Touring. "Knowing that Australia never got the wagon it just made me want it even more," he says. He began the search, which extended to the corners of the continent, looking for any touring lucky enough to have been imported already, saving him from the efforts of doing the legwork himself. His searches, however, turned up nothing at all, leading him to give up on his dream. That is, until an online car sales site posted the perfect example: a white 325i, manual, and completely bone stock. Needless to say, Michael made moves with enthusiasm. Following a flight to Sydney, Michael made the purchase, and began the long drive back to Melbourne as the car's first registered Aussie owner, fresh off the ship.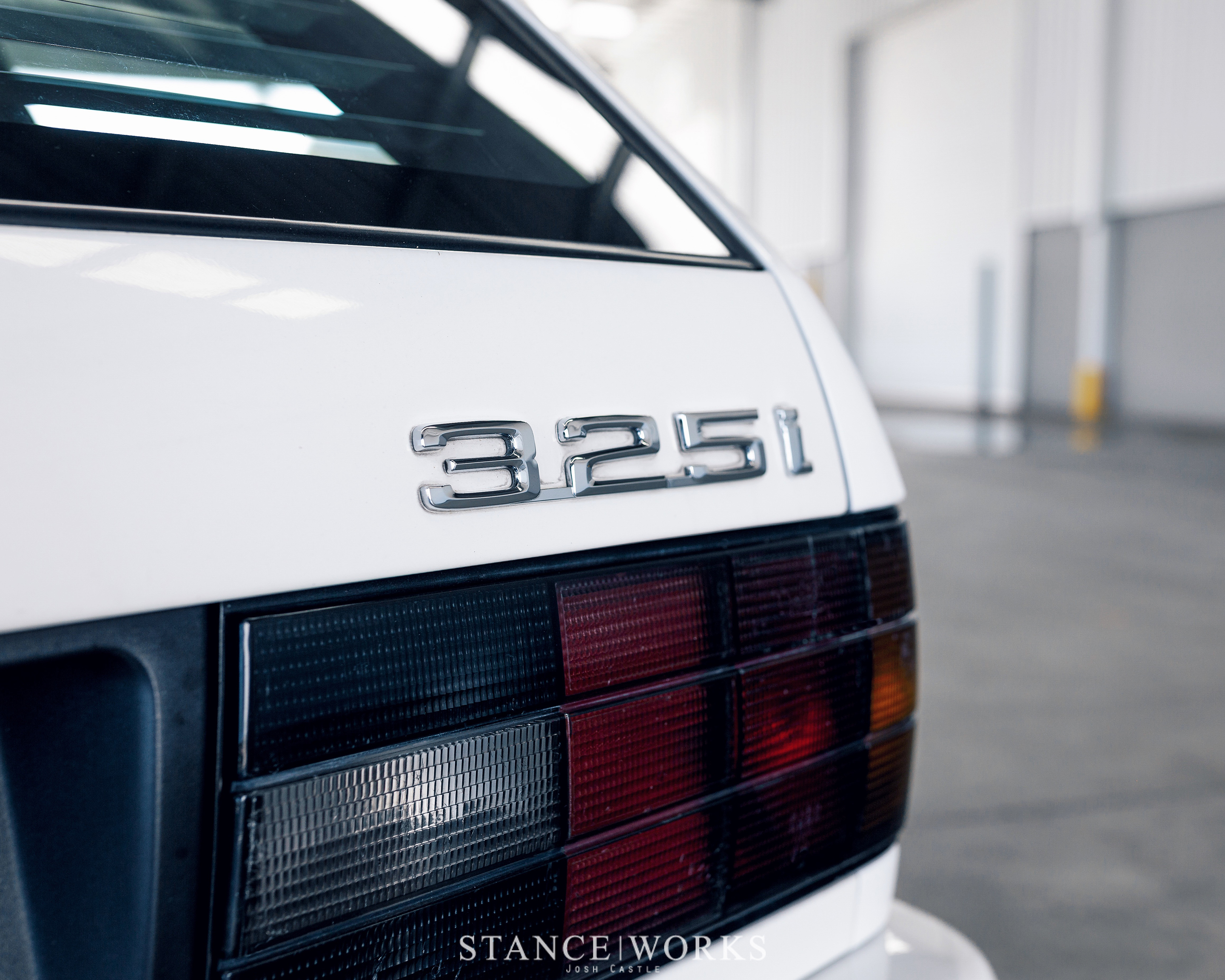 For years, I've watched as Michael's build has taken shape. Bits and pieces come and go, and seemingly countless wheels have made their way onto and off of the white estate, but only now has the car reached what some may consider as a "final form." Seemingly no bolt has been left unturned, leaving a car worth covering end-to-end. It's easiest, though, to start with what counts most.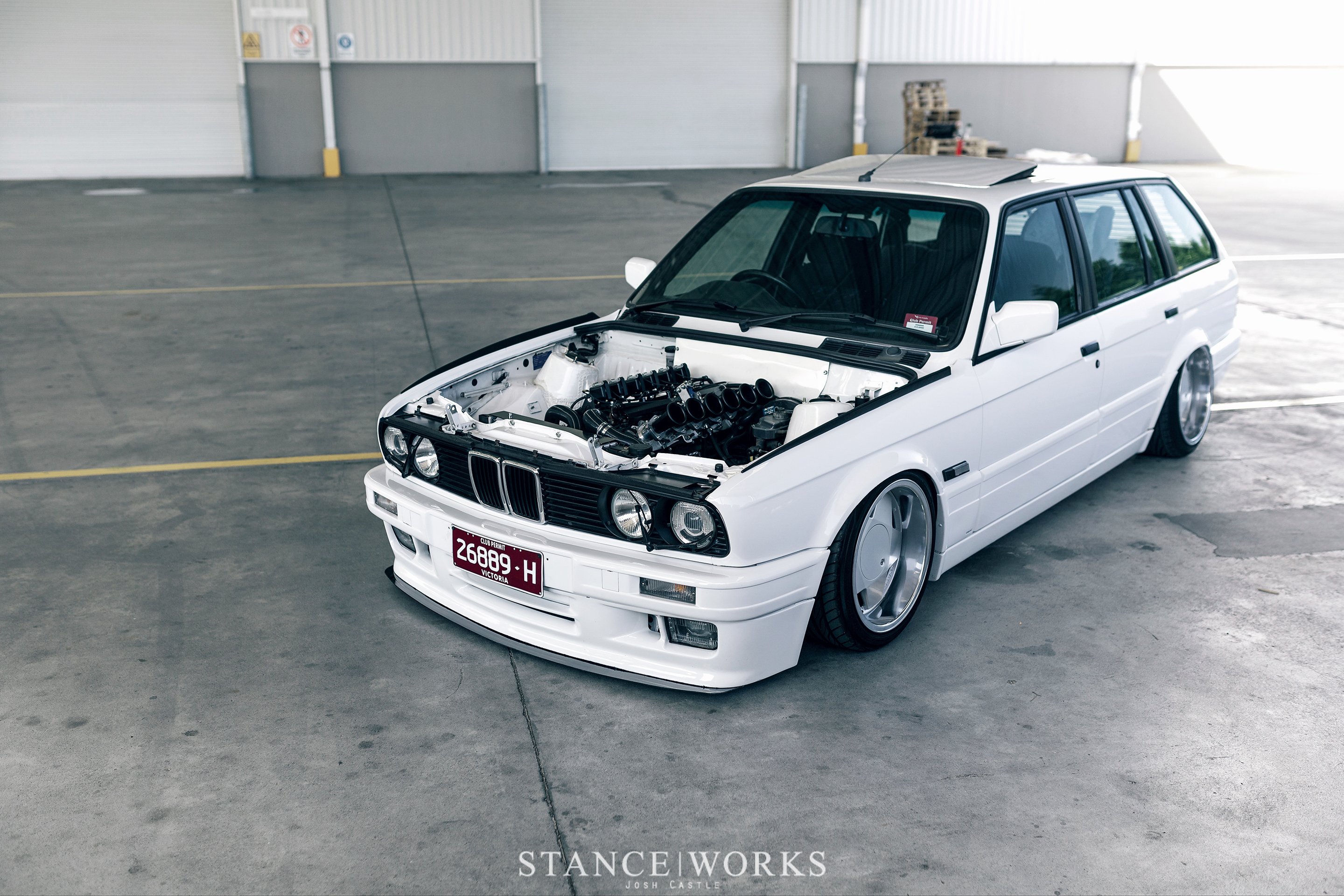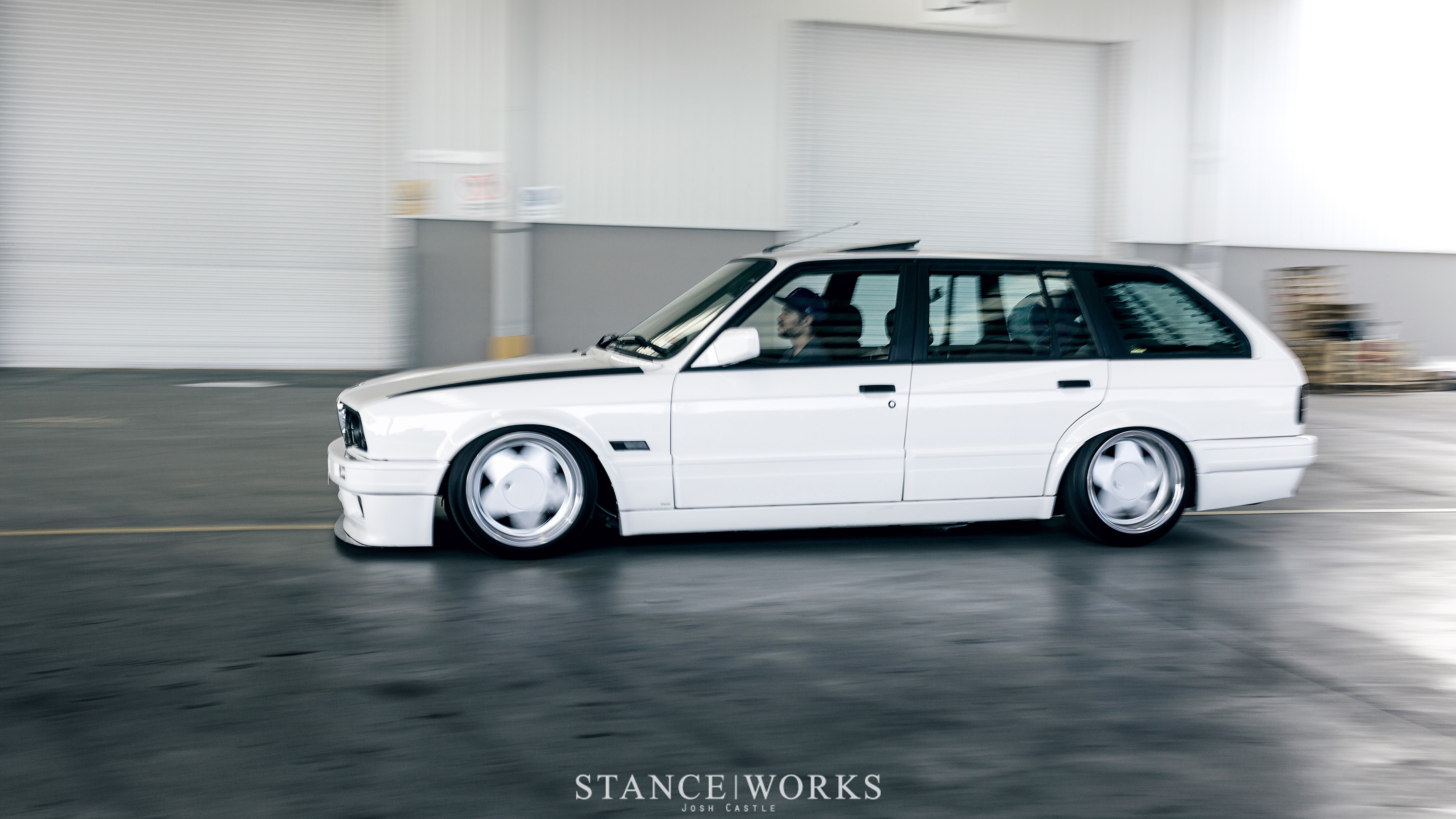 Under the hood (or not) is the original M20B25 - the "baby six" 2.5-liter found in every 325 E30 across the globe. This one, though, isn't quite so typical. 40mm RHD throttle bodies stand as the centerpiece of the engine bay, paired with EFI Performane 40mm velocity stacks and topped with a Nuke Performance fuel rail. A 284 Schrick cam gives new life to the engine, and a Nuke Performance cam gear has been mated to its nose. A Microtech/Bosch individual coil pack conversion brings the ignition system into the 21st century, along with MSD ignition leads and a PPF Cam sensor kit. A Haltech Elite 2500 and a Haltech WBC1 wideband controller do the legwork of making the beast run. It's not your father's M20, to say the least.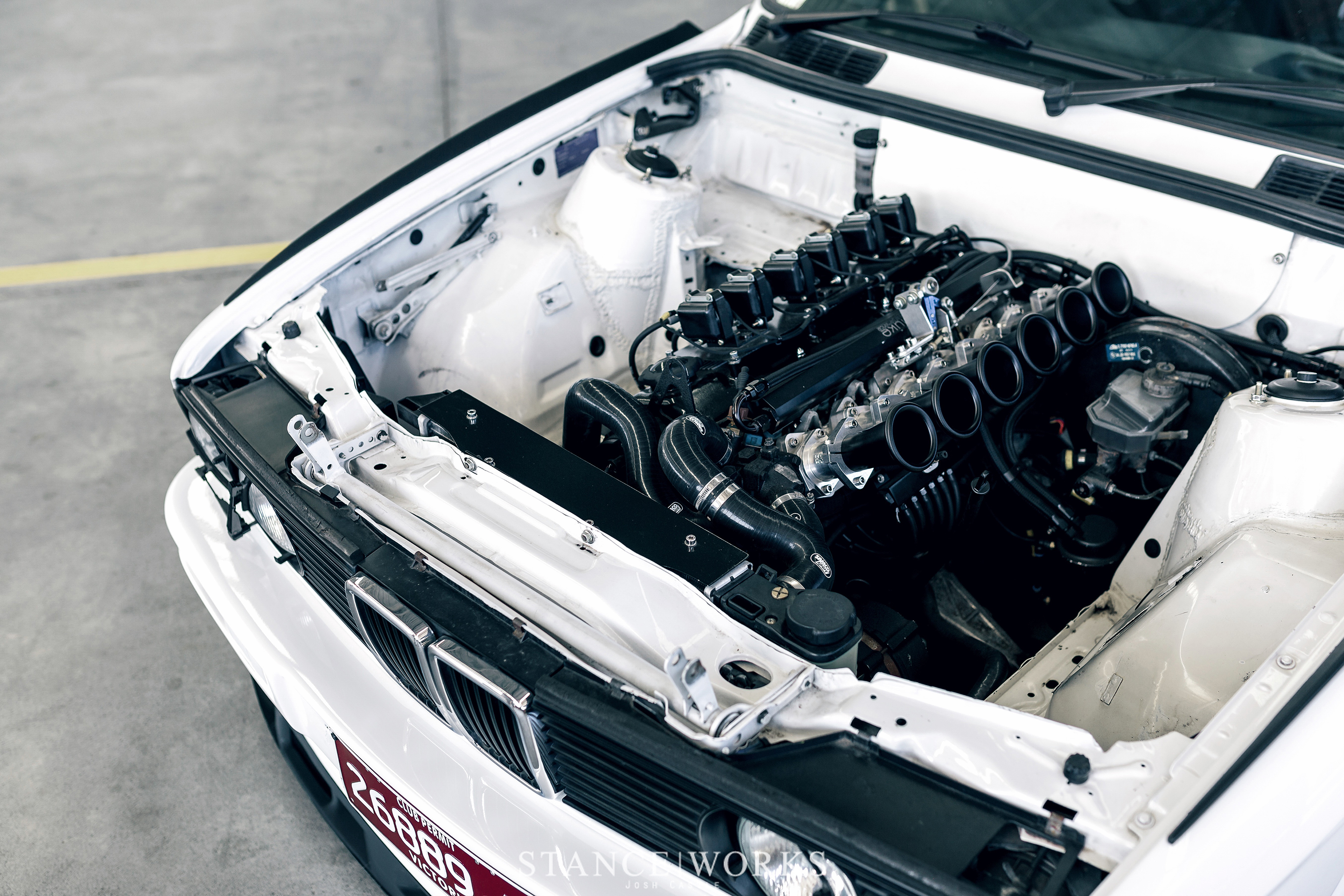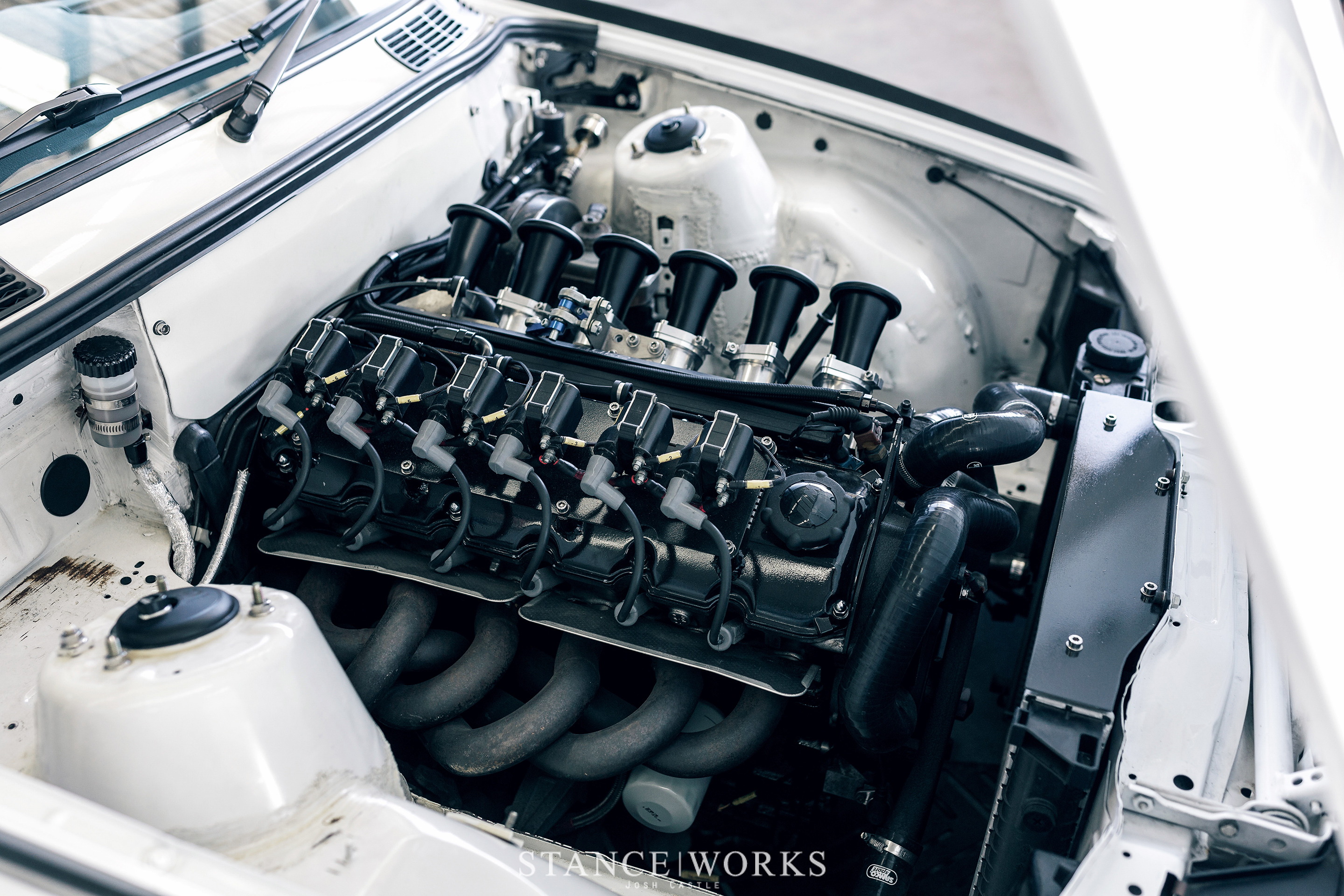 The engine bay surrounding the motor has been worked extensively too, with a swap to an M42 radiator, an electric fan conversion, a fuse box relocation, and a wire tuck, to name a few touches. With the battery relocated to the trunk, the washer bottle, ABS, and power steering deleted, the engine bay is now cleaner than ever before, allowing the built engine to be the sole object of onlooker affection.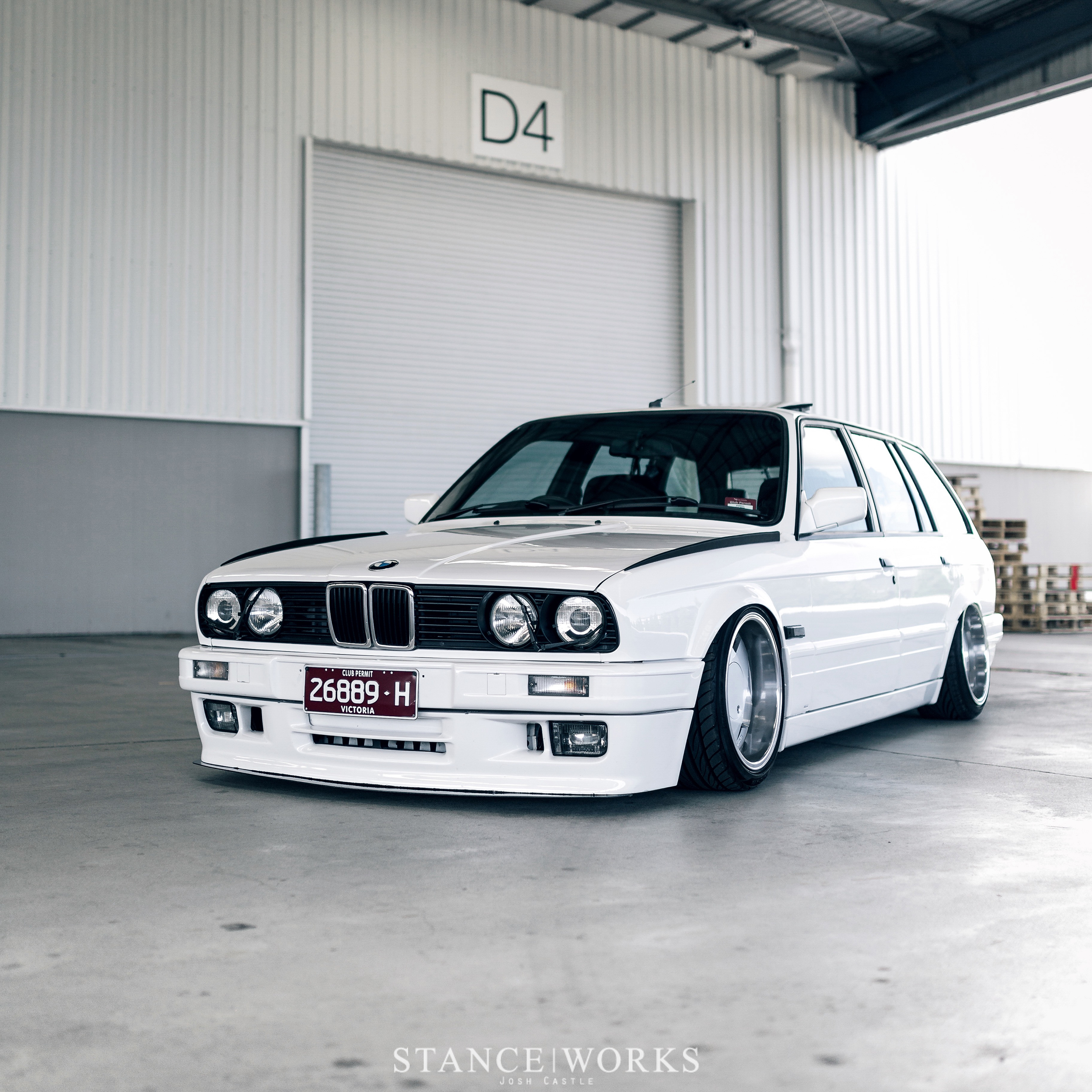 Performance doesn't stop in the engine bay, though. Headers route the sound out through a single 2.5" exhaust and out through a Varex muffler. Power itself is run through the original transmission, which has been paired with a UUC Evo 3 short shifter and a UUC DSSR. A RHD Engineering lightweight flywheel and Sachs HD clutch combo make for a fast-revving combo in conjunction with the individual throttle bodies... it's almost as though Michael has forgotten he's driving around a station wagon. That, or he simply doesn't care.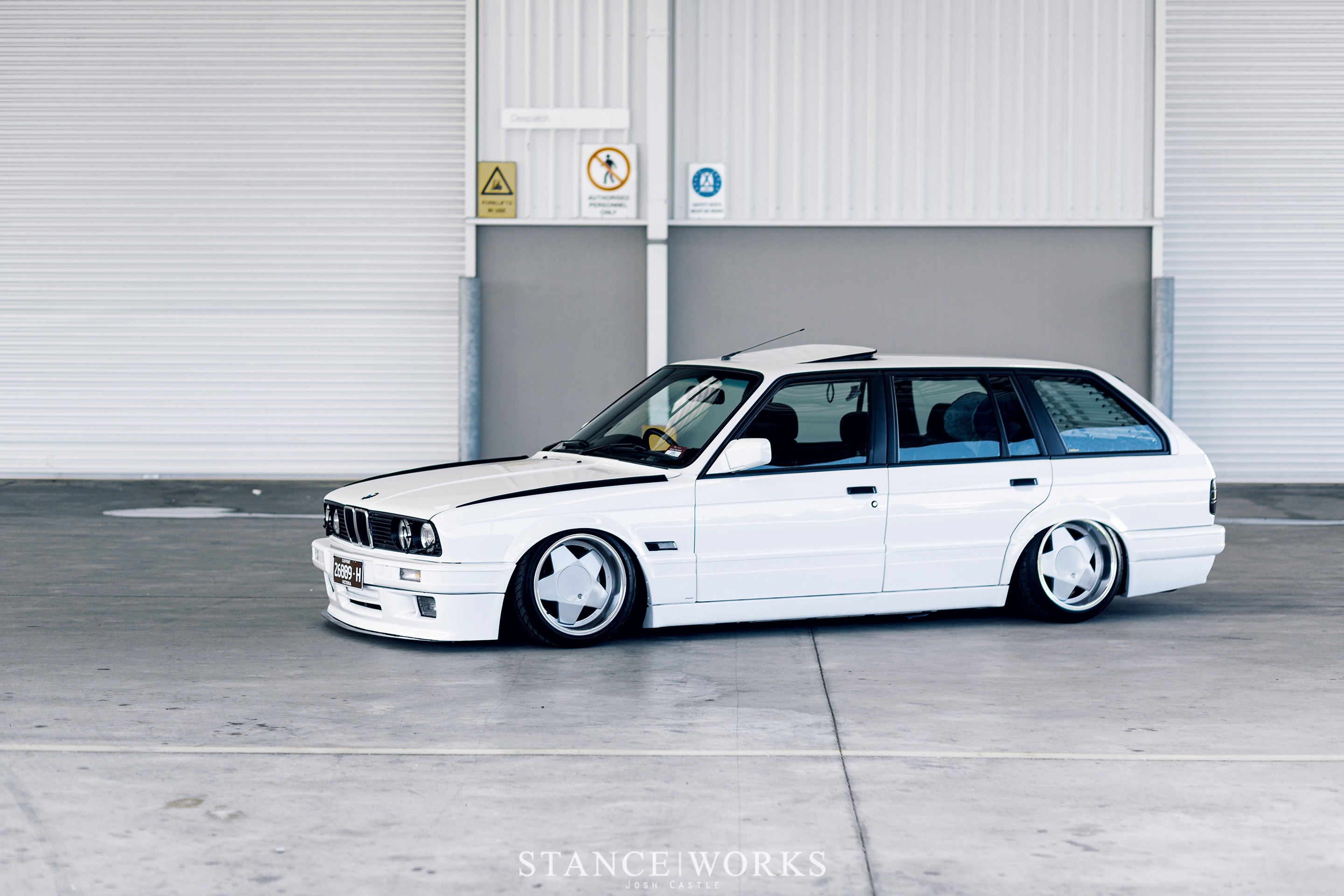 Underneath the car, Michael has installed an Air Lift Performance system and Koni Sport rear shocks, along with twin VIAIR 444C compressors, and digital management. Borbet Type As measuring out to 16x9 et15 fill the arches, and are wrapped in Toyos and Yokohamas, front and rear respectively. 15mm and 5mm spacers, front and rear, help to take up any leftover room in the wide E30 wells, which are notorious for swallowing up negative offsets with ease.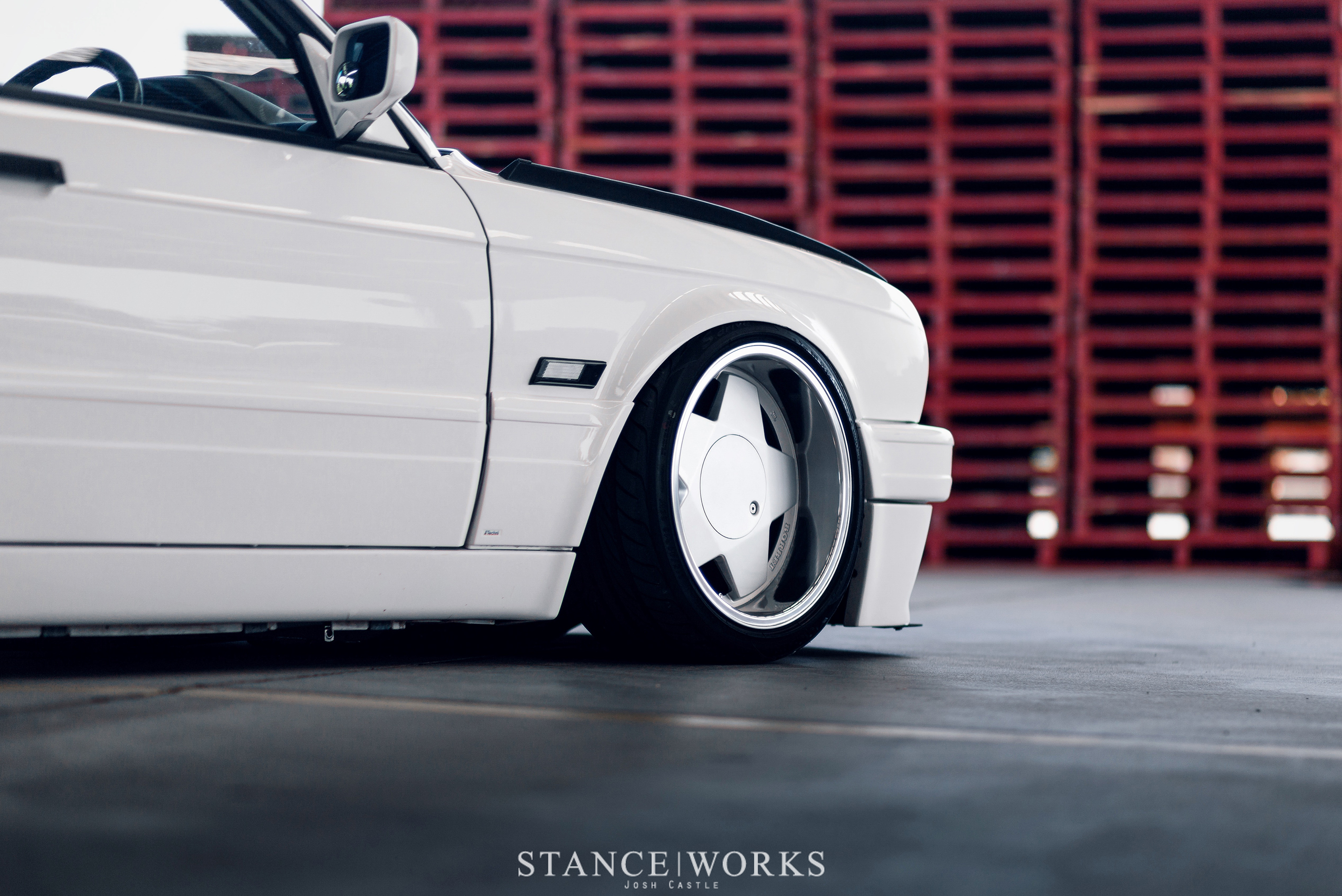 The M-Tech 2 body kit looks right at home on the Touring, too, giving it a sporty twist on its otherwise humble, family-hauling nature. Formuling wind splitters spice things up further, while MHW tail lights check off a box in the exceedingly expensive and rare parts category. The complete package works in perfect unison.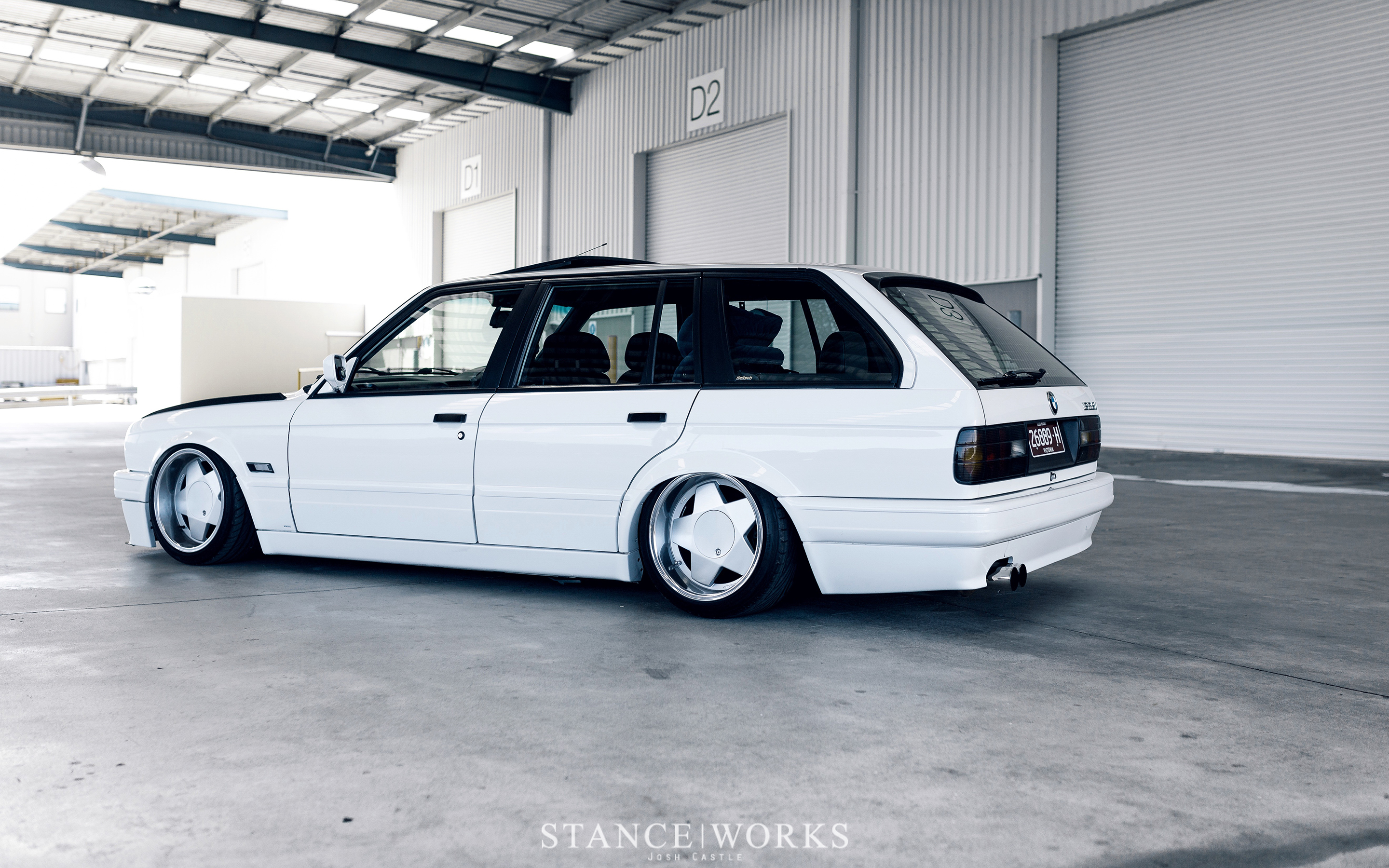 Where Michael spends most of his time, though, is in the interior, where a pair of Recaro LS confetti front seats set the theme. A Condor Speed Shop extended and weighted shift knob, and an Alpina steering wheel offer the tactile feedback, and touches like a complete Alpine stereo make for a pleasurable drive, anywhere, any time.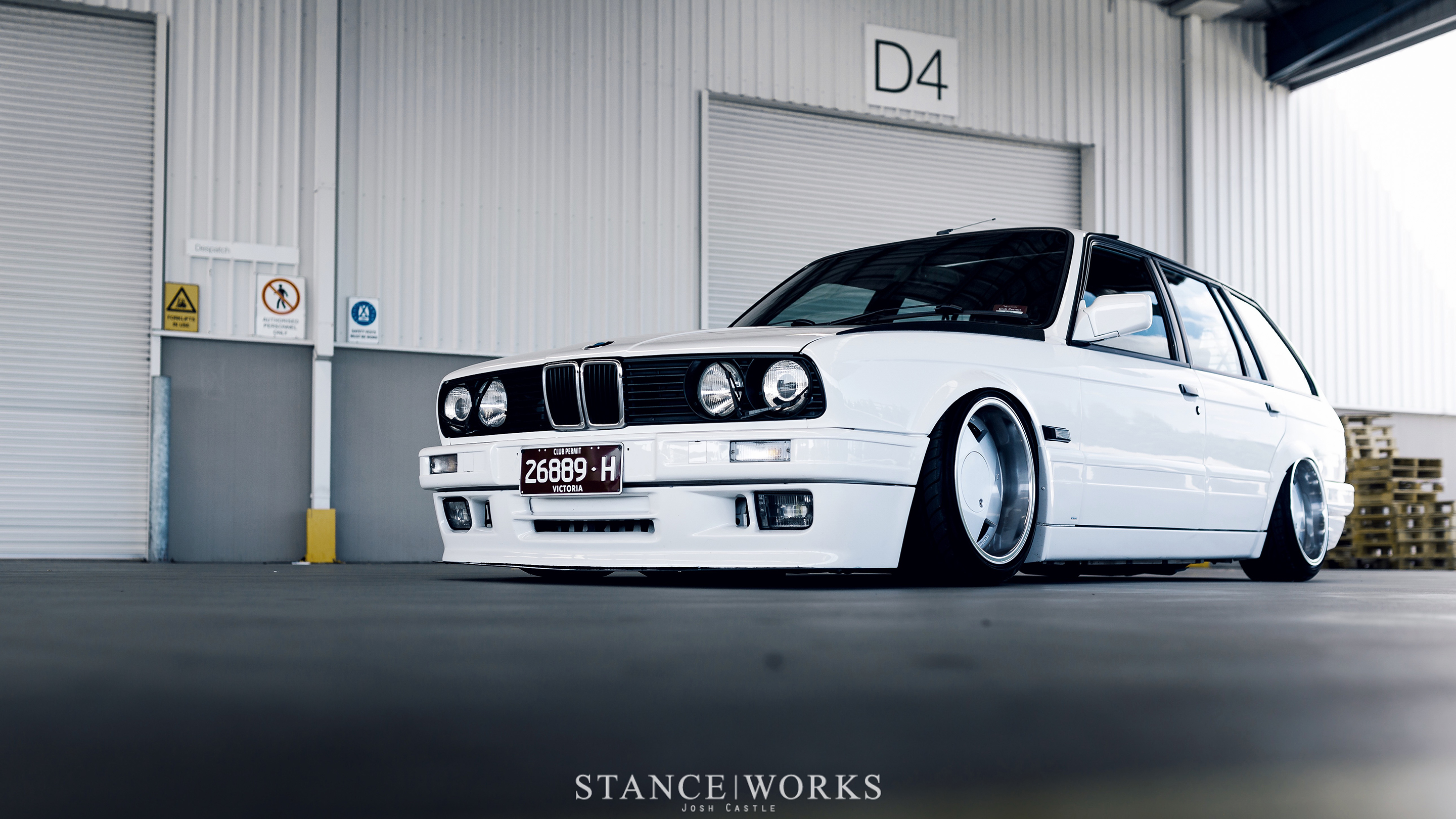 If the envy wasn't high to begin with, it certainly is now. We never got those damn BMW "tourings" that seem to matter most. With cars like Michael Hack's, we're back to scouring the classifieds, hoping to find a shop wagon of our own.