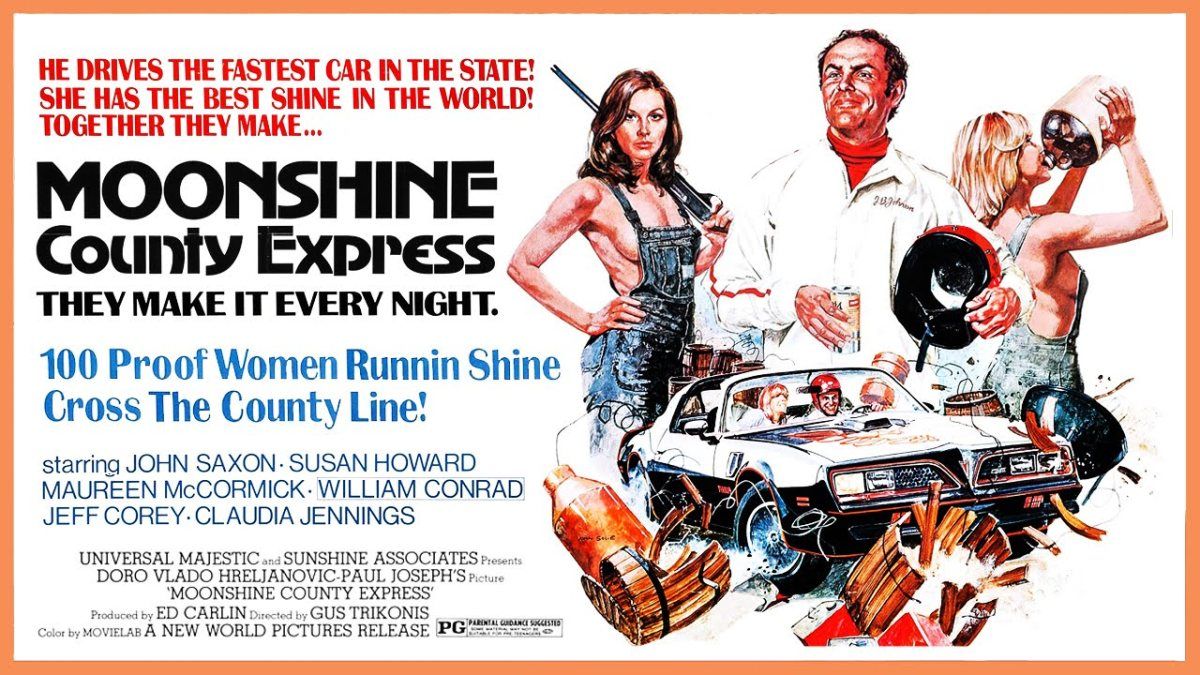 Our auto-related streaming recommendations for while you're stuck at home
Love cars? We hope so. Stuck at home? Likely, given the state of the COVID-19 pandemic as of this writing. So, if you've already binged through your favorite show or someone else's list of stay-at-home streaming recommendations, let us guide you to some automotive-based entertainment available online. Whether you like to watch shows about fixing 'em up or smashing 'em up, fact or fiction, there's bound to be something here to catch your fancy.
This isn't meant to be a greatest hits of all the chases from movies you already know (i.e., Bullitt, Ronin, The Blues Brothers, The French Connection, and so on). Instead, this list of recommendations from our editors, whose interests are widely varied, covers a wide swath of auto-related programming. From here, you're bound to disappear down a rabbit hole of viewing that will leave you wondering where the hours went. You may never want to go outside again. And on that note, what are your offbeat favorites? Let us know in the comments below.
Daniel Strohl, Web Editor
Willy T.'s story deserves to be told (as do the stories of many other black racers), and Adam Carolla's production team did wonders pulling together all the IMSA, NASCAR, and Indy archival racing footage that was essential to the story.
For folks who aren't on Netflix, there's always YouTube.
Yes, plenty of insufferable knuckleheads clog up the works there, but there are also some talented fabricators creating wild things. Colin Furze has probably built the wildest stuff, from a hoverbike that actually flies to his most recent, a hydraulically powered screw tank. Or there are the guys at Grind Hard Plumbing Co., who specialize in putting snowmobile and dirt bike engines into Barbie Jeeps and other Power Wheels. Those two channels alone should provide enough screen time to get you through a couple days of self-isolation.
Richard Lentinello, Executive Editor
It's a Mad, Mad, Mad, Mad World (digital purchase or rental on Amazon Prime Video, YouTube, iTunes, and more)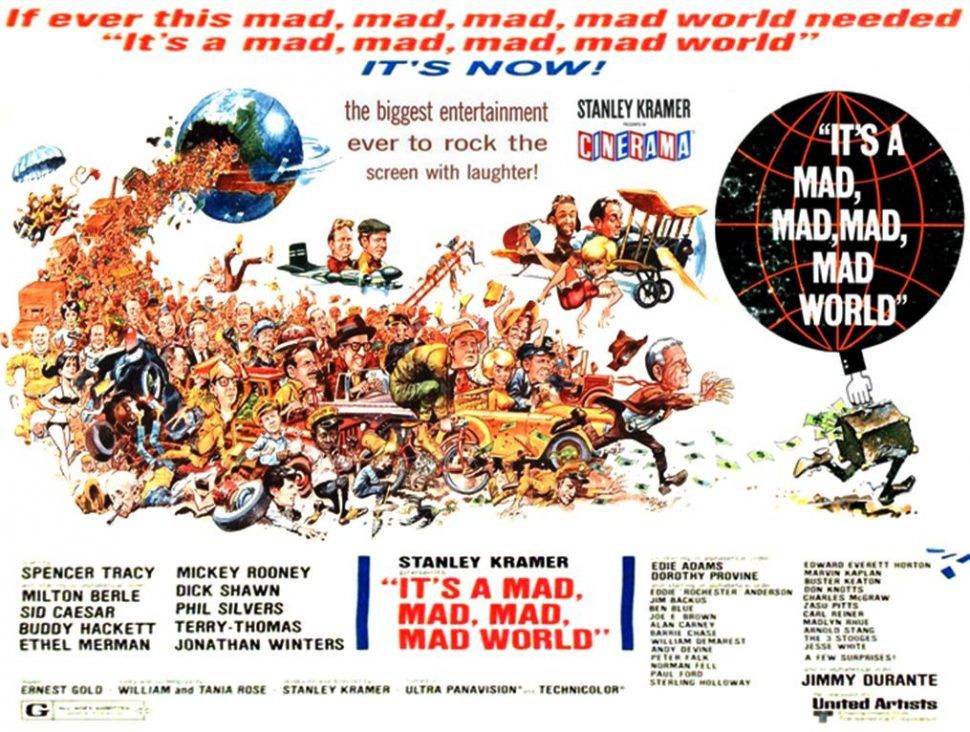 A rarely seen 1961 Chevrolet Nomad wagon nearly goes off the road as a '62 Dodge Dart driven by crazy-man Dick Shawn tries to catch his brother-in-law, Milton Berle, in a '61 Impala bubbletop. This chase scene goes on for 10 minutes or so with an endless parade of '50s and early '60s cars passing by. As everyone races towards Santa Rosita park in search of hidden money buried under "The Big W," along the way all sorts of now-desirable cars take part in what many consider to be the funniest movie of all time. Sid Caesar drives a '62 Imperial Crown convertible while Buddy Hackett and Mickey Rooney try to keep up in their '54 VW Beetle convertible. Jonathan Winters is behind the wheel of a 1953 Ford C-600 truck and loudmouth Ethel Merman is in a '55 Willys Jeep wagon driven by Terry-Thomas. One of the funniest moments occurs when Phil Silvers tries to cross a river in a '47 Ford Super DeLuxe convertible. Soon he's seen thumbing a ride, but only after a '57 Cadillac followed by a '61 Corvair Rampside go on by, does Don Knott (driving a '56 Fairlane Sunliner) stop to pick him up. Jerry Lewis makes a cameo appearance as he drives his '55 Montclair convertible over a hat belonging to Police Chief Spencer Tracy who's about to get in his '62 Dart police car to meet up with the gang at "The Big W" when taxi driver Peter Falk pulls up in a '59 Belvedere taxi. In other scenes, there's Jack Benny in a '31 Cadillac, and the Three Stooges on a Seagrave firetruck. And if you look carefully at the various street scenes, you'll see an ultra-rare '62 Oldsmobile Super 88 Fiesta wagon parked as well as a '59 Studebaker Lark wagon, a '56 Nash Metropolitan, '46 Buick Super, a '58 VW Delivery Van, '57 Sunbeam Rapier, and a Fiat 600. And Triumph fans will enjoy seeing a 1954 TR2 and a '57 Estate Wagon. And there's a 1947 Flxible Clipper bus, too. If this isn't the ultimate old-car movie then I surely don't know what is.
David Conwill, Associate Editor
Johnny Dark (out of copyright and found on YouTube)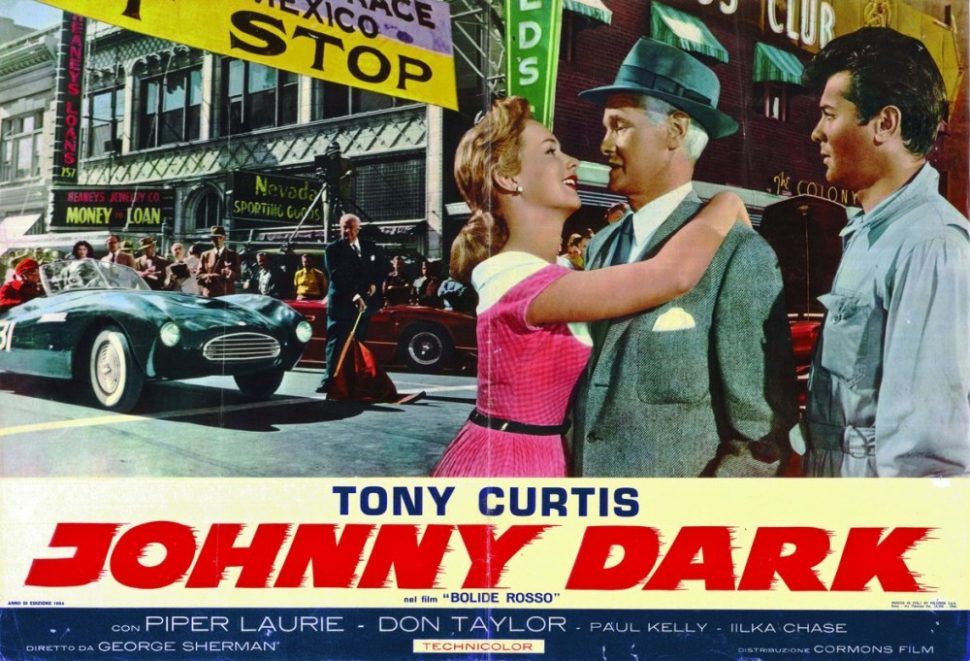 Tony Curtis, Piper Laurie, and a multitude of early '50s hand-built sports cars star in this story about the fictional Fielding Motors. Fielding is played by Willys-Overland in Toledo, Ohio, including a lot of Willys Aeros standing in for "Fielding" sedans. Curtis and Laurie head Fielding's sports car effort—a bid to save the company using what sharp viewers will recognize as a Woodill Wildfire. The acting is pretty good, the visuals are great—including a lot of interesting looks at the inside of the Willys factory—and the story isn't a bad excuse to enjoy the cars and the racing scenes. See our full review here.
Alfred Hitchcock's Vertigo (digital purchase or rental on Amazon Prime Video, YouTube, iTunes, and more)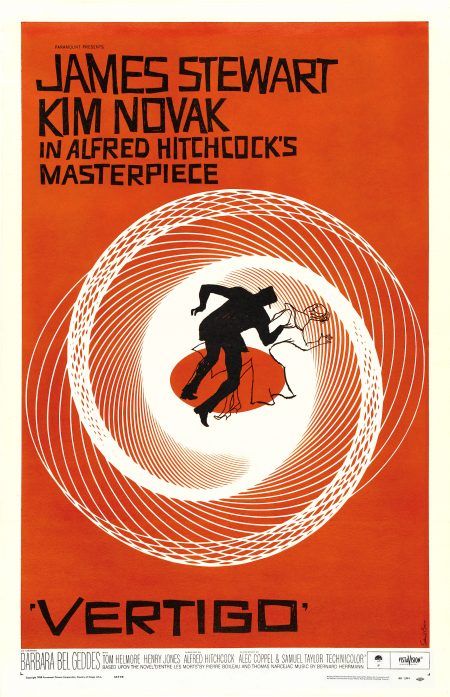 Great car spotting in San Francisco a decade before Bullitt. Even the 1956 De Soto owned by lead Scottie Ferguson (played by Jimmy Stewart) is a treat. It's also one of thriller-director Alfred Hitchcock's best works. In short, an acrophobic ex-police detective gets hired to protect a woman who ends up committing suicide and then…coming back from the grave? Kim Novak gives an excellent performance as perhaps the ultimate "Hitchcock blonde," and the pioneering camera effects influence filmmaking to this day.
Jeff Koch, West Coast Associate Editor
Not only do we get mid-60s-vintage Formula One action at tracks around the world (including Monaco) and an in-his-prime James Garner hustling a Shelby Mustang around the Continent, we tour the Ferrari factory and lay eyes on all manner of stunning then-new, now-classic machinery. Directed by John Frankenheimer (who would direct another top film with car chases, Ronin, three decades later), Grand Prix gave us exhilarating action and camera angles that we take for granted today—but which were revolutionary more than half a century back. Oh, the soap-worthy plot is a bit much—and honestly, it didn't need a four-and-a-half-hour running time. (Although, what else were you going to do between lunch and dinner today?)
Jim O'Clair, Columnist
Dust to Glory (digital purchase or rental on Amazon Prime Video)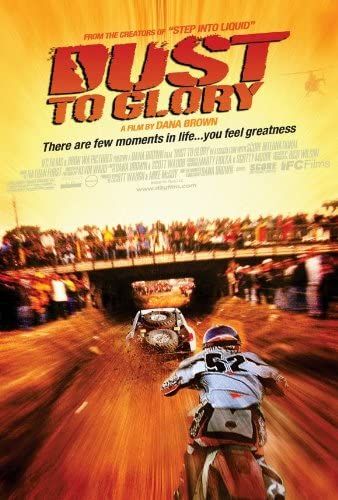 Director Dana Brown (son of Bruce Brown, the director of On Any Sunday) documents the Baja 1000 off-road racing with race footage as well as an assortment of interesting back-stories involving the race teams and racers. The camera work is excellent, with footage shot from all angles and conditions. Hovering above in a helicopter or standing on the course and getting a face full of dust, the technical logistics that were involved in completing this film were monumental but pay wonderful dividends. The cast includes Robby Gordon, J.N. Roberts, Jimmy Vasser, and Mike McCoy with archival footage of James Garner and Steve McQueen. The film team comprised of 80 staffers used 55 different cameras to display the action on the course and in the pits over the six-day event with racers completing 1,000 miles in just two of those days. The back-story vignettes are interesting, but the on-course footage makes this movie a classic for any off-road enthusiast.
Mike McNessor, Editor, Hemmings Motor News
Jay Leno's Garage (YouTube)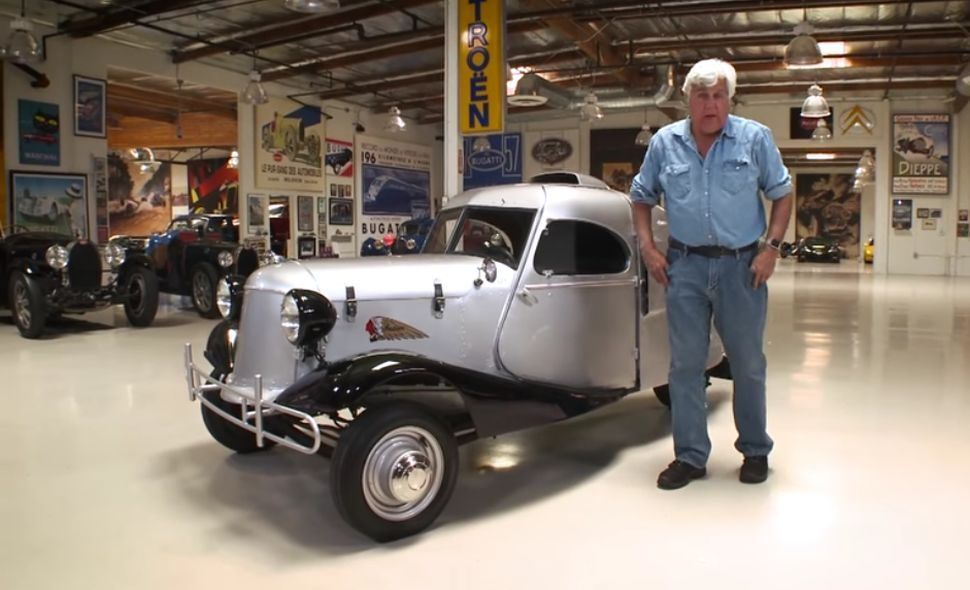 For a basic, informative, entertaining, no-cost old car, truck, and motorcycle fix, you can't beat Jay Leno's video shorts posted on his YouTube channel. The formula for most of the videos is the same: Jay, clad in denim, does a walkaround of a vehicle (one of his own or someone else's) at his garage; discusses the vehicle's history and points out its various features; then he climbs in (or on), fires it up, and takes it for a spin around Southern California. There's nothing hokey or jokey—no scripted bits. It's just Jay being Jay, talking honestly, knowledgeably, and curiously about stuff that's near and dear to all of us. You can watch one episode after the next and be mesmerized by the familiarity of the format while learning about a vehicle you might've known nothing about. My personal favorite isn't about a complete car, truck, or bike—it's Jay discussing (and then firing up) his restored Packard Merlin V-12 aircraft engine on a custom run stand built aboard a trailer. Be sure to turn up the volume when he finally gets the fires lit.
Monster Garage (digital purchase on Amazon Prime Video, some seasons are available free on the Roku Channel and VUDU)
Discovery Channel announced in February that it's airing a rebooted Monster Garage later this year, complete with Jesse James as the series' front man. The original show ran from 2002-2006 and was shot in Long Beach, California, where James' West Coast Choppers was based. Now James calls the Austin, Texas, region home and he's set-up shop there building motorcycles and custom firearms. James told TMZ in a recent interview that his new workplace is better equipped than the old and boasts everything from modern 3D scanning and printing capability to traditional forging and blacksmithing tools. Hopefully the new Monster Garage projects will reflect that diverse array of technology.
While you're waiting to see what monsters James and his build teams create on the new show, check out the original, which is available through a few streaming outlets. Highlights from the seasons currently available free on the Roku Channel include: the build of Jesse's Trophy Truck, which he then campaigned in the Baja 1000 (two-part episode); a 1962 Bel Air converted to an EV with juice supplied by more than 400 cordless tool batteries; an armored truck made into a mobile dunk tank; and a 1969 Chevrolet Impala low-rider built by inmates at Folsom Prison in California.
Mark McCourt, Senior Editor
The Bug: The Life and Times of the People's Car (digital purchase or rental on Amazon Prime Video, YouTube, iTunes, and more)
The Bus: The Vehicle that became an Icon (digital purchase or rental on Amazon Prime Video via Fandor and iTunes)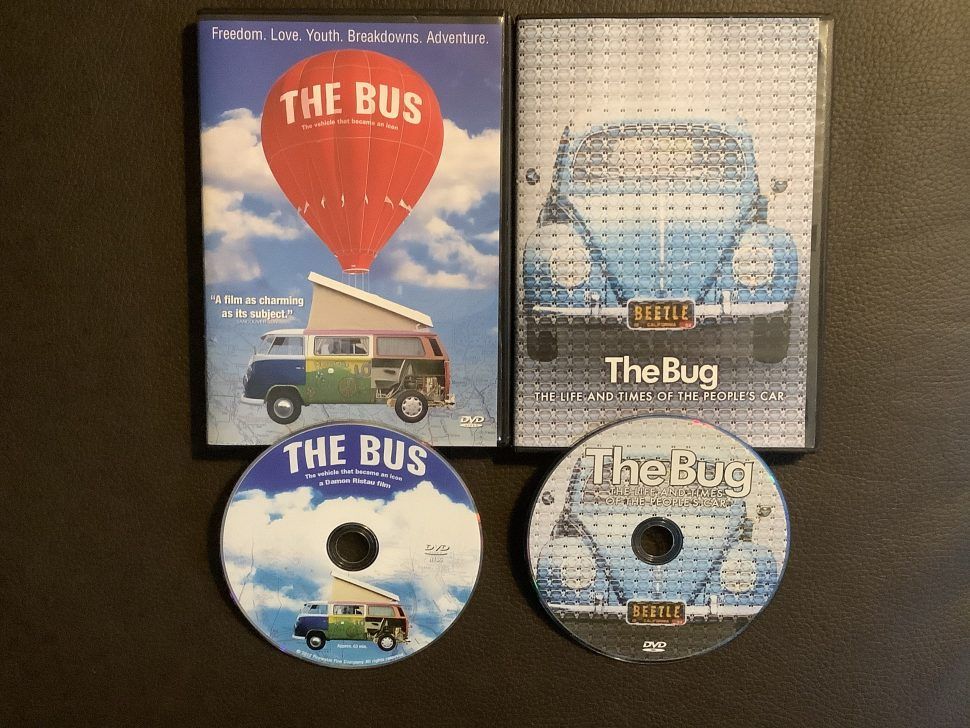 We can't speak highly enough of the two feature-length classic-VW tributes created by Missoula, Montana-based filmmaker Damon Ristau. His first, The Bus, debuted in 2012, and runs 60 minutes. Its prequel-style, 80-minute-long follow-up, The Bug, made the scene in 2017. Most everyone above a certain age, around the globe, can relate to an air-cooled Volkswagen, and Ristau deftly crafted two engaging films that tell the complex history of these models, interwoven with heartwarming personal stories from people who love and live with them. Both can also be purchased in DVD form through Ristau's website.
Tom DeMauro, Senior Editor
Moonshine County Express (free on Tubi, free with Prime membership or digital rental or purchase without on Amazon Prime Video)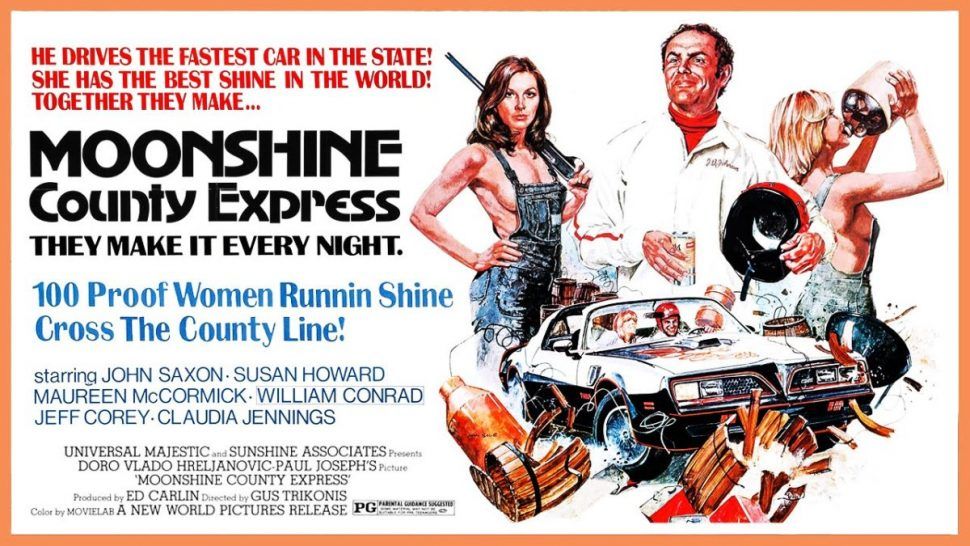 If you'd like to escape into a 1970s car-chase movie soaked in white-lightning, you may want to give Moonshine County Express a try. Three daughters of a murdered moonshiner, who are portrayed by Susan Howard (Dallas), Claudia Jennings (lots of car movies), and Maureen McCormick (The Brady Bunch), try to sell their dad's secret stash of premium hooch in their rural town, while being threatened by the crooked competitor (William Conrad of Cannon fame), who had their father killed. Tough-guy actor, John Saxon, takes on the role of a local moonshine runner and race car driver, who tries to help their cause. Action scenes primarily involve a red 1970 Dodge Challenger race car and a bright green 1970 Plymouth Road Runner (likely two different cars); in some scenes the Plymouth doesn't have its Road Runner exterior I.D. and at times changes back and forth between the two appearances during the same chase. (The wheels and tires change, too.) A 1969 Mustang fastback is in one short pursuit, but the two Mopars square off for the final chase. Though a Pontiac Trans Am appears on the movie poster, I don't recall seeing one in the film. The high-speed hijinks are typical of the era, lots of dirt gets kicked up and lots of cars get wrecked. No Academy Awards were handed out for this gritty 1977 drama, but for car lovers who grew up in the era, it can be entertaining. It isn't for the kids, however, despite the PG rating.
Mike Austin, Digital Content Director
This is Speed Racer for the Generation X and Millennial crowd, and the reason why the AE86 Toyota Corolla is an object of automotive lust for so many of us. Mild-mannered Takumi Fujiwara (loosely based on "Drift King" Keiichi Tsuchiya) hones his mountain-pass driving skills during pre-dawn deliveries for his father's tofu shop, and stumbles his way into the world of drifting. The main appeal of Initial D is the hall-of-fame cast of '90s and '90s Japanese performance cars, from Takumi's humble Toyota to the mighty R34 Nissan Skyline GT-R. Put up with the sloppy animation (the cars, thankfully, are in a super-accurate computer-rendered form) and try to avoid the Eurobeat soundtrack driving you insane, and you'll get hooked on the episodic battles that loop in all kinds of lessons on the fundamentals of performance driving.
Autoblog CarBoom! (YouTube)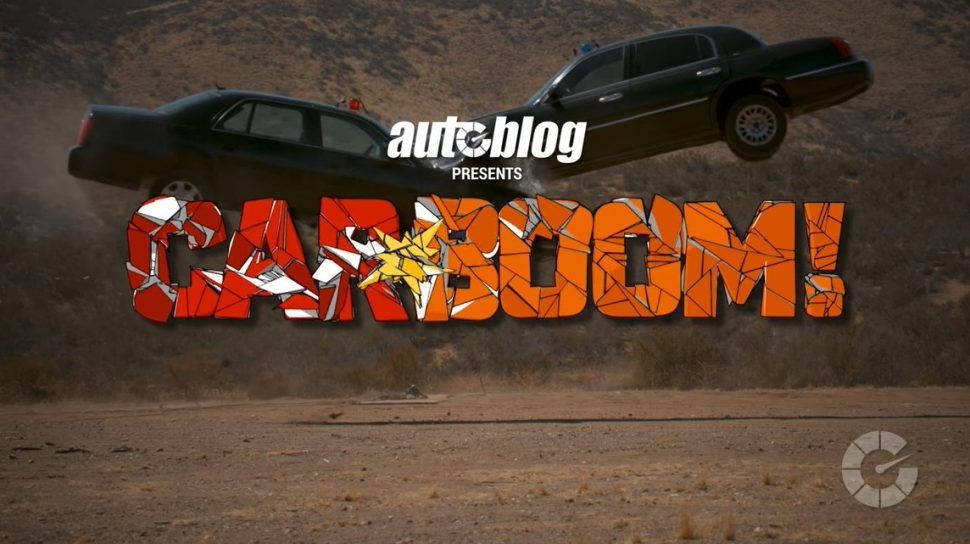 During my tenure at Autoblog, Multimedia Producer Erik Maier had what we all thought was a sure-fire hit video series: blowing stuff up. And so, CarBoom! became a reality. It was not a hit. From complaints about dripping automotive fluids in the desert (the cars were all drained, and many had the engine removed) or the inhumanity of destroying a perfectly good Mustang (which was already in a scrapyard, earmarked for the crusher), viewers simply didn't get it. Which now makes it a hidden gem. With only eight episodes, each a few minutes long, CarBoom! delivers plenty of slo-mo explosions and crashes in a short amount of time.