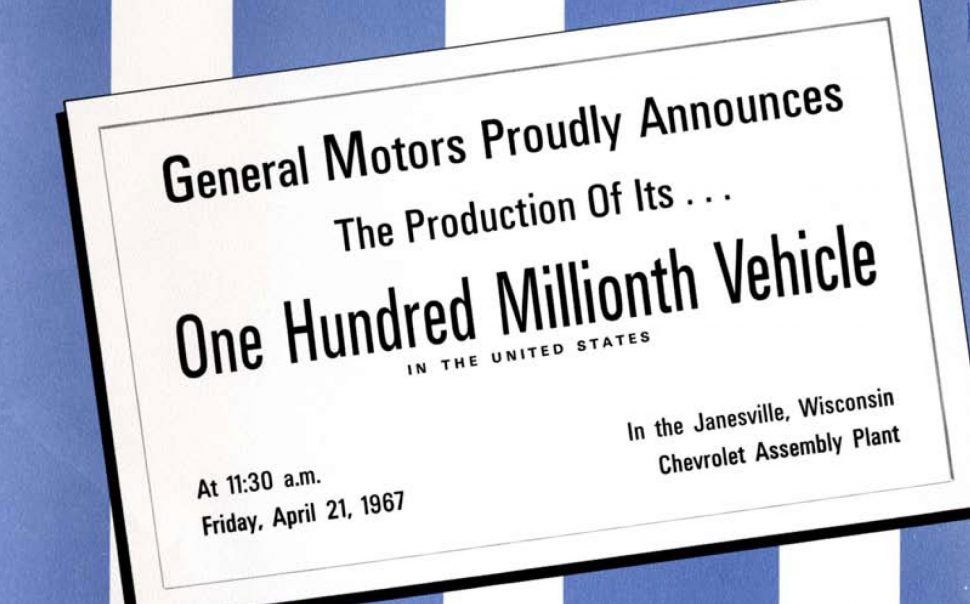 Looking back at GM's 100-million vehicle production milestone

On April 21, 1967, General Motors built it 100 millionth vehicle in the United States. The global tally on that date also included 18,493,496 vehicles, both passenger and commercial, built in other countries. As for the specific car, number 100,000,000 was a 1967 Chevrolet Caprice Custom Coupe built at Chevrolet-Fisher Body Assembly Plant in Janesville, Wisconsin.
If you fancy a trip back through memory lane, the GM Heritage Center has the original press packet commemorating the historic milestone and it is full of fun facts. The sheer size of GM in 1967 for instance:
In the United States there are nine car, truck, and body divisions, 15 automotive components divisions, two defense divisions, four engine divisions, one division that manufactures commercial and household appliances, three finance and insurance units, and General Motors Overseas Operations with headquarters in New York. In addition, there are four operating divisions in Canada.
1967 was a big year at GM, with production of the Chevrolet Camaro started, the Cadillac Eldorado switched to front-wheel drive, and the few L88 Corvettes built would later become legends. GM also touted new safety features like collapsible steering columns, dual master cylinder brakes across the passenger-car lineup, and energy-absorbing instrument panels.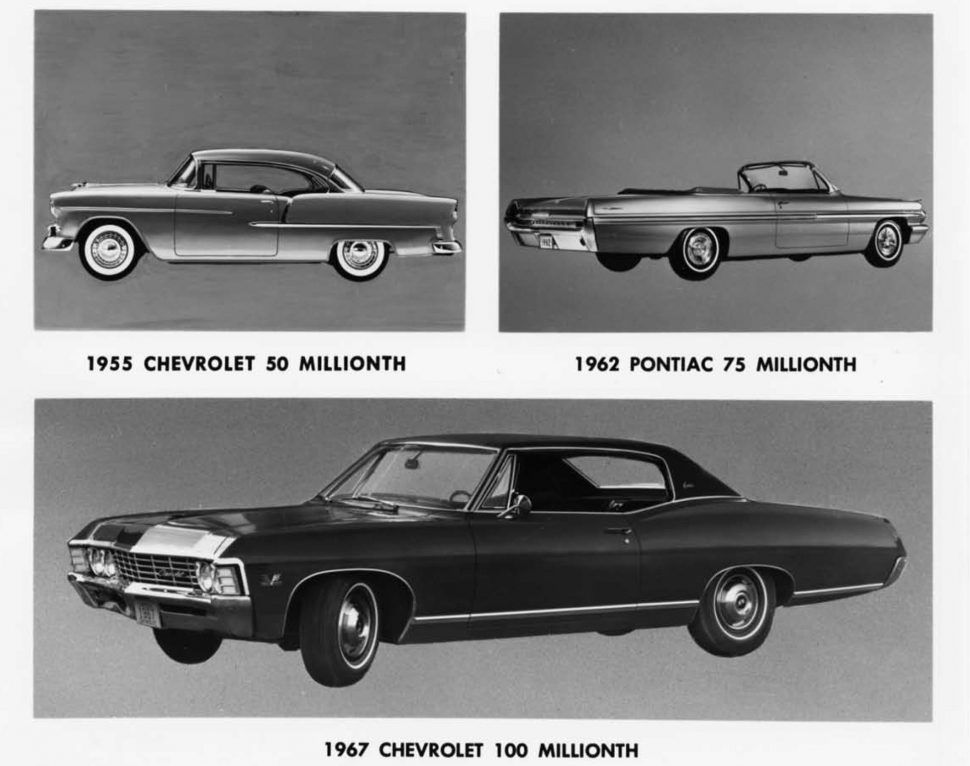 It took from GM's formation in 1908 until November 1954 to get the first 50 million cars out the door, but a mere twelve-and-a-half years to double that. In between, the 75 millionth car rolled off the assembly line on March 14, 1962. That car was a Pontiac Bonneville. The 50 millionth, by the way, was a 1955 Chevy. As for the next 100 million, GM didn't celebrate it at least not with any level of fanfare or announcement we could find. To look at the brochure yourself, you can find it here on the GM Heritage Center website.