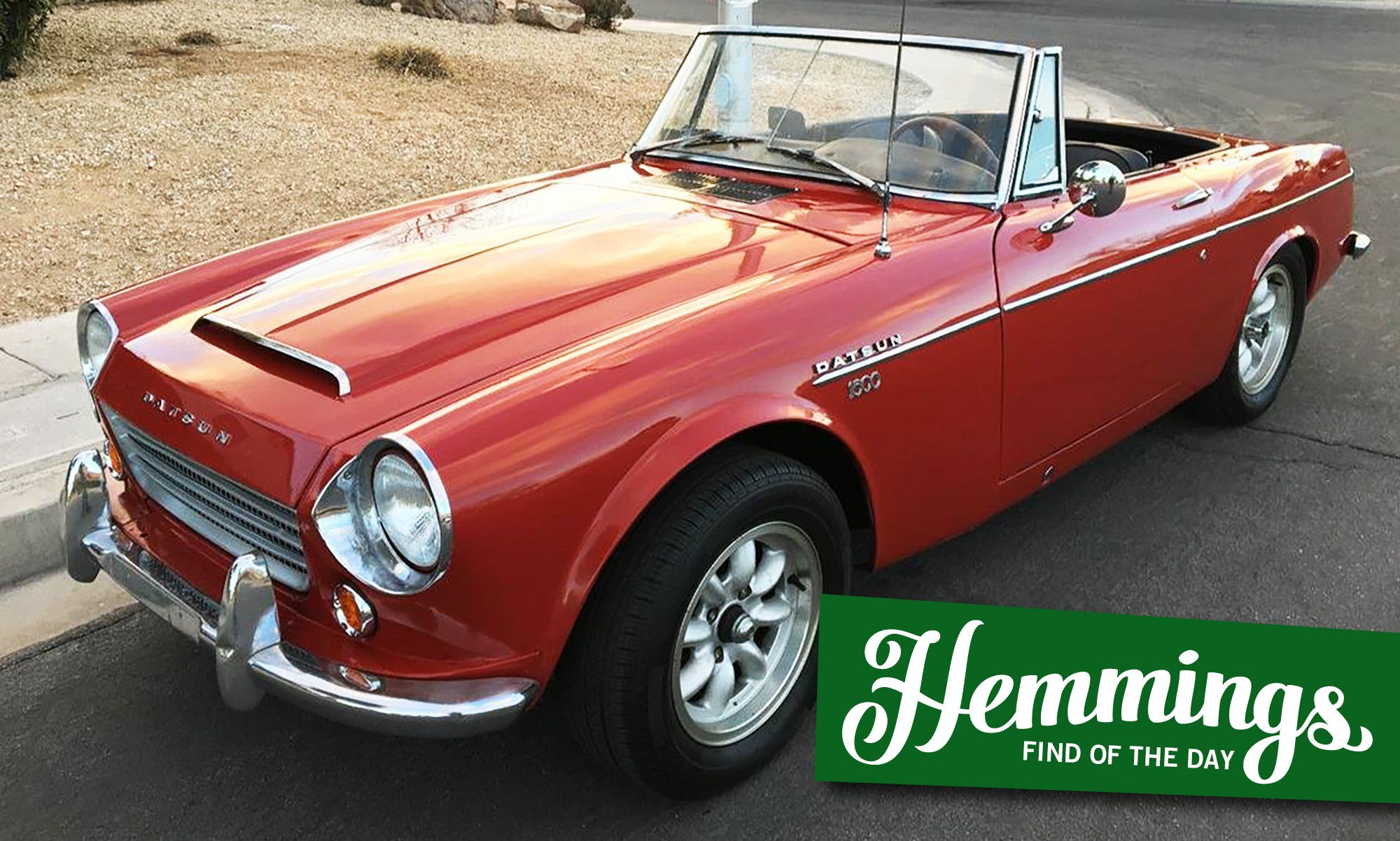 Hemmings Find of the Day: 1967 Datsun 1600
It's a 1967 Datsun 1600 for sale on Hemmings.com. From the seller's description:
Desirable last model year "low window" design SPL-311
4 Speed Manual Transmission
Aesthetically restored and mechanically maintained
The SPL311 was also known in the United States, on the West Coast, as the "Roadster". The front suspension was independent, utilizing coil springs over hydraulic shocks. Rear suspension was a common leaf springs design, dampened with hydraulic shocks. The 1600 SPL311 came with a pair of SU carburators. The engine produced 96 PS (71 kW; 95 hp). The R16 is an in-line four cylinder OHV engine. Early SPL311 came with a high compression engine that had three main bearings, hydraulic lifters, a cast iron block and cast iron head. Top speed for the SPL311 with approximately 91 octane gasoline was approximately 105 mph. The hood badge said "Datsun" in individual letters, the rear badge said "Datsun 1600", and the side badges said "Fairlady" (Japanese market) or "Datsun 1600" (export market). The SP311 continued in production through April 1970.
Always a Southern California car. Purchased in 2018 from a gentleman who wanted to use it for his wedding departure, I purchased it as a gift to myself after selling my business and took a hiatus from working to have fun with a fun car. I added to the maintenance and replaced many parts so I could play in the garage. Now I'm converting my garage to a woodshop and am using my parking for a new Roadtrek. This Datsun has been nicely refurbished by myself and the previous owner, and was well cared for by the prior two owners who held the car for decades for use as a second vehicle. Two owners for the first 50 years!
Clean California title
SU Carburetors have been rebuilt by Z Therapy
All new parts purchased and installed from DatsunParts.com
New FCA/RCA and shocks
Rebuilt Brake System
14×6 Panasport wheels with new tires
Porthole window hardtop and soft top frame for convertible
Odometer shows 22371 miles
New parts installed in the past two years:
Thermal Coated header with flex pipe
Gear reduction starter
Interstate battery
Fuel pump
Water pump
Thermostat and housings
Fuel lines
Exhaust pipes (replaced after installing new header and flex pipe)
Rebuilt alternator
Header gaskets, collector gasket
Ignition
Spark plugs
Dropped/boiled fuel tank
Rubber Belts
Seat Belts
Carburetor heat shield
Black deluxe dash and pad
Brass and chrome hardware
Window gaskets
and so much more.
All records and receipts have been kept and will transfer with new owner. All original parts that have been replaced have also been kept and will come with the car if you want to revert to the original parts or need spares down the line.
Approximately $4500 has been spent in the last few years to make this a great car inside and out. Most of these repairs were not needed but it was a blast to wrench on it and replace anything showing age or needing some TLC to make the car as safe and reliable as possible.
This Datsun has had a resprayed in the original Spanish Red within the past 5 years, and the under carriage is rust free. There is typical rust in the inner wheel well areas, and a spot smaller than a credit card inside the interior wall of the trunk. The trunk has been blasted and repainted in enamel gray as part of my restoration efforts. It comes with the original spare, steel wheel, jack, and tool set with pouch. The seats and steering wheel are from later model Datsuns.
Condition is Good/Fair. It straddles the line by looking good from ten feet, a true driver's car, but has enough small details to tinker with for the owner that wants to play in their garage on some days and drive on others. I'm happy to answer any specific questions you may have on any details I may have missed or you would like to have clarified.
Price
$12,500
Location
San Luis Obispo, California
Availability
Find more Datsuns for sale on Hemmings.com.