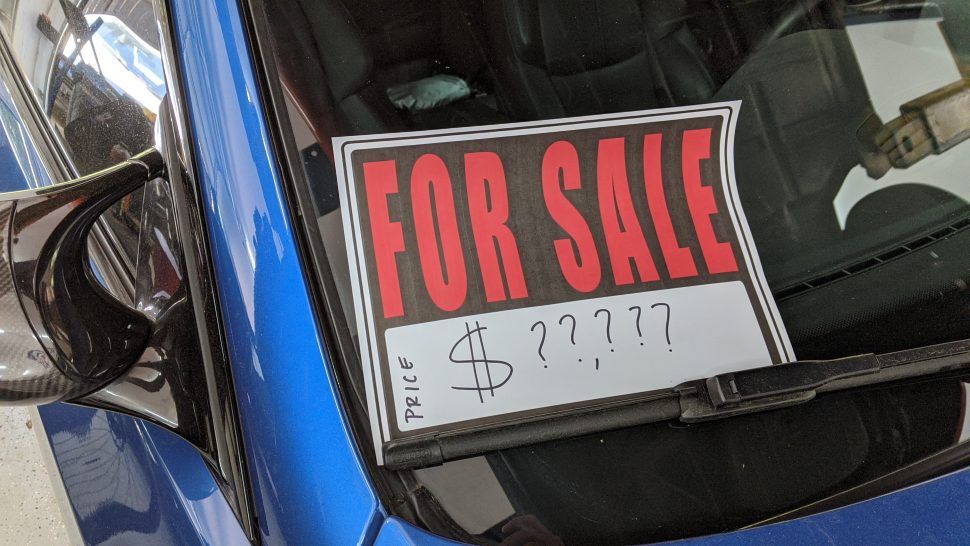 How to set a good asking price when selling a car
A tale as old as time itself, you bought your Sunday cruiser 10 years ago. But now you've got your eye on a new car and it's time to sell your old companion. How do you know where to set your asking price? It's not as easy as it might sound – the market changes over the years and that doesn't even take into account the time and money you've put into the car since. You don't want it too low or you'll leave money on the table. Too high and your car sits for months with no bites. Our Hemmings Auctions team helps sellers set accurate values on their car every day and here are some tips you can use to set a more accurate asking price.
Asking Prices Aren't Always Related to Value
Classifieds are a great place to find your next classic but might not be the best place for market research. While you can see pictures of the car and the price, even the best ad might not tell you enough about why the seller set that specific price.
For example, you've got a rotisserie restored 1985 Toyota Corolla that you'd like to sell (great taste by the way). Perusing the classifieds, you see an all original Corolla just like yours. The asking price is $70,000! Clearly you should ask more, right? Here's a list of what you don't know about that listing:
Are they trying to sell or just testing the market for their "make me sell" price?
How many days, weeks, months, years, or even decades has it been for sale?
Has anyone even called about the dang thing yet? Maybe no one is interested at that price.
What offer would they actually accept? Are they planning to take 10%, 20%, or even 50% less?
For this example, let's answer those unknowns and have a little fun. Maybe that Corolla seller is a billionaire and doesn't need to sell the car. Maybe the car has sentimental value for them, inflating the value to them personally. Maybe they drastically overpaid when they bought it and they think they should get out what they put in. Maybe they've had it listed for years and received not one phone call. Maybe they don't even want to sell it at all, stranger things have happened.
Use Public Sale Prices for Concrete Values
Since you want to actually sell your car soon, not years from now, you need a more accurate way to set your price than what other people are asking. Skip the guessing games and look at what cars have actually sold for. The easiest way to get that information is previous auction sale prices. Most auction companies track their sales and record the final prices publicly. For example, you can find Hemmings Auctions results here.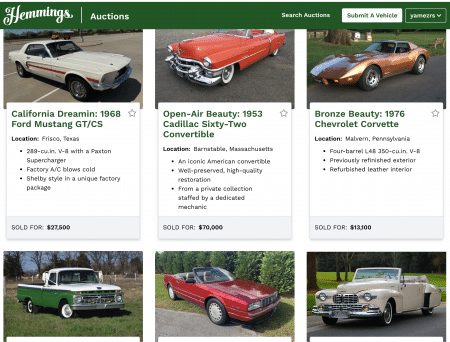 Hemmings Auctions records their sale results publicly like most auction houses
You'll want to find a handful of results for similar cars to yours. The more you find the more accurate your asking price will be. Once you've got the cold, hard data, you can see a range of sale prices for similar cars. An asking price below that range could be a quick sale. An asking price at the top of the range and you could be waiting a long time. It's up to you to determine the strategy but this gives you a ballpark idea. Use the tips below to help you avoid common pitfalls and get the most accurate range
Use Recent Results
We've all heard the story —somebody bought an old race car for pennies in the 60s and now it's worth millions. Use recent auction results to determine a price for right now, not one based on a recent peak or valley in prices! We'd recommend sticking to sales from the last 12 months to keep things fresh.
Find Close Matches for Your Car
It sounds obvious but it's not always easy. The better the match from the auction results, the more realistic your asking price will be. The results should be the same year, make, and model. Know the other important parameters for your car like engine size, options, or even color. Little differences in cars can add up to huge differences in price.
Only Compare Cars in Similar Condition
This one is a little more difficult but it's one of the most important steps. You've got to be honest with yourself about your car's condition so you can accurately compare auction results. If you've got a car that's all original, don't use results for rotisserie-restored examples or vice versa. If your car has a matching-numbers driveline, be sure to only use results that cite the same. The big numbers garnered by award-winning cars will be enticing but won't reflect the car you've had in "storage" under a tarp.
Be Aware of Auction Fees
Most auctions include a buyer's fee – as much as 12.5% – in the sale price. Look for notes on the auction results page to be sure that the number listed includes everything. A car that you see "sold" at $110,000 may mean that the winning bid was $100,000. We recommend you use the final bid without the buyers fees to guide your asking price.
When it does come time to sell your classic know that Hemmings is here to help with a variety of venues. We offer self serve classifieds if you're the DIY type. Or our Hemmings Auctions team can help you build and promote an auction listing that maximizes your sale. Submit your car here to get started.