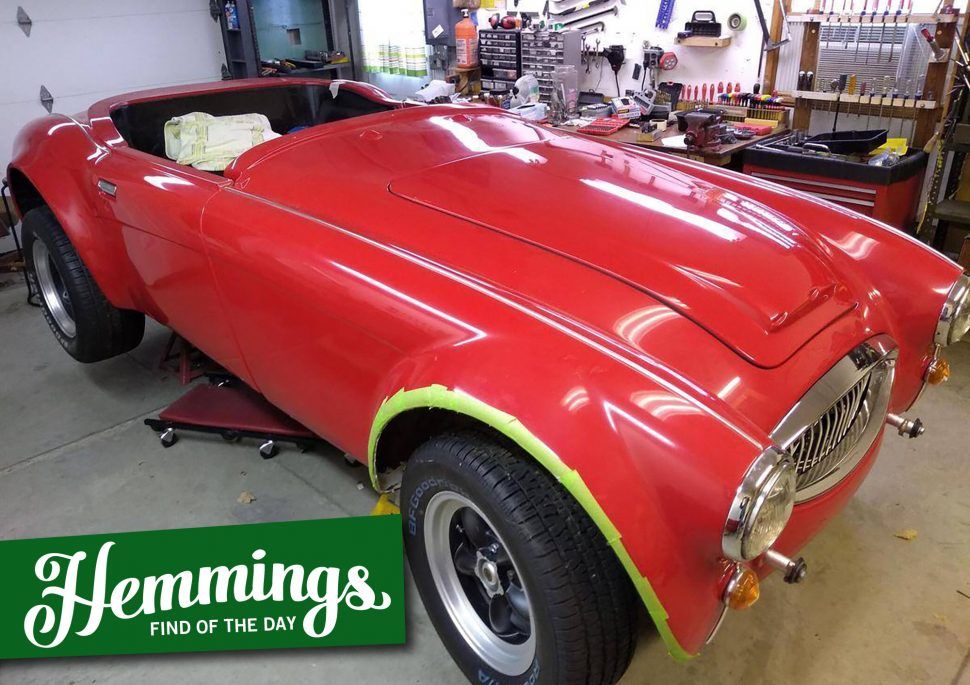 Hemmings Find of the Day – 1962 Austin-Healey 3000 replica
Partly complete 1962 Austin-Healey 3000 replica for sale on Hemmings.com. From the seller's description:
For sale is my late father's unfinished kit car. The finished car will resemble a 1962 Austin-Healey model 3000. The kit is a Sebring 5000/MX from Classic Roadsters, Ltd and was purchased nearly a decade ago. The vehicle has a 1977 Ohio title. The engine is a 302 V8 from a virtually new 1997 Ford Explorer upgraded with aftermarket intake headers, carburetor, and lots of other performance oriented features. The transmission and drive train are all Ford products including a rebuilt 3-speed automatic (C4) transmission.
I'm not a car guy, but after a number of interviews with people who are, this vehicle is mechanically complete, it has been driven up and down the driveway, but lacks installation of nearly all the interior: the dash (a temporary dash and gages are installed), windows and windshield, seals around the doors, seats, upholstery, hood, and trunk latch. Overall, the car appears to be about 70 percent complete.
All of the major components are on hand including the seats, windshield, door widows, soft top, hood, solid wood dash, interior carpet and pad, bumpers, tires, and other small stuff. The only major piece that needs to be fabricated is a rollbar.
Price
$12,000
Location
Miamitown/Ohio/45002, Ohio
Availability
See more Austin-Healeys for sale on Hemmings.com.