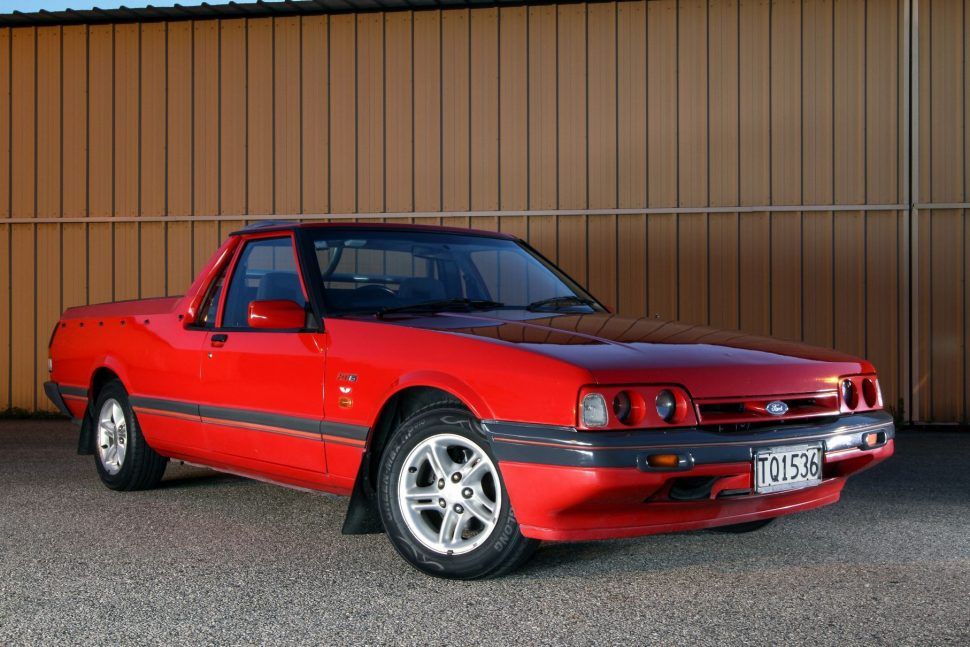 Auction Highlight: 1995 Ford Falcon XR6 Ute
Most car enthusiasts know about Australia's ubiquitous utes, the car-based pickups that inspired America's own versions such as the Ranchero and El Camino, but these icons from Down Under are rare in North America, the factory hot-rodded editions even more so.
Though the early Australian models were based on the 1960 to 1970 Falcon as we know it, albeit with right-hand drive, Ford Australia produced its own homegrown version of the model from 1972 until the end of domestic production in 2016. Various sedan, coupe, wagon, commercial, and, yes, utility versions were built over the years. The rear-drive Falcon, in certain versions, became a performance icon in Australia. Mad Max's Pursuit Special, a.k.a. "The Last of the V-8 Interceptors," was a Falcon GT from the mid-1970s, though Max's car was considerably modified from stock.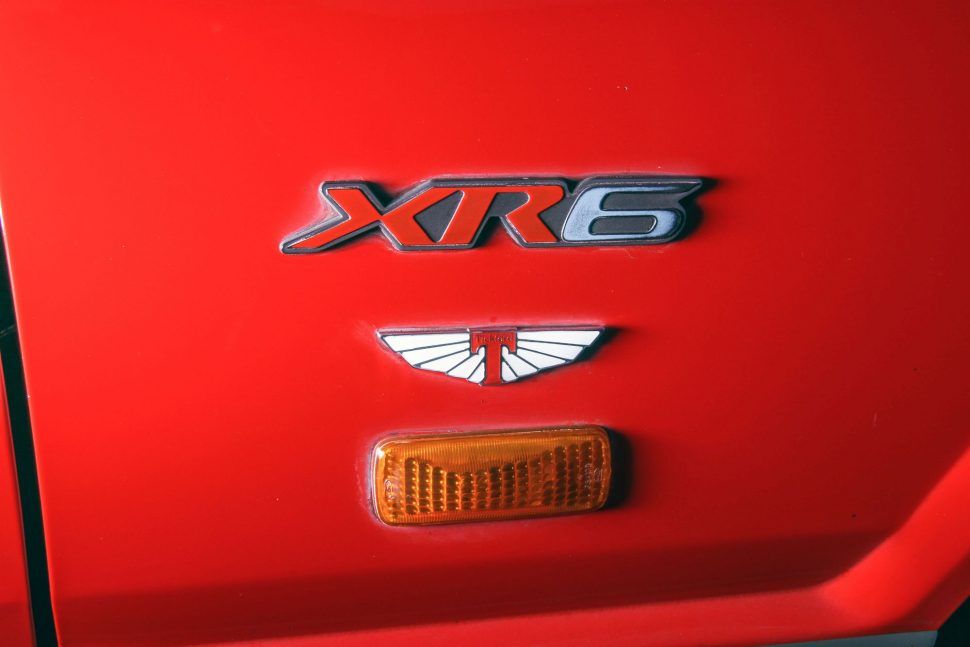 In the late 1980s, the sedan and utility versions diverged, the former moving to the EA and EB platforms, while the "Utes" and other commercial versions forged ahead in XF and later XG form. Ford Australia teamed up with the U.K.-based Tickford to create Tickford Vehicle Engineering in Melbourne to engineer and build high-performance versions of Ford's cars. Included on that list was the Falcon Ute.
Introduced in 1993, the XG-series Falcon XR6 Ute was born in the early days of the Ford performance revival in Australia. It was distinguished from standard-fare models with quad projector-beam headlamps—inspired by the European Escort RS Cosworth—in place of the standard aero lamps, along with a firmer suspension, 15-inch aluminum wheels and a breathed-on version of Ford's 4.0-liter, OHC inline-six engine, which was offered with a manual transmission or dual-mode four-speed automatic, the latter's electronic controls also given the Tickford treatment.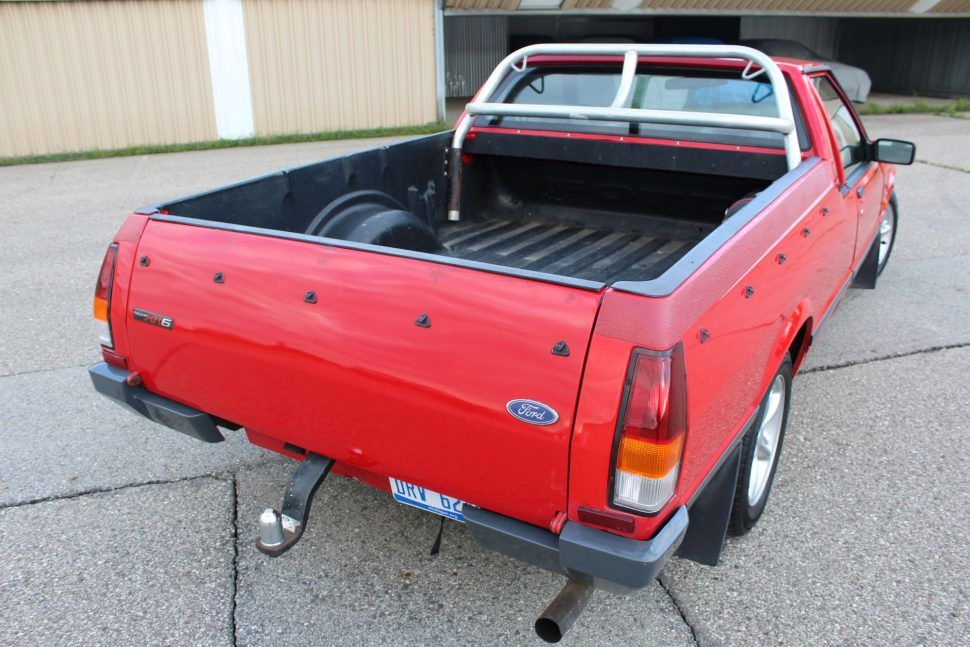 A quick glance at an XR6 Ute and it's clear the XG Falcon was a product of Ford's global design studios and parts bins of the time. There are plenty of North American Ford cues, especially Fox-body touches, from the body-side moldings to the instrument panel. The door handles look the same as the contemporary Mustang and the shape and proportions of the hood, grille and headlamp housings look awfully aero-Fox.
Though some may lament that XR6's lack of a V-8, this Tickford-modified engine (alloy cylinder head, hotter camshaft, and stiffer valve springs) was rated at 220 horsepower and advertised its prowess with a fluted, cast-aluminum rocker cover featuring adjacent Ford and Tickford logos. The body modifications, with distinctive trim, lowered suspension and sportier interior also spoke to the car's performance aspirations. The conventional wisdom has it that just 1,050 Falcon XG XR6 Utes were built, all right-hand drive and none for North American distribution, which makes it all the more surprising to see one offered in the United States.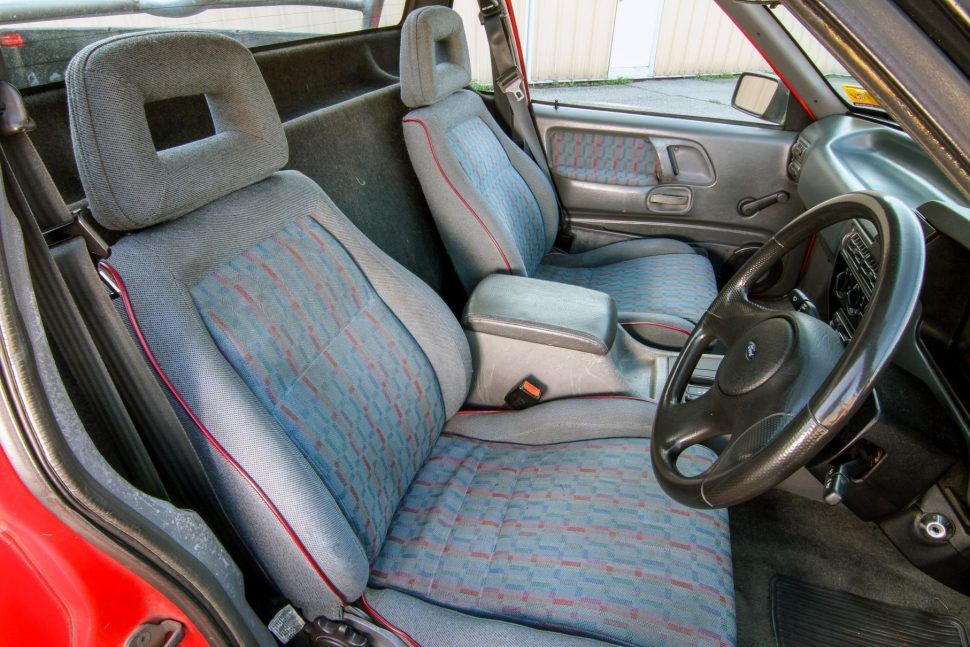 Currently listed on Hemmings Auctions, this 1995 Ford Falcon XR6 Ute, unmistakable in its Bright Red factory finish, just might be the only one in the U.S. The seller reports yet having to locate another.
That seller, who has a long history of expertise in American muscle cars, reports that plenty of people recognize the blue oval on the grille, but just can't get a handle on what it is, relaying that "more than a few people have assumed that I made a 'Ranchero' out of a Fox-body Mustang. It is about the right size.
"Many of the questions I answer about it are about whether it's a Fox-body," he says. "It's not. It's on its own Australian rear-drive platform, but there is definitely a family resemblance, especially on the inside, where the dashboard looks like a later Fox Mustang, but reversed for right-hand-drive."
The seller ended up with the car largely by chance, while visiting Seattle to look at other vehicles. After finding it in an online classified, he "couldn't help but to go look it," because, as he puts it: "I'm one of those enthusiasts who grew up fantasizing about Mad Max-era Australian Fords and this was as close as I could get."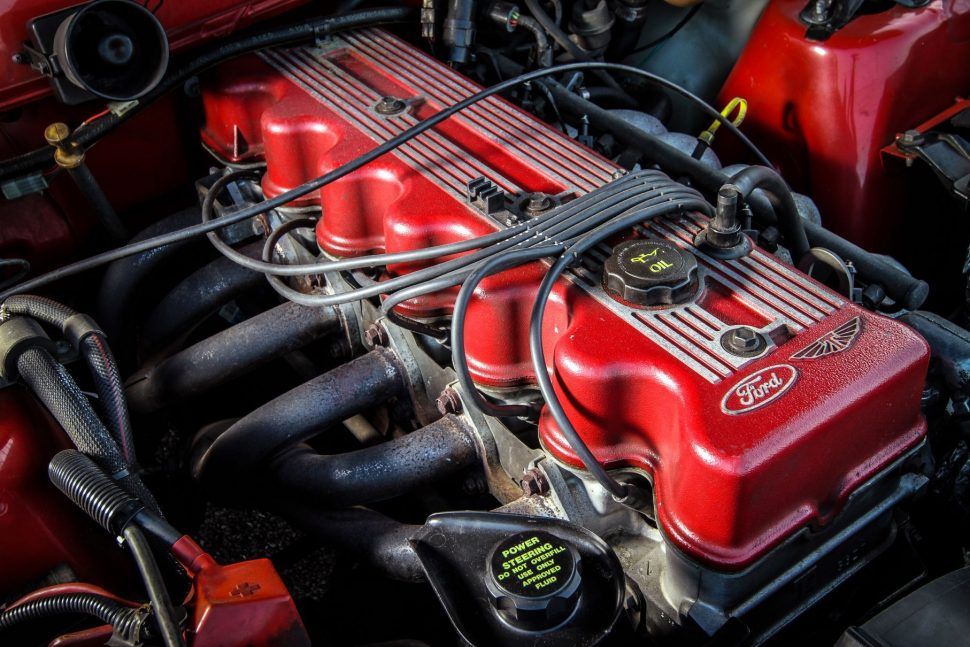 The car was imported by a New Zealander who divided his time between his home country and the Seattle area, where he searched for classics to send back to New Zealand. The Ute was his personal vehicle and he had it shipped to the U.S. in early 2017. It already had a Washington title when the seller purchased it and shipped it back to his home in the Detroit area, where it was insured, registered, and regularly driven, earning double takes at almost every stoplight along Woodward Avenue. Driving the right-hook Falcon XR6 Ute took a little getting used to, the seller reports, adding that "The Ute drives very well and delivers surprising performance. That inline-six has tons of low-end torque. It really pulls strongly."
The seller calls this Ute "a reliable crowd pleaser at every cars and coffee," adding, "You don't know attention until you drive a right-hand-drive Falcon XR6 Ute. No matter where you go, people will point, take photos and ask questions about it. They've all seen vintage Mustangs and Chevelles. This is something different and exotic in America."
Head on over to Hemmings Auctions to see more on the car, including top-to-bottom photos and a thorough description of its cosmetic and mechanical details. We'll spare you any puns from "Down Under" that we were prepared to pepper this story with, but do let us know what you think.