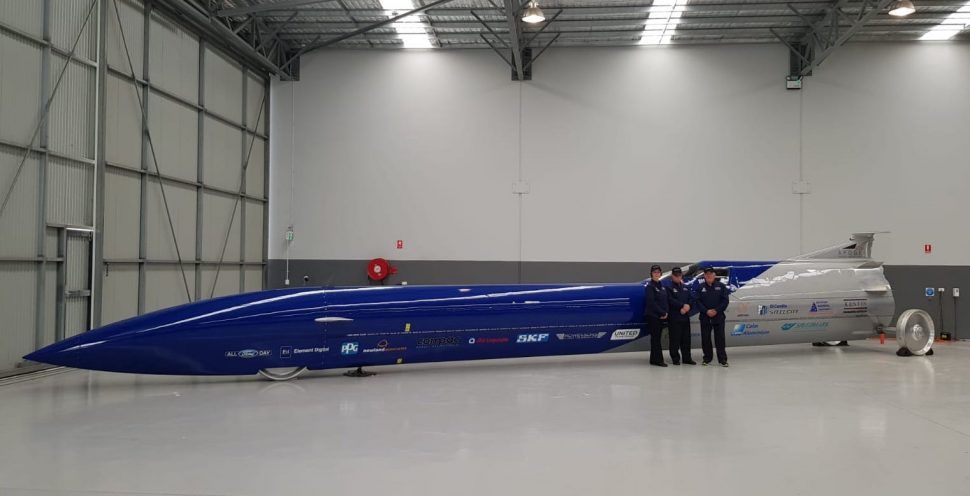 In the hunt to break the land-speed record, Rosco McGlashan's pretty much the last one standing
On the one hand, according to Rosco McGlashan, plenty of people have told him that they too intend to build a vehicle that'll break the world land-speed record, typically by building on the work he's already put in toward that goal over the last 11 years. "I can name seven people in Australia who said they'd build a car," he said. "And I just the other day had a heated discussion with another guy who said his all-new technology will do 1,000 mph no problem."
On the other hand, one year ago this time three teams had fully- or mostly-built vehicles and active plans in place to break the now-23-year-old record. Now, after the death of Jessi Combs in the North American Eagle and the idling of the Bloodhound LSR effort, that number is down to one: a 68-year-old Australian who has spent more than half a century in pursuit of ludicrous speed atop and inside of a series of purpose-built V-8, jet- and rocket-powered machines and who may very well be the last person on earth to have a shot at breaking the record.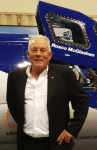 Despite the global coronavirus pandemic, despite the lack of a main sponsor, despite naysayers, despite even not knowing exactly where he'll make his runs when he's ready to make runs, McGlashan continues to work on the Aussie Invader 5R, the rocket-powered machine that he believes will take him past 1,000 mph on land and in the process break the 763 mph record that Andy Green set in 1997 in the Black Rock Desert in Nevada in the Thrust SSC. And if he does, he may very well set one of the last world land-speed records, as Bloodhound's Ian Warhurst argued (albeit for the Bloodhound effort) earlier this year.
However, unlike the massive effort put into the Bloodhound program, McGlashan's working on the Aussie Invader 5R from his home garage, where he's built all of his drag racing, exhibition, and land-speed racing vehicles.
In addition to an EJ Potter-like V-8 motorcycle and a rocket-powered go-kart, that list of vehicles includes four prior Aussie Invaders: two jet-powered exhibition dragsters and two jet-powered land-speed racers. The first of the land-speed vehicles, Aussie Invader II, took him past 500 mph in the early 1990s and earned McGlashan bragging rights as the fastest Australian while the second, Aussie Invader III, carried McGlashan to a one-way pass of 638 mph in 1996. That speed exceeded Richard Noble's average speed in his 1983 record, but poor weather reportedly kept McGlashan from backing that top speed with a record run, and he wasn't able to return to the salt before Andy Green bumped the record to 763.035 mph (1,229.051 kph) in October 1997.
So McGlashan went back to the drawing board for his next attempt, the four-wheeled Aussie Invader 5R, and eventually sold the Aussie Invader III to help pay for the engineering and development work on the 5R. Rather than continue with jet engines, McGlashan decided to rethink his propulsion system for his next attempt.
He said he did briefly entertain the idea of developing a hybrid jet/rocket system like the Bloodhound team planned to use to break the record (to date, it has only run on the jet engine, reaching a maximum speed during testing last year of 628 mph), but after playing around with the concept for a couple of years, he discarded it as impractical for a few reasons.
"It's useless for a land-speed racing car," he said. "You need quite a big casing (22 inches diameter) and nozzle, which means less integrity. And with a hybrid, it only makes good power for going up – it puts out less power as it goes on. You want the opposite for land-speed racing; you need to start off with a lot of power and want to end with a bloody lot more. You also got to do two runs in a land-speed record attempt, and there's no way you could change the rocket engine in a hybrid system in time to go back around again."
Instead, McGlashan decided on a bipropellant rocket system, one that uses white fuming nitric acid to oxidize turpentine and thus provide 62,000 pounds of thrust. The system, similar to some suborbital rockets, will require alterations to its fuel delivery subsystem to keep the propellants from pooling in the rocket's horizontal configuration. Pooling, as McGlashan pointed out, would lead to a catastrophic explosion. Thus, McGlashan and his crew devised a cluster of pistons to act like plungers and force the propellants into the rocket engine.
"It sounds so simple to just put rockets on a car… but a lot of this stuff has never been done before," McGlashan said.
Similarly, McGlashan will be breaking new ground – literally and figuratively – when it comes to selecting a site for his record run attempt. According to McGlashan, Mark Read, a member of the Aussie Invader team, is currently negotiating with the Federation Internationale de l'Automobile – the organization that sanctions the world land-speed record – to alter its rules. First, Read is asking for two sets of traps – one at either end of the course three miles in – to allow for a longer slowdown distance. Second, he's asking for a two-hour window of time in which the team can turn the car around and prepare it for its return run.
"All in the interest of safety," McGlashan said. "The FIA used to give just a half hour to do the return run, but Malcolm Campbell was granted one hour to change tires."
Where the record run will take place, though, McGlashan has yet to work out. Bonneville has long been ruled out for world land-speed record runs and Black Rock is no longer viable for runs due to Burning Man. Lake Gairdner in South Australia offers a good stretch of salt, while the Bloodhound project included rock clearing along a massive stretch of the Hakskeenpan in South Africa and Ed Shadle selected Nevada's Diamond Valley for the North American Eagle record runs. McGlashan's even considering a number of mud lakes rather than salt lakes, and he says the best candidate, the Bilpa Morea Claypan in Queensland, could provide a 35-kilometer (almost 22-mile) stretch to run on. However, as McGlashan pointed out, picking a location will depend largely on which organization or individual steps up as the primary sponsor for the effort.
"If we pick up a sponsor in Saudi Arabia or the UAE, we'd go there," he said. "Or if we pick up an Aussie sponsor, we'd run down here. I would love to go to America to do it."
And just as with Warhurst's stalled effort to attach a primary sponsor to the Bloodhound project, McGlashan's also found it difficult to get anybody to listen to his pitch for funding lately.
"Every year when we talk to sponsors, they say 'You got me at a really bad time,' and now it really is a bad time," McGlashan said.
But, as he pointed out, the big difference between his effort and the Bloodhound project "is that we spent bugger all on this car." He's used to keeping costs down after funding the project out of his own pocket (he estimates he's spent $300,000 so far); he's used to financial setbacks (a snafu with the Australian Taxation Office nearly put the entire project out of the running a few years back); and he's used to biding his time until the funds are available. Besides, his plans call for finishing the car first and then attracting a sponsor.
"Not until a potential sponsor touches it, has a tug on the steering wheel, that's when they can believe it," he said.
So, naturally, McGlashan has no timeline for testing or making record runs despite fielding that question multiple times a day. Yet he remains resolute in his rationale for challenging the record, despite criticism that it's a waste of effort and resources.
"I've done this my whole life, and the older I'm getting, the more dedicated I am to it," he said. "The land-speed record is just something that grabs you, and once it does, it's all you think of. The people looking in on this from the outside, they won't get it. But you look at the Olympics, and some people dedicate their lives to doing the pole vault and throwing a javelin – what's that all about then?"
Other teams could come along with greater technology and more resources. They might even recruit a driver with the same mix of ambition, fearlessness, and bravado that McGlashan's earned from a lifetime of high-speed stunts. And there's a slim chance they could even locate a suitable track on which to exceed the land-speed record. But as McGlashan confided, "between you and me and the fencepost, I hope you're right that I'm the last man standing."
In the meantime, he's just working away in his garage and figures he has to go where (and as fast as) life takes him.