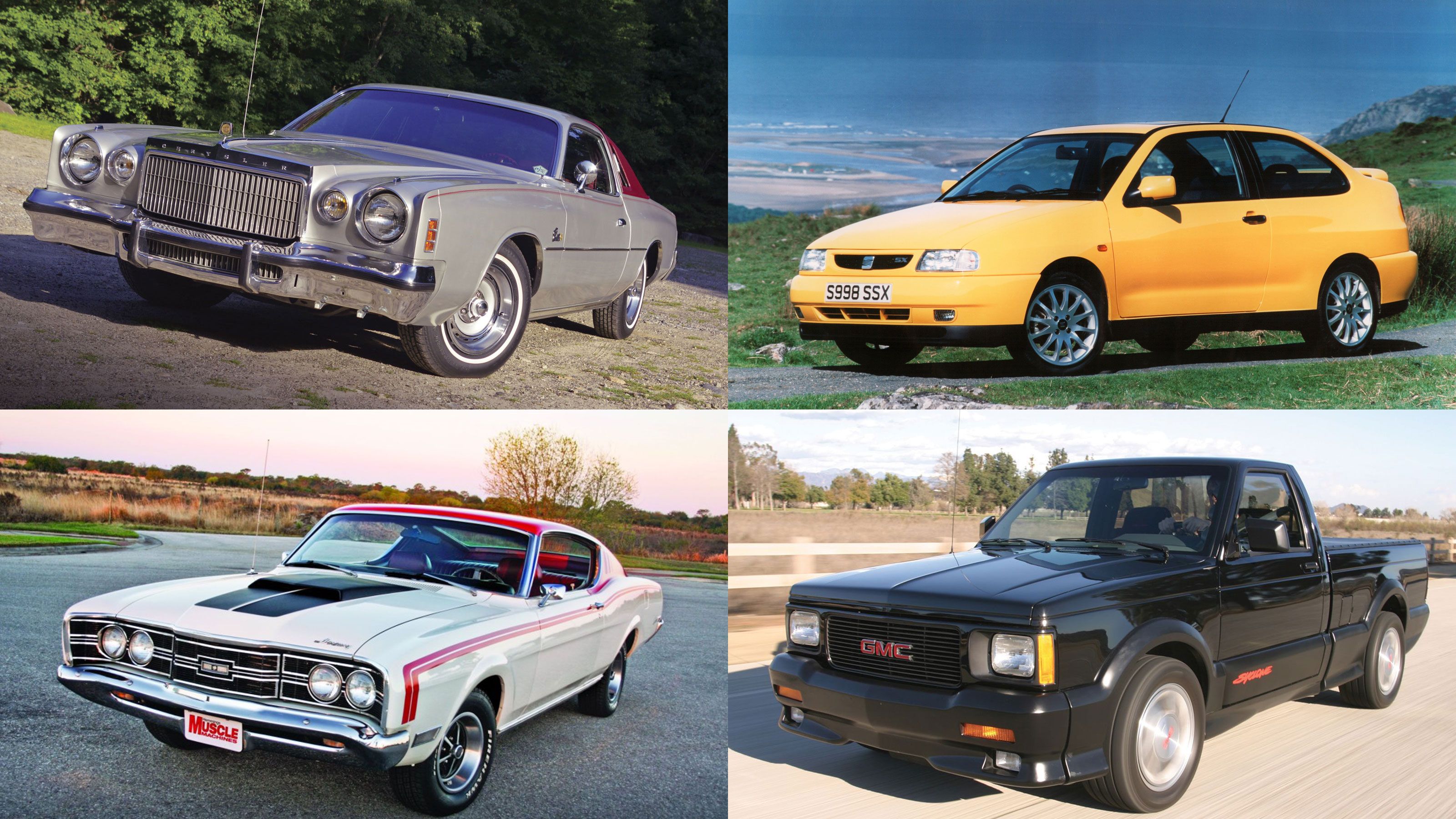 Who wore it better, part two: 15 more shared car names, rated
The world is a big place, and there are only so many names to go around. But what happens if two cars share a name? Even if they're nothing alike?
We put the shared-name vehicles in the squared circle of opinion and (mostly) declare winners in a previous story, and then were inundated with more nameplate twins that we skipped. So here's a list of 17 more shared car names. This time around it largely sticks to proper names. We're dialing back on the alphabet soup names (and numbers) for now, we're listing names across different companies/eras (Pontiac and GMC Safari-for example-are still both GM), we're not delving into trim levels, just sticking with model names, and we're not listing motorhomes, motorcycles, boats, snowmobiles, or any other motorized contraption. Cars and trucks only.
Are these the last of them? Probably not.
Ambassador: AMC versus Hindustan
AMC: A Nash name from '32-'57, Rambler's (and AMC's) top-of-the-line production car through 1974.
Hindustan: Indian-built using Morris Oxford tooling from 1958-2014; it is effectively India's Model T.
Winner: India loves their Ambassador more than America ever loved theirs.
Cavalier: Packard versus Chevrolet
Packard: A mid-priced Packard in the early '50s.
Chevrolet: Chevy's compact J-body front-driver, positioned at the bargain end of the lineup from 1982-2005. It was once sent to Japan and sold as a Toyota!
Winner: Anyone who has the chutzpah to sell an American car in Japan, with a Japanese nameplate, can have all the win.
Honorable Mention: AMC Cavalier, a concept car designed to reduce tooling costs by making opposite-location fenders and doors interchangeable.
Challenger: Dodge versus Studebaker
Studebaker: Originally a Lark model, Challenger became its own model starting (and ending) in '64.
Dodge: Mopar's E-body ponycar that somehow isn't as desired as a Plymouth 'Cuda; also used on a Mitsubishi-built coupe during the second gas crisis.
Winner: Mopar gets the win for doing more with the name.
Concord(e): AMC versus Chrysler
AMC: Super-plush AMC Hornet with revised styling, for the personal-luxury generation.
Chrysler: Super-plush Dodge Intrepid with revised styling (moreso in the second-generation version), for the cab-forward generation.
Winner: Flip a coin.
Cordoba: Chrysler versus Seat
Chrysler: Chrysler's "downsized" B-body-based personal luxury machine, a rare sales bright spot for Chrysler in the '70s.
Seat: Competent VW-based, Spanish-built supermini saloon. A VW Polo with Latin flair.
Winner: Rich Corinthian leather remains a part of the American lexicon.
Corsair: Ford (UK) versus Henry J
Henry J: Starting in '52, the upmarket Corsair offered an opening trunk! Didn't help sales a bit though.
Ford: From 1965-70, a distinctive upper-middle-class family sedan. Powered by the V4 engine Saab would borrow post-two-stroke-era.
Winner: Ford sold more over a longer time, but we're betting more Henry Js survive today.
Cyclone/Syclone: Mercury versus GMC
Mercury: Muscle-era tire-shredder based first on the Comet, then later Montego, with a series of intriguing proboscises.
GMC: Insane Corvette-beating turbo V6-powered all-wheel-drive S15-based pickup.
Winner: It's a draw. Plenty of performance to go around here and they're worth similar money to boot.
Duster: Plymouth versus Dacia
Plymouth: Slick A-body coupe, buildable as an economy car or a street terror.
Dacia: From 2010 to today, a bare-bones Romanian-built mini-SUV with ample help from the Renault parts-bin.
Winner: Plymouth won me over this year.
Hornet: Hudson versus AMC versus Wolseley
Hudson: Twin-H power, step-down chassis, NASCAR history, a bona fide classic.
AMC: An honest economy car, the bones of which built models that outlasted AMC.
Wolseley: originally a six-cylinder sedan in the '30s, by the '60s it was a Mini variant with an overwrought grille and a proper trunk.
Winner: Hudson for history, AMC for sheer staying power, Wolseley for dreaming up amusing answers to the question, "What were they thinking?"
Matador: Dodge versus AMC
Dodge: A low-line full-size one-year-wonder, with less than 28,000 built.
AMC: Full-size standard-bearer for the last of the Independents through the '70s; also a wild mid-sized fastback coupe from '74-on.
Winner: AMC for sure, but Chrysler owns Dodge and ended up buying AMC, so who really won?
Laguna: Chevrolet versus Renault
Chevrolet: For four years, a sporting mid-size Chevelle variant with a pretty nose. Cale Yarborough liked his just fine.
Renault: For 20+ years (1994-2015), Renault's large family car; also built in Pakistan, South Africa and Malaysia.
Winner: If Renault sold more cars, but got more of the world mad at it because those cars broke, does Chevy get the win for being merely conventional?
Land Cruiser: Toyota versus Studebaker
Toyota: Legendary go-anywhere 4×4 that's gotten steadily more luxurious over the decades.
Studebaker: South Bend's top-of-the-line car from 1934-54, with many stylish variants over time.
Winner: Both will go forever with care; we'll take the Stude on the road, the Toyota off it.
Phoenix: Dodge versus Pontiac
Dodge: Australia used the Phoenix name on full-sized throughout the '60s.
Pontiac: Originally a facelifed RWD X-body Ventura, the Phoenix name graced the first front-drive Pontiac in mid-1979.
Winner: Tie. One we can't get, one we don't want.
Rogue: Rambler versus Nissan
Rambler: American-based compact with a pinch of pizzazz.
Nissan: American-built SUV that survives on bland competence.
Winner: Buy American?
Skylark: Buick versus Hupmobile

Hupmobile: Used the Cord 810 body on a conventional chassis; production delays helped kill the marque.
Buick: Originally a '53 Motorama baby, the nameplate went on to grace a mid-size, and later compact, Buick.
Winner: Who remembers Hupmobile anymore?