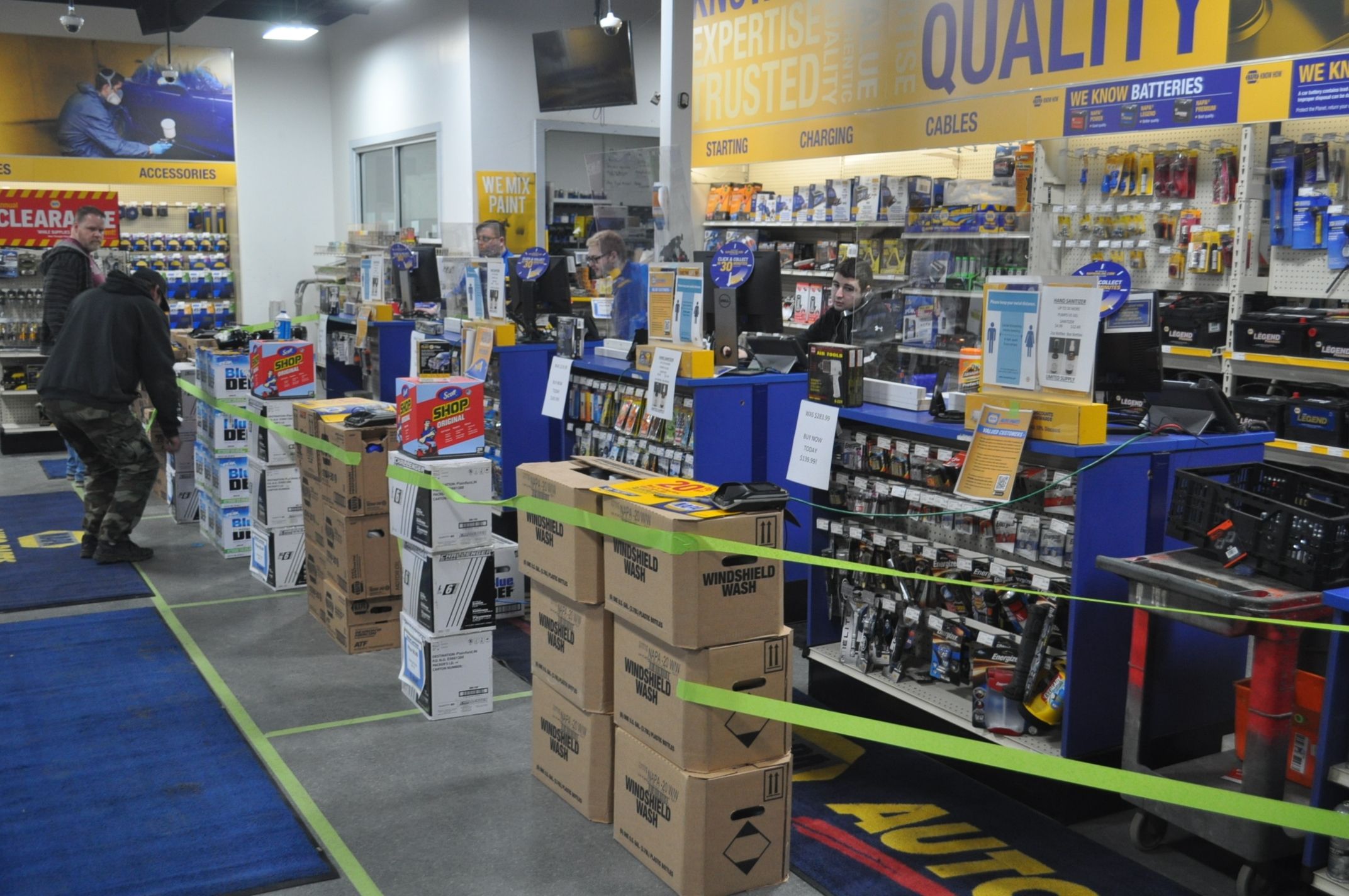 Why auto parts stores are deemed essential busineses, and how they're adjusting
In addition to my efforts for Hemmings Motor News, I continue to work one day a week at my first career, staffing an auto parts counter at a company-owned NAPA store in upstate New York. This is the same company I've worked for, in various roles from delivery driver to store manager, since 1976. With the coronavirus outbreak, the governor of New York was one of the first to require all but essential workers to stay at home to slow the spread of the virus. You might wonder why auto parts stores are deemed essential, especially because of the inevitable retail interactions, but we (meaning our stores) do fill several roles that make our business important to the fight against the disease.
Primarily, our role is important as a pipeline for PPE supplies. You don't often think of an auto parts store to buy masks, face shields, goggles, gloves and coveralls, but we have a frequently-refilled supply chain of these products available to medical facilities and first responders. Genuine Parts Company, the parent company of NAPA has a long-standing relationship with national and international suppliers, and it has its own transport company to shuttle products to distribution centers all over the US, Canada, and Mexico. This supply chain enables it to get products where they need to be very quickly. The local NAPA distribution center in Albany, New York, has been making many of the PPE items available to local hospitals on a first-come and often only-served basis. Pallets of clear face shields, Tyvek coveralls, and respirators from 3M and Honeywell, fresh air breathing systems and head socks from Allegro, safety glasses from Uvex, Carhart, and Genesis as well as nitrile gloves from Black Dragon, Sure Grip, and Impact have been warehoused and delivered where needed to police, ambulance, fire departments, and medical facilities since the initial "lockdown" in New York in mid-March. The sale of paint respirators has been limited to autobody shops as well, so that non-professionals don't waste them in everyday use. Shops found not using proper OSHA-approved paint safety equipment can be closed until they return to full compliance. The company also located a local distillery, Grateful Villages, making liquid hand sanitizer from 72-percent alcohol and aloe vera, and purchased as much as it had available. CRC, the company best known for its automotive chemicals, has also made available aerosol cans of Hydro Force, a germicidal, viricidal foam cleaner for keeping the store clean for walk-in customers.
Second, auto parts stores are important for keeping emergency vehicles and cars for essential workers running. Many first response organizations are customers of our store, because we have such a large warehouse of available parts and products located so close by. Airports, police departments, trucking companies, utility companies, and ambulance services still need to keep their vehicles maintained.
Third, auto parts stores are still open to allow consumers to repair their daily driver, should their cars be needed in case of an emergency. They also remain open for auto dealerships, whose service departments were also deemed essential in New York. Online ordering has also become commonplace in the store and NAPA has offered discounts for preordering items before pickup, as well as payment options that allow you to spend as little time as possible in the retail area. Although consumer traffic is down roughly 40 percent over a normal weekend day, walk-in customers are still allowed in the store, so long as they maintain social distancing. Retail areas and entryways are cleaned often, and six-foot stripes are taped to the floor so that customers can gauge the proper distance between themselves. Clear plexiglass shields were also installed at each counter station, and credit card machines are also extended to six feet away from the counters. Customers have access to free nitrile gloves they can wear while in the store and salespeople have recently begun wearing cloth face coverings, as has been recommended by the CDC.
As a company, Genuine Parts Company has not furloughed any employees as of this date, although some part-time workers have had hours reduced. Its policies regarding medical leave allow those who are sick to get the help they need without fear of job loss. As the pandemic changes, further retail access restrictions may be necessary, but it continuously monitors all federal and state guidelines to provide essential products where they are needed most.