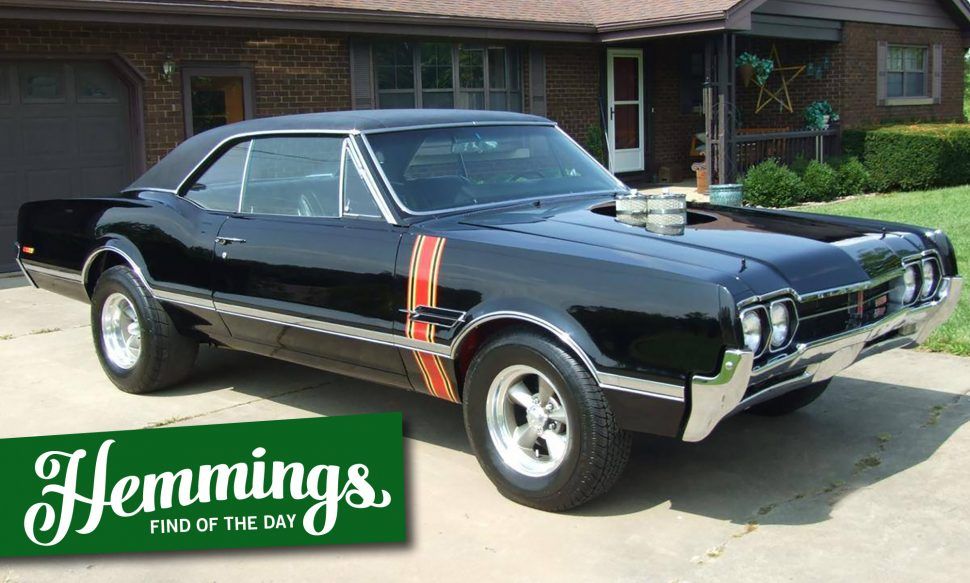 Hemmings Find of the Day: 1966 Oldsmobile 4-4-2
Restomod 1966 Oldsmobile 4-4-2 for sale on Hemmings.com. From the seller's description:
540 C.I. Merlin, Jerrico 4 Speed
Nothing shows off a cars chrome like black paint. There are a lot fewer 442s around then a lot of the other muscle cars. So if you want something unique and different that everyone else doesn't have, this car is a consideration. Or if you want to show up at the "Cruise In", but don't want to just show up in another 60's or 70's muscle car like everybody else with 300 or 400 H.P. and, want to show up with the baddest monster of any of them around this is again a car to consider. It is truly a real beast! The owner had a 66 442 when he was in high school and always wanted another one, except he wanted it to be something way wilder. So he bought this car in 1999, and started with a car that was more stock with a good body. They did this car right! They sand blasted it down and confirmed that there where only a couple spots that needed looked at, and repaired. (Mostly in the fender and doors) The build was originally completed, and than several years later he went back, and had the engine gone through and modified to a higher degree of power and some other tweaks that he felt were necessary. He has enjoyed it but it is time for a new home.
Often people build the engine for big power but don't upgrade the drive train that should go with that kind of power. The plan was from front to back, from side to side build to handle that kind of power. It did require some tweaking at some point, which a lot of people build a car and wont do anything with it afterwords. If you use them you learn there are somethings that need to be tweaked out. Locally known as "Blackie".
Price
$36,300
Location
North Canton, Ohio
Availability
See more Oldsmobiles for sale on Hemmings.com.