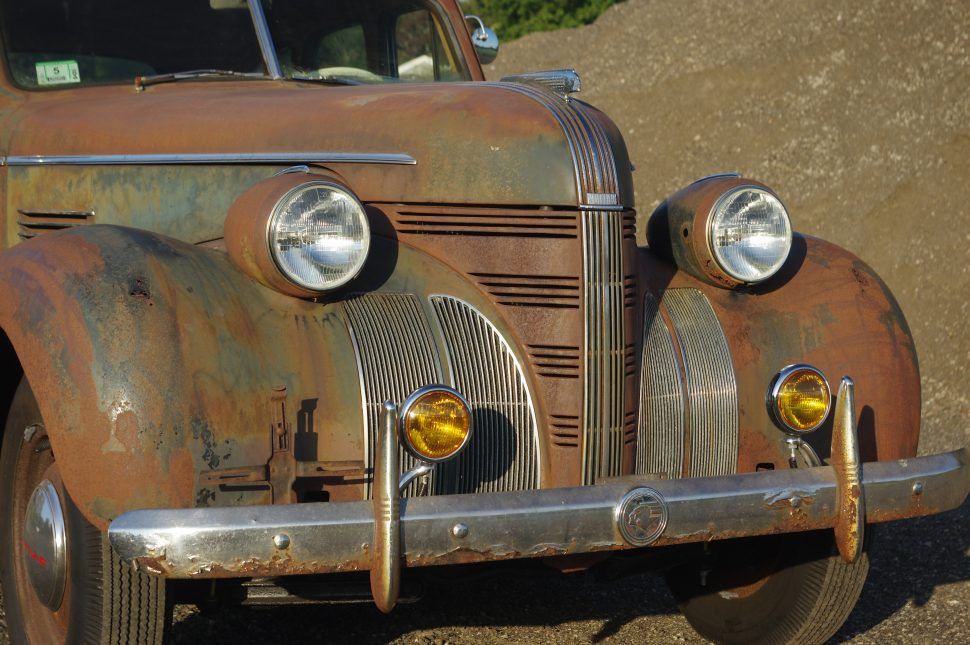 At what point should an unrestored car be restored?
Unrestored collector cars, because of their irreplaceable originality, are fast becoming the preferred type of car that enthusiasts, collectors, dealers, auction houses and museums want to possess. But if a car's untouched originality reaches a point where its condition looks so inferior and flawed that it no longer represents the way it was first assembled, then it needs to be restored – at the very least for posterity.
What's the deciding factor in preserving a car's originality? While tarnished chrome, faded factory-applied paint, shabby upholstery and delaminated glass can be desirable attributes of unrestored original automobiles, determining when that originality needs to be replaced and restored requires a well-thought-out assessment of the car's condition. Each day there are fewer and fewer original collector-quality automobiles left in this world, so we need to do our best to preserve those that remain and avoid restoring them for the sake of making them perfect.
Original collector cars should be considered nothing less than highly prized automotive artifacts. They are important transportation objects of great historical significance, and provide a look-back into the world of automobile manufacturing of years gone by. They are our only glimpse into the past, thus affording us the wonderful opportunity to study firsthand the way manufacturing techniques were carried out during all of the different decades and periods of automobile production. We can see how the assembly line workers applied the paint and inspection marks, how the upholstery was stitched and carpet was bound, wood was cut, shaped and joined, and which types of fasteners were used for specific applications. The same is true for all of a car's mechanical parts including engine, transmission, differential, suspension and electrical systems. Better than shop manuals, an unrestored car is existing proof of the way automobiles used to be built, and are the only true guidebook that restorers can use to ensure that the cars that they are restoring are rebuilt in the most accurate, factory-correct manner. Original automobiles such as these should be cherished.
Consider this: If a painting by Monet or a stained glass panel by Tiffany shows its age, those precious works of art aren't repainted or releaded, they're just cleaned. So then, why should well-preserved old cars be repainted if their original finish is still in respectable condition? After all, once that factory-applied paint is removed and the car is repainted, then that car can no longer be called an original collector car. Refurbished, yes, but certainly not an original.
While it's remarkable for cars built during the late 1940s and 1950s to have survived without being trashed or restored, imagine just how special it must be for cars that were produced in the 1930s, '20s, and Teens to retain today everything that they were first assembled with all those decades ago. For a car to have survived substantially more than a half-century and still retain its original paint, interior, engine, instruments, and most of its mechanical components is a testament not only to the manufacturer's engineering methods and build quality, but to all the previous owners who treated it with care, provided steadfast maintenance and worked hard to preserve its originality with great respect. Even more amazing are the cars of the muscle era that have remained in top-notch shape after participating in street wars, drag strip competition, and hard driving day in and day out. After all, that's exactly how most owners drove them.
The most extraordinary survival characteristic of any pre-war-era automobile has got to be the body finish. Compared to today's highly durable urethane enamels and base coat/clear coat urethane systems, cars from this period were painted with nitrocellulose lacquer, which was a very delicate paint finish. Lacquer is extremely brittle, and unless it was cleaned and polished regularly it slowly lost its shine over time. And the more it was polished to retain that shine, the thinner and thinner the paint became. This is why on most prewar cars, especially those of the brass and nickel eras, if they had never been repainted in almost every example you will see traces of the primer below the top coat showing through. This mostly occurred along the tops of each fender and along the edges of the hood. But don't look at these cars as derelicts or being uncared for: instead, think of them as rare time capsules of Detroit's past manufacturing techniques.
So the question remains: What's the deciding factor in preserving a car's originality? Along with the above photos, here are a few examples and explanations why originality is worth keeping even when it shows some age.