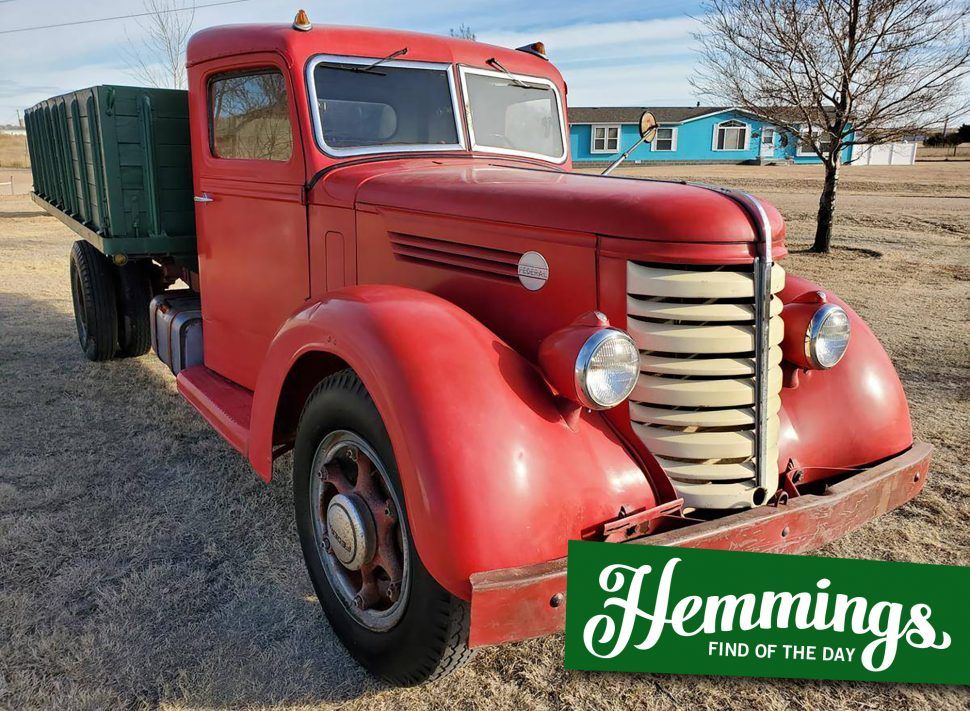 Hemmings Find of the Day – 1947 Federal 16M
Preserved 1947 Federal 16M stakebed for sale on Hemmings.com. From the seller's description:
Hercules JXE3 Flathead 6 Cylinder

Odometer reads 9000 miles

Manual Transmission

Truck runs and drives

Carries good oil pressure

Have to top off the brake fluid every so often

Drivers side fender has dent

Front bumper looks to have taken an impact on drivers side

Truck has no rust issues

The gentleman from whom I bought this truck, said the truck had always been in the shed for as long as he could remember.

He said his Grandfather was the original owner.

He said Gramps would occasionally get it out and wash/wax it.

He said as far as he knew the truck had never been painted,

and the mileage on the odometer (9000) is correct.

I have no way of knowing if the odometer is correct,

but the interior of the truck presents extremely well.

Gramps did paint the exterior of the bed with a brush, and he did get some drips of paint on some of the surrounding areas.

The bed on the truck is stationary

Wheelbase measures 15′ (180″)

Measures 13′ 11″ (167″) from back of cab to end of frame

Overall this Federal is a nice example

The truck was sitting for several years prior to me buying it

It will probably need things like belts, hoses, brake work, etc

The tires all hold air, but they are old

No rust issues
Price
$16,500
Location
Garden City, Kansas
Availability
See more Federals for sale on Hemmings.com.