Recommended Reading – A Century of Automotive Style: 100 Years of American Car Design
Within the 306 pages of this 9.5 x 12.5-inch hardcover book exists the most authoritative story ever told about how American automobiles were designed and styled and the men responsible for it all. It's one of those rare books that you really can't put down once you start reading it.
Written by noted automotive historian Michael Lamm, and Dave Holls, the late General Motors stylist who has been credited with designing the 1959 Cadillac, 1966 Riviera, 1968 Corvette and 1970 Monte Carlo among others, the information within is factual, informative, and incredibly insightful as to how automobiles are created. No wonder many historians and others in the industry consider this book to be the ultimate reference work for anyone interested in auto design.
The story begins back in the shipbuilding days of the 1800s, and how those construction techniques influenced coachbuilding. From there, you'll learn about stamping and sheetmetal presses, panelbeating and coachbuilding, streamlining and aerodynamics, paint and wood, engineering and design and all the other manufacturing processes regarding car bodies.
The men accountable for it all are profiled as well, including Amos Northup, Virgil Exner, Dick Teague, Bill Mitchell, Brooks Stevens, Chuck Jordan, Bob Gregorie, and many many others. Other equally interesting chapters focus on GM Motorama stars, Harley Earl's design firm, Ghia, Designing Women, Planned Obsolescence, the Art & Colour Department, auto design schools, and much much more. And all is well explained with incredible period photography, drawings and illustrations.
As of March 2020, A Century of Automotive Style has recently been reprinted. The easiest way to order it is through the publisher via Amazon.com, or you can contact the publisher directly at LammMorada.com. Original list price was $59.95, but it's now $39.95 (shipping is $5) and includes a DVD edition of the text and photos.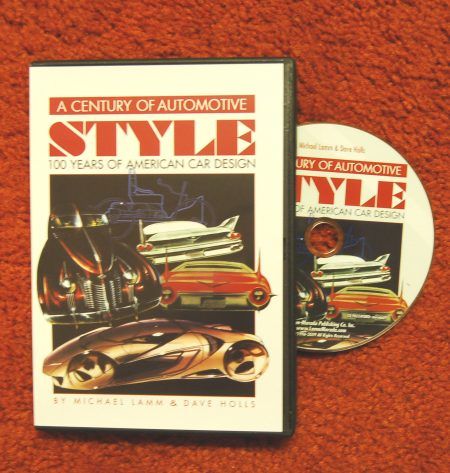 [Editor's note: the final paragraph has been updated to reflect the most recent availability of the book.]