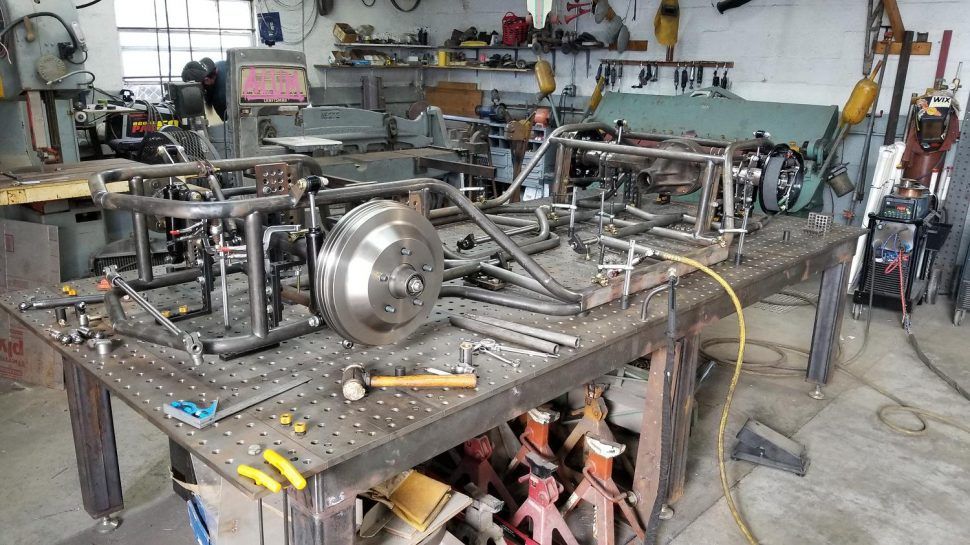 New sports car chassis addresses roadblock to getting decades-old sport specials back on the track
For many a sports and racing car builder in the Fifties, Frank Kurtis' "off-the-shelf" chassis had little equal. It provided good handling, room for bigger engines, and could be slipped under many homebuilt specials and fiberglass bodies in the days before kit cars came along. For John Pascucci, however, they were merely a starting point for designing and creating a more modern chassis designed to get old sports cars back on the track and the streets where they belong.
"These cars need to be used," he said. "It's a shame to not be sporty with them."
Pascucci, fabricator and co-owner of J.R.'s Speed Shop in Venice, Florida, decided to tackle this super-niche problem a few years ago after a friend and customer came to him with an Allied Swallow body that he intended to put a Kurtis chassis under, even if Kurtis never offered a chassis short enough for the Swallow. The customer even sourced an original Kurtis chassis, and Pascucci found himself less than impressed once he laid eyes on it.
"They're their own neat little thing," he said. "But they're not really fantastic. There's a lot of wasted space, a high center of gravity, no sway bars."
So rather than use it, Pascucci set about building a new, largely universal, chassis of his own design, using the Kurtis as inspiration. "This is different than the real modern stuff," he said. "I decided to put some modern-type engineering in with the vintage flavor."
According to Geoff Hacker, who documents and tracks down just the sort of vehicles that would benefit from Pascucci's new chassis, builders of homebuilt specials in the Fifties had a few different options for chassis. First, they could build their own from scratch, an avenue typically not open to the backyard builder. Second, they could modify an existing Ford or perhaps Willys chassis, something Glasspar and Victress recommended for its fiberglass body customers; that came with its own set of drawbacks, including sourcing straight chassis from junkyards and introducing poor handling characteristics with alterations. Third, they could purchase a premade chassis from one of several companies that sprang up to fill that niche.
Aside from Kurtis, Shorty Post of Orange, California, offered a 99-inch-wheelbase chassis; Mameco in Newport Beach, California, offered a 120-inch-wheelbase chassis; Woodill offered a chassis for its own fiberglass bodies; and a handful of others at least advertised, if not offered, their own chassis.
However, according to Hacker, finding those chassis has become next to impossible these days. And even when they're to be found—usually still under the homebuilt sports car they were originally bought for—new owners find that the chassis are less than ideal for modern builds. "I've sold three cars with chassis like these, and the customers later threw the chassis away," Hacker said. "Not because they're that bad, but because (the customers) want to improve the cars. I think building new chassis is a really good idea, because, if somebody does restore one of the old chassis and finds inherent problems, they won't drive the cars."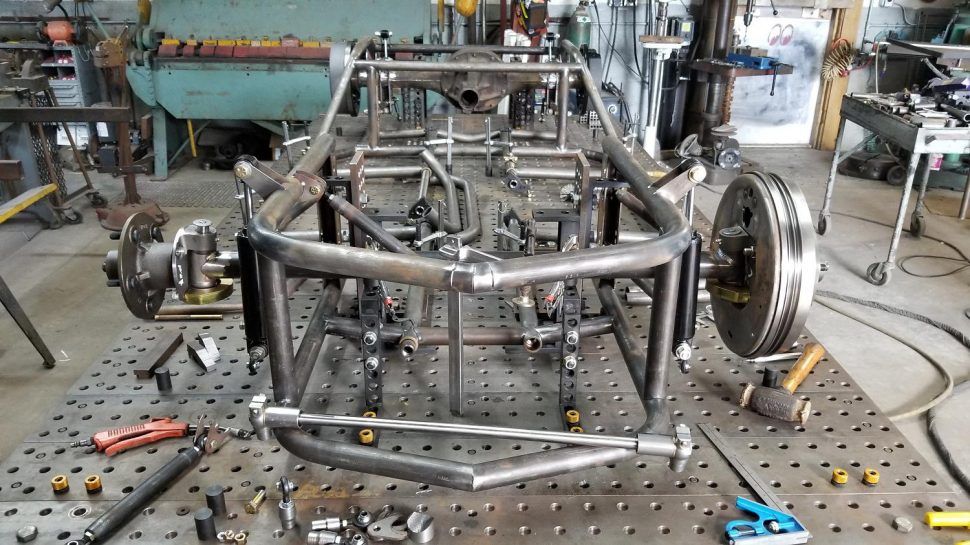 Though his chassis still carry some elements of the Kurtis chassis he patterned them off of—namely, the beam front axle and the tube perimeter frame—Pascucci said that he certainly intends his chassis to be driveable on the street or on the track, depending on the customer's preferences. To begin with, it's a torsion-bar design, providing a variety of easily changeable spring rates, with the torsion bars mounted down low in the chassis. Both front and rear axles are located with four-links, adjustable Watts links for roll center changes, and anti-roll bars. Though he plans to offer drum brakes standard, he can also fit discs if the customer specifies.
In addition, Pascucci designed the .095-inch steel chassis in quadrants so he can adjust the wheelbase and track width to fit a variety of front-engine cars without changing the suspension geometry. As designed, the chassis will use sprint car torsion bars, early Ford spindles, Lincoln brakes, and a Ford 9-inch differential and center section.
Pascucci said he took about a year to tool up for the chassis design and is almost done with the prototype, so to speak—an 86-inch-wheelbase chassis for an Almquist Sabre—with the aforementioned Allied and a couple more in the wings. "I wish I had the ability to design in CAD, but I just started bending up tubing and have taken a couple liberties with changing the design as things progressed," he said.
Hacker said the chassis will also work well as an alternative to second- and third-generation Corvette chassis to go underneath the six reproduction fiberglass bodies—Allied Blackhawk coupe, Byers SR-100, Bangert Manta Ray, Sorrell SR-100, CRV Piranha, and the Covington Tiburon coupe—that he's now offering.
"I think I've created some sort of monster here," Pascucci said. "But there's really no other solution to this other than to have somebody custom build a chassis for you."
For more information, visit J.R.'s Speed Shop on Facebook.