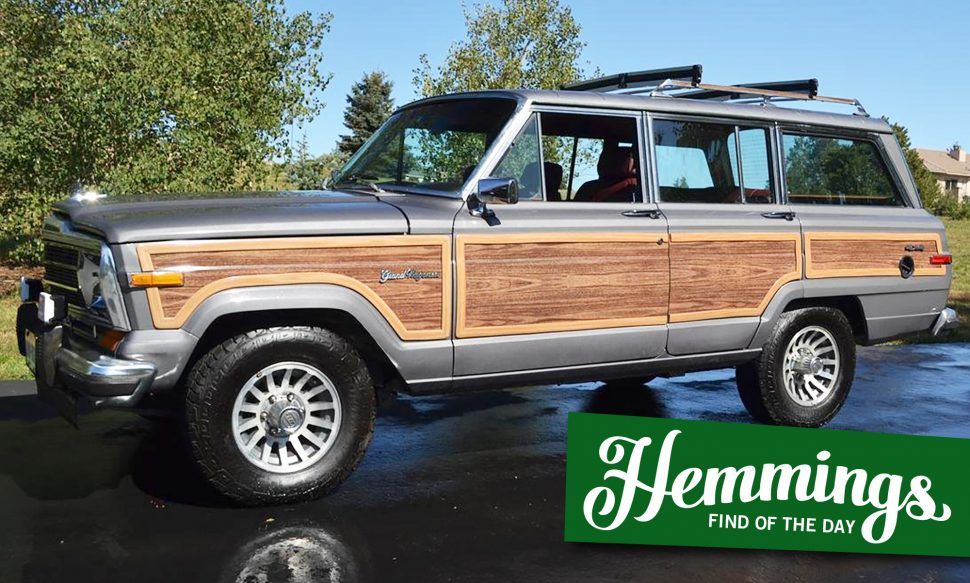 Hemmings Find of the Day: 1989 Jeep Grand Wagoneer
To borrow a line from the Seinfeld episode about the Kenny Roger's Roasters rotisserie chicken, it's the wood that makes it good. Check out this 1989 Jeep Grand Wagoneer for sale on Hemmings.com. From the seller's description:
RESTORED NO RUST from RENO, StrIght as can be!!
1989 Jeep Grand Wagoneer – $25,500.00
Book Value if it was UNRESTORED -$22 – $37K
New Parts:
Leather Upholstery w/Heated Front Seats
Carpet and Padding including Side Trim Panels
Paint – Factory Dover Grey Metallic
Wood Grain
Wood Trim – Cost of those 2 items is $1950
Jenson Touch Screens Radio CD with Bluetooth, Back Up Camera, Apple Car Play
4 new Kenwowod Speakers
Console –Leather wrapped
A/C Compressor and Hoses
Rebuilt Carb
4 Tires –
Brakes – Front pads, Rear – Shoes
Shocks – Gabrial
Stabilizer bar Bushings
Battery – HD
Fuel Pump
Oil Pressure Sensor
Starter Motor
Window – Sweeps
Hella Fog lamps
Oil and Filter/ Air filter / Fuel Filter
Radiator and Heater Hoses
Vacuum hoses
Fluids and Filters including Oil, Transmission, Transfer case
Flush and Fill Radiator
Spark Plugs/ Cap / Rotor /PCV Valve
Plug Wires
Hood Insulation
Jack Cover
Wiper arms and blades
Door Handle Gaskets
Tail gate lock gaskets
Period Correct Barrecrafters ski rack with Keys
Price
$25,500
Location
Monument, Colorado
Availability
Find more Jeeps for sale on Hemmings.com.