Rockets and radio control cars: goofing off at Ford in the Fifties
Employers! Worried that your employees newly assigned to work from home during the coronavirus pandemic are just goofing off, being lazy, and shooting productivity down the hole? Well, hey, lemme tell ya about Ford Motor Company in the Fifties, where it seemed like shenanigans—undertaken in the office—were the order of the day.
Or, at least, that's the impression we get from a couple of stories related to Jim and Cheryl Farrell for their book Ford Design Department Concepts and Showcars, 1932-1961. One of the stores, concerning the 1954 LaTosca, we've alluded to in our previous look at the futuristic Fords that Alex Tremulis had a hand in creating while with the company.
Designed by Tremulis and Romeyn Hammond, the LaTosca went on to become a 3/8-scale model, but not just any scale model. Instead, Hammond figured that he and Tremulis could scrounge a full-size car battery, some Lincoln convertible top motors (as drive motors), a power window regulator (as a transmission), and a power seat unit (as a steering mechanism), power window relays, and model airplane radio controls to build what the Farrells describe as "the first 3/8-sized, battery-powered, motorized concept car that was radio controlled."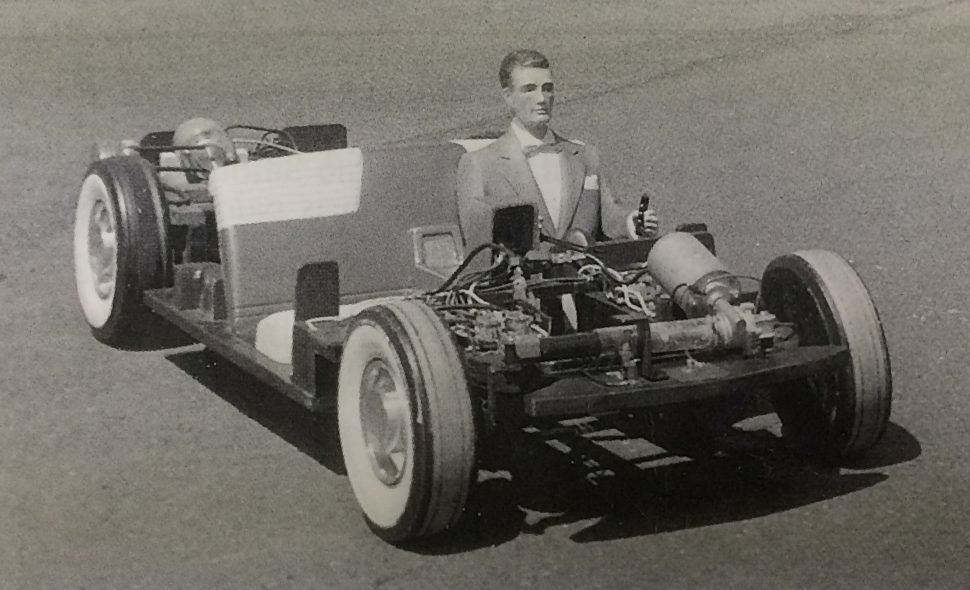 With a 3/8-scale Oscar at the wheel, the LaTosca went as fast as 5 mph and worked well enough to demonstrate to a group of writers and photographers at the Ford proving grounds. Tremulis drove it for that demonstration and apparently liked the toy, judging from his subsequent antics.
It didn't take Tremulis long to start driving the LaTosca over the bumpy flagstone (outside the Design Department's new building) or, if the weather was bad, around the Design Rotunda, which was a big showroom located towards the front of the building. On occasion, Tremulis would also drive the LaTosca up and down the wide hallways and in and out of the open doors to various offices fronting on the hallways.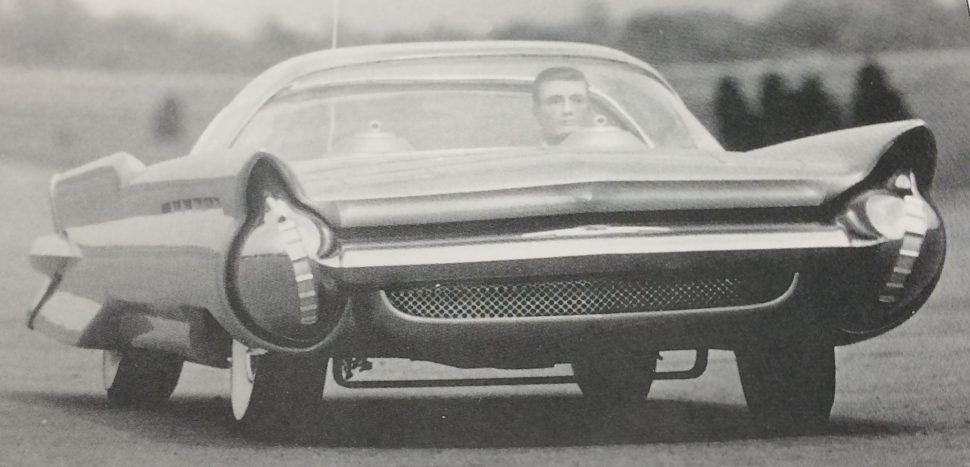 Tremulis would send the Tosca out on the street on occasion while controlling it from inside the building. Designers and clay modelers could watch it through binoculars as it traveled down Oakwood Blvd., in and out of traffic, stopping at traffic signals and finally turning into the driveway of the Ford plant. In time, Tremulis discovered that the radio controls worked up to 1-1/4 miles away. Security guard at the Styling Center recall stopping traffic on Oakwood Blvd., as the LaTosca crossed the street under its own power. On one occasion, while Tremulis was "driving" the car down Oakwood Blvd., it created a traffic jam and was holding up a line of traffic that included Ford's chief engineer Earle S. MacPherson. MacPherson didn't have an excess of patience anyway, and when he learned it was Tremulis who was driving his toy on public streets and creating traffic jams from inside the Design Department building, he made sure Tremulis and (Design Department Manager Charlie) Waterhouse knew what he thought of it. Many designers believe that Tremulis's later problems at Ford started with the LaTosca.
The LaTosca, however, was a favorite of Elwood Engel, and he made sure John Najjar got to examine it well while his team was designing the 1958 Lincoln.
Najjar and Waterhouse also figure into an earlier story of antics from that time, one that—unfortunately—seems to have gone undocumented with photos.
In the early 1950s, Ford studio designers built an elaborate three-foot high rocket out of cardboard, put a fake fuse in it and lit it next to the desks of managers John Najjar and Duncan McRae. After the rocket fizzles, and everyone had a good laugh, Najjar and McRae thought it would be funny if they did the same thing to their boss, Bob Maguire. When they returned from lunch, Najjar and McRae took the rocket into Maguire's office, propped it up on a chair, lit the fuse and ran out closing the door behind them. What they didn't know was that while they were at lunch, Lyle Briggs and Al Mueller put two cherry bombs and a lot of red paper streamers inside the rocket. As Najjar and McRae were waiting in the hall, they heard a huge explosion. Shaken, they ran back into Maguire's office to find him still sitting at his desk, but his office was full of thick blue smoke, with red paper and cardboard particles raining down from all over the room. All Maguire said was that he presumed they were going to clean up the mess. In the meantime, Charlie Waterhouse came running from the other end of the building to find out what the explosion had been. Maguire told him that it must have been a tire that blew out.
See? Shenanigans. Today's remote workers can't get into nearly as much trouble at home now, can they?