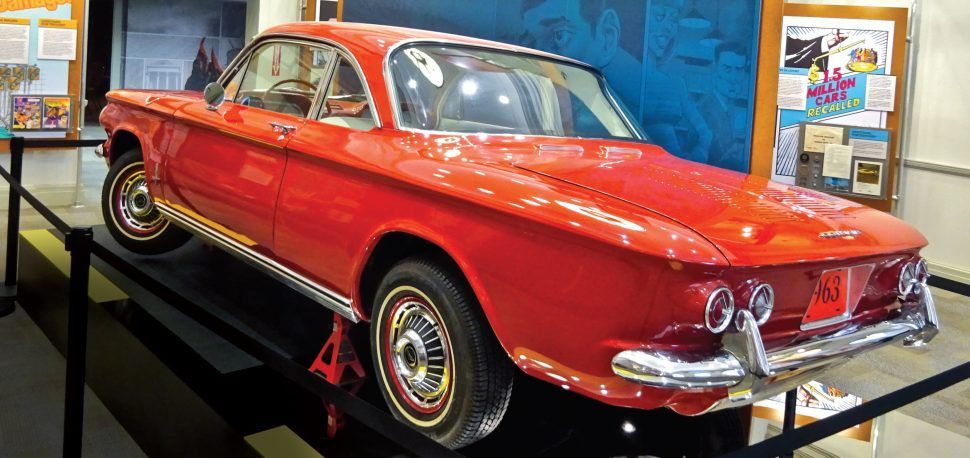 Corvair Vindication Day aims to set the record straight with Ralph Nader's tort museum
While it would appear that Ralph Nader and the Corvair community have mended fences over the last several years – he appeared on stage at his Automotive Hall of Fame induction ceremony with a 1960 Corvair, after all, and Nader's been known to attend Corvair events – at least one Corvair enthusiast sees a few issues to iron out with how Nader's American Museum of Tort Law presents the entire Corvair affair.
"A tort has to be for a faulty product that hurts somebody, but there's no actual tort on the Corvair," said Nick Gigante, who has researched the legal history of Chevrolet's rear-engined model. "It doesn't sit well with me."
For that reason, Gigante has organized what he's calling Corvair Vindication Day, a rally of Corvair owners and their cars around the museum with the purpose of convincing Nader and museum officials to publicly exonerate the Corvair.
According to Gigante, the museum's 1963 Corvair display "continues to promote the myth that the design was faulty and unsafe" and fails to acknowledge the National Highway Traffic Safety Administration's 1972 report, which found that the 1960-1963 Corvair's rear suspension didn't substantially lead to a loss of control, nor did the Corvair pose any more of a risk for rollover accidents than comparable compact cars.
Museum officials have not responded to a request for comment on the event or on the legal history of the Corvair.
While the museum does showcase the aforementioned Corvair, the majority of the displays around it (and the museum's logo) reference the Pinto gas tank litigation. The museum's website barely mentions the Corvair.
As Nick pointed out, General Motors did get sued for the Corvair many times – 294 times, to be exact – with personal injury claims totaling more than $100 million. However, of those 294, Nick said, 10 were tried to a jury verdict, and eight of those judges ruled in favor of GM. Of the two cases that GM didn't win outright, one verdict (Cantos) was set aside by the judge in the case and the other verdict (Chart) found GM responsible for only 12 percent of the damages and the driver – drunk at the time – responsible for 75 percent.
"I just want to bring attention to the Corvair and get the truth out there," he said. "I figure if I can get a slew of Corvairs in Ralph Nader's hometown, that'll get some attention."
For Gigante, the topic of the Corvair is a personal one. His grandfather, Frank Winchell, served as the head of Chevrolet's research and development at the time of the Corvair litigation. According to Gigante, Winchell dedicated a third of his staff to build elaborate models of the Corvair and its suspension components and to prepare demonstrations and even a short film to prove the Corvair safe. Using those models and demonstrations, he then served as GM's expert witness, called to testify in at least a few of the trials mentioned above. His work was also cited in the U.S. Senate's 1973 report that brought to an end Congress's investigations into the stability and handling of the Corvair, Gigante said.
In 1979, Winchell gave a speech to the Corvair Society of America that discussed in detail the defense he prepared. From that speech:
The facts are that the Corvair was a departure from the norm. It came on the eve of a surge in personal injury litigation. It was an opportunity for opportunists.

We showed that there were millions of rear engine cars… We showed that the Corvair violated neither Newton's nor Galileo's predictions; that the restraining force was proportional to the weight so that, at the limit of friction, the forces were essentially in balance; that neither end was destined to let go first.

We showed that it oversteered, but not because of tuck-under.

We never denied that the Corvair could be rolled or that it was possible to do so on a smooth pavement if the coefficient of friction was high enough. There were many cars with wide tracks that were harder to turn over. There were also many narrower cars that were easier to overturn.

In the end the car was exonerated, but did not survive the ordeal. We didn't win. The plaintiff didn't win, and it cost a lot of money. I suppose everybody knows where it came from and where it went.
Winchell and Nader did, in fact, meet face to face, according to Gigante. As Winchell told Gigante, GM had invited Nader to tour its tech center after the publication of Unsafe at Any Speed in 1965. "Grandpa said that Nader was really attentive. He thought he'd convinced this lawyer that he was wrong." Instead, Nader later went on to accuse Winchell of being intentionally deceitful to juries in the cases for which he testified.
"So, no, I haven't made peace with Nader, I haven't buried the hatchet," Gigante said. "I can't let that go."
Gigante said that he has contacted the museum to, as he wrote on a website dedicated to his grandfather's career, "free the innocent prisoner (Nader) has on display and put it back on the American roads where it belongs," but he claims that once museum officials found out who his grandfather was, he never heard from them afterward.
He's currently contacting Corvair owners and Corvair clubs in the vicinity of Winsted, Connecticut, where the museum is located, and has prepared a speech outlining Winchell's work on proving the Corvair to be safe. Among the Corvairs that will be in attendance that day is the one that Gigante inherited from his grandfather, a 1962 700 coupe that was used as an exhibit during a trial in Houston and that was bought for Winchell upon his retirement from GM.
Corvair Vindication Day has been scheduled for July 20. For more information, visit the event's Facebook page.