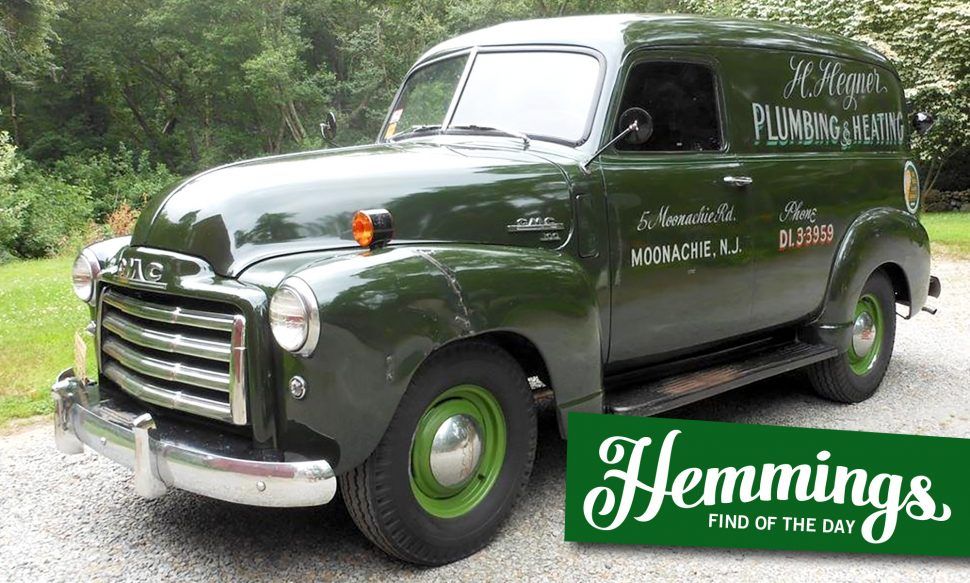 Hemmings Find of the Day: 1949 GMC FC101 Panel Truck
An actual commercial vehicle, not a tribute. It's a 1949 GMC FC101 Panel Truck for sale on Hemmings.com. From the seller's description:
GMC 1949 Model FC-101 Half Ton Panel Truck. A true survivor with only 47,026 miles since new. The history of this truck explains why this low production model has been spared the test of time. Henry Hegner was forced to retire in 1960 due to health issues and died shortly after. Henry's wife and daughters stayed involved in the family business, even after it was sold. The daughters kept Dad's truck on the road and would take it for a ride occasionally until "the brakes went out" – sometime in 1963 or 1964. The inspection sticker on the windshield and the license plates on the panel truck reflect this time period. Then it rolled back into the garage until 2008. Mind you, this truck was always garaged even when it was in service. The graphics and pinstriping were done by a well known local pinstriper named Ed Dadulak of Hackensack NJ who signed and dated his work on the doors in 1954.The truck still has its 228 CI. 6 cyl. motor with 3 speed column shift. Everything works. It runs and drives beautifully. The chassis and body are in amazing condition. Most all mechanical, electrical, brakes, HD tires, flaps,tubes, windshield wiper motor, deluxe heating system, cooling system, body rubber,locks, wiring, latches and on and on are new or recently rebuilt. This truck is inspected and driven regularly. Titled. This truck comes with extra parts, manuals and documentation. By the way -it is kept in my climate controlled, dehumidified garage. Are there many of these left?
Price
$26,500
Location
West Barnstable, Massachusetts
Availability
Find more GMCs for sale on Hemmings.com.