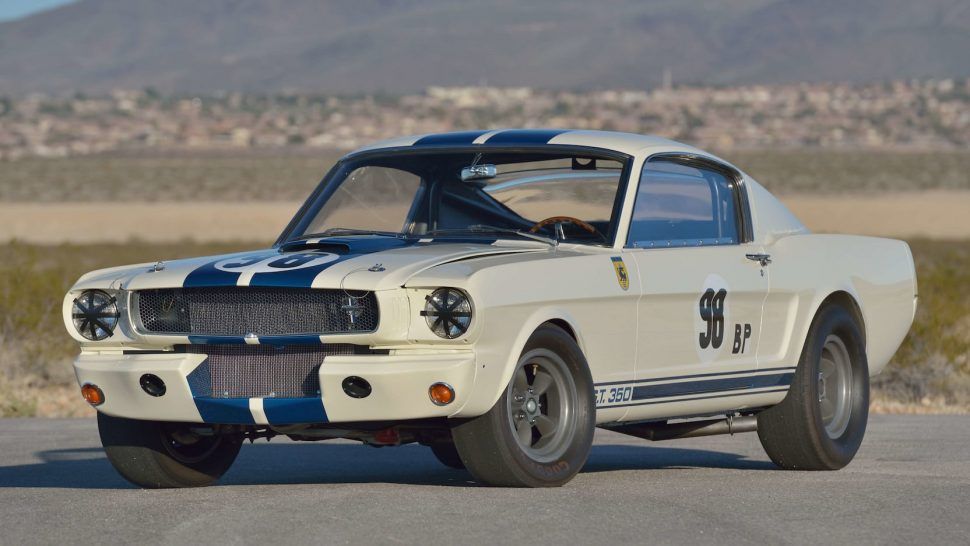 The only Shelby Mustang that Ken Miles ever drove may sell for more at auction than the Bullitt
When the Bullitt Mustang sold for a record $3.4 million earlier this year, hardly anybody asked what Mustang could top that; why ask a silly question like that? But it may not be that silly of a question, as Dana Mecum noted when introducing the next Mustang to headline one of his auctions: 5R002, the first Shelby G.T.350R to win a race and the only Shelby Mustang that Ken Miles ever drove.
"Without this car, there would have been no Super Snake, there would have been no Bullitt," Mecum said in the livestreamed announcement on Wednesday.
Better known as the Flying Mustang for the photos taken of it with all four wheels off the ground during its racing debut, the first completed Shelby G.T.350R (serial number SFM5R002) was more than just Carroll Shelby's bid to compete against Corvettes in SCCA B/Production, it was also Ford's best hope for imbuing the yearling pony car with actual performance credentials.
Of the three Mustangs that Shelby American built into G.T.350s from barebones fastbacks that Ford provided the then-Los Angeles-based company in late 1964, two were intended as race versions, while the third was built as the company's planned street version. The first out the door, one of the race versions, made its debut on Valentine's Day 1965 at Green Valley Raceway near Dallas, Texas.
(Regarding the serial numbers, according to Chuck Cantwell's "Shelby Mustang G.T.350," none of the three got stamped serial numbers from Shelby until after all three were built. At that time, Shelby's staff stamped the cars not in order of their completion, but to match the sequence of the Ford-supplied VINs. The first race car became 5R002, the second race car became 5R001, and the street car became 5S003.)
Ken Miles, at the wheel of 5R002 that weekend, not only starred in the "flying Mustang" photo that Shelby American later used to tout the G.T.350's performance, he also returned solid credentials for the G.T.350R, winning that weekend's B/Production races. "I couldn't help reflecting, and not without a substantial amount of pride in our GT350 team, that not even the now-legendary Cobra won – or even finished – its first race," Cantwell wrote.
Cantwell, Jerry Titus, and Ed Leslie took over racing duties from Miles in 5R002 through the rest of that summer, turning in wins and solid performances all around. Though Titus finished the season in 5R001, the points he racked up in 5R002 helped him secure the 1965 B/Production championship.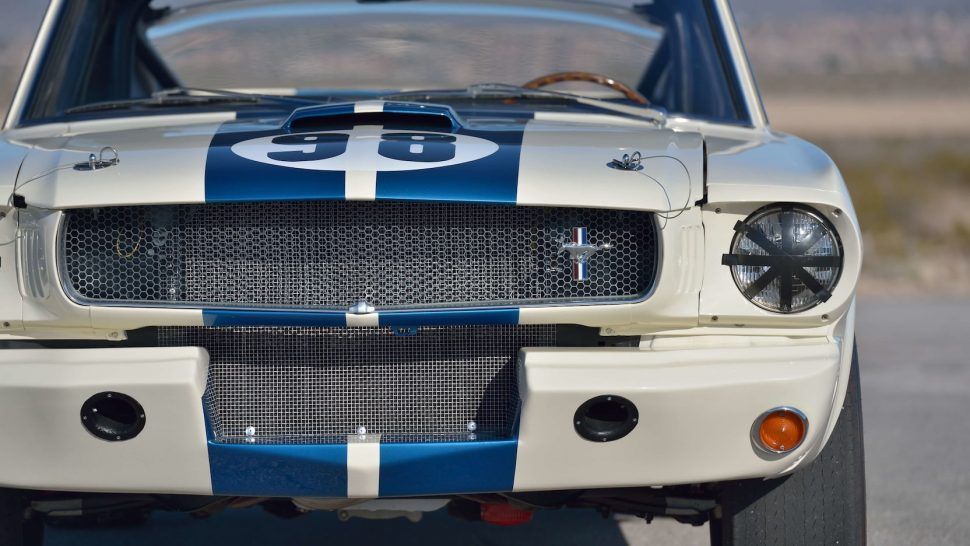 With 5R001 online, 5R002 went back to Shelby American for further testing and development work. Then in March 1966 it went to Ford Performance Division engineer Bill Clawson, who proceeded to race it in B/Production through 1967. After that, according to Mecum's description, 5R002 went through owners in Texas and Mexico who raced it before it returned to the States to sit in unrestored condition for a decade and a half in the Shelby American Museum in Boulder, Colorado.
Not until Shelby collector John Atzbach bought 5R002 in 2010 did the G.T.350 see a restoration shop, John Brown's Thoroughbred Restorations in Oklahoma City, Oklahoma. Atzbach also embarked on a mission to thoroughly document 5R002, made simpler by Clawson's obsessive retention of every scrap of paperwork related to the car.
Since its post-restoration debut in 2014, 5R002 has taken Best in Class at both the Amelia Island Concours d'Elegance and the Pebble Beach Concours d'Elegance, has received a perfect score in Shelby American Auto Club Division I judging, and has been featured in numerous Ford Motor Company displays and presentations.
One of 10 Shelby-branded cars in the Atzbach collection to head to auction, 5R002 will cross the block at Mecum's Indianapolis auction, which takes place May 12-17. For more information, visit Mecum.com.