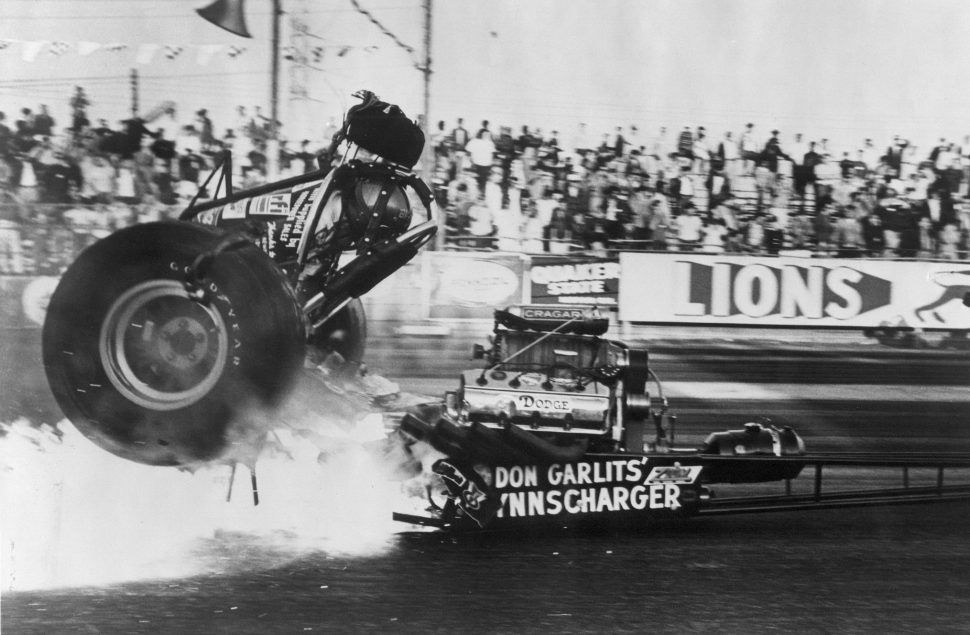 Fifty years ago, Don Garlits started sketching his ideas for a rear-engine dragster
1,300 pounds. 1,600 horsepower. 220 inches out to those front wheels. No more bodywork or paint than necessary. Like many a Don Garlits dragster, Swamp Rat XIII, aka the Wynnscharger, wasn't built to look good or stroke a sponsor's ego–it was built to go fast. Then, 50 years ago this week, it did something else that changed Top Fuel drag racing forever.
The story of Garlits's transmission explosion is established drag racing lore. It is, after all, the accepted reason why the highest level of drag racing switched entirely over to a rear-engine (mid-engine, if we were talking about passenger cars) configuration decades ago and hasn't looked back. However, as always, there's more to the story than that one moment in time.
By March 1970, Garlits had come to dominate drag racing with his series of Swamp Rat slingshot dragsters. Each incorporated its own innovations, but they all put the engine and the driver in the same relative positions: the latter either just above and behind or just behind the rear axle, the former out in front of the driver and his legs.
Swamp Rat XIII was indeed a minimalist machine that followed that same engine location format, but it also featured a two-speed transmission that Garlits had been experimenting with for the prior year or so. Bruce Crower had told Garlits about Lenco's new transmissions after a growing rash of exploding clutches due to high-winding Hemis that drove the rear wheels directly, as was the state of racing technology at the time, according to Robert C. Post's "High Performance: The Culture and Technology of Drag Racing, 1950-1990."
Garlits sought to improve on the Lenco and introduced his own Garlitsdrive two-speed, which either worked marvelously or left Garlits in the lurch in the first couple of months of 1970. Ahead of the American Hot Rod Association's Grand American race at Lions Drag Strip in Los Angeles, it seemed to be work well, Post wrote, holding up for Garlits's 6.61-second pass in qualification and through the elimination rounds.
Then, as Post wrote, in the final round against Richard Tharp,
As soon as Garlits had engaged the clutch, with the engine at about 6,000 RPM, the car lurched slightly, something broke inside the transmission, directly between his feet, and then it grenaded. Pieces came right through the quarter-inch seamless steel casing. One large chunk had just missed Tharp's head. Another hit a young spectator in the arm; others had broken Don's left leg and foot and severed his right foot at the arch; still others had cut the entire car in half and sent him tumbling, still wrapped in the roll cage. Garlits recalled that it came to rest upside down and that (Mickey) Thompson had unbuckled him, lifted him out, and helped him remove his helmet. He woke up in the intensive-care unit of Pacific Coast Hospital in Long Beach, with his wife, Pat, at his bedside; Brock Yates had driven down from Famoso to pick her up at LAX and take her to the hospital. What remained of Garlits's foot had been stapled together with seventeen stainless steel clips.
Jim Kelly's photograph above and the video below (along with Todd Hutcheson and Mickey Bryant's account in "Don Garlits, R.E.D.") captured the violence of the explosion and the drama of a potentially fatal incident involving one of drag racing's superstars in a high-tension final.
As the simplified version of the story goes, Garlits, while recovering, came up with the idea of placing the driver ahead of the engine to avoid any such incidents in the future, built Swamp Rat XIV in such a configuration for 1971, and defied conventional wisdom to come out on top again. Except that version ignores a number of facts.
To begin with, Garlits was far from the first to experiment with a rear-engine layout. Dry lakes racers played around with rear-engine bellytankers and lakesters before drag racing even got its start. Ken Fuller, Jack Chrisman, Chet Herbert, Tony Nancy, Andy Granatelli, and dozens of others played around with it in drag racing in the Sixties. Garlits himself had even built some rear-engine vehicles, including an Oldmobile-powered rail for his brother Ed and a 1965 Dart with the engine from Swamp Rat VIII behind the driver; the latter even suffered from a transmission explosion that cut the car in half, according to Phil Burgess's Swamp Rat Spotter's Guide articles for National Dragster.
So the germ of the idea was there all along. And indeed, according to Post, Garlits had time to noodle on how to best protect dragster pilots during his stay in the hospital, though he never made anything more detailed than sketches at the time and he wasn't entirely convinced switching to rear-engine was the right approach. "While fulfilling his remaining commitments for the season, Garlits recalled that he was beginning to get over his apprehensions about slingshots," Post wrote. The two-speed transmissions reportedly rapidly improved in quality and reliability during 1970, and drag racers still had concerns about the stability of rear-engine dragsters: Without the weight of the driver cantilevered aft of the rear wheels, getting enough traction to combat wheelspin was tough and the cars often snap-steered out of control.
His recuperation period lasted all of three months before he climbed back into Swamp Rat XIII (then rebuilt and owned by T.C. Lemons) at the AHRA Spring Nationals in Bristol, Tennessee. He seemed ready to continue on as before until another crash ultimately convinced Garlits to keep plugging away at the rear-engine design, according to Post. When Jim Nicoll's clutch blew and similarly split his front-engine dragster into two during the 1970 NHRA Nationals final against Don Prudhomme that September in Indianapolis, causing a crash that made Prudhomme think he'd just seen Nicoll die in front of him, Garlits–who'd lost to Nicoll in the previous round–made up his mind.
Alongside Lemons and Connie Swingle, Garlits began construction on the rear-engined Swamp Rat XIV later that year. After some tuning in December, he and Swingle realized that to make the rear-engine design work, they had to slow down the steering. Swamp Rat XIV made its racing debut the next month and by the time of the Winternationals in Pomona, Garlits and Lemons had it in winning condition. Not just winning, but record-breaking condition. As Post wrote,
By the end of the 1971 season he had banked the AHRA's $20,000 points bonus, he held both the NHRA and AHRA elapsed-time records, and he was knocking on the door of the five-second zone.
The rear-engine cars were not only safer, they were lighter, simpler, and more aerodynamic. By 1972, most of the Top Fuel field had switched to rear-engine designs. A year later, all of them had.
Garlits only ever built one more front-engine dragster: Swamp Rat XV, a backup in case Swamp Rat XIV failed to perform. According to Burgess, Pat Garlits "told him in no uncertain terms that he had better get rid of it." Every other Swamp Rat that followed–even the recent electric ones–placed the driver out front of the drivetrain.