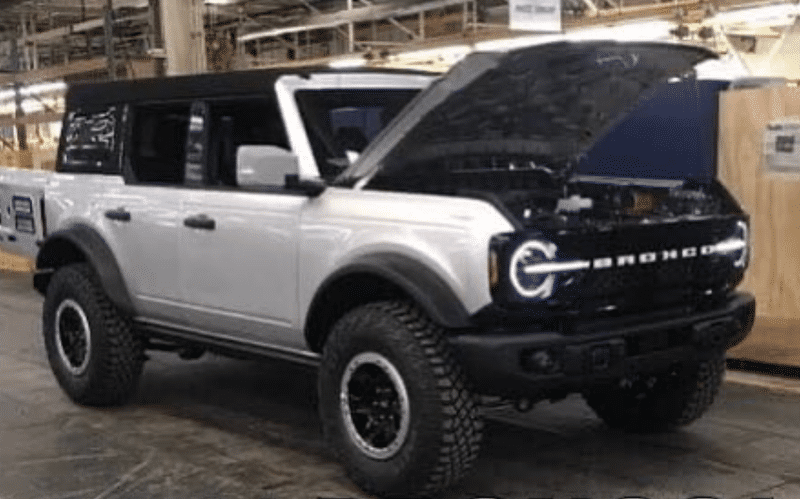 These leaked photos could be the 2021 Ford Bronco
The upcoming Ford Bronco is scheduled for a reveal in the next several weeks, but a few photos recently showed up on internet message boards that appear to show the SUV undisguised in both two- and four-door trim. Given the unverified source of the photos and grainy quality, don't pass judgement on the new Bronco just yet. But, based on the basic elements, and comparing it to the Bronco R Baja 1000 Prototype from last year, odds are this is pretty much what the production vehicle will look like.
There's a lot of original Bronco in the basic design, especially in the two-door model, with a similar crease running along the side of the body. The up-kick towards the rear window is a new element compared the straight lines of the original, but the new model is instantly recognizable for more than just the grille. It also has good proportions that mask its larger modern size, something not all retro-inspired designs can pull off. Honestly, it looks like Ford nailed this.
You can see a fabric top on the four door, confirming rumors that the Bronco will have some form of removable top as an option, similar to the Jeep Wrangler. It's still unclear if a hardtop Bronco will use a fixed roof, a removable shell like the original, or break down into panels like the Jeep. As the Bronco is based on the Ford Ranger, we expect the same 270-horsepower, 2.3-liter turbocharged four-cylinder to be standard. Another rumor persists of a Raptor-like off-road package, which could come with a more powerful engine from the current Ford stable.
Bearing in mind that we still have to wait for official photos and specs before making a final verdict, is the Bronco on the right track?