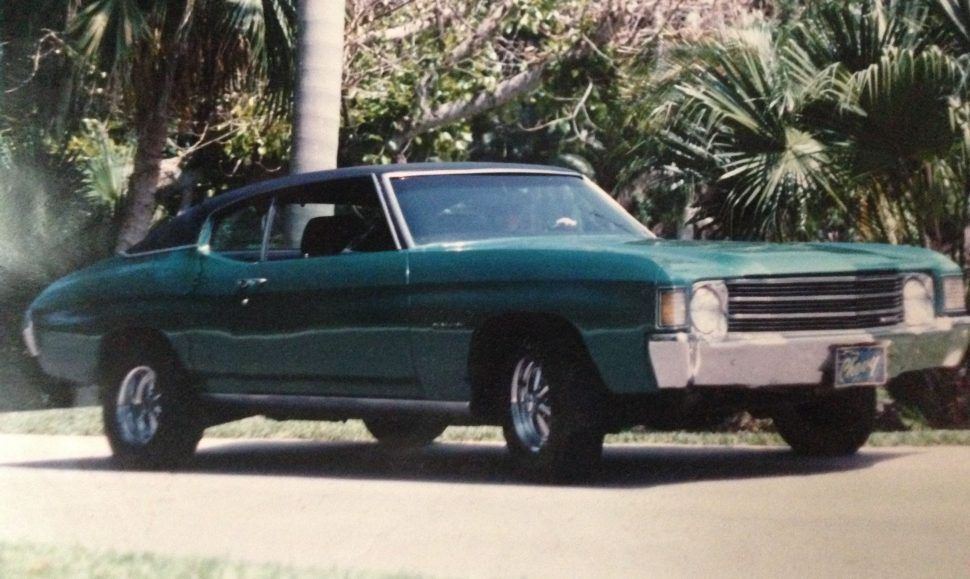 Find a 'Bu, 'Vette in the snow, Hershey hillclimb, and more: the photos worth more than a thousand words
Would you look at that: More photos from our readers! Which is great, because all of you who responded to our last reader photo roundup pretty much unanimously endorsed the idea of doing this on a regular basis.
We'll start with the photo above that Herb Hale sent in after leaving a couple comments on DeMauro's post about finding cars we once owned. From Herb's comments:
I originally bought at Weed Chevrolet 1979-80 in Bristol Pa. sold to a young man in Levittown. It was always green with black vinyl roof.
I had taken original 307 and dropped a 350 with 4 barrel, added dual exhaust with headers into also added 373 Rear. She was very pretty, interior was like new. I sold in 1986 due to baby on the way.
I would like to buy her back. I was 2nd owner.
My old license plate was BFX 941, PENNSYLVANIA
If that helps.
And regarding the photo above:
This is about the best pic I have from a trip back in 80s, I drove from Philadelphia to Miami Fla. I loved that car, of course I wish it was an SS with cowl induction hood with 396, but I kept this car in great condition, after I dropped the 350 unit in her and added 373, had seats reupholstered, carpet. I used to paint the engine twice year. She was so well taken care of. I sold it to a fellow, name was Andrew Ciotti. So I know it stayed in bucks county Pa. I was a kid , and I probably had it painted about three times in the 6-7 years I owned. Just super clean. I'm also looking to see if I have the VIN. I'm 58 and how things and priorities change. Lol, but man would I love to have her back. I just hope she's in ok condition if we find her.
Sounds like this Malibu should still be around, right? If anybody knows where it is, we'd be happy to put you in touch with Herb.
Shortly after we ran David Oedewaldt's photo of his 1962 Corvette, he sent along a couple more photos and told us about what ultimately happened to it.
Sold my daily driver E57S106070 which I bought in Sep 1960 in 1969 to a fellow worker for $1100, he sold it several years later to a restorer who cloned it as a rare inca silver color, around 2000 I got a call from a guy in Scottsdale AZ who had just purchased it to complete his collection of one of every color 57 vets. I heard his sigh but would loved to have seen his face when I told him it was factory black and I had the photos and registrations to prove it.

I then had a 66 427 coupe with air so we could take our 2 young ones in the back area as they were getting too big to sit in the middle and on Joyce's lap in the 57, before child seat laws, and they survived. I had it until 1974 and was vetless until I bought a 1962 in oct 1978 which I now have along with a 78 25th anniversary pace car which we bought for our 25th wedding anniversary present in 1986. Your fellow magazine guy Richard found the 62 at the funfest in Effingham IL in 1996 looking for a black on black and featured it in 3 issues of VETTE even though it had been repainted 63 Daytona blue.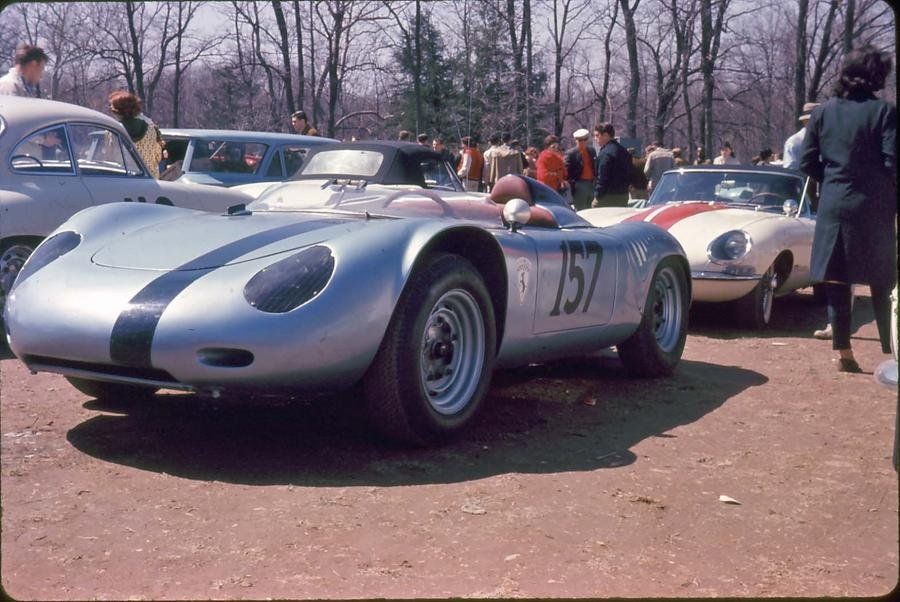 These are pretty neat. Over at My Hemmings, claton7 posted these photos his brother-in-law took of a hillclimb at Hershey in the early 1960s. He didn't know much more about the photos, though, so all you vintage racing Sherlocks out there, get to work!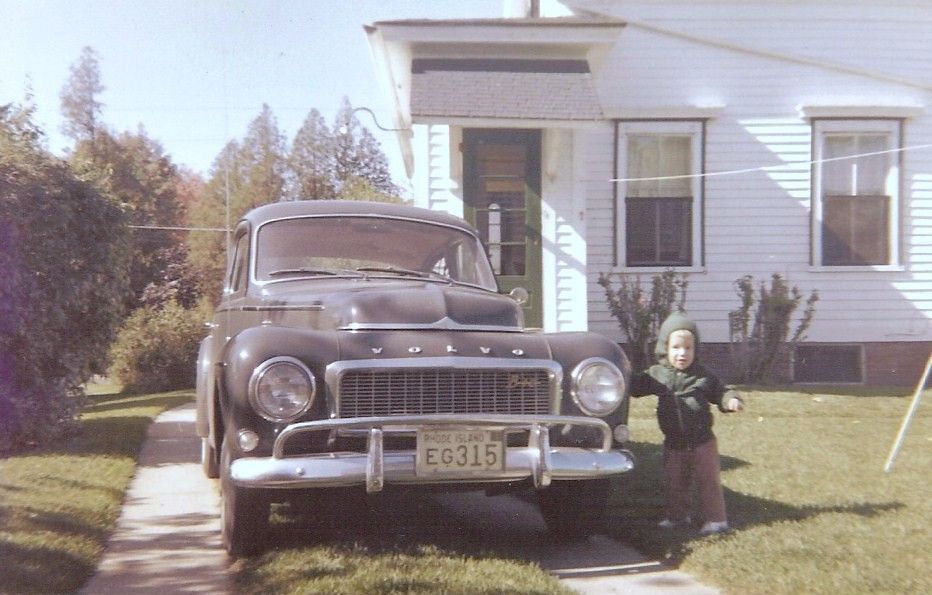 Flickr user blue65pv544 took us up on our suggestion to load some photos to the Hemmings Nation Flickr pool. Among the photos he added is this one of his father's 1964 Volvo PV. "That is me standing next to it at our home in Greenville, RI," he wrote. "Taken in the spring of 1964."
Finally, no photos with this one, unfortunately, but the story's still too good to pass up. Inspired by the photo of the 1958 Edsel still under wraps that we included in Lost and Found in Hemmings Classic Car #185, February 2020, he sent in this tale of youthful mischief.
I was 15 and a freshman in high school. My summers were spent doing whatever I could to earn some money. It was 1957 and I was a caddy at the Western Golf & Country Club in suburban Detroit. Caddying was a good way to earn money if you could do it regularly, but the caddy shack was full of kids like me. This overabundance of caddies meant that I didn't get a bag to carry on a regular basis so days were mostly spent sitting in and around the caddy shack waiting for the Caddy Master to notice you and award you with a bag full of golf clubs. You would then carry this bag for 18 holes and then be compensated with a few dollars. It was a hit and miss operation which allowed for a lot of free time to BS with your fellow caddies, sneak cigarettes and discuss girls.

One morning when I arrived at the Country Club, there was a lot of activity. Certain areas had been cordoned off with yellow rope and there were uniformed guards stationed so that no unauthorized persons could enter. We were told not to go into these areas or we would be arrested. Most of the restricted areas were around the swimming pool and nicely landscaped areas near the greens.

Sneaking around bushes and trees we soon discovered the reason for all the restrictions. A film crew had set up shop in order to take glamour shots of the new Edsel. Of course we had heard all the hype about this new car and that the Ford Motor Company was keeping a tight wrap on it until the announcement day. Carefully we snuck as close as we could get and peeked through the bushes. We could see a big truck with a car carrier in the parking lot, about 6 cars were on it and they were all covered. We noticed a driver would appear and drive a car off and then it would disappear behind the roped off area. At all times, a uniformed guard would orchestrate this activity. If we were spotted getting too close we were yelled at and told to go away. Two of my caddy buddies and myself watched the whole process go on and we were thrilled to get a few brief glances of the new Edsels uncovered.

Suddenly an idea hit us; if no one knew what the Edsel looked like, and if we could get some pictures, we could sell them to the newspapers and magazines. We were sure that this was our ticket to some substantial money. We proceeded to lay out our plan of action. One of my guy's parents had a Kodak Brownie camera which we acquired and then pooled our money to buy film. We took a couple of hours casing the scene and made note of the position of the guards and where they were when the cars were being jockied around for the various shots.

The next day we put our plan into action. We moved very cautiously and kept ourselves under cover behind bushes and got as close as we could to where the cars were. We noticed that just before a particular car was moved into the photograph area, the cover was removed and the entire car was exposed. This would happen several times during the day, and when it did, we took pictures. We shot a whole roll of film from a distance of about 20 yards. Realizing that we really needed to get some close up shots, we had to become more daring. Noticing that the guards would walk with the uncovered car til it disappeared behind the barrier, we saw our chance to dash over, uncover one of the remaining cars and take our close-ups. One of us was designated as the camera man and the other two were to do the work of removing the covers. We waited for just the right moment when the guards were about 30 yards away with their backs turned. We ran as fast as we could to the cars and selected a convertible. We struggled feverishly with the cover that did not come off easily. Undeterred, we finally got the cover off and proceeded to take pictures from several angles.

The guards turned, saw us and began yelling and running toward us. We took off running, each in a different direction as we had preplanned. There was a lot of yelling and turmoil at that point but we were young and fast and easily outran the guards.

After that, we met at a predetermined location to discuss our experiences and move on to the next step. We again pooled our money to cover the expense of developing the film and dropped off the rolls at the drug store. We all stayed away from the Country Club for the next week just in case someone had seen us and could identify us. In those days, it took a week for the film to be developed.

When we got the pictures back, we were so excited that we could hardly contain ourselves. The quality of the pictures was not all that great but there were about 6 or 7 decent shots, especially the one of the interior, showing the push button transmission. We then set out to call the Detroit Free Press, the Detroit news and several magazines. We were sure that at least Hot Rod magazine would want these pictures. We sent letters and made follow-up calls.

After about 2 weeks, we came to the realization that absolutely no one had the slightest interest. Our dream of "big bucks" died just like that and we returned to the caddy shack to sit and wait for a bag of clubs. Only our closest friends ever knew of our caper.
If you have photos or a tale (tall or true) to tell us, send 'em to editorial@hemmings.com and make sure to specify the editor with whom you'd like to share them, or create an account on My Hemmings and upload them there. If you're on social media, you can tweet 'em @HemmingsNews, share 'em on Facebook, get 'em to us on Instagram @Hemmings, or upload them to the Hemmings Nation Flickr pool. And you can always mail them to us: 222 Main St., Bennington, VT 05201.