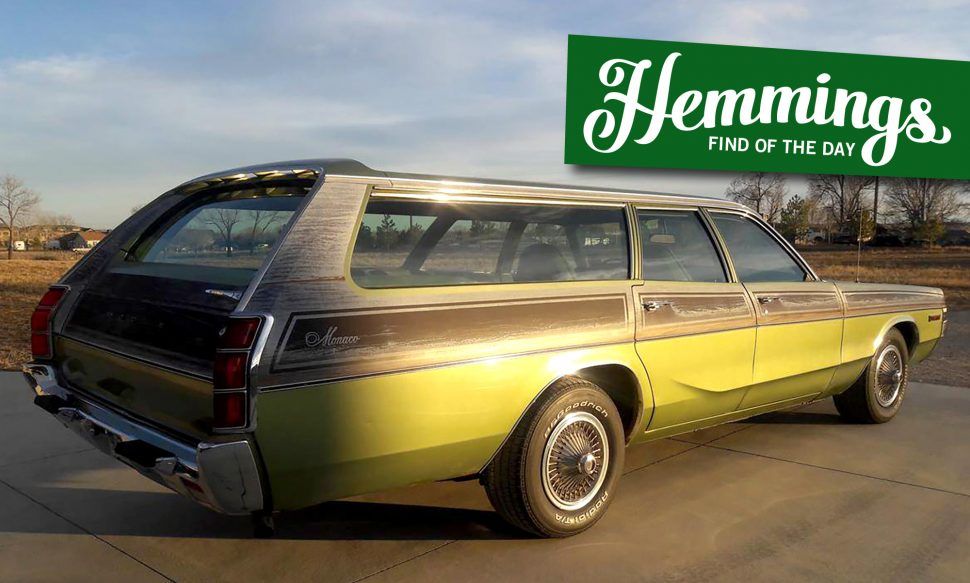 Hemmings Find of the Day: 1973 Dodge Monaco
Original unrestored 1973 Dodge Monaco station wagon for sale on Hemmings.com. From the seller's description:
Very good to great condition throughout. Early 70's MOPAR wagons (and coupes) are very hard to find; this wagon is just about as nice and complete as you could wish to find. 100% original. 400 V8 and 727 Torque Flite automatic transmission. Only 41K miles (believed to be original based on outstanding condition of vehicle). Interior is in great to excellent condition except the carpet on the driver side floor, which shows minor wear and tear; this small area may/will need to be repaired and/or replaced (or covered). Dash has a couple of small cracks, but is otherwise solid and not deformed; a dash cover would be sufficient to enjoy the car as is (as well as a floor mat for afforementioned carpet). Carpet in rear compartment panels is a little bit faded, but otherwise in great condition – almost like new! Glass is perfect. Exterior body is very straight with no damage whatsoever at all. There are a couple of very, very small rust spots at the bottom of the wheel wells at quarters/fenders (typical, but quite minor). Original paint and integrated "woodgrain" panels are "well" weathered – read faded – however a good detail/polish would bring a new life to the finish assuredly. Factory AC, cruise control, power windows, power tailgate glass, etc., etc. Car may not be 100% perfect – not in brand new condition – but it is absolutely a great looking, just about 100% original and complete wagon, which needs very, very little if anything (definitely several times less than the restoration costs it would take to get a similar car in this condition – assuming you could find one). A tune-up and exterior detail/polishing may be all you need to thoroughly enjoy this wagon and take it to shows (not to mention take a potential trip to Wally World!) Quite reasonably priced, here is your chance to have your own Truckster!
Price
$9,950
Location
Broomfield, Colorado
Availability
See more Dodges for sale on Hemmings.com.