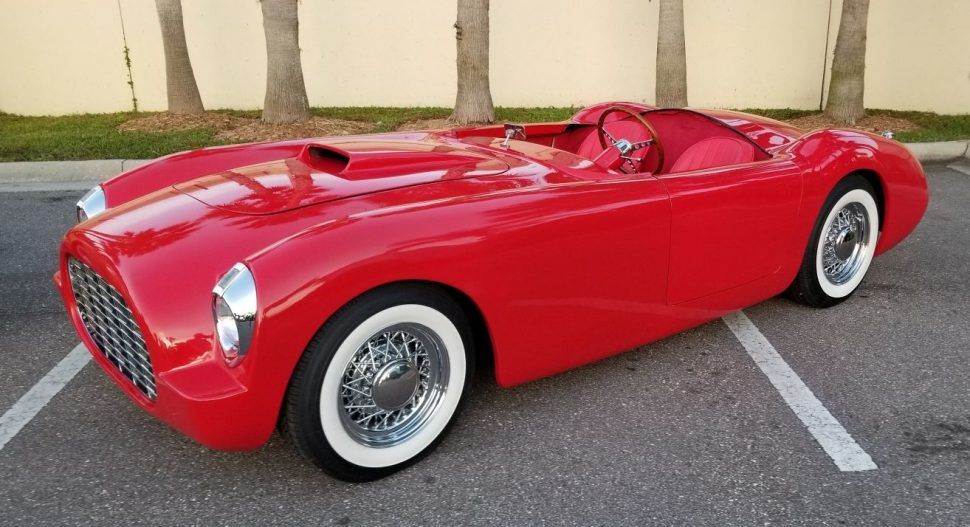 Voodoo Magic: how a handbuilt Cadillac-powered sports car was built from scratch
[Editor's Note: Geoffrey Hacker's latest book concerns the history, construction, and restoration of the Voodoo Gardner, a car that will debut next month at the Amelia Island Concours d'Elegance. Geoff has kindly given us permission to reprint an excerpt from that book detailing how Jerry Gardner built his one-off sports car.]
Jerry Gardner — The Man
Jerome B. "Jerry" Gardner was born April 9, 1934, in Saugerties, New York. He was the son of the late Edward and Anna Brandow Gardner. A veteran of the United States Army, he was stationed in Germany. He was employed at Ferroxcube in Saugerties for over 43 years as a Assistant Plant Engineer retiring in 1994.
Jerry collected antique cars and was a founding member, in 1952, of the Woodstock Motor Club where he served as a past president. Jerry was a "family guy" who loved his family and friends. To his grandchildren and staff at Ten Broeck Center, he was affectionately know as "Pa G."
He spent many hours working in his garage where he was considered "one of the gang" among his son's friends. He would often be seen walking Ulster Avenue with his chocolate lab, Coco. Jerry passed away in 2012 at age 77.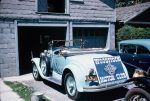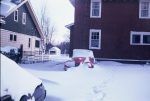 From left: Here's Jerry's father Ed Gardner with one of his antique vehicles as part of the Woodstock Motor Club, circa 1955. Jerry and his father advertising the car club they helped to found. Here's a winter scene of the 1940 Ford convertible that Jerry customized and that would later serve as the donor car for the Voodoo Gardner.
And We're Off
Jerry Gardner was like many young men from the early 1950s. If you wanted a sports car – and an American sports car at that – you had to build it yourself. Those who had the enthusiasm and courage chose to build it themselves. And those most courageous of all designed and built the body from scratch – as Jerry Gardner did. To know the car, you need to know the man.
Jerry's first car was a 1940 Ford convertible which he extensively customized and drove for over 150,000 miles. He decked it, frenched the taillights, grafted on '49 rear Pontiac fenders, and took the running boards off. This car, in fact, would serve as a major donor car for many parts of the car he would start building in 1952 – the Voodoo Special.
Jerry graduated from high school in June 1952 and proceeded to begin working on his car. He and his father Edward used to scrap cars, so no doubt many of the parts he was gathering for his sports car came from this process too – the engine, rear end, and so on. And as he began to gather parts, he also started working on its design. His inspiration for his sports car was the 1951 C1 Cunningham which was powered by a Cadillac engine.
America's Most Powerful Special
The 1942 flathead Cadillac engine that Jerry used was offered from 1936 to 1948 in virtually unchanged form. Compared to other engines that could have been used, it had the largest cubic inches available. Here's what was available in that time period:
Cadillac:
· 1936-1948: 346 cubic inches (flathead)
· 1949-1955: 331 cubic inches (overhead valve)

Lincoln:
· 1948 V-12: 292 cubic inches
· 1949-1953 V-8: 336 cubic inches

Ford:
· 1946-1953: 239 cubic inches

Mercury:
· 1949-1953: 255 cubic inches

Mopar:
· Chrysler: 1951-1955: 331 cubic inches
· Desoto: 1952-1954: 276 cubic inches
· Dodge: 1953-1954: 241 cubic inches
So far, this is the only known American fiberglass special that uses this engine. Jerry was building Voodoo with the largest engine ever attempted in a postwar fiberglass sports car special – quite an achievement for a young man with sports car dreams. While a smaller more powerful overhead-valve engine may have been a more efficient choice, no one can take away Jerry's accomplishments – building an American fiberglass special with the most powerful engine of its day.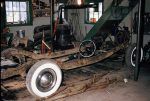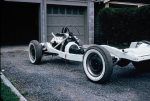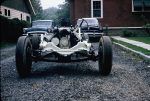 From left: Here's a photo of the initial work began in creating the chassis for the Voodoo, circa 1954. Engine in chassis photo, circa 1955.
Chassis and Drivetrain Come Together
Progress was made on building the chassis and drivetrain in 1954 and 1955, and it started coming together nicely. From what we can tell, the chassis was never tested, but it looked great with a clean design, nice fabrication, and the powerful Caddy mill tied to the Lincoln Zephyr transmission with a Columbia two-speed at the rear.
He was so proud of his efforts that he brought his unfinished "Voodoo Special" to a car show one time – at Forsyth Park, in Kingston, New York. This was just the chassis and drivetrain, though – the body had not yet been completed. Jerry certainly thought big! The pictures above were taken at Jerry's parents house as progress continued.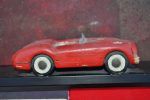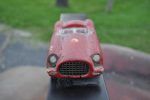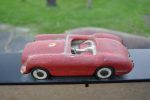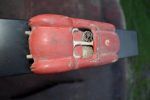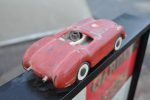 Models of the Voodoo Special built by Jerry Gardner in 1952.
Mocking Up The Design
Jerry was inspired by the 1951 Cunningham C1 in shape, size, and power—the Cadillac drivetrain. Moving forward, he created the shape of his car using a small handcrafted wooden model. No detail was left to the imagination, and his model showed the grill, bumpers, 1940 Ford headlight bezels he wished to use, the interior, windshield, and even the exhaust ports.
His work served as a useful guide for what would become a significant effort. He chose the color for his car, the whitewalls, the interior configuration and more. Jerry's model appears above.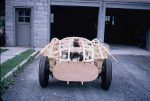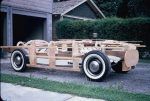 From left: Here's another view of the buck before putting wire mesh on it for the plaster; Jerry already had created the size and location for the grille he would soon build. Photos of Voodoo buck in progress, circa 1954.
Building The Wooden Buck
Next Jerry lofted his design, translating it from two-dimensional model to paper and then to templates made of wood. This involved creating a series of "stations" or "bulkheads" where the design would show the edge of the body and then filling the areas between the stations with wire screen which would be the next step.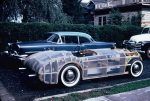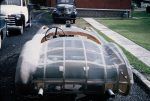 Here the Voodoo buck was in process of getting the wire screen applied, circa 1954/1955.
Fitting The Wire Screen
Here in these photos from 1954/1955, Jerry has started to apply the wire screen to the buck. He was getting the car ready for the next step which would be applying and then smoothing the plaster over the wire mesh to form the shape of the Voodoo body.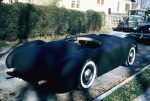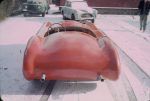 From left: Here the mold release has been applied to the plaster buck so that the fiberglass can more easily separate from the plaster once applied. Fiberglass has been applied at this step but it is still attached to the buck—it will soon be removed.
Shaping The Plaster
In the picture above (Jerry Gardner is in the photo and about 21 years old) you can see the surface take shape with Plaster of Paris which appears white in color. This was sanded smooth and then fiberglass applied directly to the buck to make the body.
Once the fiberglass was laid on the buck and cures, the body has to be sanded smooth to create a paintable surface. Then the buck underneath is removed (sometimes destroyed) to free the body. Photos are from 1955-1956. The fiberglass body that resulted from this process is shown in brown above.
Keeping Track of Expenses
He also kept track of each and every expense down to the $15 he paid for the Columbia two-speed rear axle and Lincoln Zephyr transmission, the $50 for the 1942 Cadillac motor, and the $37.40 it cost him to create a custom built bell housing to mate together the engine and the transmission.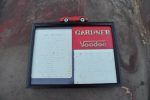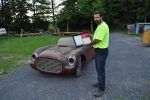 From left: The Gardner family created a shadowbox to showcase historical pieces of the car for future generations. Craig Gardner (Jerry's son) with the shadowbox in front of the Voodoo Gardner Special in 2011.
Honoring Jerry's Work
Craig Gardner, Jerry's son, honored his father's work creating a shadowbox to honor his father's work. In it is a set of Voodoo Gardner nameplates his father cut from brass for the car and his meticulous price list tracking the money spent on his special. On top of the shadowbox is the hand carved wood model his father created to guide the shape and design of the Voodoo Gardner Special.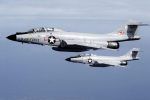 From left: A pair of F-101Bs, photo courtesy U.S. Air Force. Handmade name plates: Each letter was cut separately by Jerry from brass.
What's In A Name?
Jerry Gardner was impressed with a jet aircraft that the Air Force was developing in 1954 called a "Voodoo." McDonnell built the F-101 Voodoo which was a supersonic military jet fighter that first flew in late 1954 – exactly the time when Jerry was heavy into the details of building his sports car. Perfect timing and a great name with superb history!
Similarly, during this time he also cut the name of his car out of brass in large block letters – words that would grace his car in three separate areas. The name chosen was the "Voodoo Gardner Special."
From left: Brochure from the Fredrich Graepel Company in Frankfurt, Germany, circa 1956/1957. Close-up showing Jerry's notes on brochure.
Creating The Signature Grille
Nearly all work came to a grinding halt when Jerry went into the military in November 1956—save the grille. Jerry was 22 years old, and plans to finish his car were still top of mind. He took the pattern for the grill he wanted to build with him to Germany and found a company that specialized in grills for automobiles. The company is still open today—Fredrich Graepel Manufacturing located in Frankfurt, Germany, and you can see Jerry's notes on the brochure indicating the style of grill required for the Voodoo. He gave them the template for the shape and size and the rest is history.
Returning Home From Oversea
Jerry was honorably discharged in December 1958 and couldn't wait to get home. He had been planning to finish his car, but like most men his age – now 24 years old – Jerry wanted to start a family too. He met his wife in January 1959 and was married a short time thereafter – but his love of cars never was far behind.
He was always into sports cars and in 1959 he bought a Jaguar XK120 and made it his everyday car – not a bad choice. And his love of cars expanded throughout the years to other sports cars and antique cars from many eras. He continued membership in the Woodstock Motor Club and always had plans to finish his first car – the Gardner Voodoo Special. He moved it several times over the years – from one enclosed garage to another. The car would remain in exactly the same shape he left it in in 1956 – like a time capsule of its era—until 2011 when it would be bought by Geoff Hacker of Undiscovered Classics.
[To read more about the Voodoo Gardner, visit UndiscoveredClassics.com.]