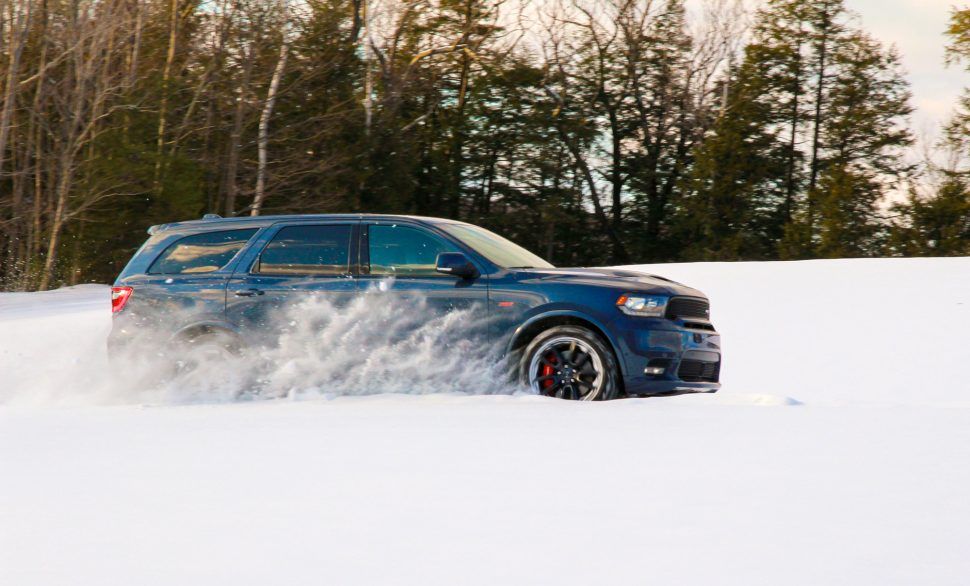 Dodge's Durango SRT offers all-season, all-purpose, three-row muscle
What's a gearhead to do? Time moves on, life rolls forward, and next thing you know, you're all responsible and what not. You've got a family, with kids, pets, places to be, and none of it seems to jibe with the pursuit of exhilarating motoring, particularly if your preferences lie with burbling V-8 muscle cars. For scores of enthusiasts over the years, this has been the point where the fun cars go away and practical machines take their place.
It happened to our friend Brian Luke. Though he didn't have to give up his true muscle car, a '70 'Cuda 340, he obviously couldn't drive it every day—not up here in the icy, slushy, salt-strewn northeast. For daily chores, he needed something new to replace his aging SUV, but after we took him and his seven-year-old son Carson for a joyride in the Challenger SRT Redeye as summer was turning to fall last year, the hook was set—Brian wanted a modern Mopar for every day.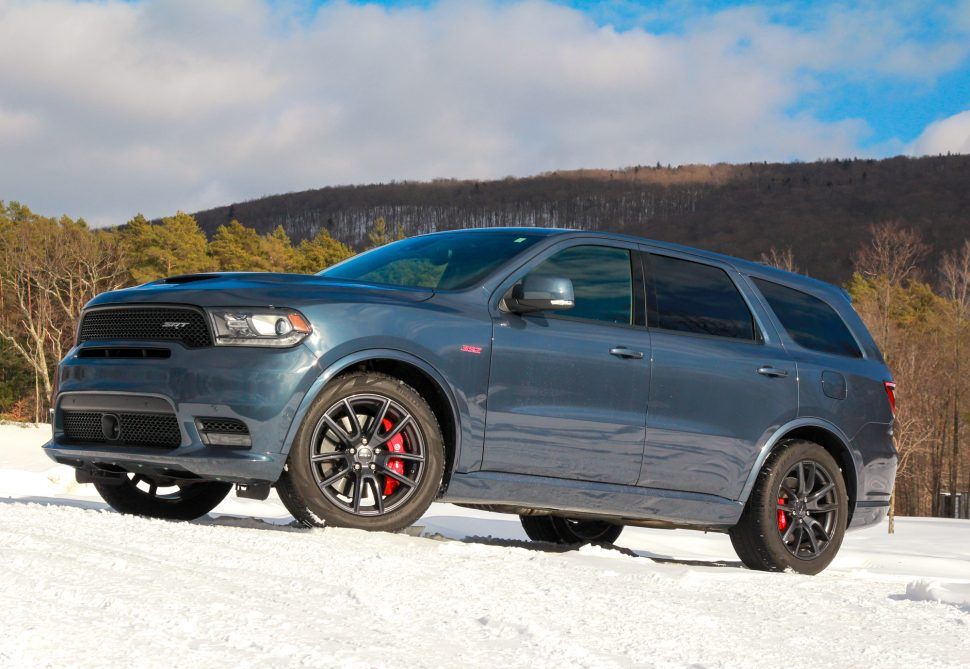 But a brand-new Challenger with 797 hp, 707 lb-ft of torque, and two-wheel drive isn't going to work very well for commuting for about half the year around these parts, where snow and ice can linger for nearly half the calendar. Brian needed something he could justify as a legit family hauler, ready for year-round duty with plenty of seating and cargo space, and civilized enough that his better half wouldn't mind driving it as the household's primary car.
Lucky for Brian, it's now possible to legitimately satisfy a penchant for performance with a for-real SUV—and you don't need to look at six-figure German offerings to do it. Dodge has taken its three-row Durango and livened it up with a 475-hp version of the 6.4-liter HEMI, badged with the familiar "392" designation. Like anything deemed worthy of the SRT badge, the Durango variation is a complete package—not simply a big engine stuck where a V-6 once lived. This is a fully developed performance vehicle, yet it still has room for seven, can tow 8,700 pounds, and even comes with a snow mode to help with winter driving.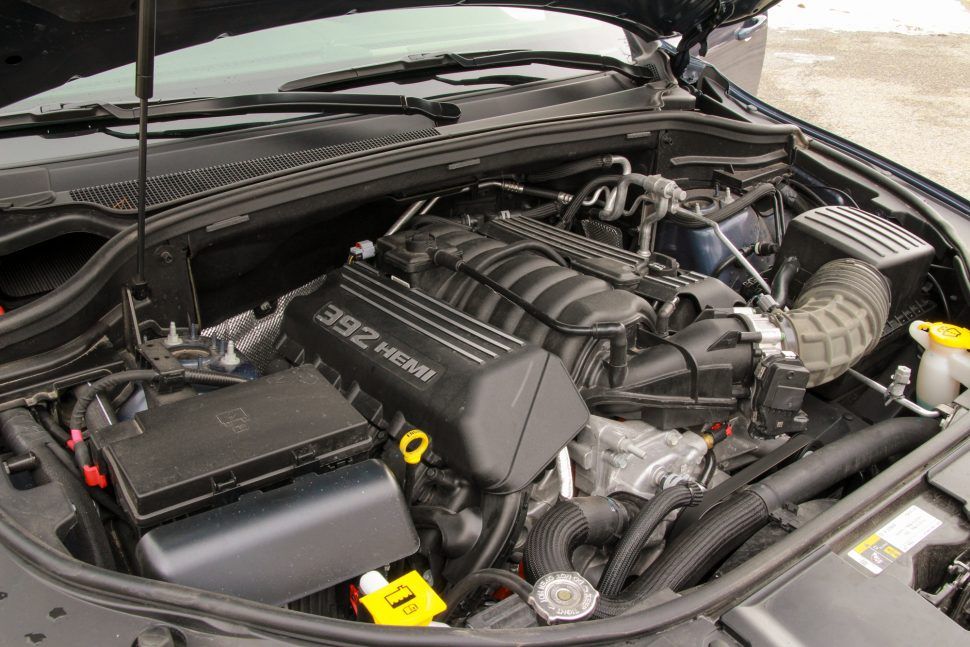 We'd had the chance to sample the then-new Durango SRT for ourselves back in the summer of 2017, when Dodge was preparing to roll it out. The press event was held at none other than Indianapolis Motor Speedway, where journalists were able to pilot SRT Durangos around the infield course with driving instructors prompting aggressive laps. The naturally aspirated 6.4 HEMI often doesn't get its due, living in the shadow of the supercharged Hellcat engines, but make no mistake: with 475 hp and 470 lb-ft of torque, the normally aspirated HEMI honks, even when fastened to the hefty Durango and its all-wheel-drive system.
Like all current SRT vehicles, the Durango features Performance Pages, Dodge's touch-screen-accessed control center for the vehicle's performance features. Here you can select from various driving modes, switching from the default Auto mode to Sport, Track, Tow, or Snow. Sport and Track are obviously for spirited driving, and alter parameters including transmission shift points and firmness, stability control system settings, as well as the calibration of the adjustable Bilstein dampers and the feel of the assist on the power steering.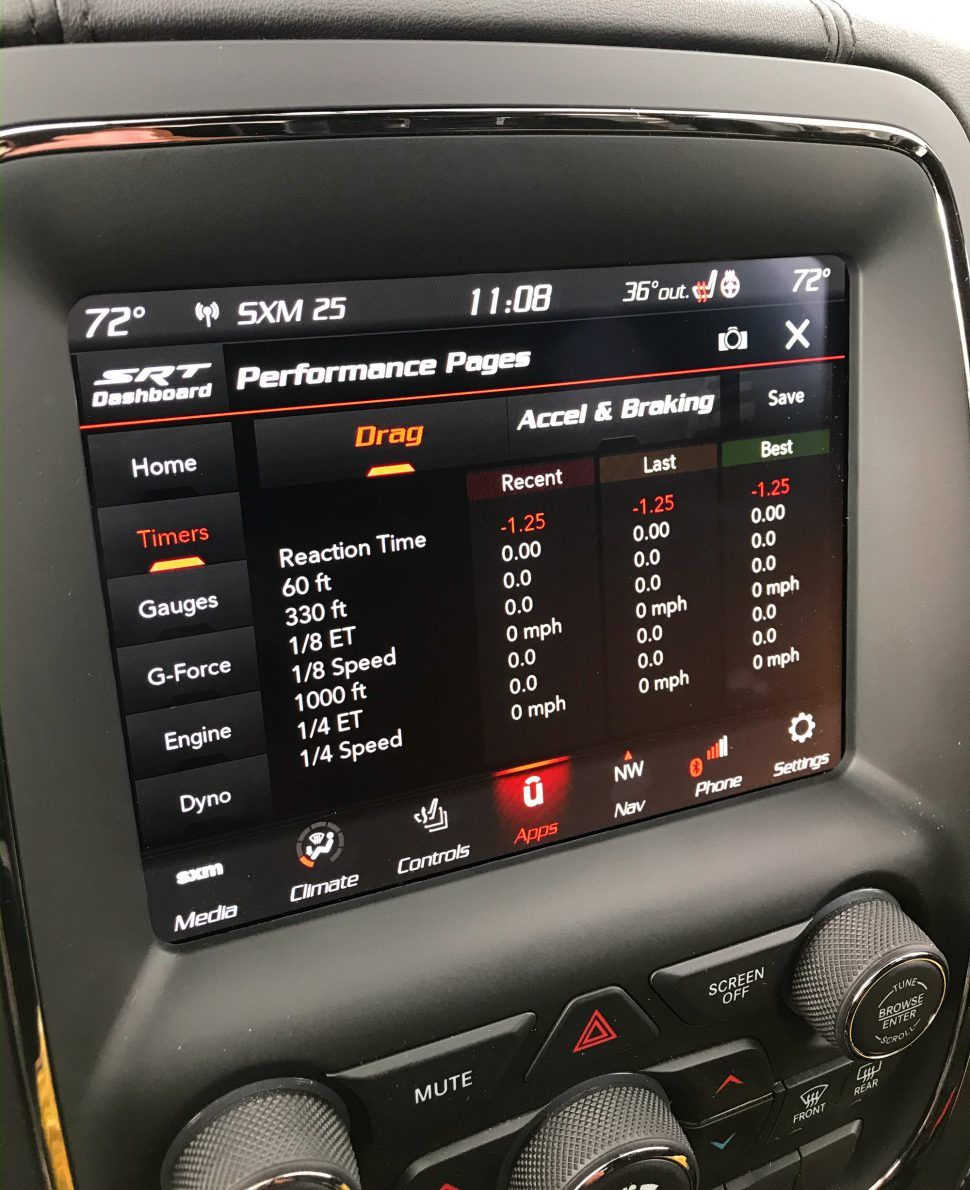 Performance Pages also has screens that offer the ability to quantify performance on the fly—you can measure your own 0-60 mph time, quarter-mile ET, braking, and even lateral g-force. And the SRT's adjustable parameters are customizable. And yes, there is a launch mode.
Full-throttle acceleration in the SRT Durango will provide sub-5-second 0-60 times, barking through the exhaust on crisp upshifts (in Track mode) and shoving passengers into the supple but supportive seats. Aggressive braking via the meaty Brembos provides a surprising level of confidence for such a large vehicle (which weighs about 5,200 lb). The fat-rimmed steering wheel doesn't require much input to get the Durango set into a turn, and the factory Pirelli P-Zero Scorpion run-flat rubber clings impressively. Something so large should not have been so much fun to toss around, but even though we took a road tour with the SRT Durango, we didn't get to really live with it on that trip.
That opportunity came up more recently, when another SRT Durango was dropped at our offices. In Vermont. In February. Rollicking around the backroads probably wouldn't be in the cards, but we would get to experience real life with the hottest Durango's to test its true everyday capability.
If we haven't already mentioned how comfortable the SRT Durango is, let's get into it here. We've sampled a variety of the third-generation Durango's variants over the years since it first hit the market for 2011, and we've been consistently struck by how much smaller it seems from the driver's seat than it actually is. A comparison to Ford's Explorer some years back really made this clear—the Ford was shorter but felt vastly larger from behind the wheel. Durango is nimble, easy to park, and pleasant to pilot.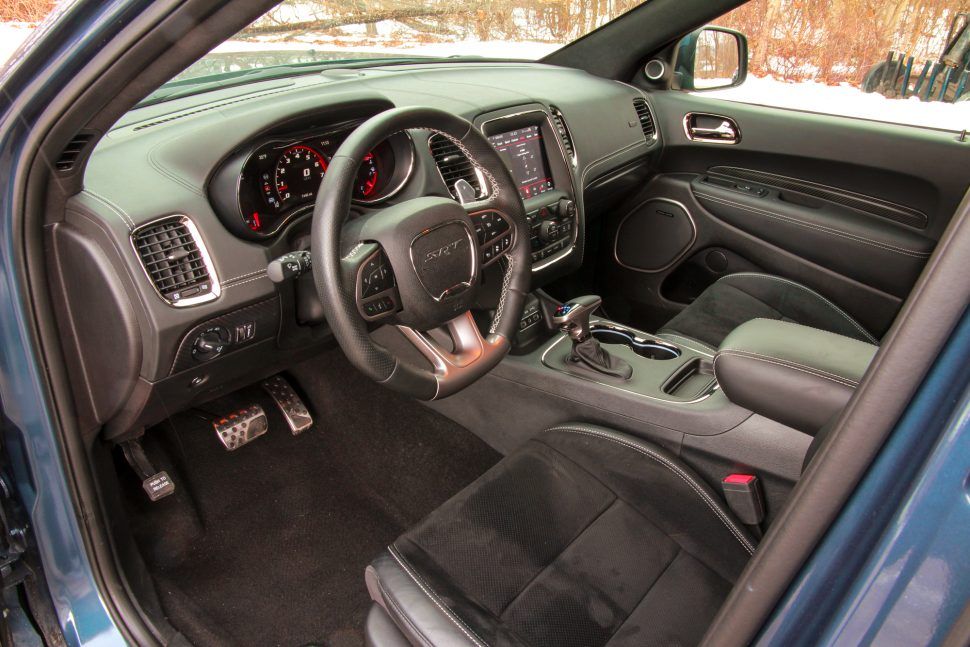 The SRT version has those plush seats we mentioned earlier, imparting that same sense we've gotten from recent SRT Challengers—cozy, but with lateral support that envelopes the occupants without binding. Overall, the interior is pleasingly appointed, and controls are readily accessible. Fiat-Chrysler's infotainment system continues to be among the most intuitive we've experienced, with excellent graphics and functionality. We also like that the Durango has a proper shifter—not a knob, like some other FCA models with the eight-speed automatic.
Driving casually in Auto mode will evoke the cylinder deactivation system under light throttle, and the calibration is fairly aggressive, enough so that one passenger wanted to know why it suddenly felt like there was a Subaru engine in front of us. A slight nudge of the pedal and all eight cylinders jump back online; select Sport mode and the engine stays a V-8 at all times.
But, you may not mind a little vibration during commuting if it can shave some fuel consumption from the SRT—fuel economy could be seen as a shortcoming, as the published combined (city/highway) rating is 15 mpg. We hear tell that an extended highway cruise, on one's best behavior, can net an average mpg above 20; we saw 23 mpg in a Redeye under similar circumstances, so we'll go along with that.
When we encountered actual snow, instead of reaching for Snow mode, we aimed up a hard-packed driveway and leaned hard on the throttle. The Durango responded by frantically clawing its way up the drive, switching power around fervently and accelerating a lot more ably than we'd expected. This is not the right way to get across a slippery surface, yet the Durango managed confidently, and maintained its course even with way too much throttle.
And what of our friend, Brian? Well, he stepped up and bought his own Durango SRT before summer was fully gone and hasn't stopped smiling since. "For an all-around family vehicle, you can't get much better," he told us recently, expressing that one of his few complaints was that the Durango SRT's looks—which he loves—are not exclusive to that model (the front fascia and hood can be had on some lesser Durangos).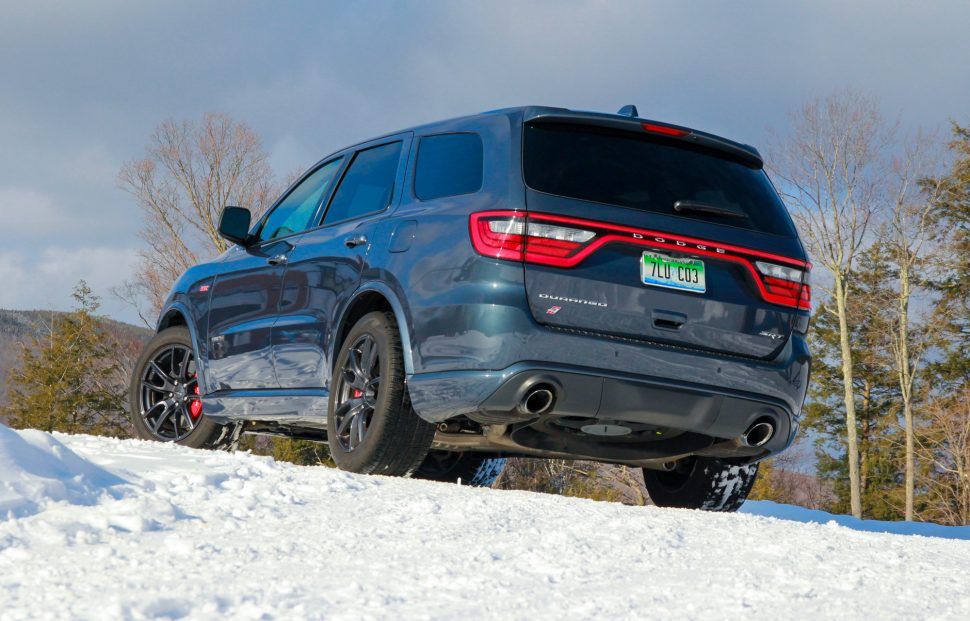 Apart from that, and the fact that the brake dust never stops accumulating, Brian had little negativity to offer, and lots more to rave about. He's using the SRT year-round and has already towed the snowmobile trailer with it ("You couldn't even tell it was back there…"). Apart from the appealing comfort and performance, one of Brian's favorite features is the customizable performance settings. "I'll set the transmission for Track but leave the suspension and steering on Sport for everyday driving," he offered as one example of the options to take advantage of. And yes, he's sampled the Launch Mode, even matching Dodge's claim of 4.4 seconds 0-60. He hasn't run it down the drag strip, and probably won't; we couldn't thanks to winter, but other magazines have turned very low 13-second quarter-mile times during their testing.
So take solace, fellow hot-rodders: With the Durango SRT, Dodge has the found the cure for the doldrums brought on by grown-up life, allowing you to at least feign a level of responsibility while getting your speed fix too.