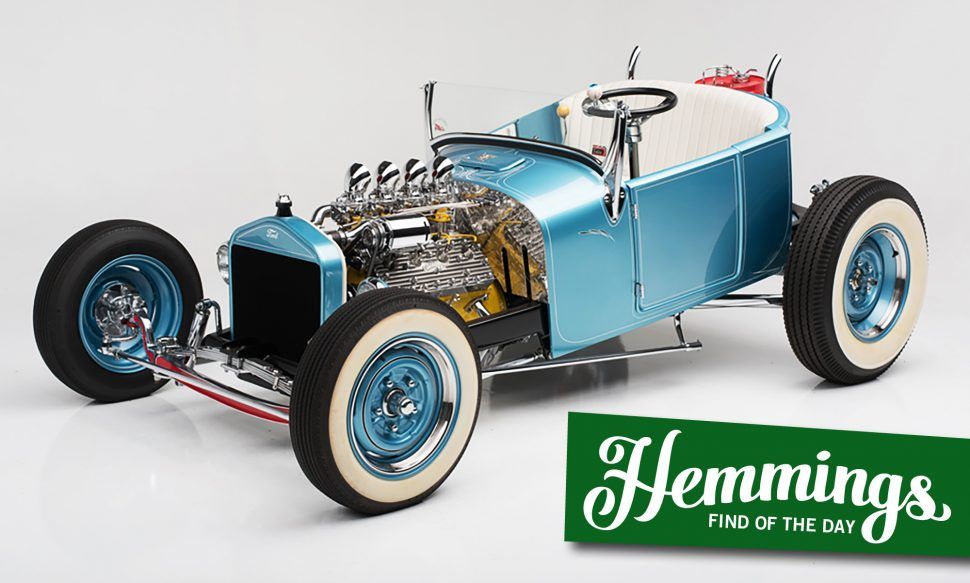 Hemmings Find of the Day: 1926 Ford Model T hot rod
Mickey Himsl-built 1926 Ford Model T-based hot rod for sale on Hemmings.com. From the seller's description:
The legendary "Moonshiner" was the result of a 4-year build by hot rod legend Mickey Himsl. This was a special display vehicle at the 50th Anniversary of the Grand National Roadster Show, and won 2015 Best in Class at the Grand National Roadster Show and Sacramento Autorama. Magazine cover car for Hop Up magazine and featured in hot rod historian Pat Ganahl's book "Lost Hot Rods II: More Remarkable Stories of How They Were Found." Himsl's "Moonshiner" was a mainstay on the show scene in the early '60s, including the 1959 Oakland Roadster Show and cover car on Car Craft magazine in 1960 and Rod & Custom magazine in 1963. Himsl traded the Moonshiner away in 1965 and regretted it almost immediately. He searched for his original car for many, many years, but the Moonshiner was lost to time. In 1995 Himsl decided he would bring his Moonshiner design back to life all over again. He located a new and correct touring body, and the project began. The touring body had the back removed, and was channeled and placed on a custom shortened Model A frame. The paint is a Skymist Blue with custom pinstriping done by legendary painter Art Himsl. White upholstery was done by Freddy Diaz, and the dash was welded and molded in place with correct vintage gauges installed. A period-correct Bell steering wheel was used and connects to a 1956 Ford truck steering box. The pedals are period-correct as well, from a 1939 Ford. The 59 AB Flathead is an absolute showpiece and sitting on full display. It features an extremely rare and true Baron Tattersfield 4×2 aluminum intake manifold, Edelbrock heads, Mallory dual-point distributor, chromed water pumps, custom radiator and is topped off with four chromed 97 carburetors. The trick exhaust system is all custom-bent with chromed headers and Glaspac mufflers. The transmission is a 1939 Ford unit. The underside of this show car is just as nice as the top, with every piece paint, polished or chromed. The front suspension has a very rare Ed "Axle" Stewart dropped front axle that is fully chromed. The rear is a chromed 1940 Ford unit with 3.78 gears, and the brakes are 1940 Ford as well. The wheels are 7.50×16 tires on reversed 16″ rims on the rear and 5.60×15 on stock style 15″ rims on the front. 239 Flathead with 3-speed manual transmission.
Price
$32,500
Location
Virginia Beach, Virginia
Availability
See more Fords for sale on Hemmings.com.