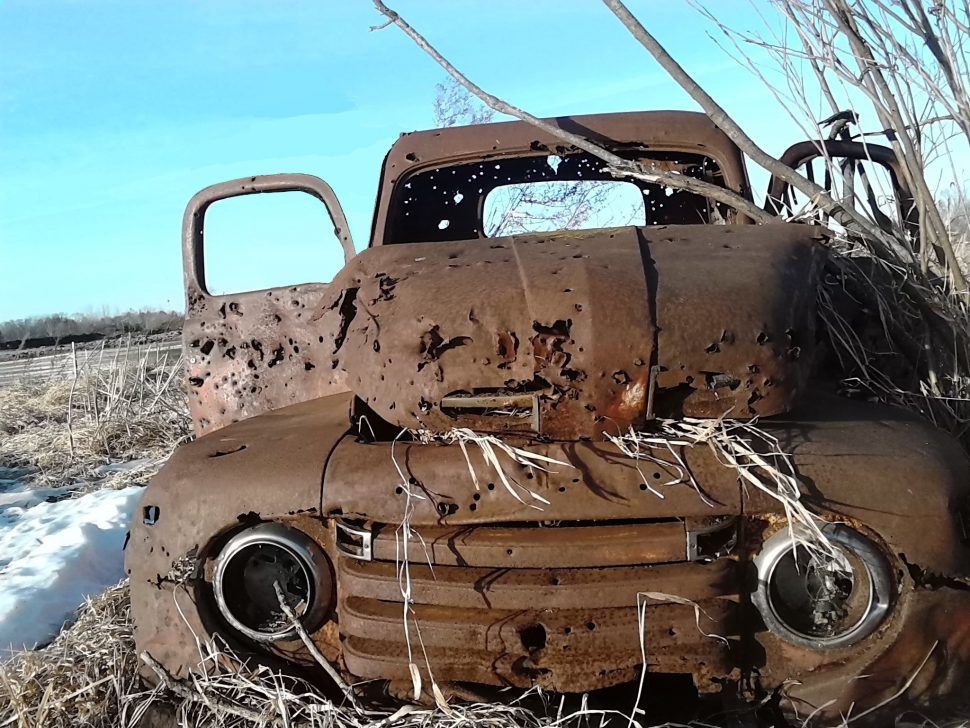 Opening up a door to the past from an old Ford nursery truck
[Editor's Note: After telling us the story of his grandfather's 1964 Chevrolet-turned-sawmill, Brian R. sent along this story of how at least part of an old Ford pickup truck he found made its way back to the family that once owned it.]
One Sunday afternoon in January 2017 my family and I were returning home from a nice visit with my mother-in-law. About halfway home my wife asked me to turn down a new road into a new subdivision to look at the lots for sale. I said no, maybe another time. I just wanted to be back at our house – the one with the terribly inadequate two-car garage. I'd much rather add onto the garage than think about building a new house.
Then as we approached the road, I grudgingly agreed to make the turn. We dodged construction equipment and supplies in the new roadway and I admitted some of the lots had a nice view. In a short time we found ourselves all the way back in the farthest cul de sac of the new subdivision.
There it was, about 50 yards from the pavement on the edge of a marsh.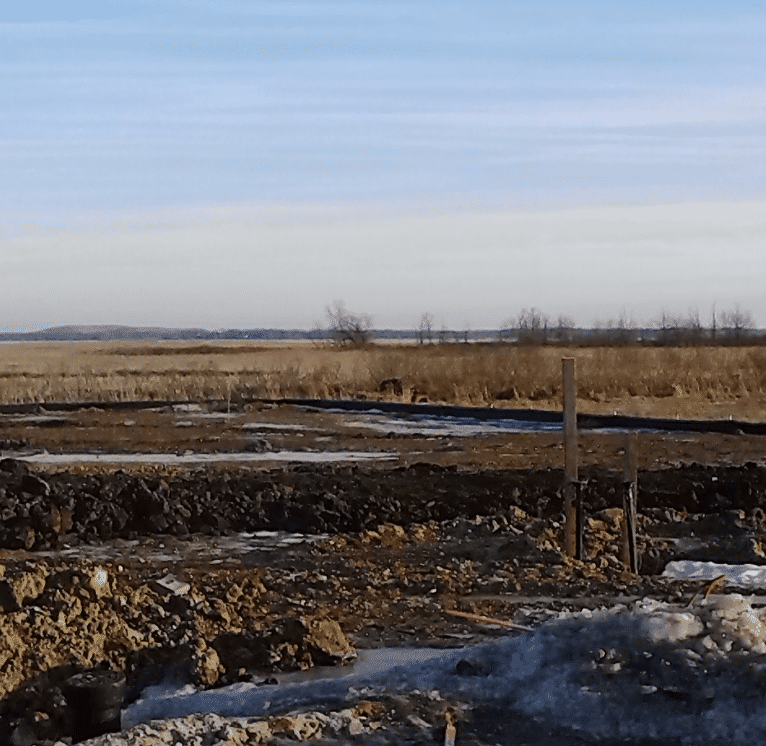 I've often wondered what it would be like to find a long-abandoned car (or truck). I don't know why. It would most likely be too far gone to do anything with, but the thought of finding one was really interesting to me. Maybe it's the same attraction I have to old junkyards where I could easily spend days just studying the styling, the effects of corrosion, or whatever would come to mind.
I jumped out of the family van and headed for it through the mud and snow with my son Ben following behind. As we reached it we could see it was a 1948, '49 or '50 Ford truck. It was so bad off from rust and target practice that it could barely hold its own shape. It was beautiful in a way but how many new homeowners who had just purchased a view of cattails and wildlife would consider the truck to be yard art like I would?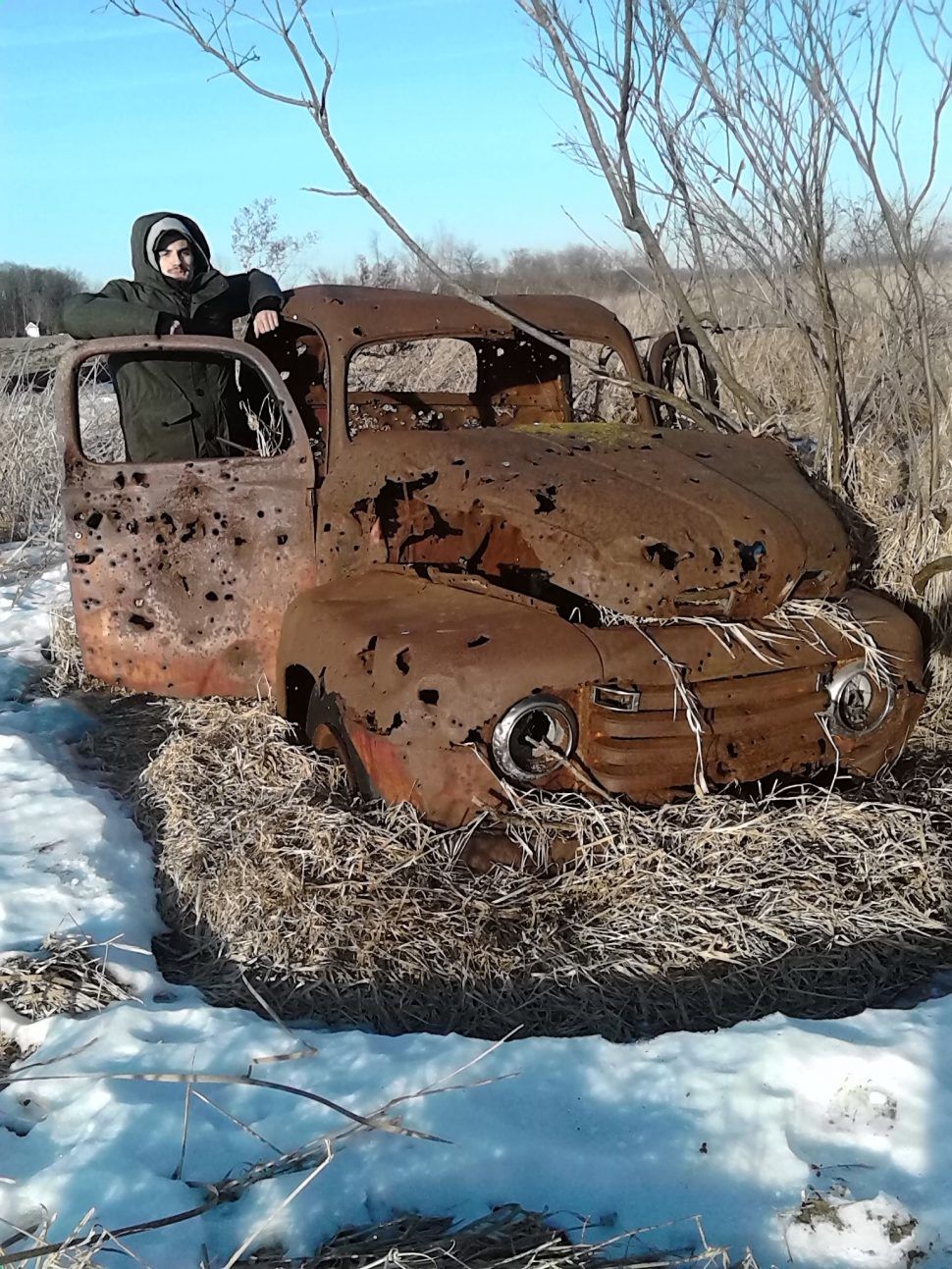 More questions came to mind. Who might have bought the truck when it was new? How did the truck get there long before the new roadway? Surprisingly it still had an engine and transmission. Everything was rusted solid except the fan still turned freely. The driver's door had the only paint left on the truck. We took some photos and were ready to leave when I took a closer look at that door. In faint hand-painted lettering I could make out the words VESBACH'S NURSERY.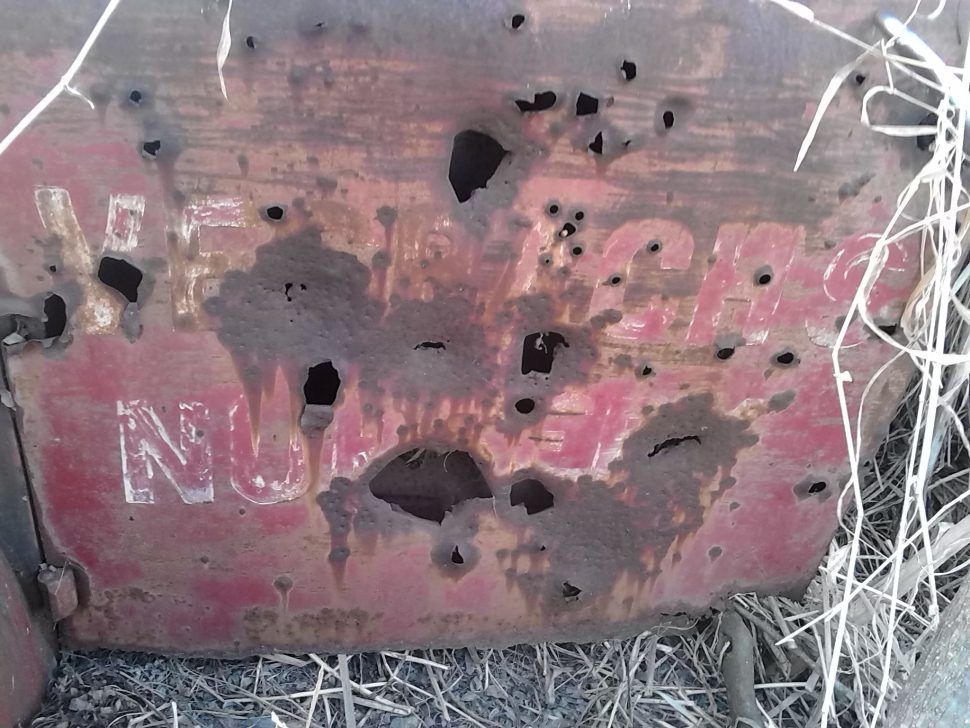 If someone found a piece of my family's history, especially one automotive-related and one that would no doubt be gone soon, I would really want a chance to save it.
At this point in the story of the truck, procrastination could easily take over. I would figure I'll do something about it soon. Then I'd be distracted by other things and by the time I would finally act on it, it would be too late. Regret would set in and I would have to add it to my list of missed chances. But this time would be different.
In the couple of weeks that followed, some research online found the nursery had been just a few miles from the marsh. The nursery too had become home sites, I would guess in the late 1950s. A little more research located a Mr. Brian Vesbach not too far away.
I wrote a letter to Brian telling him of what we found and asking him if there is a family connection to the nursery and the truck. If so, I suggested he might want to save the door before it would be gone. I included my e-mail address. Brian replied that March. He wrote that his father owned the nursery back in the day and is still doing well at 96 years of age. His family didn't know their old truck still existed and had ended up at the marsh. Brian expressed interest in saving the door and thanked me for taking the time to do the research and contact him.
Two months passed before I stopped to take another look at the old Ford. The door had been removed. A message to Brian and his reply confirmed he and his sister obtained permission on site and were able to liberate the door. They were able to show the door and photos of the truck to their father. Brian also gave me the sad news that within weeks of seeing the door and photos, their father had passed away.
I went back once again a couple of weeks later to check on the status of the truck and it was gone. After decades at the edge of the marsh, the old Ford had been rediscovered just in time to make one more contribution to the man and the family that owned it. Except for the passing of Mr. Vesbach, this was the most fulfilling end to the story I could have hoped for.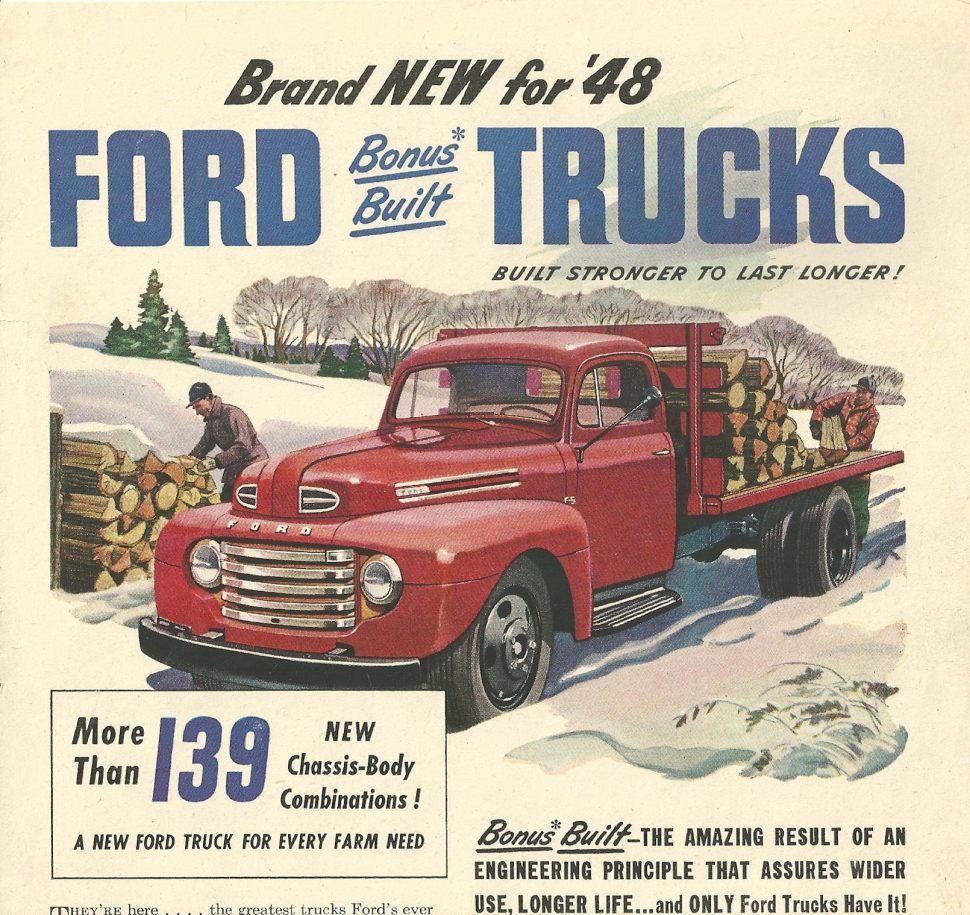 But there would be more. At the same time these events were taking place, a friend was disposing of some old magazines, removing and saving ads of interest to people she knew. She saved some for me, mostly for cars and one for a truck – a Brand New for '48 Ford Truck. There is even some symbolism in the truck's cargo. It could have been shown being loaded with bales of straw, bushels of produce, or anything else related to rural living, but the truck is being loaded with logs.
I contacted Brian again recently to talk about writing this story. He told me his sister is using the door as a decoration in her garden.
I'm going to keep doing what my wife tells me even if I don't really want to at first. More often than not, she has a way of knowing what's best.