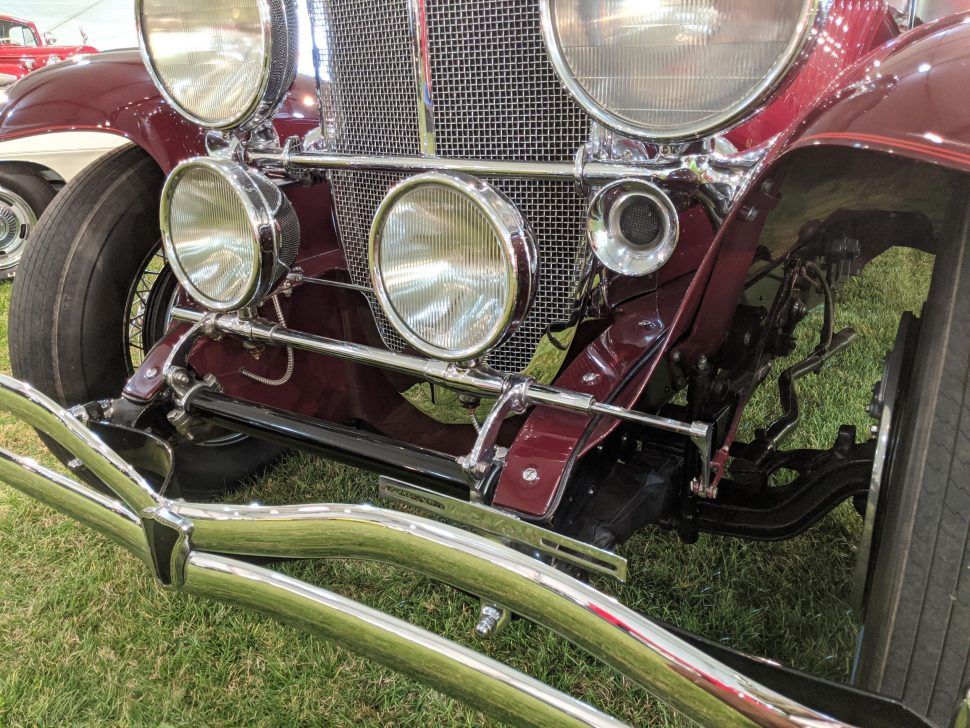 What makes pre-war cars so great? It's in the details
Love it or hate it, restomodding is here to stay. What makes a car a restomod, though, is incredibly hard to pin down. When I was first introduced to the term, it seemed like it was modifying an otherwise stock-appearing, restored vehicle to be a better driver, while simultaneously preserving what made a restored car cool.
Since then, and it's been a while now, I've seen "restomod" attached to plenty of cars that throw that definition right out the window. Cars that are basically shells of vintage cars fitted with every conceivable late-model convenience. When I was a kid, back in the '90s, you saw that done to pre-1948 cars a lot, and it was usually called street rodding. So… I guess the modern restomod movement really means a street rodded post-1948 car.
I'm not sure what you'd call the selectively-updated-but-stock-appearing vehicles I described in the first paragraph, but I think they're a lot more to my taste than something that is basically a 2020 Dodge Charger wearing a 1970 'Cuda body shell. For visual interest, usually a lot of new parts designed for the street-rod aftermarket are bolted on in place of the factory originals. One point in favor of this approach is that salvageable original bits then become available for those of us who want them for our own projects, but I still find the end result to be lacking.
No doubt if our hypothetical restomodded 'Cuda is done right, it has it all over the original in terms of driving, fuel economy, and comfort. Though, honestly, that's a big "if." It's a full-on engineering project to redesign a car that completely. Where it falls down, though, is in the details. That's especially true the older a car gets. A 1970 'Cuda has a lot of visual similarities with modern cars—the accounting department was getting a lot more say in industrial design by 1970 than they did in 1935—but something like a 1930 Chrysler Series 77 has oh so many gorgeous details I'd be loathe to lose through modifications.
I think it's understood that I'm no purist. I just happen to value the technology and aesthetics of an earlier era. If anything hammers that home, it's looking at auction cars. From square-edged billet pedals, to tilt steering columns with cut-down or aftermarket wheels, and even farm-implement marker lights used as turn signals on ostensibly restored cars, some of these modern details can really destroy the aura of a vintage car.
To illustrate my point, I took a lot of photos while I was in Scottsdale, Arizona, recently. I mostly didn't shoot the cars that I didn't like—that's not fair to the owner, as the car was built to appeal to them, not me. But I did document a lot of the little details that make an old car special and I too often see erased.
1930 Duesenberg Model J Berline
This Duesy is an excellent demonstration of how to retain original details and conceal driver-type updates. Items that caught my eye included the swiveling driving lights, the engine-turned instrument panel, the bud vases and smoking sets in the back seat, the massive S T O P lamp, the discreet (and period-looking) turn-indicator switch, the equally vintage-style turn signals themselves, and the owner's monogram on the belt line.
1931 Cadillac 370A roadster
A V-12 Cadillac roadster positively exudes period elegance. While the externally mounted trunk doesn't help the flow, it is still nicely integrated into the car. Other details of note include the engine-turned wings flanking the instrument panel and that hand-brake lever that has been artfully angled for ergonomics. I got particularly giddy over that diver's helmet-shaped taillamp with the integrated side-marker light and I've long loved how many early '30s cars integrated controls like the hand throttle and headlamp switch into the center of the steering wheel. The fender lamps up front exhibit a subtle peak to the bezel and the golf-bag door on the side of GM roadsters in this era really drive home the Country Club image intended by the Art & Colour folks.
1932 Cadillac 355B roadster
Here was another Cadillac roadster, this one with only eight cylinders, but hardly giving up anything to the one above. The red-and-cream paint was exceedingly eye catching and the added aerodynamics of the 1932 restyle extended to all the little details. Items I found particularly compelling included the stainless cowl band (a detail shared with 1930 and '31 Fords, among other cars of the era), the subtle club badges on the cowl, the engraved mirrors mounted atop the enclosed (streamlining, remember) spare-tire mounts, the crested headlamps and matching fender lamps, that big V-8 badge on the grille, and the glossy black dashboard with the instruments (themselves gorgeously highlighted with tan) offset to the driver's side.

1932 Chrysler CH Imperial
During the Harley Earl years, General Motors had a reputation as a styling leader, but in my opinion Chrysler products of the 1930s have visual design every bit as good as their legendary engineering. Imperials, of course, were the top of the heap when it came to styling efforts and materials, so this '32 did not disappoint. Because it was displayed outside, it was buttoned up kinda tight, but I was still able to capture a number of elements that reflect machine-age design philosophy. Particularly appealing were another set of crested lamps, this time found on the cowl, the instrument panel and heater, and the leaping-cervid mascot.
1935 Chrysler Airflow coupe
Of course, if you mention Chrysler in the '30s, everyone's mind goes immediately to the Airflows. Like any other car of their era, the radically streamlined Chryslers and De Sotos of the Airflow years packed in plenty of detail. In fact, because they were special, it's as though they went above and beyond the norm. Detail abounds and the feeling is like being in a swanky penthouse in a '30s Hollywood production, complete with chrome-tubing based furniture and a streamline moderne bar. Witness elements on this Airflow (a rare coupe) like the inset pinstriping on the bumpers, the grilles and lamps below the headlamps, the two massive instrument lenses covering multiple gauges, the streamlined-wing detail on the fender skirts, and the dual cowl vents mirroring the tilt-out split windshield. This is peak '30s.