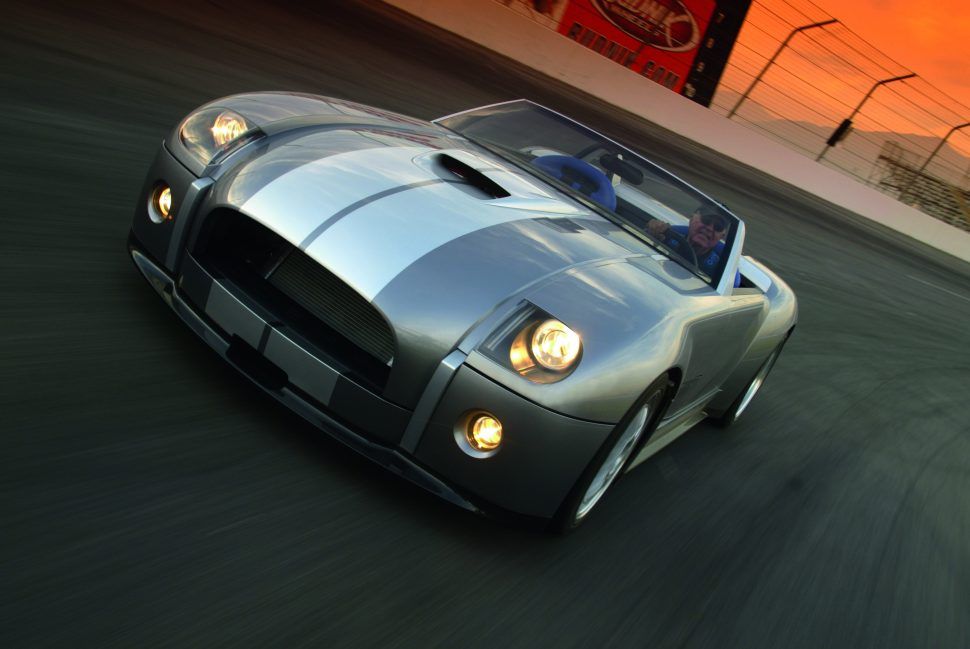 Anything but a shrinking flower: How codename Daisy, the 2004 Shelby Cobra concept came together
[Editor's Note: Chris Theodore's book, "The Last Shelby Cobra: My times with Carroll Shelby," released last year, recounts not only the former Chrysler, AMC, and Ford engineer's relationship with his boyhood hero, but also the development process for the 2004 Shelby Cobra Concept. In this excerpt from the book that Chris provided, we get to see how the concept car, codenamed Daisy, came together.]
Every year in Detroit after the North American International Auto Show, J Mays and I would get together to plan concept vehicles for the next year's round of shows: LA, Detroit, Chicago, and New York. Mays' design team would provide suggestions, as did my Advanced Product Creation group. With the success of the Ford GT at the centennial, it was no surprise that a modern Shelby Cobra was at the top of both our lists. We also decided to do a new Bronco and Lincoln Mark X. Mays let Richard Hutting, manager of the Valencia Advanced Design Studio, know that we would be reviewing proposal sketches on our next trip out west – as J and I would pay regular visits to the Irvine and Valencia studios for design reviews. Now that the world knew about Petunia, we decided to call this project Daisy. We intended the codename to be a little tongue-in-cheek and sort of a tease. As J said, it would be "anything but a shrinking flower." Eventually everyone would know that we were up to something, but not know what. I called it a 'fan dance' – the most tantalizing secrets are the one that you know are there, but cannot quite see. In late March, we sent Manfred Rumpel to see Hutting, specifically to explore how to help with the packaging of the Ford GT suspension and a V-10 engine. During one of my weekly program reviews with the SVT team, I mentioned to (O. John) Coletti that I had kicked off Project Daisy.
"Have you talked to Carroll?" asked John, wanting to make sure he wouldn't react negatively when he found out.
"No, I forgot, but I know he'll love the idea." I asked John to invite Shelby to the first design review at the Hutting studio in April. Meantime, recognizing the historic significance of such a project, Mays had the presence of mind to cut a deal with TLC/Discovery for the first episode of a new TV show called Rides. They would document the historic development of Daisy. Bud Brutsman produced the show, and it was narrated by Jason Priestley.
On the appointed day, Coletti met Carroll at the Bel-Air Country Club. The valet pulled up in a blue 2003 SVT Cobra provided by Ford as a courtesy car. Coletti was shocked by the garish billet wheels – bright polished intertwining snakes – but did not say a thing to Carroll. Off they went up the I-5 freeway to Valencia, when a kid in a yellow Porsche pulled up alongside, inciting a race.
"This guy doesn't know who he is messing with," thought Coletti. Never one to turn down a challenge, Shelby set off, past 130 mph, until the Porsche shut down. Carroll just smiled.
As they got out of the car at the studio, Carroll asked if he could put his hand on John's shoulder.
"Why?"
"Because I can't see so well."
John snapped back, "You were just doing over 130 mph on the freeway, and now you tell me you can't see!" Out came that big Texas grin as I walked up to greet him and said "Nice wheels!"
"Aw, this real nice kid is a Shelby enthusiast and sent them to me, so I had to put them on the car and send him a picture." As we walked into the lobby, who else but our receptionist, Shelby, would be there to welcome him. The designers and clay modelers were standing at attention as he entered the studio, as if a major general was entering the room to review the troops.
Carroll put them "at ease" with his charm and a few quips as he reviewed the wallboards full of exterior and interior design sketches. Shelby pointed out some sketches he especially liked, but complimented them all. Over on a round cocktail table was a beautifully detailed scale model of a chassis that Hutting had built himself. As we gravitated toward it, we noted that it had the traditional front engine and transmission, with the rear drive of the original Cobra, and cramped, skewed seating position. Almost simultaneously, Carroll and I came up with the idea to use the Ford GT transaxle in the rear to improve both the interior package and weight distribution. We always planned to use the Ford GT suspension for Daisy, but at that moment, I had sort of an epiphany: With the Ford GT soon to go into production, we now had a collection of supercar components from which to develop Daisy and other high-performance cars. The excitement grew as we started to talk more about Daisy. This wouldn't just be a pretty concept car; this would be a "full-on runner," as J described it. I would have Hermann Salenbauch and Manfred Rumpel (manager of the APC chassis group and former chief chassis engineer on the Porsche 917 Can-Am car!) design a complete running chassis, so we could establish feasibility of a production car simultaneous with the development of the show car. The project took on a new sense of purpose when we really started leveraging the Ford GT.
So where did the V-10 come from? Back in the early days of the Ford GT, I called together guys from the Petunia skunkworks, SVT, Ford Racing, and Advanced Powertrain to discuss engine alternatives. There were four factions: One wanted a small displacement high-revving motor like a Ferrari V-8; another wanted twin turbos; a third pushed for a supercharged Mod V-8, like in the SVT Lightning; and I had suggested a large displacement V-10. I could see a horsepower war brewing, and a V-10 would allow us to supercharge or turbocharge it in the years ahead. The naturally-aspirated version would also be lighter and permit a lower center of gravity (Cg) than a supercharged V-8. The high-revving engine option was put to rest when I told the guys we needed at least 500 horsepower and 500 lb/ft of torque. Turbocharging would have been a thermal challenge to execute in a mid-engine car in such a short time frame. Finally, Coletti convinced me that the only way Petunia could meet its timing objective was if we used the Lightning motors as surrogates in the Ford GT "workhorse" vehicles.
Meanwhile, unbeknownst to me, the Advanced Powertrain team went off and built a V-10. Greg Coleman and Kevin Byrd called me one day and asked if I wanted to take a ride in a hot Mustang. Of course I did, not suspecting what was under the hood. Performance was phenomenal, but it was too late to disrupt the Ford GT program, even though the V-10 engine would have fit. Mays and I decided to put it in the 2003 "427" sedan concept – we fibbed a bit about displacement! I called Greg and said we needed another V-10. "Just write the check for the parts!" he replied. In the end, four V-10s were assembled and installed in the Mustang mule, the 427 concept car, Daisy, and a concept car planned for 2005. When all was said and done, the check ended up being more than half a million dollars!
Fortunately, the cameras were rolling as the brainstorming continued. Bud Brutsman asked Carroll to sit down and talk about the Cobra and Daisy for the camera. With his Texas twang and gravelly, but not deep, voice, Shelby began:
I never dreamed it would become an icon, as it did. I was just trying to kick the shit out of Corvette. I'm 80 years old, transplanted heart and transplanted kidney. I wake up three times a night with new ideas. There are so many things left in the world that I want to do that I don't even care what I'm remembered as. I just want to be there to do a few of those things, and building a new Cobra is number 1.
John Clinard hosted a lunch for everyone at a restaurant near the Valencia studio where we had a fabulous time listening to Carroll's stories, beginning with the original Cobra. "I went to see Don Frey and Lee Iacocca about getting a Ford engine to do the car. I'm told that after the meeting Lee Iacocca said 'give that guy $25,000 before he bites somebody.'" As an amazing day ended, we agreed that Carroll would be involved in every step of Daisy's development. Carroll insisted on driving Coletti back to Bel Air. We all waved and laughed, as Carroll drove over the curb and blasted away! A new chapter with the legend had begun.
Back in Dearborn, Manfred Rumpel drafted up a list of roles and responsibilities for Advanced Powertrain, the Valencia designers, and his engineering team, along with a timeline. Manfred began work on the chassis design and engineering. With the V-10 located behind the centerline of the front wheels and rear transaxle, Daisy would be a front mid-engine "sport car" with 48/52 per cent front/rear weight distribution. The team designed a passenger compartment with more legroom than a Crown Victoria in a vehicle no longer than a Mazda Miata. In addition to the suspension, Daisy would use the Ford GT's transaxle, steering, brake, and cooling system components. The space-frame used many Ford GT aluminum castings and extrusions. All the design and analysis was done with CAD (computer aided design) and CAE (computer aided engineering). There was no time to build and test.
Over at the Advanced Powertrain lab, Gregg Coleman and company were designing, sourcing, and assembling the V-10 for dynamometer testing. Without any good reason, other than it would look cool, I asked the team to develop an intake manifold with F1 racing inspired velocity stacks so they could be seen inside the hood scoop. The V-10 had to be calibrated and ready for installation by the end of July. Once designed and built, the 6.4L was put on test, producing a modest 605hp and 501lb/ft of torque!
Now that Hutting had a package, three-dimensional design could begin in the Valencia studio. As Hutting later stated, "The powertrain, the space frame and the suspension were all key elements in the design, although for the most part, you don't see them. These established our proportions and naturally led to a race-bred shape that evokes the original Shelby Cobra, without sharing a single dimension or proportion."
By the next trip to Valencia, the full size clay model was starting to take shape. Designing a modern Cobra was no easy challenge. Perhaps smarting a bit from some criticism regarding "Retrofuturism," J Mays and Hutting worked hard to create a minimalist, contemporary style. The front-end design proved especially difficult, as the signature round headlights and oval grill of the original were hard to translate into contemporary graphics. Key details, including the dominant grille opening, hood scoop, vertical bumper bars, and stacked lamps, front and rear, helped establish the historical connection to the original. Carroll was pleased with the progress, and the mean, aggressive stance that was taking form from the muscular fenders. J said "when you're setting out to tell a story about an automobile in a fresh, contemporary way, you're not actually looking to create beauty – you're looking to create meaning" – and Daisy looked mean!
Hutting stayed true to the package Manfred's team had created. As he said, "we started with the mechanicals – they set up the architecture for the body – and we went from there, interpreting the classic Cobras of the 1960s in a truly modern automobile." Richard only asked for one concession, which we quickly agreed to: He lowered the front chassis rails so that one could get a better view of the awesome V-10 with the hood tilted. Shelby was mesmerized by the CAD animation as the hood tilted to reveal the V-10. Hutting even incorporated aerodynamic suggestions, including front and side splitters, a rear diffuser, and, at my suggestion, F1 style 'barge boards' to manage air extraction from the engine compartment and wheelhouse.
We then moved to a plywood interior buck mounted on a steel surface plate. Cameras were rolling as Carroll climbed up and into the buck, quipping "I'm stiff in all the wrong places." That quote ended up on the cutting room floor, but kept everyone amused. At 6ft 2in, Shelby was amazed at the roominess – and no offset pedals to contend with. We all agreed to keep it simple: no paddle shifters, no air-conditioning or radio, and we even eliminated the exterior mirrors and door handles. Three hidden cameras would project a panoramic rear view in place of a mirror – a modern version of the prismatic mirrors used by racers in the '60s.
Shelby was joking and laughing the whole day, keeping the atmosphere light and the team engaged. Carroll had a magical way of inspiring people with his "aw, shucks" Texas charm, and everyone took joy in pleasing him. We ended the day deciding that, in order to complete Daisy in time for the Detroit auto show, both the Valencia design team and Dearborn engineering team would have to work in parallel. To accomplish that, two space-frames would be required. One for shipment to Valencia where all the body and interior components could be fabricated and fitted. A second frame for assembly into a drivable chassis and testing in Dearborn. Team communication and coordination would be critical.
By August, the clay model had to be 'design frozen.' We had Carroll out for one last look. Mays led Shelby out to the courtyard and pulled the cover off the final model, 'Dynoced' in silver, looking realistic, like a finished car. The look on Carroll's face said it all, "Oh, I'm really happy. Golly!" Now it was time to execute.
Metro Technologies Ltd fabricated the aluminum space frames, the same team that made the prototype Ford GT frames and fixtures. They milled Hutting's lowered front rails out of billet aluminum. The torsional stiffness of the frame fell a little short of its target: Corvette. I suggested that the bottom of the tunnel be fitted with a steel rather than aluminum plate. Sure enough, the stiffness increased from 8,695 to 10,060lb/ft per degree, exceeding the Corvette's. The second frame went to Technosports Inc in Livonia, Michigan, where all the suspension, steering, brake, cooling, electrical, torque tube and transaxle components were fitted.
Next stop was the Advanced Powertrain Labs, for the V-10 installation. On my way back from a meeting in LA with Carroll, I stopped by to see the V-10 come to life. Things did not go quite as expected, as the car would not start, and then only sputtered to life after fiddling with the calibration. The team stayed the entire night trying to solve the problem. Finally, at 6:30 the next morning, they discovered two crossed wires, and Daisy fired right up. Later that day Greg Coleman got Carroll on the phone, started Daisy, and let him listen to the rumble.
"No runs, no drips, no errors," reported Greg.
"That's great guys," Shelby responded.
Back in Valencia, Hutting and the team were designing and fabricating every single body component for Daisy. Unlike most concept cars, built by outside fabricators, this would be done completely in-house. No ordinary push mobile, or 15 mph electric cart, Daisy's body had to withstand race car stresses. Instead of a simple fiberglass shell, body panels were made of a double-wall, fiberglass foam core sandwich. The hood would be raised hydraulically, and, when closed, would be latched in place with electrically actuated deadbolts. The Sparco carbon fiber seats modified and hand trimmed. Body panels painted and striped. Bumpers, pillars and roll bars milled out of aluminum. Every component was designed and handmade, right down to the instrument cluster graphics and toggle switches.
Working on a tight schedule, the team completed Daisy just six days before Shelby's scheduled demo drives with select members of the press. Monday, Daisy arrived at Shelby's shop in Gardena, where J Mays met him to unveil the car.
"Oh dang," said Carroll. "That is really something. It just turned out beautiful didn't it?"
Tuesday was reserved for a photoshoot with Carroll and Daisy at Soundstage. The 'Trilogy' Ford GT and 2005 Mustang GT joined the photo shoot on Wednesday, and on Thursday the team got a chance to tune and debug the car. I tag-teamed with Mays and arrived at the Irwindale Speedway on Friday for the Rides video shoot, and press backgrounder on Saturday.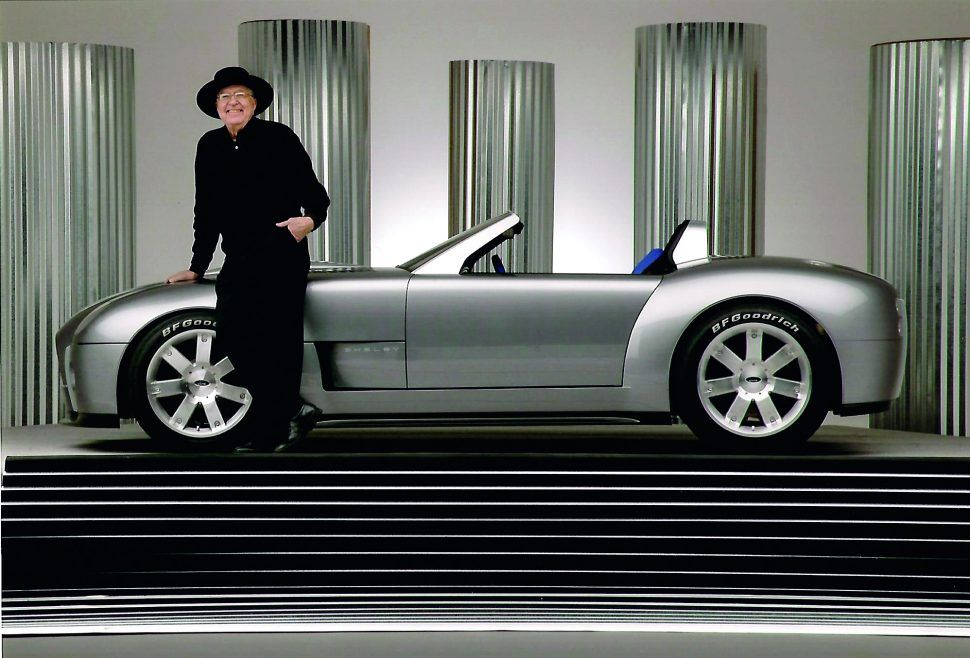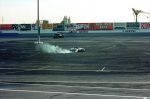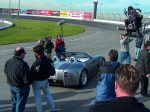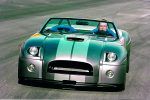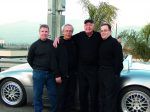 From left: Shelby doing donuts in Daisy for the cameras. Rides photo crew, filming Shelby at Irwindale Speedway. My turn with Daisy at Irwindale. Men in black after a day's filming with Daisy: Scott Strong, Richard Hutting, Carroll and Chris. Photos courtesy Bud Brutsman.
The video shoot at Irwindale Speedway, a banked half mile track, was a long and amazing affair. Bud Brutsman secured the track, and brought out the high definition video team, along with bodyguards to make sure our secret was safe. Carroll brought out the first Shelby Cobra CSX2000 (which sold for $13.75M at auction in 2016), and a polished aluminum bodied 427 Cobra. Shelby spent the morning driving both Cobras for the film crew, and then it was time for Daisy. Carroll did tracking shots on the oval and high speed runs around the short-banked track, but the best shots were of his smoky donuts in forward and reverse, captured by an overhead helicopter. Bud's film crew combined these with similar shots of the 427 so the viewer could watch Shelby magically transform the original Cobra into the new one through a cloud of smoke. I finished the day's driving so the crew could get more tracking shots of Daisy. It was then that I realized that even at 80 years of age, Shelby had retained his legendary driving skills. The slide throttles for the velocity stacks were sticking, making it hard to control speed, you were either at idle or wide open! Tracking shots at constant speed were almost impossible, and driving through the corners required two foot driving. Ol' Carroll might not see too well, but he could still handle a car! As the sun was setting, Carroll took the time to pose for photos with Daisy team members.
Before sunrise, Carroll and I were back at Irwindale for embargoed press previews. First up was Matt Stone, of Motor Trend, who'd been promised an exclusive article. I took Matt through the Daisy 'build book' to explain the technical details. Daisy was not the typical concept car. It was a running, high-performance, production feasibility study for the next Shelby Cobra. Shelby waited on the track below, to give Matt a ride in Daisy. Matt later wrote that it was of little concern to Shelby "that he was driving a multimillion-dollar hand-built prototype, as he stabs the gas and takes the racer's low line through a long, sweeping corner." We spent the rest of the day repeating the process, as other journalists arrived for their scheduled ride with Carroll and Daisy. By the time Shelby was done, Daisy had performed flawlessly for over 150 hard miles, ready for the trip to Detroit for its debut.
To make sure the entire press corps knew that something big was coming to the Detroit auto show, I suggested to our press flack, Dan Bedore, that we send out a daily email blast for the 12 days of Christmas, revealing a different component of Daisy each day. Dan went one better, and released the "Ten days before the Auto Show, the Blue Oval gave to me, a secret named 'Project Daisy'," concluding with: "Ten pistons a pounding, 'Nein!' Porsches passing, W-eight saving spaceframe, Seven spokes a wheelin', six forward speeds … fiiiiiiive hundred lb/ft, four massive Brembos, three clicks to 60, two Sparco seats, and a ride inspired by the Ford GT." Every automotive journalist got the message, although a few did complain about the email overload. The date for the Ford Press conference and big reveal was fast approaching. J Mays came up with the idea of the Ford 'Trilogy' where the Ford GT, and New Mustang would be painted in the same colors as Daisy: Tungsten Grey Metallic with Silver stripes. In fact, there was some precedence in the trilogy, as Ford had made a film in 1965 with Shelby, showing how the Mustang GT350, Cobra, and Ford GT were developed at Willow Springs Raceway. Still needing something for the introduction to the press conference, Bud Price asked me to explain why these cars were so significant. I told him the story of racing slot cars as a 13-year-old kid, and switching from Ferrari to the Ford GT when Ford won Le Mans.
Sunday, January 4, 2004, at the Cobo Arena in Detroit, the lights lowered at the press conference as the show opened with a video of young 'Bobby' watching a 1965 Mustang commercial on a black and white TV, followed by footage of Ford: 'Performance on Parade'; with images of GT350s, GT40s, Cobras, and Daytonas. Young Bobby is called up to dinner, after which he returns to the basement to play with his Corvette slot car on the orange shag carpeting. Mom yells, "Bedtime," and Bobby is off, but the Corvette slowly comes to life on the track with the noise of the crowd in the background. Suddenly, in the pits a Shelby GT350 fires up, then a Ford GT and finally a Cobra. As they all pass the Corvette, it flies off the track into a billboard. The closing scene has the Cobra slot car heading straight towards the audience. Fireworks go off at the sides of the stage as the Tungsten Mustang and Ford GT roll on stage. Finally, thunderous, huge fireworks erupt center stage, and Daisy launches onto the turntable with Carroll Shelby. The crowd roars with applause. Bill Ford Jr comes up to congratulate Shelby, and the press descends on them for a closer look. Shelby had said he couldn't wait for the press conference, "It's going to be the best day of my life." I'm sure it was, but there would be many more good days to come.
The reviews in the following days were outstanding. Carroll and Daisy were on the front page of the Detroit News and Free Press. There was even a cartoon in the comic section with a cherub pointing an arrow at a husband ogling Daisy, as his wife tries to fend off the cherub.

Carroll, J, and I spent Monday and Tuesday during press days conducting interviews, but Tuesday evening, we left for the basement of Bailey's Bar & Grill in Dearborn. Bud Brutsman had arranged for a simulcast of the premier of Rides on TLC. The entire team was there, including designers from Valencia, the Advanced Engineering and Powertrain teams, and suppliers from Metro Technologies and Technosports. Carroll and Cleo sat on the couch watching the show, as we made fun of each other's cameos on the big screen. Shelby's flip phone rang. He looked at it, but didn't answer.
"Who is it?" I asked.
"Ford, I'm having too much fun to talk, I'll call back tomorrow." Rides became the top rated show on TLC, and Codename: Daisy the most watched episode on TLC for the next couple of years!
Friday night, before the NAIAS opens to the public, Detroit hosts a $400-a-head Charity Preview Ball, a black-tie affair, where Detroit's who's who drink champagne and stroll though the show to look at the new cars. Carroll sat at a small table at the Ford both for three hours, as Detroit celebrities lined up for autographed posters, press kits, or anything else they could get their hands on. Under the hot lights, I was worried about Carroll's health, and whispered to him that I thought he should take a break. "I learned a long time ago that when the gettin' is good, the good keep gettin'," he responded, as he continued to sign autographs and pose for photos under the sweltering lights. When the Ball came to an end, the Ford marketing people had forgotten to invite Shelby to dinner with the dealers. Seizing the opening, I invited Carroll to join us for dinner at the storied Detroit Athletic Club as a guest of ASC, where he continued to receive congratulations from all in attendance.
Carroll Shelby and Daisy made the covers of virtually every automotive magazine both in the US and abroad. Autoweek magazine awarded Daisy and J Mays 'Best in Show.' Matt Stone concluded his review by stating "There's one final reason Ford should – no, must – give us the Cobra: to put the final, iconic punctuation mark on Carroll Shelby's extraordinary life, with a car that's worthy of the name." Stoking the flames, Ford followed up with a 'Trilogy' commercial showing the new Mustang, Ford GT and Shelby Cobra racing through the streets of Detroit, with the city skyline in the background. Now all we had to do was get the program sold and into production.
[Chris Theodore's "The Last Shelby Cobra: My times with Carroll Shelby" is available through Quarto, via Amazon, or wherever books are sold.]