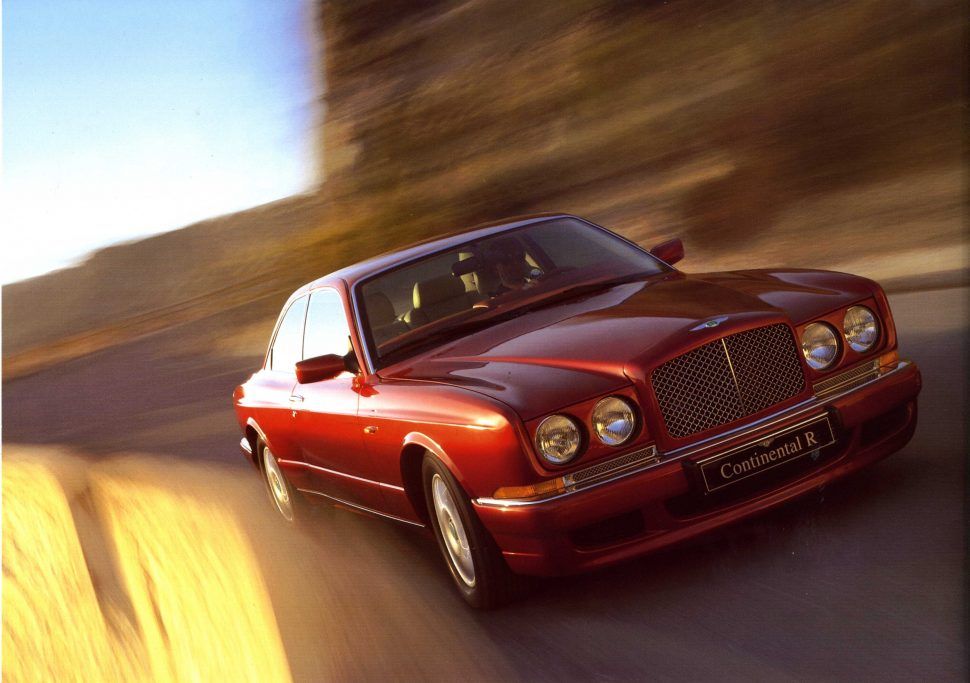 Is the 1990s Bentley Continental poised for a comeback?
When the Bentley Continental R was introduced at the 1991 Geneva Motor Show, it was something of a shock. It was imperious and menacing, with a windblown rectilinearity that did not skimp on the overhangs, like a former Marine who was down from their prime but still worked high-end security details. (At 210 inches, it was also the same length as today's Lincoln Navigator.) It was the first Bentley in 30 years that wasn't just a badge-engineered, slightly sportified version of an existing Rolls-Royce, a withering collusion with the Spirit of Ecstasy that was the result of both British marques having been acquired out of near bankruptcy by industrial megalith Vickers. And it was one of the most expensive vehicles in the world, with a base price in the US of nearly $275,000, well over $500,000 in today's dollars.
Many different variants of the Continental followed, including the S, T, Mulliner, and SC editions. These added some alchemical and confounding combination of a shortened wheelbase, sickle-shaped front and rear fender flares, bigger brakes, more power, and a removable targa top. A convertible version known as the Azure arrived in the mid-'90s. But, no matter the model designation, these were pricey, potent, and complex cars, with self-leveling hydropneumatic suspensions, digital boost control, vented disc brakes, and turbocharged and intercooled versions of the venerable 6.75-liter V-8 producing rather shocking (for the time) output and acceleration, with some models slamming off sub 6-second 0-60 times and delivering top speeds in excess of 150 mph.
"It's a big heavy coupe," says David Gooding, founder and president of collector car auction house Gooding & Company, whose recently sold one of these vehicles, a pristine 1998 Continental T, for $117,600 at the company's Scottsdale auction. "But the later versions put out 420 horsepower and 550 lb-ft of torque, making it a real stud of a car, even with a weight of well over two-and-a-half tons (5,340 lbs.)"
In addition to Gooding, RM Sotheby's, Russo & Steele, and Barrett-Jackson all had top-notch '90s Continentals/Azures on offer in Arizona this year. Notably, there were two celebrity cars among them, a Continental T that belonged to Will Smith, and an Azure that belonged to Simon Cowell, attesting to the exclusivity of these vehicles during their heyday. Current asking prices in the Hemmings classifieds cover a wide swath from the mid $20-thousands to the six-figure range of Gooding's sale. With such a plethora of them crossing the block, it seemed that these vehicles may finally be cresting from the nadir of their status as expensive-to-maintain used cars, and finding their way toward a revived collectible status. Or not?
"Besides being cheap to buy? I don't think there's anything particularly special about them," says a mechanic from a shop with extensive knowledge of these vehicles, who did not want to be named for fear of offending his customers. "I like my 1960 Continental. But those ones? Not so much. I mean, the transmission is durable, and the engine is as well, so long as you don't get it hot. The minute you get it hot…" he trails off.
However, these cars are also clearly the progenitors of the (structurally-unrelated) current Continental GT and GTC, grand touring coupes and convertibles that are equally massive and make even more massive power. Though, it should be noted that the birth of these modern vehicles was one of the factors that contributed to the tanking of market prices on the slightly older cars. If you could get a brand new, VW-developed Bentley Continental GT in 2003 for $150,000, why would you want to buy a used, archaic-seeming Continental R for $200,000? As prices decreased, the cars went downmarket, often to buyers who couldn't afford the annual maintenance, which, according to the mechanic we spoke with is, "very high."
But automotive purchases are, at their heart, irrational, especially in a category like this. Bentley's centenary last year, coupled with the introduction of the latest generation of Continental GT/Cs, may have dredged up some reassessments of vehicles from the brand's more recent past. This may be especially true for the flagship vehicles from the era just before the Volkswagen Group acquired Bentley in 1998. Not that people are necessarily nostalgic for that section of Bentley's history consisting of extremely limited production and shoestring development budgets. "I think frankly the takeover by VW has been so successful that there's no really wistfulness for that time," says Gooding. "But these cars have held up well and they're now of an age that people are nostalgic and collecting cars from the 1990s."
Gooding recommends purchasing a well-sorted vehicle with a known provenance and maintenance history, of course. And our expert mechanic echoes this assessment, and more. "These cars, the brake pump leaks a lot, and the computer goes bad, and on the Azure, the power top hoses fail all the time. They're trouble," he says. "We sell a lot of parts for these cars. All sorts of parts, whatever our customers need." It's also apparently important to watch out for rust that forms when water collects and is stored in those big sill extensions and fender flares.
With long term values effectively flat, and recent hammer prices and sell-through rates in Scottsdale reflective of this, these cars don't necessarily present an investment opportunity. But with excellent examples still selling for a fraction of their original price, and with a superlative driving experience on hand when they're running, and with exclusivity rivaling or surpassing that of many supercars—fewer than 2000 were made—there are many compelling reasons to purchase one now, especially as interest in them is beginning to grow.
"Are they touching the R-Type Continental Fastback from the 50s? No. But, yeah I think they are certainly displacing some more common Bentleys from the 70s and the 60s," says Gooding. One he had at a recent auction had even undergone a restoration. "I don't think of cars from the '90s needing restoration," he says. "I haven't had a restoration yet, and I'm from the '60s. Though I could probably use it."