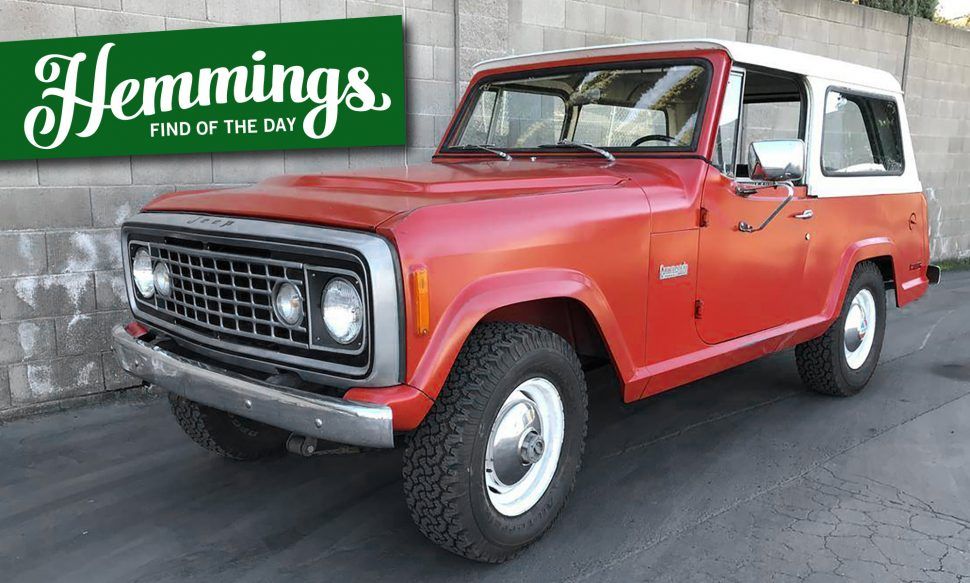 Hemmings Find of the Day: 1972 Jeep Commando
Unrestored and unmodified 1972 Jeep Commando for sale on Hemmings.com. From the seller's description:
a nice 4×4 driver in stock condition Its AMC 258ci inline six is mated to a 3-speed manual and has received new gaskets, hoses and fluids.A very trustworthy stock in "un-messed with" condition, ready to be enjoyed as is.Very unusual to find one this clean needing nothing

Most of the truck's code 226 President Red paint is original, while the rightrear quarter is mismatched from some previous minor damage. The remaining finish holds a nice shine with some areas getting thin. Assorted chips and small dings can be seen around the body. Factory wheels wear rarely-surviving factory hub caps and new BFGoodrich All Terrains.

Most trim looks straight and clean including the new-for-'72 full width grille. The front bumper has done its job and is dented here and there. An aftermarket antenna has been added.

The steel hardtop is removable as one piece, may never have been off the truck. Its white paint is sun damaged up top, and some superficial corrosion is evident along with areas of bubbling under its window seals. Inside, its pressboard headliner is intact but showing its age.

Interior looks clean, with a stock rubber floor cover looking well preserved. Black vinyl upholstery fits well on the front buckets and rear bench, with lap belts front and rear. Unpadded door panels are in presentable shape a split on the driver's side, detailed in the photos, optional arm rests are mounted to both.

An "uncut" steel stock dash features a working factory AM radio and foam padded hood. Simple instrumentation and rocker switches are complete with no cracks are visible on the the stock two-spoke steering wheel.

Underhood the AMC 258ci inline six is believed to be original based on the engine # which is in sequence for a 258 from 1972. This intermediate engine option had seven main bearings and was good for 150 gross horsepower. A Weber 32/36 DGV carburetor with electric choke has replaced the original Carter unit, the engine starts quickly and runs great.

In recent weeks the engine has received new heater hoses along with intake, exhaust and valve cover gaskets – the valve-train reportedly looks clean under the valve cover. The oil and filter were changed and the coolant was replaced – all other fluids are said to look clear. The engine bay looks clean and orderly, though corrosion has been addressed with rust-preventative paint around the battery tray.

The floor-shifted three-speed manual shifts smoothly with no clutch chatter, with an occasional slight "catch" going into second gear. In addition to bigger brakes, the facelifted Commando featured a heavier-duty leaf-sprung Dana 30 solid front axle to complement the Dana 44 rear end and Dana 20 transfer case. Corrosion appears at a minimum in rockers, pans, rails, wheel wells and running gear.

Just 60k miles are indicated on the five-digit odometer, documentation and service records are incomplete dating back to 2011 with the odometer reading at 46k, recent work includes the replacement of all of the body mounts, new shock absorbers, and misc minor maintenance

The truck's previous owners reportedly used it for events and camping throughout the Northwest, and the past 4 years in California making many trips to Tahoe from the Sacramento Valley. Owner's manual from 1972 included along with man factory brochures-see images.
Price
$19,000
Location
Gold River, California
Availability
See more Jeeps for sale on Hemmings.com.