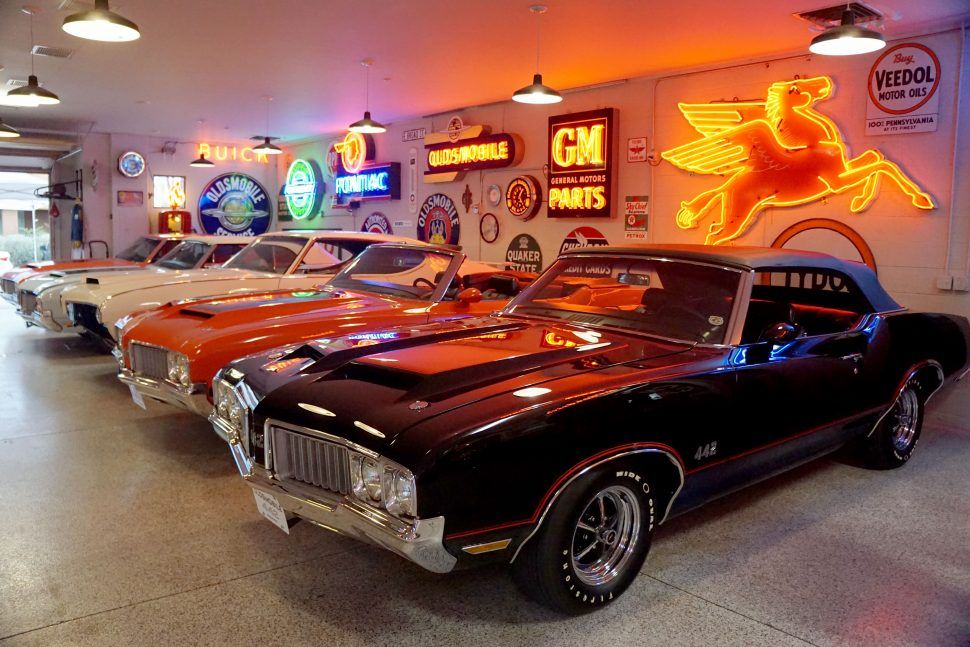 An Olds obsession: Fred Mandrick's A-body collection

There's something to be said for knowing what you like, and going deep.
Fred Mandrick's collection concentrates exclusively on 1968-'72 Oldsmobile A-bodies. Not even four-doors and Vista Cruisers—just two-doors and convertibles. Cutlass Supremes. 442s. W30s. Hurst Oldses. And even a car (and some parts) that never actually saw a production line—but which is an important part of the Oldsmobile story. Fred's formidable collection features more than a dozen A-body Oldses all told, ranging from low-mileage originals to complete restorations, coupes and convertibles, and a surprising stash of NOS parts. The garage he keeps them in matches many houses we've visited for sheer size; it's decked out in authentic mid-century neon, and has its own attached two-bay workshop. Hanging out next to the fully-dressed W30 455 outside his office is an all-aluminum 455 topped by four dual-throat Weber carbs, as it would have run in the Can-Am series of the early '70s. The man does not dabble.
It started with Fred's parents, who lived in Rochester, New York at the time. "Dad started buying new Oldsmobiles in '66, and he got to be friends with the dealership owner's son. He always had to have something new, so we got a new Olds every year from '66 to '73—except for 1970, when he had a Riviera. But he always had full-size models—88s and 98s. Fred was particularly taken by Rally Red, which matched a Raleigh Chopper bicycle he got in 1970, at the tender age of 10. "If I couldn't afford to buy a car, at least I managed to get a bicycle in my favorite color scheme," he recalls.
"My first car was a '70 Cutlass Supreme, which I got in 1975. Man, all kinds of firsts happened in that thing!" he jokes. (We think.) "It was a decent car when I got it, with just a little rust. But of course we fixed it up, painted it, and I drove it for about two years through high school." The brutal winter of 1976-'77 proved to be too much for Fred's parents, who moved to Phoenix as soon as the thaw hit. "My parents got sick and tired of dealing with the snow; I had just graduated HS and came along for the ride."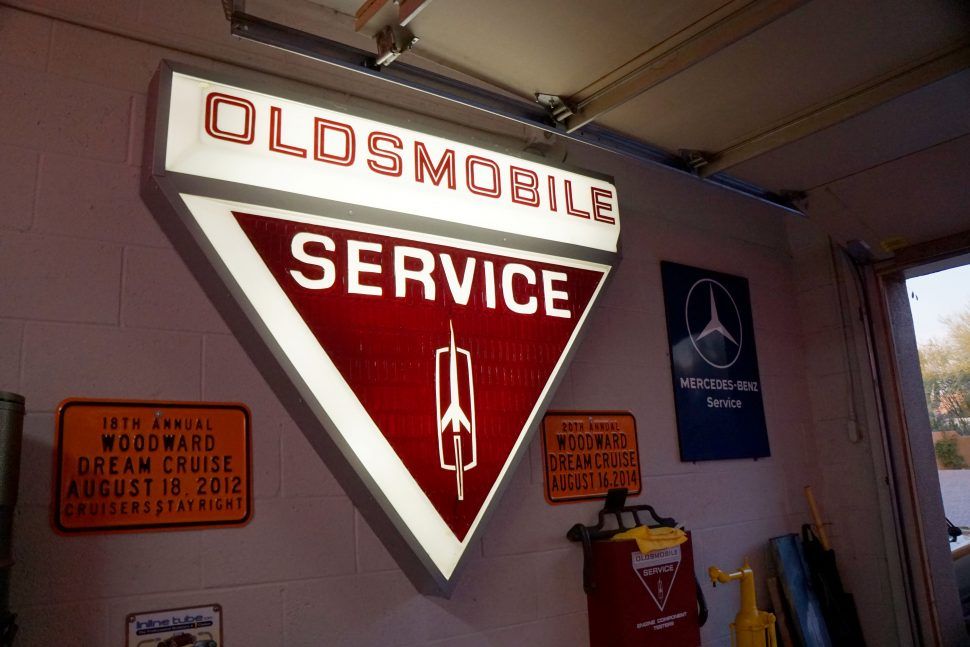 New town, new car: Fred found himself a '66 Pontiac GTO. "I paid $580 for it; it was a California car with smog pump, air conditioning and a Powerglide. It was all-original paint except for one fender, and I proceeded to mess it up: I put bigger tires on the back, which then scraped on the wheel opening, so then I pounded the wheel opening larger." Today, the lessons of mis-spent youth have been taken to heart. "Every survivor car I see or own, I'm glad someone didn't get their hands on it and mess it up."
His first Arizona Olds was a Rally Red 442 hardtop purchased in the early '80s. Fred no longer owns it, though he knows where it is. After that, "my collection has gone through two phases. In '85, I moved to Phoenix from Tucson, and I had a few cars through about 1992. When it came time to start my business, I sold everything. From 1992-2001 I was out of collector cars. In 2001 I started buying cars again. Initially I had an Olds, a GTO, a Superbird, a Camaro… but one after another. In the early 2000s, Oldsmobiles kept finding me. Some of the cars I sold in '92 started to resurface, and I bought 'em back."
Soon, Fred dispersed all of his other cars – even the ones he liked – in order to concentrate. Within half a decade, he built up a formidable Olds A-body collection. One of each Hurst/Olds—'68, '69, '70 and '72. Half a dozen 442s, not including projects, parts cars and pieces. Like unrestored cars? There's a 19,000-mile '68 W30, and a 100,000-mile Rally Red '70 that looks cleaner than some restorations we've seen. There's even something so rare that most people, even diehard Olds fanatics, forgot it existed—the George-Hurst-built '68 442 with a complete Toronado driveline (including front-drive transaxle!) that served as a pitch for his company to go into business with Oldsmobile. Fred restored the car nicknamed Fouranado in the garage-attached two-car shop in the space of about a year.
There's also his parts closet, full of NOS goodies: consoles, shifters, steering wheels. "They're cool, and they make a difference on the cars when you put them together," Fred notes. "Weatherstripping is tough. And I've just acquired things through swap meets, online, and from knowing people looking to get rid of things. Every day I search for NOS parts. Yesterday I bought rear bumper fillers; NOS ones are so much better than repops. I don't need them now, but I will in the future." But Fred isn't operating a parts warehouse. "I rarely sell anything. I have some W-machine parts, but I won't sell W parts to clone a car."
At this point, he feels like his collection is largely complete. "I mean, a '70 W31 four-speed would be cool. Or maybe a '68 Ram Rod with a stick. But that's all I'd be looking for… I feel like what I have now is pretty complete for me." Of course, it helps to have a car with sturdy bones to start with. "If something piques my interest, I have two things that I check for. First, how do the doors close? And second, if it's an automatic, how does it feel when it goes into gear? If they're smooth, I'll dig deeper. I got that advice from my dad: smooth doors and smooth shifting will often mean a good car. He hasn't been wrong yet."