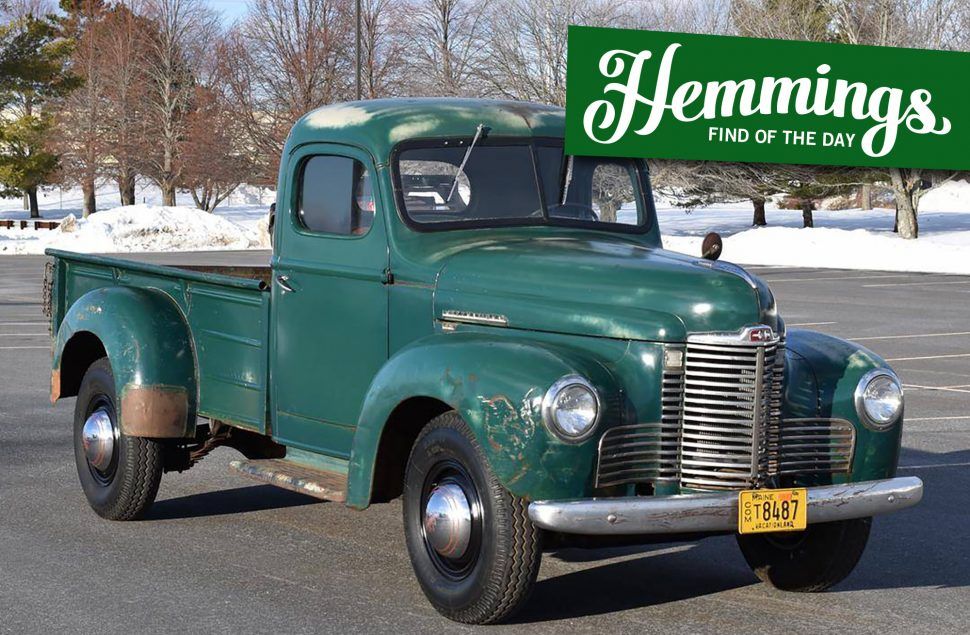 Hemmings Find of the Day: 1949 International KB-3
Patina-rich 1949 International KB-3 for sale on Hemmings.com. From the seller's description:
said to have spent it's life in Nebraska before it was relocated to Maine in 2015. Some of the recent work includes new brakes, rebuilt carburetor, and aluminum radiator. Finished in green over a tan interior, the truck is powered by a 214ci Green Diamond inline-six paired with a four-speed manual gearbox. This IHC KB3 is now offered with recent receipts and a clean Maine title.
The truck is believed to have been repainted green many years ago during previous ownership. All original trim was recently sourced to create a complete front grille trim set. The windshield frame was stripped, painted, and weathered, along with a new windshield gasket and setting tape holding the original glass.
The 16″ steel wheels were sandblasted and epoxy primed, and wear an older set of Powerking tires showing some cracking in the tread. A set of factory chrome hubcaps were polished and installed, after all wheel bearings were greased and set. Rust is noted on the driver-side lower fender, and some cracking around the fenders and on the cab floor adjacent to the seat. The body was recently rubbed with a light coating of linseed oil.
The cabin features a reupholstered bench seat with body-color doors and dashboard. Interior amenities include a replacement headliner and weatherstripping, manual windows, an functioning crank-open windshield, working electric wipers, new glovebox liner, and new single speed blower motor. New window channel provides a stiff but supportive window operation, the passenger-side interior door handle is stripped, and the center floor section was replaced and aged to match the rest of the floor.
The three-spoke steering wheel with working horn fronts a factory gauge cluster. The fuel, oil, and water gauges work properly, and the gas tank is in good condition. The ammeter is unused due to the use of a Powermaster self-regulating alternator. A rebuild of the speedometer ratio adapter is recommended as it is jumpy and noisy above 20mph. The five-digit odometer shows 47k miles.
Work performed in the engine bay includes engine re-gasketing, period correct wire loom, and a new Powermaster self-regulating alternator, designed to replicate the original generator. A small patch is noted in the radiator. Recent receipts for replaced parts accompany the truck. The four-speed gearbox shifts well with good engine acceleration, and the brakes work superbly.
Price
$18,000
Location
Brunswick, Maine
Availability
See more Internationals for sale on Hemmings.com.