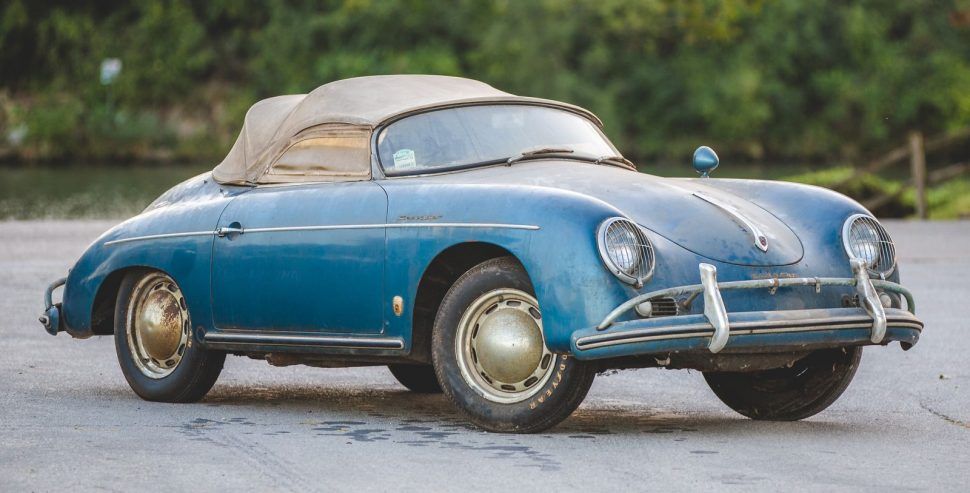 Porsche 356 Registry starts taking on the problem of counterfeit cars
The temptation is palpable. If one version of an old car fetches half what another version of that car can draw on the open market, and if it's not that hard to switcheroo the badges and serial number plates, then maybe…
"It's throughout the hobby," Patrick Yanahan, media relations director of the Porsche 356 Registry said. "The real issue is unsavory sorts out there buying rusted old Speedsters, then putting their serial numbers on less rusty cars and misrepresenting them."
To counter the problem, the registry has issued a position paper "condemning the counterfeiting of older collector cars for the purpose of misleading buyers into thinking they are truly classic antique cars with significant value." Specifically, the paper notes that registry members believe "that any restoration of a 356 should generate complete and truthful documentation of the facts and processes of the restoration and that this documentation should faithfully follow changes in a car's ownership."
In addition, Yanahan said, registry members have started to reach out to other collector car organizations to tackle the issue.
"We're trying to put together a consortium of experts from different clubs because the issue is not going to go away," he said. "We think it's damaging to the hobby in general."
No studies have focused on the scope of fraud in the collector car market, but one doesn't have to look hard to find criminal cases involving misrepresented old cars ranging from Shelby Mustangs to Corvettes to Australian racing legends to Jerry Seinfeld's 1958 Porsche.
In the Porsche 356 world, Yanahan said registry members are starting to see younger enthusiasts showing interest in the earlier Porsches, particularly in light of their rising values ("They're getting bloody expensive," Yanahan said), then getting conned by "instances of outright fraud."
"I've personally seen some real well-done fraudulent cars and a lot of extremely well-done replica parts with the correct part numbers being sold," he said.
The registry does try to keep track of fakes, Yanahan said, but the registry only receives that information – like the information the registry has on 356 serial numbers, engine numbers, and transmission numbers – on a voluntary basis from car owners. Porsche's Classic service does offer authentication of individual cars for the owners of those cars. Yanahan specifically noted that the 356 Registry does not have a problem with outlaws – hot-rodded Porsches – or replica Porsches, both of which tend to be accurately represented at shows and when offered for sale.
As for what collector car enthusiast organizations can do about the situation, Yanahan pointed to multiple gold standards in the collector car world, among them the Classic Car Club of America.
David Schultz, a Hemmings Classic Car columnist and past president of the CCCA, wrangled with this issue extensively when he served as the chair of the club's classification committee. "This is still being done because the stakes are so high," he said. "And the truth is, the people building counterfeit cars know what they're doing and want these cars to somehow be credentialed so they can pass them."
As Schultz pointed out, rebodied cars – for example, cars that started out as a sedan and later in their existence became roadsters or phaetons – have spurred a lot of conversations within the CCCA throughout the years. While the club makes exceptions for cars rebodied in the era or by the factory, it still adamantly refuses to recognize most other rebodied cars, including those built essentially from scratch. As a result, any cars that the club doesn't recognize cannot be considered a Full Classic, which means they cannot be judged at CCCA events or participate in the club's tours.
"And that's a big deal – it's the Good Housekeeping seal of approval," Schultz said. "It proves to future buyers that the car is what it's claimed to be."
According to Schultz, the CCCA has, since its inception in 1952, been diligent in its vetting of cars and has not only consulted with owners of specific cars throughout the purchase and restoration processes, it has advised concours selection committees and auction houses on the authenticity and provenance of specific cars.
"We believe that we have an obligation to the future and to history to do this," Schultz said. "We have no skin in the game other than to keep it fair."
Similarly, Yanahan said the registry wants to make its members available for counsel to potential car buyers and others concerned about misrepresented vehicles.
"It is important to the Porsche 356 community that current and future owners can be confident about what their car represents," the registry's statement concluded.