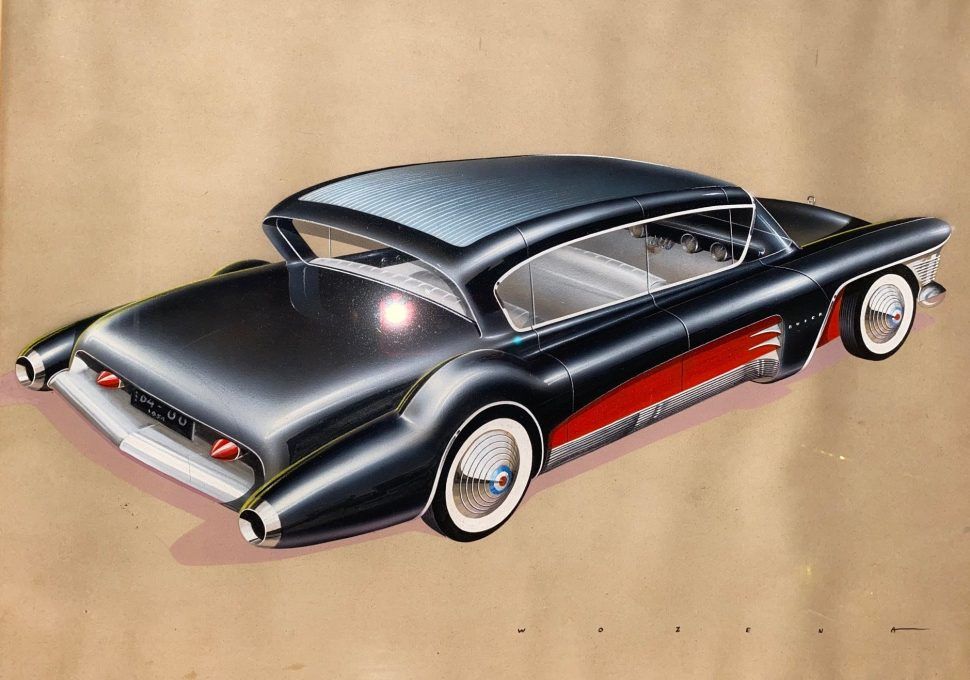 Any finless Fifties Cadillac design was probably doomed to fail, but still…
Not long after we ran Peter Wozena's minicar rendering, we heard from Scott Wozena, Peter's nephew, who had another couple renderings of his uncle's to share with us.
"It makes me proud to see his talent recognized and appreciated," Scott wrote. "His renderings during that period are works of art."
Both seem to come from about the same time (1954, according to the license plate on the Buick above), judging by the finless rocket-pod similarities between their rear ends. It seems Wozena had a specific design element he wanted to explore, just as he did with the La Salle II flying front fender element.
Apart from that element, though, the two renderings share little in common: The Buick intriguingly juxtaposes the excessive curve of that rear fender with the boxier roofline and carves plenty of bulk from the doors with that red-painted, chrome-trimmed cove while the Cadillac below appears more integral and more like a production-ready design barring the bulk of those jet pods.
As for how the renderings escaped GM's periodic purge of old conceptual drawings, Scott said his uncle "felt too much effort went into creating them" so he befriended the security guard at GM. "If you knew the guard and gave him a wink, they never did anything."
Many thanks for sharing these, Scott!