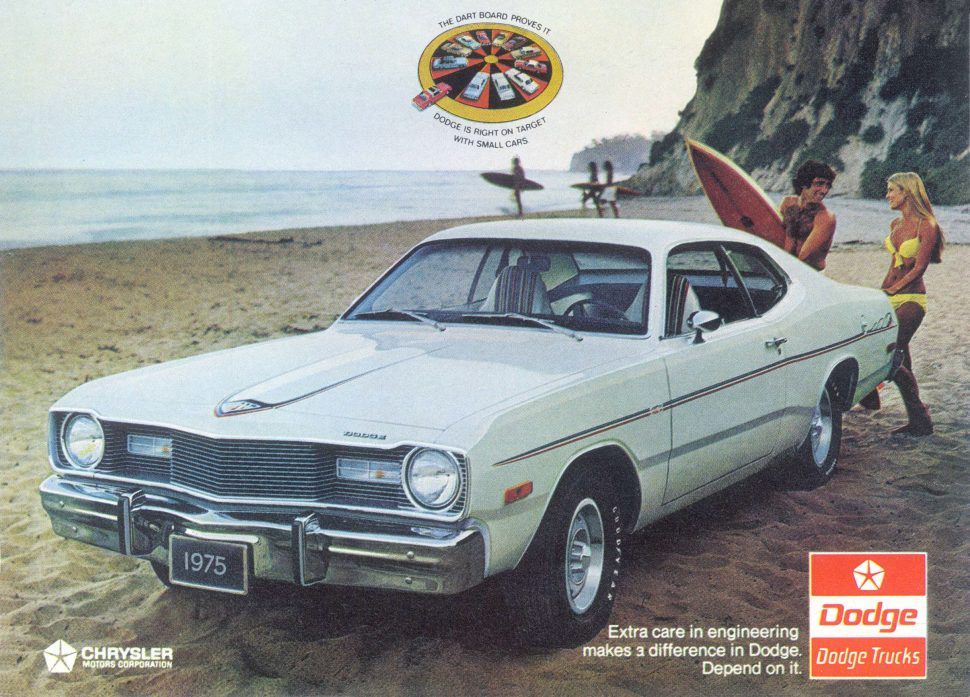 Mopars hit the beach: 8 vintage ads full of summer fun
What is it about the beach that made it such a popular backdrop for vintage car ads? Was it the deep blue water that flowed to the horizon, the warm bright sand, or the opportunity to decorate the ad layout with people participating in leisure-time activities? Likely, it was all of the above and more.
Since it's cold and dreary outside in most northern states in these early days of 2020, we thought it timely to remind you that beach weather will return in the not too distant future. And what better way to do just that than by presenting a selection of vintage ads from a bygone era that feature those sandy waterfront settings? This time we're focusing on Mopars of the 1950s to 1970s. Would pictures of Chryslers, Dodges, or Plymouths on a beach have persuaded you to buy a specific model? Check out these examples and tell us what you think.
1957 Chrysler 300-C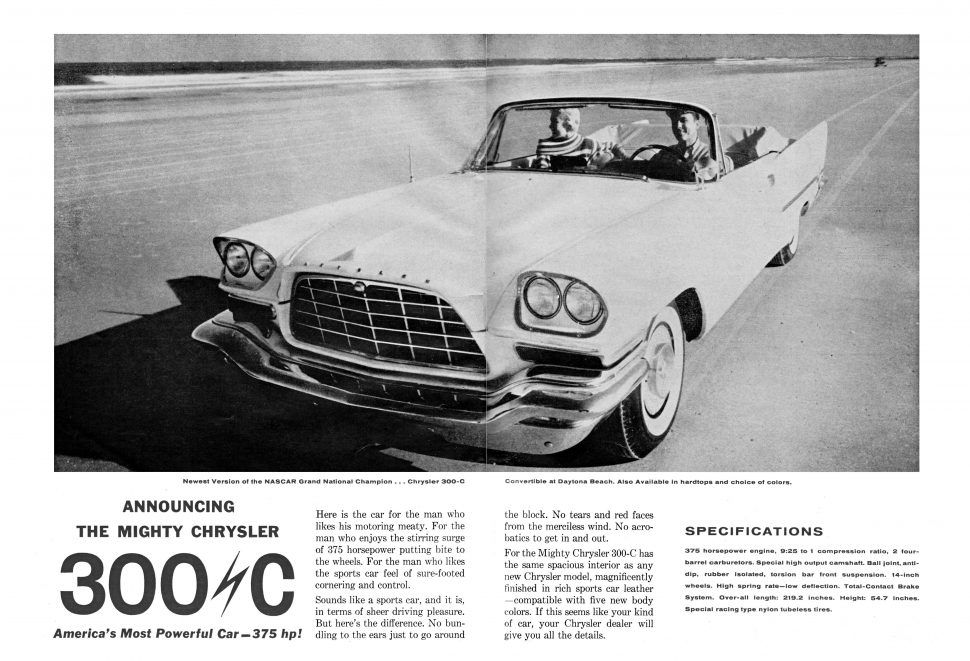 The redesigned Chrysler 300-C for 1957 was imposing from its aggressive grille to its sweeping rear fins, but the luxo-performer backed up its bravado with a 375-hp 392-cu.in. dual four-barrel hemi engine and new TorqueFlite automatic transmission. It also offered an optional 390-hp 392, recommended for competition only, with a three-speed manual gearbox. Torsion-bar front suspension was new for 1957 as well. The Chrysler appeared right at home in this ad at Daytona Beach where 300's had been had been successful in motorsports competition. Just 1,918 hardtop 300-Cs and 484 convertibles were produced for 1957.
1960 Chrysler New Yorker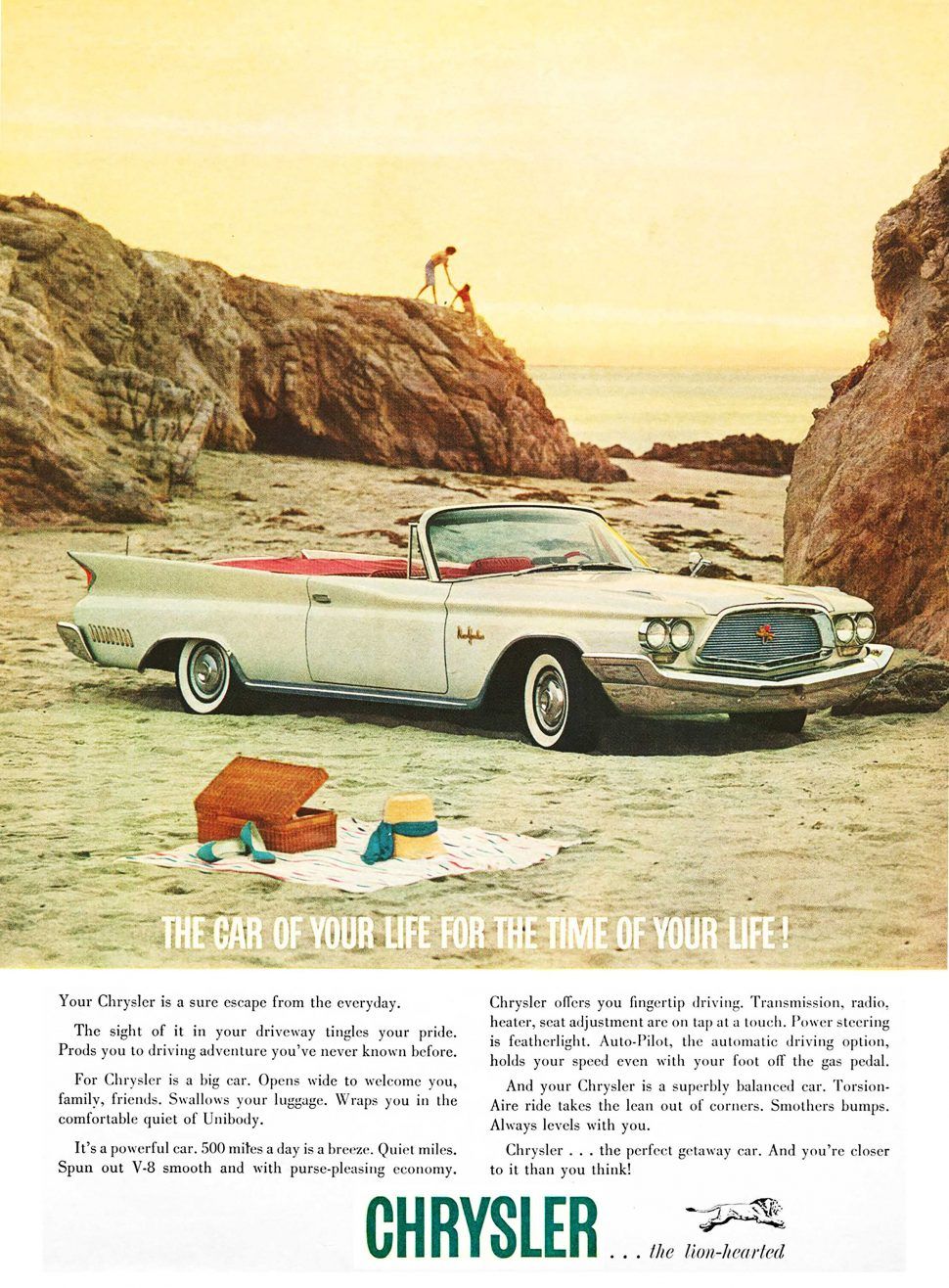 Ease of operation and a sampling of amenities drivers could experience in a 1960 Chrysler are highlighted in this ad. After arriving at the beach in a New Yorker convertible to spend a relaxing day picnicking, it appears that these owners were rested enough to climb dangerously high rock formations. The powerful 350-hp 413-cu.in. wedge engine was standard in the New Yorker that year, styling was new, and just 556 convertibles were built.
1965 Dodge Coronet 500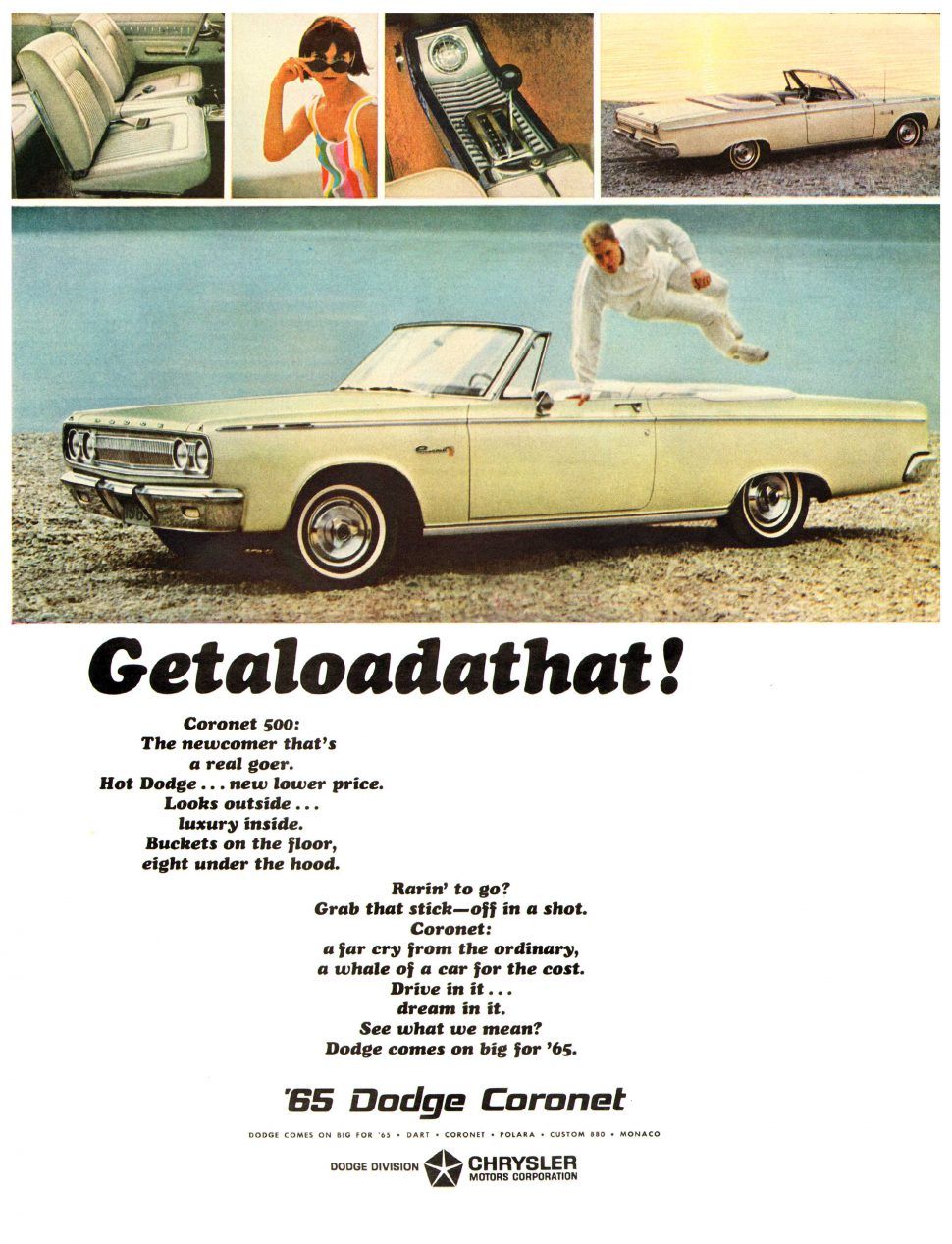 The fresh appearance of the mid-sized Dodge for 1965 and the return of the Coronet nameplate (last used in the 1950s) made this owner jump right out of the backseat for some reason. (Maybe he was in a rush to change into more appropriate beach attire?) The lineup included the Coronet and Coronet Deluxe, 440, and upscale 500 shown here for 1965. Street engine availability across the model lines ranged from a 145-hp 225 Slant Six to a lengthy list of V-8s including a 180-hp 273, 230-hp 318, 265-hp 361, 330-hp 383, and the 365-hp 426 wedge. (A very limited number of 426 Hemi Coronets were built for racing only.) The Coronet 500 came with the 273 standard.
1967 Chrysler Newport Custom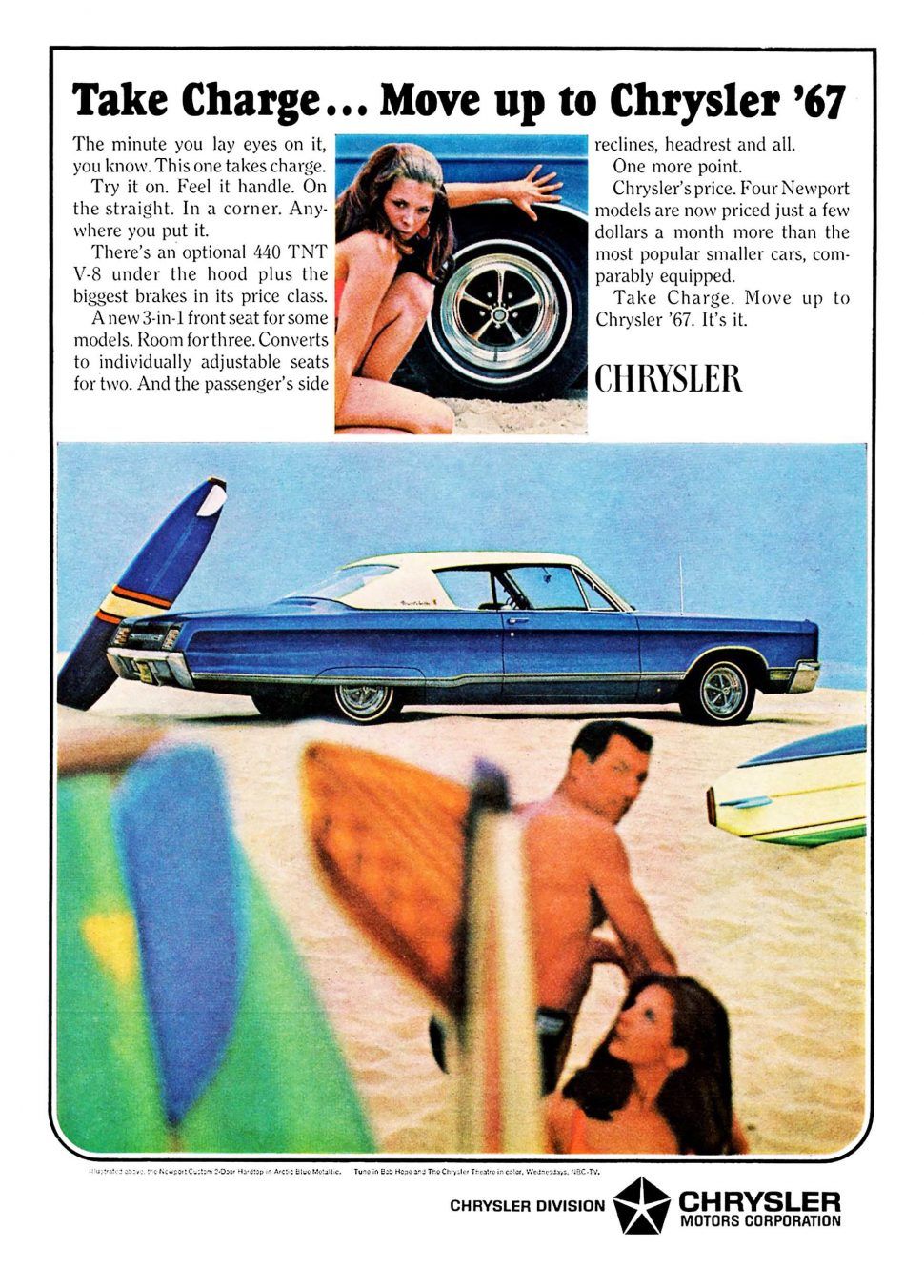 The relatively affordable Newport was offered to help buyers transition from less-expensive makes up to Chrysler luxury and prestige, as this ad indicates. A beach scene with surfboards reaches out to somewhat younger customers who may not have considered a Chrysler before, due to its perceived cost. The new-for-1967 Newport Custom (shown here) added more trim and other items and a slightly higher price than the Newport, but it was still lower than the 300 and New Yorker. A 270-hp 383 was standard in the Newport and Custom and the 325-hp 383 and 375-hp 440 were optional.
1967 Plymouth Barracuda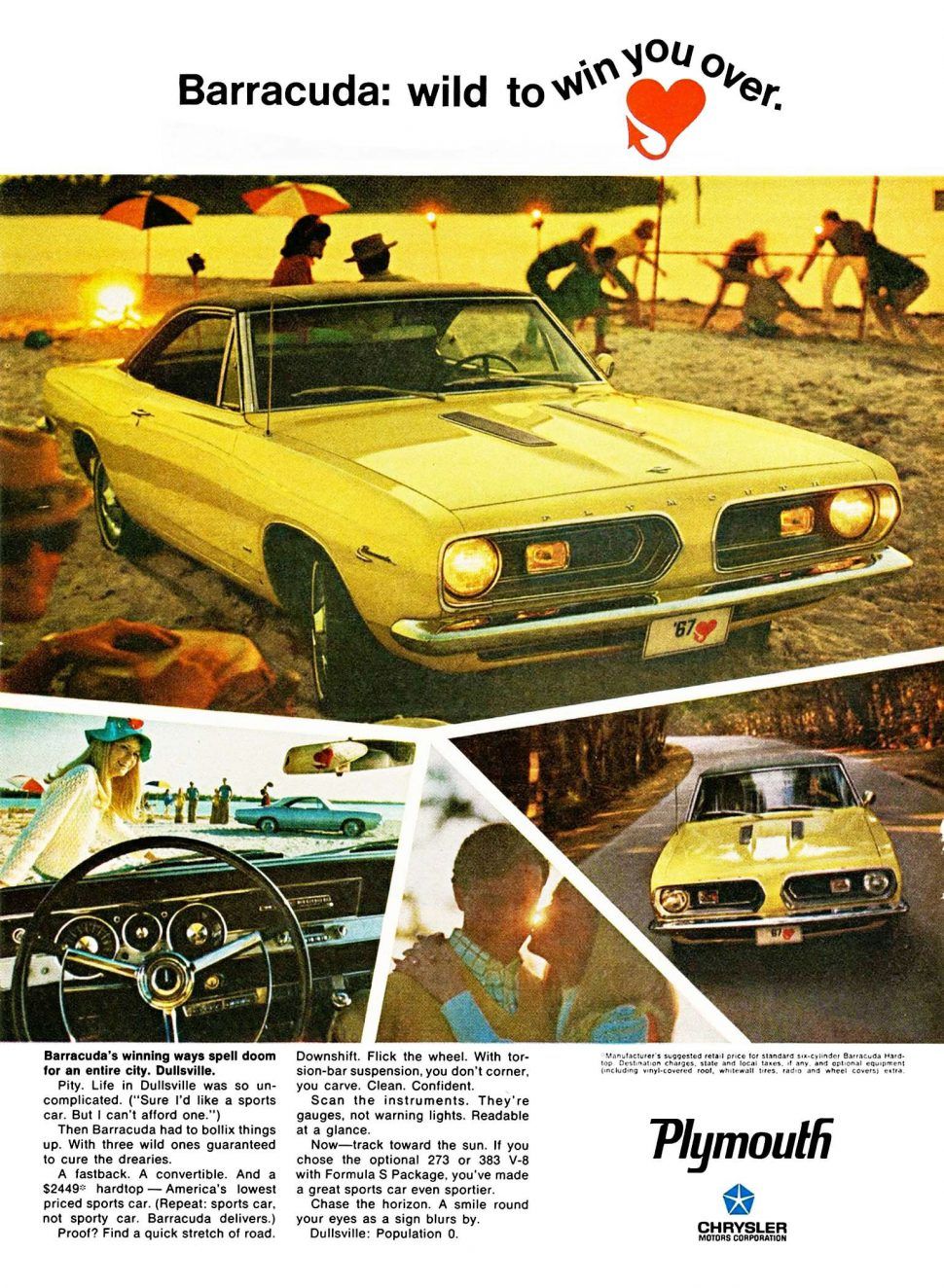 According to Plymouth, the redesigned Barracuda offered an escape from Dullsville. A hardtop and convertible joined the fastback and expanded roofline choices for 1967, and each of them featured new sleek body styling. The 145-hp 225-cu.in. Slant Six and 180-hp 273 V-8 were the base engines. A 235-hp 273 was optional with or without the Formula S package but the new 280-hp 383 big-block required it, and the performance of both engines relegated Dullsville to the rearview mirror.
1968 Chrysler Newport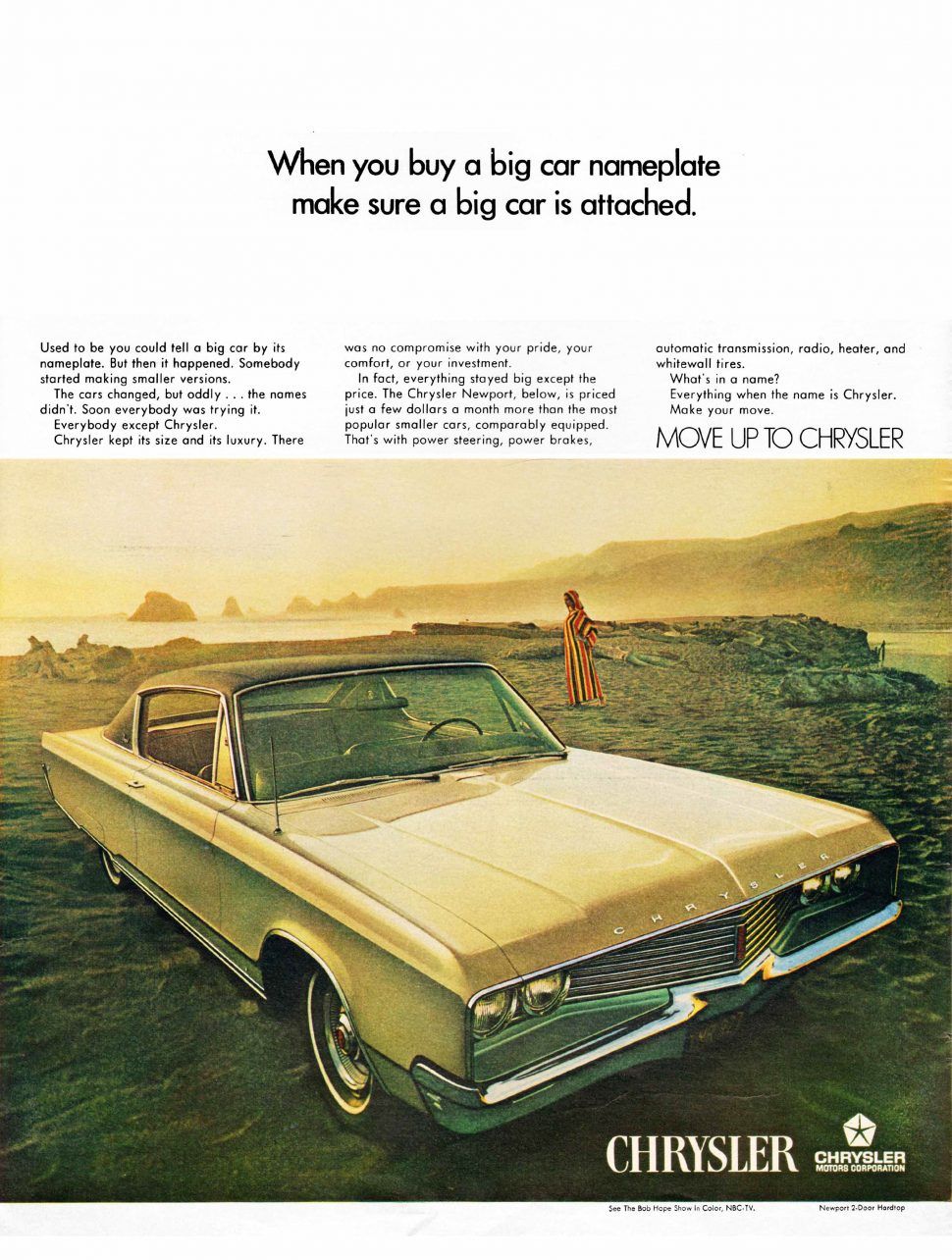 Chrysler returned to the beach with new front and rear styling on its Newport and wanted the buyer to know that it was still a large car and the automaker didn't offer smaller ones with its prestigious nameplate. This ad is much more subdued than the 1967 example above. Bright skies, sand, and surfboards, as well as swimsuit-clad models have given way to a single person who isn't interacting with the car, but instead seems to be in a moment of quiet contemplation on a hazy morning or evening. For 1968, the standard 383 was boosted to 290hp, the optional version was uprated to 330hp and the extra-cost 375-hp 440 returned.
1973 Plymouth Satellite Sebring-Plus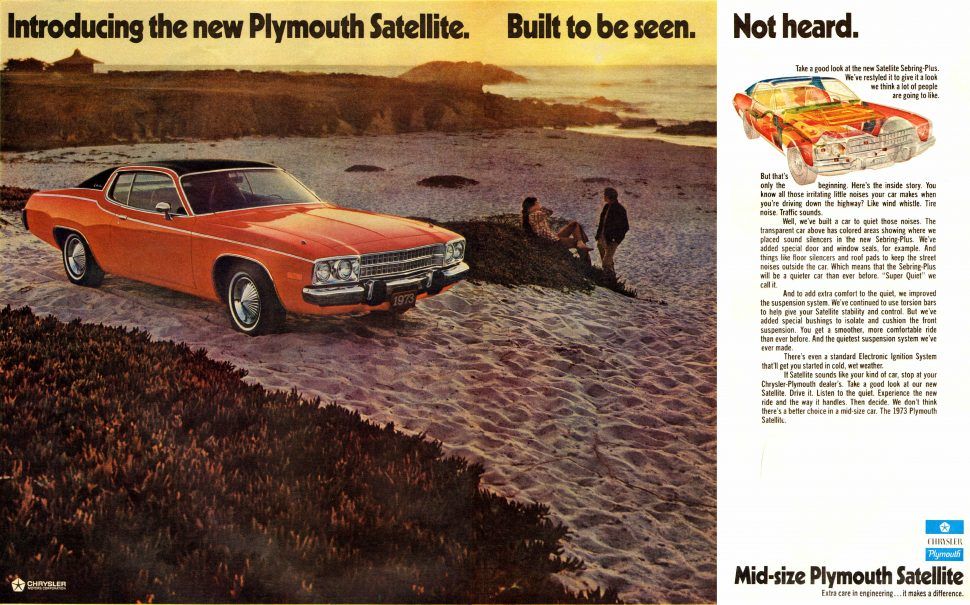 Sunset on the beach with the new Satellite Sebring-Plus, and Plymouth explained that its intermediate had a revised look fore and aft, was quieter than the previous year, and it rode and handled better. The base engine for the Sebring-Plus was a 150-net hp 318 V-8, and the 175- and 260-net-hp 400s were optional. Some of these and additional engine choices were available for its two-door siblings the Satellite, Satellite Sebring, and Road Runner.
1975 Dodge Dart Sport "Hang 10"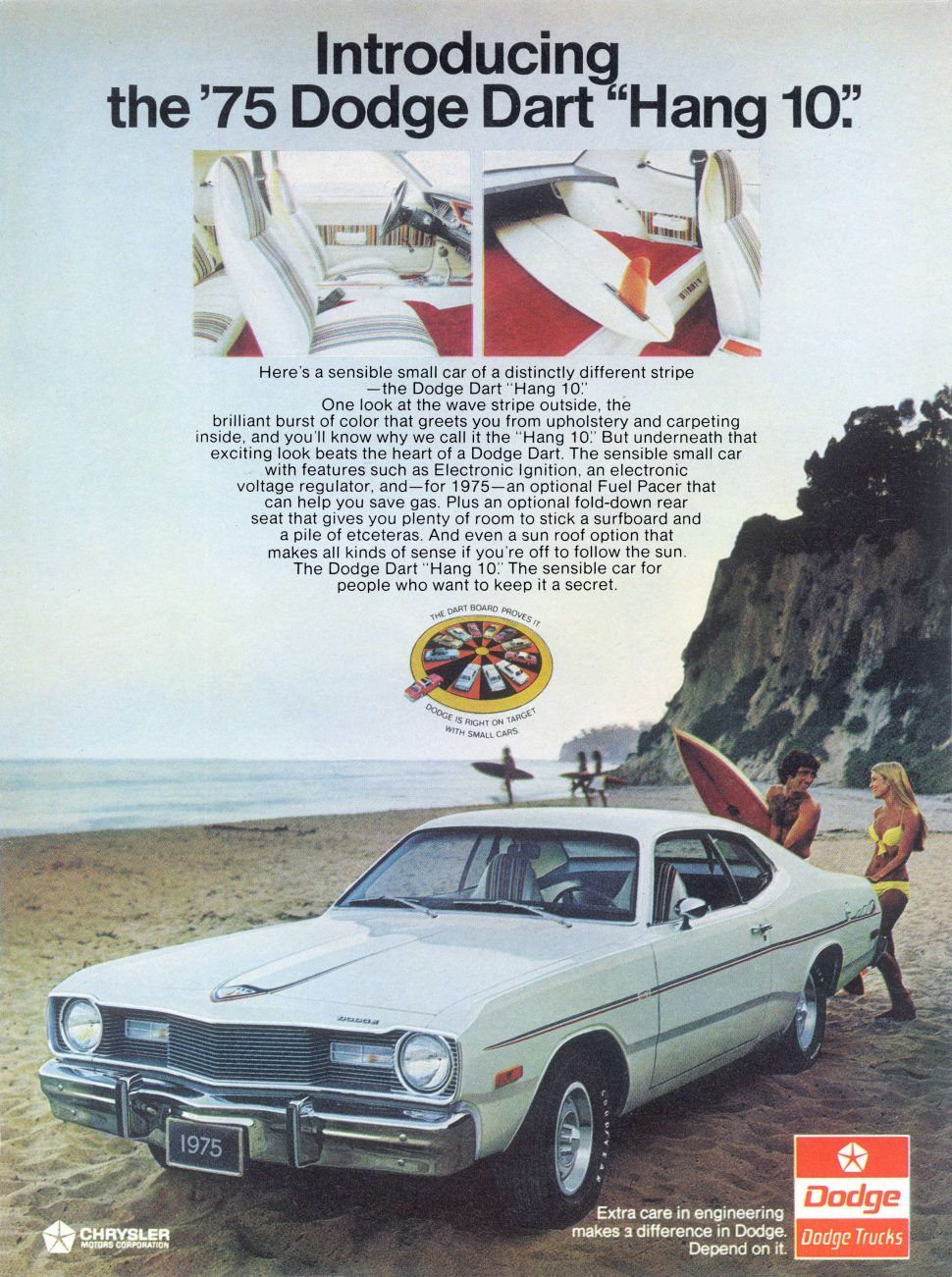 There were cars that looked great posed on the beach, and then there were those that were built to attract buyers who lived or longed for the beach lifestyle. After debuting as a Dodge show car in 1973, the "Hang 10" package arrived for the Dart Sport or Dart 360 Sport for the spring of 1974 and returned for 1975. Borrowing a surfer term for its name, "Hang 10" callouts, stripes, and stylized wave-riding surfer graphics were added to the Eggshell White body. Inside was white vinyl upholstery with multicolored woven inserts on the bucket seats, rear seat, and side panels; orange accents on the dashboard, glove box door, and console; woodgrain cluster trim; and orange shag carpeting. A fold-down rear seat, Rallye wheels, certain available tires, and an automatic transmission were stipulated. A sunroof was optional. Available engines for 1974 were the 105-net-hp 225-cu.in. Slant Six, 150-net-hp 318 V-8, or a 245-net-hp 360. For 1975, the Six dropped 10 net hp, the 318 5 net hp, and the 360 15 net hp.