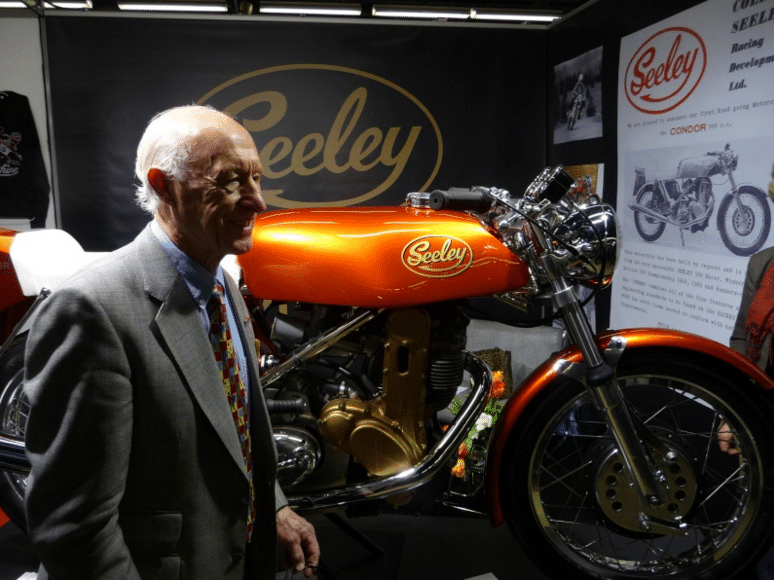 Motorcycle racer and innovative frame designer Colin Seeley, 84, succumbs to illness
We lost a significant figure in both British motorcycle racing and innovative motorcycle design with the passing of Colin Seeley on January 7, after battling a long illness. Born in 1936, Seeley acquired his love for motorcycles riding his father's Vincent Rapide and soon began working as an apprentice at various motorcycle retailers and repair shops. There, he gained experience on many British bike makes and models. Throughout the early 1950s, Seeley repaired motorcycles, which led to his opening a retail operation in 1956. His early suppliers were Zundapp and NSU; however, he later became a dealer for AJS, Matchless, Ariel, Greeves, BMW, and Francis-Barnett. Seeley rode competitively in 1958 and 1959 with Greeves factory support. His sidecar racing career took off when he paired a Matchless G50 race bike with a Canterbury sidecar in 1961, and he and his teammate placed sixth in the Isle of Man TT. He continued to compete in both British and World Championship sidecar racing circuits until 1967, winning the 1964 Dutch TT and placing second in both the 1964 Isle of Man TT and the 1966 French Grand Prix.
Upon his retirement from racing, Seeley built some of the most sought-after motorcycle frames ever designed, using engines from Matchless, AJS and Norton. When the AMC company discontinued these brand names, Seeley bought the remaining parts and tooling from AMC to ensure he could race with these engines after their demise. His custom-built race bikes–using his frames and British H-twin power–won the 1968 Isle of Man TT, and 1968 and '69 Northwest 200. In 1969, Seeley-built motorcycles placed in four of the top ten finishes in the Isle of Man Senior TT. The next year, Tommy Robb, riding a Seeley-built bike, also placed fourth in the 1970 500cc World Championship.
Seely began designing his frames around Japanese engines in 1971 , including Barry Sheene's T500 Suzuki-Seeley, which won the 1971 British Championship. Barry Sheene, Suzuki, and Seeley would pair again famously when Barry won both the FIM 750 Championship and the MCN Superbike Championship in 1973. After his successes in designing race bikes, Seeley produced unique street bikes, including the 1973 Kawasaki-Seeley H2A, 1977 Phil Read Replica Honda, 1979 CB750SS, and 1979 Seeley-Honda TL200 trials bike. His hand was in many a winning bike during the 1980s, and in 1993 he teamed up with Norton to build competition race bikes. That union would lead to the 1994 British Championship. Later, in the 1990s, he paired with Honda and Ducati on many other frame designs, and worked for a few years with Brabham on Formula One race cars.
After the death of his first wife from bone cancer, Seeley began The Joan Seeley Pain Relief Memorial Trust in her honor and worked tirelessly in support of her cause. When he wrote his two-part autobiography, Colin Seeley, Racer and the Rest Volumes I and II, all of the proceeds from the book went to this charity. The book is said to be one of the best racing biographies ever written and is strongly recommended to all motorcycling enthusiasts.
Today, practically any motorcycle with the Seeley name on it brings high praise from riders, and high dollars when rolling across the auction block. The sport has lost a true innovator and unrivaled motorcycle designer in Mr. Seeley. His influence on the sport for over 60 years is a testament to his engineering knowledge, love for speed and his racing passion.