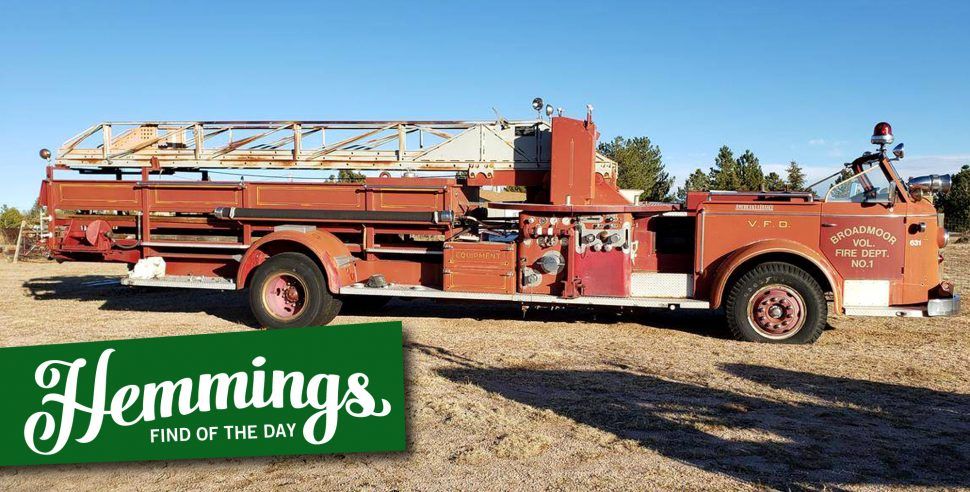 Hemmings Find of the Day: 1954 American LaFrance
In need of restoration 1954 American LaFrance for sale on Hemmings.com. From the seller's description:
The engine still runs, but the truck is in need of some work to get it to the point of driving it. At one time, this truck was a "parade truck" here in Colorado Springs, CO. If you have ever heard of the famous Broadmoor Hotel in Colorado Springs, this truck belonged to the Broadmoor Fire Department many years ago. Their name is still displayed on the doors. The truck needs some serious cleaning up and repairs. The truck has some hoses, but may need some new lines and hoses, belts and new batteries. The brakes will need to be rebuild and the tires will need to be replaced as well. It needs complete maintenance to everything, including the fuel supply. The ladder hydraulics and wench work, but need some serious cleaning. The truck needs a new paint job and the upholstery needs recovered. The truck is not missing any major parts. There are wooden ladders included on the truck as well as the large nozzle that sits on the end of the ladder when extended. The chrome around the truck is in really good condition with no signs of rust anywhere. There are no cracked lights or glass anywhere on the truck. Uncertain as to mileage as the numbers are too faded.
Price
$4,900
Location
Colorado Springs, Colorado
Availability
See more vehicles for sale on Hemmings.com.