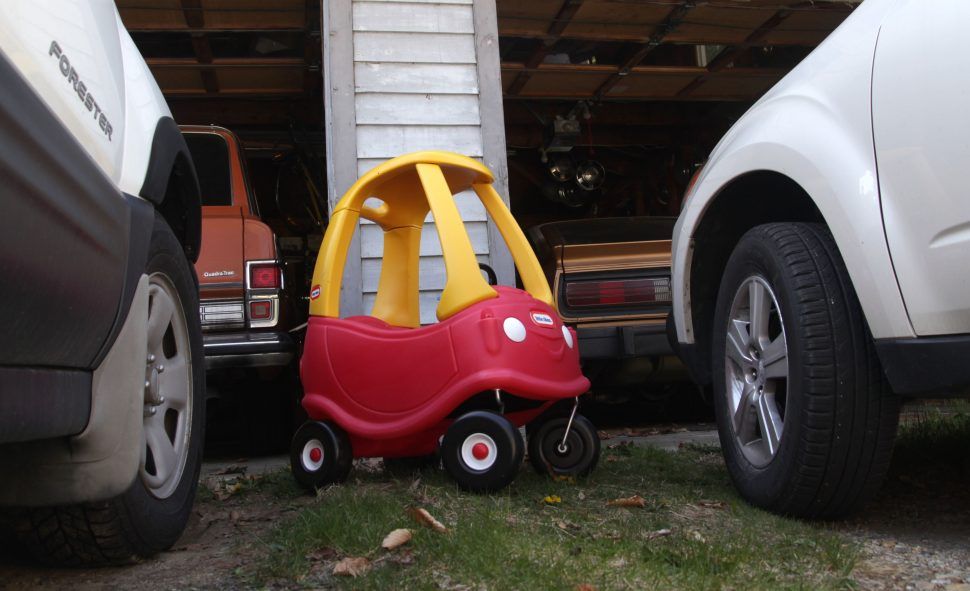 Jim Mariol designed the world's best-selling car, beloved by toddlers for 40 years
It seats just one, has no luxury amenities, sports zero-wheel drive, and its original design didn't change for 20 years. Still, the car that Jim Mariol, a former Chrysler illustrator and Fisher Body Craftsman's Guild winner who died over the weekend at 89, designed – the Little Tikes Cozy Coupe – went on to outsell every car on the market for decades and remains popular to this day, more than 40 years after it was introduced.
Mariol, according to a profile on him in the University of Cincinnati's alumni magazine, always wanted to design cars while growing up. That desire led him to enter GM's Fisher Body Craftman's Guild contest, first as a 16-year-old in 1946, when he took second place in the junior division for the state of Ohio. Then, as a 17-year-old in 1947, the same year Chuck Jordan won the contest's senior division, he entered again. If anything, Mariol's 1947 design–an evidently rear-engined coupe that placed the front-seat passengers just above and behind the front axle–suggested a more forward-thinking vehicle than Jordan's and netted the young Canton, Ohio, native first place in the junior division and a $4,000 prize.
A couple years later, Mariol went on to study industrial design at the University of Cincinnati's College of Design, Architecture, Art, and Planning and study in a co-op program under Chrysler, where he sketched hubcaps, steering wheels, and hood ornaments. Yet a year away from graduation in 1953, the Army drafted Mariol to serve in Korea and, according to the alumni magazine, he never finished his degree afterward.
He did, however, eventually start Design Alliance, a design consultancy firm based out of Cincinnati. Though he and his partners kept it going with miscellaneous design work for Procter and Gamble and other clients, his big break came in 1976 when he added Little Tikes as a client.
Little Tikes, which Tom Murdough founded in 1969 in Macedonia, Ohio (and later relocated to Hudson, Ohio), specialized in infant and early childhood toys and already had a ride-on toy by the mid-Seventies. However, inspired by rolling around his desk in an office chair and by a toy box he made for his son that he could push around, Mariol set about designing a toy that children could ride in that didn't require pedals for forward motion. It had a door and a roof to make kids feel like they were piloting a real car and the tail-heavy design was meant to keep kids from tipping over backward.
He presented his idea to Murdough in 1979 and, as he told the alumni magazine, Little Tikes
immediately began to make molds off of the model that he presented. "I really did the engineering, the whole works," says Mariol, "I felt really good that I could accomplish that end of the business."
With a color change to the high-visibility yellow roof over red body, the all-plastic Cozy Coupe took off. As Mariol told the University of Cincinnati, he worried that it wouldn't amount to much, but not long after the Cozy Coupe launched, he saw a child refuse to get out of one in a store despite the child's mother's protestations.
Mariol later patented a roofless design meant to look like a brass-era automobile and use the Cozy Coupe's basic platform, but the rounded, almost faceless design of the original ended up endearing itself to children and families the world over.
By the early 1990s, media started to pick up on the fact that the Cozy Coupe, which annually sold in the half-a-million-unit range, outsold most popular cars, including the Ford Taurus and Honda Accord. Little Tikes leaned into the claim for its advertising campaigns that read "The best-selling car in America has to be home by bedtime." Rubbermaid, which bought Little Tikes in 1984, left the design alone for the most part until 1999, when its designers switched to a chunkier and sturdier roof structure. The design changed once more, in 2009, but remains unmistakable as Mariol's basic design.
That same year, the Crawford Auto-Aviation Museum in Cleveland added the first Cozy Coupe to its collections amid the 30th anniversary celebration of the car. Mariol, who had retired in the early 1990s amid the Cozy Coupe's meteoric rise to pursue his interest in collector cars, attended as a guest at the ceremony.
The Cozy Coupe, meanwhile, has gone onto become a cultural touchstone. Entire groups of fabricators have taken to customizing and even restoring older examples, partly due to the fact that entire generations have grown up with the cars and shared the Cozy Coupe's simpler pleasures with their own children. As the BBC wrote of the Cozy Coupe in 2014: "For the toy's little pilot it affords a view of the winding road ahead, a first few hundred metres to be covered with joy, wonder and wanderlust."