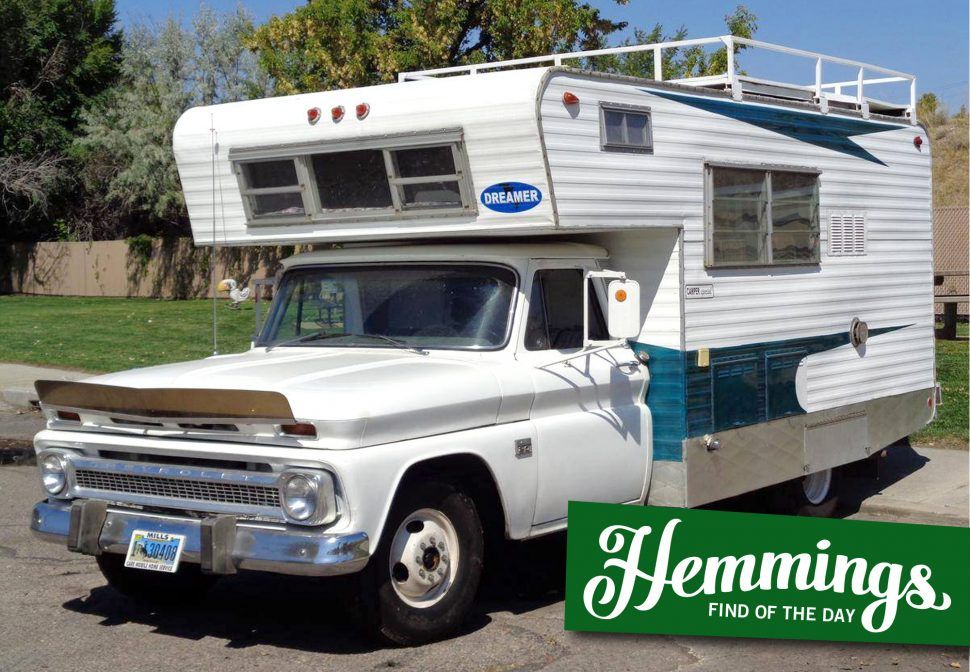 Hemmings Find of the Day – 1966 Chevrolet C20 camper
Single-family ownership 1966 Chevrolet C20 camper for sale on Hemmings.com. From the seller's description:
Dad bought this unit new from our Mandan, ND Chevrolet dealer in 1966. My dad kept this unit in good mechanical shape for our family. Six kids plus Mom and Dad traveled the country and we slept with two in the cab-over bed, two on the table/bed, two or three on the sun deck (depending on weather) and the smallest kids on the floor or truck cab. It was super fun.

I removed the 292 straight 6 engine and replaced it with a 350 V8 engine with electronic ignition. I installed a new clutch and a 4 barrel Edelbrock carbuerator. I cleaned and renewed the entire interior, including the wood paneling (mild restoration – check interior pictures to see good condition). There is extra undercoating to soften the road noise, and sound-deadening material under the hood and under the truck cab carpet. Recent brake job. 16 inch tires with 8 lugs on the wheels, which have had split rims replaced for safety. 4 speed manual transmission with positraction rear end. Totally road-worthy.

Exterior photos show excellent over-all condition of this classic vehicle. Note the water bumpers; two LP doors; heavy-duty ladder to 7′ X 9′ sun deck; 2 covered spare tires; refrigerator (not ice box) vent; Top deck made with 3/4 inch plywood / rubber sealed. Cab photos show the metal dashboard; original guages (all work); AM radio; bench seat; 4-speed manual transmission; intercom system; pass-through from cab to camper area (new vinyl). Pictures of camper interior show wood paneling; dining room table which converts to bed; kitchen sink with high-rise faucet; refrigerator; fan furnace; ceiling vent; bathroom sink; flushing/recycling toilet with shower; double bed; plenty of cabinet space; two big closets; 3-burner stove top and oven; 110 outlets for shore power; 2 radio speakers

No additional work is needed for you to start traveling. It's ready for you to have fun in a classic camper.
Price
$30,000
Location
Casper, Wyoming
Availability
See more Chevrolets for sale on Hemmings.com.