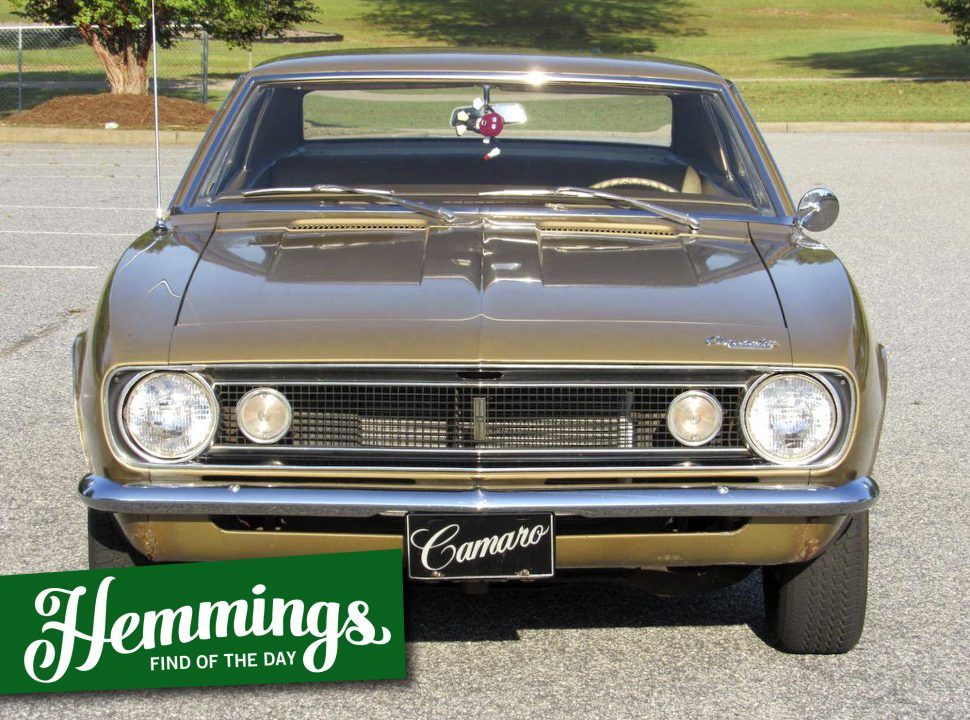 Hemmings Find of the Day – 1967 Chevrolet Camaro
Unrestored 1967 Chevrolet Camaro for sale on Hemmings.com. From the seller's description:
Numbers matching unrestored survivor car. 327 Cubic Inch V8 2 barrel (210 HP) and 2 speed Powerglide transmisson, factory power steering. 41,000 original miles, we are the 3rd owner. We have the owners manual and Protecto Plate. Mechanically the car has been repaired as needed ( i.e new radiator & water pump, points and coil) but no major engine, transmission, suspension or rear end work was ever done. The heads were never redone, we always use a synthetic lead fuel additive and non ethanol gas. This awesome survivor still has 4 wheel drum brakes and the paper insert style canister oil filter. It starts easily, runs smooth, and drives well. The interior condition shows the low mileage and the cars garaged storage during it's life. There are no cracks in the vinyl seats or dash and the carpet is unworn and unstained. The car is listed only as "fair" condition because it needs outer body panels repaired or replaced. The rear of the rear quarter panels show signs of previous Bondo work. The trunk, firewall, inner door frames, shock towers show no or very minor evidence of rust. The hood and trunk lid have dents but are rust free. The front grill, headlights, bumper all are original. The wheel covers are from a 1970 Chevelle, we have the original dog dish covers, one is a bit chewed up. We also have replacement side chrome rocker and wheel well strips. The car has been in our care since 2006, somehow the bodywork fund never seemed to materialize. Show your son or daughter how to do body panel work on a great car at a fair price
Price
$13,000
Location
Greer, South Carolina
Availability
See more Chevrolet Camaros for sale on Hemmings.com.