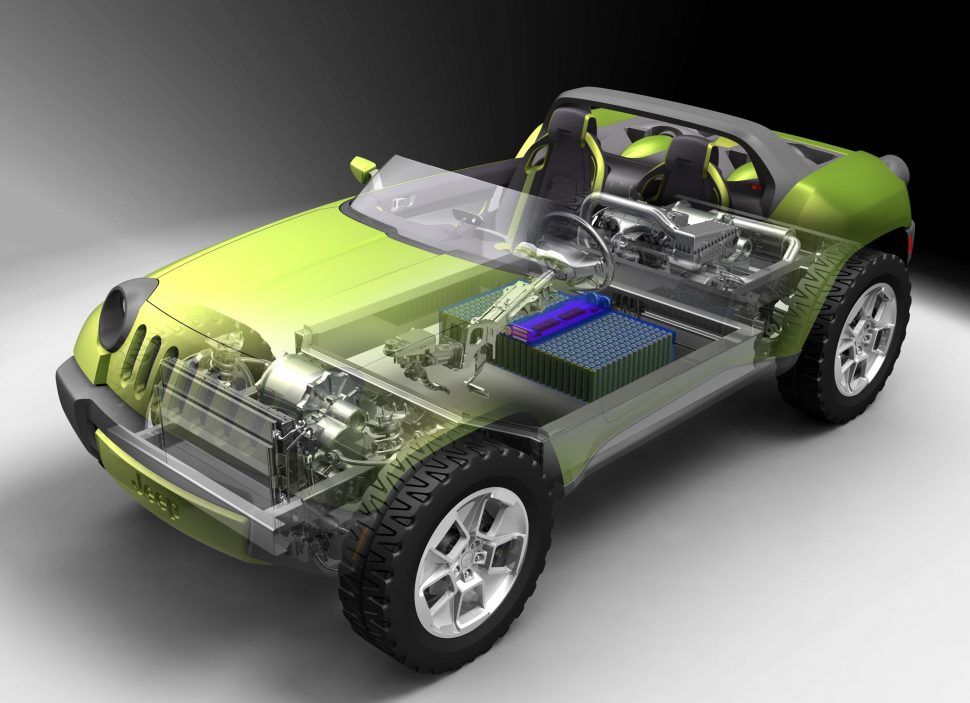 Tread lightly? Jeep has a short history of building electric and hybrid concept vehicles
Since the turn of the century or so, carmakers burnished their green credentials with concept vehicles that were meant in some way to rely on traction motors. Whether hybrid, BEV, or fuel cell, dozens – if not hundreds – have crossed the major auto show floors, claiming drastic improvements in emissions or mileage. Jeep, on the other hand, has only ever shown five such concepts before its recent announcement that it'll start to offer hybrid technology across its lineup.
Up until the late Nineties, Jeep concept vehicles almost entirely focused on exploring new utilizations for four-wheel-drive or new market segments. Which made sense: Jeep's strength lied in almost singlehandedly creating and dominating the off-roading and sport-utility-vehicle segment. The 1992 Ecco concept, ostensibly built as an environmentally friendly baby Jeep, still used a supercharged 1.5L two-stroke direct-injection diesel three-cylinder borrowed from the Neon development program, an engine that was canceled due to high NOx emissions. And besides, diesels weren't new to the brand. Jeep concepts returned to gasoline engines over the next several years.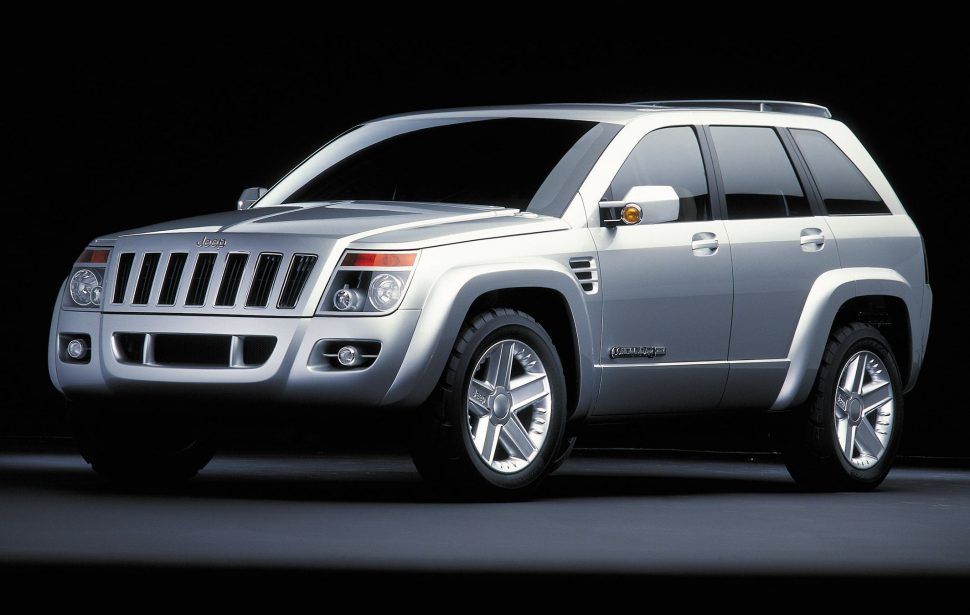 That changed, however, with the 1998 Commander. While the concept did preview Grand Cherokee styling and the Commander nameplate, both of which appeared in the mid-2000s, it also marked Jeep's first foray into alternative-power drivetrains. Specifically, Jeep designers intended it to be a fuel-cell electric vehicle, one that relied on on-board hydrogen reformers to generate the hydrogen rather than store compressed hydrogen within the vehicle.
"Typically, high fuel economy concepts are mid-sized or smaller cars," DaimlerChrysler's Bernard Robertson said on the Commander's introduction. "But we asked, 'Why not put the fuel cell in a larger vehicle that could really use a boost in fuel economy?'"
Electric motors swiped from the 1992 Dodge Epic hybrid minivan project drove both the front and rear axles for full-time four-wheel drive. That part, along with the fuel cell that combined hydrogen and atmospheric oxygen to produce electricity to power the motors, was simple. What took some figuring out was how to generate the hydrogen; Chrysler engineers decided to place a small steam reformer under the Commander's hood, one that converted regular pump gasoline into "hydrogen-rich gases." Though not a new concept – most hydrogen created in industrial processes comes from steam reformation – scaling the system down to fit in an automobile was novel.
Along with lightweight injection molded plastic and active aerodynamics, the Commander reportedly delivered a tenfold decrease in emissions and a driving range of up to 600 miles.
Except, when DaimlerChrysler exhibited the Commander, its engineers hadn't quite figured out how to get the gasoline-powered hydrogen reformation system to work so they left the Commander's electric motors powered by batteries rather than by a fuel cell. Plus, they'd already committed to building a similar system designed to run on methanol. The latter system, while promised for sometime late in 2009, did end up appearing in the Commander 2 concept vehicle, which DaimlerChrysler showed off at environmental and engineering conferences.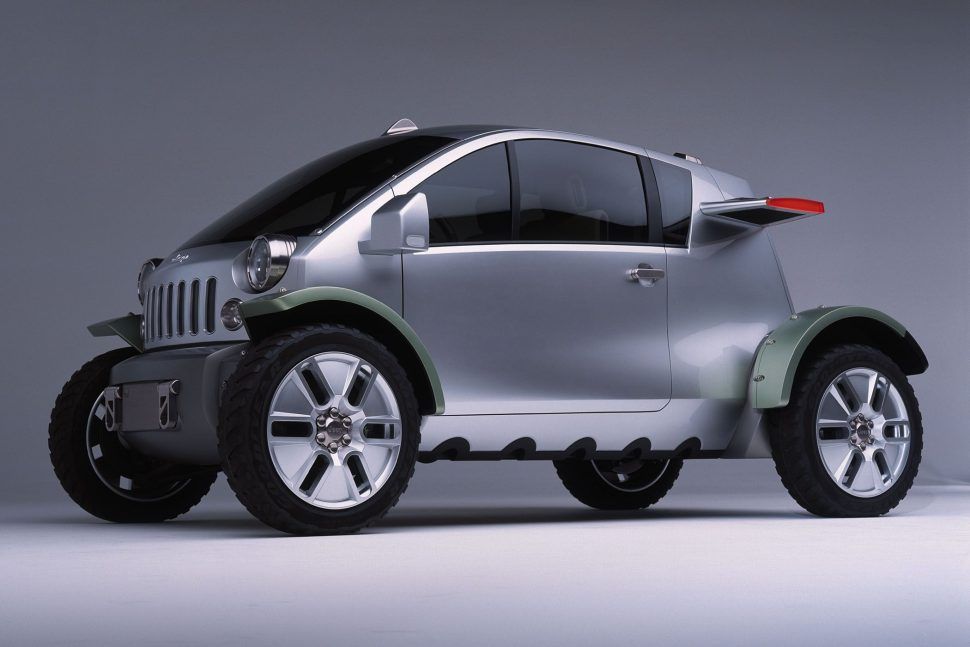 Four years later, Jeep promoted a vision of the somewhat near future (2022) in which fuel-cell electric vehicles were the accepted norm – at least, that's what came across in the press releases for the 2003 Jeep Treo, another concept that used electric motors front and rear to provide four-wheel drive. Yet, even though the methanol-reforming system had been worked out, the Treo ostensibly used a simple on-board hydrogen storage system to supply the fuel cell. Then again, Jeep's materials on the Treo focused more on its drive-by-wire system, 2+1 seating, external mountain bike mounts, and its anime roots than on its drivetrain; while it actually ran, observers at the time were skeptical it had anything more than regular batteries powering the motors.
That said, the see-through seven-slot grille feature was pretty neat.
The 2008 Renegade concept brought along Jeep's first hybrid concept vehicle with its combination of a 1.5L three-cylinder Bluetec diesel engine acting in series with a 16kWh lithium-ion battery pack and dual 100kW motors. On battery power alone, the Renegade had a claimed 40-mile range, but the diesel reportedly extended that range to 400 miles.
"Renegade is targeted at customers in the 'Stylish Green' segment of the marketplace – those who are extremely environmentally oriented, appreciate high-tech and innovation, and enjoy performance combined with style in keeping with their 'green' attitude," Jeep noted in a press release.
While the open doors, speedster body style, interior designed for hosing out, scuba-material seats, and reconfigurable deck lids all seemed like neat features (similar to concepts the Big Three introduced a couple decades prior) and the solvent-less molded composite body panels, soy-based seat foam, and components meant for recycling all were designed to appeal to the same environmentally conscious demographic Jeep had hoped to reach with the Ecco, Jeep never intended the Renegade for production.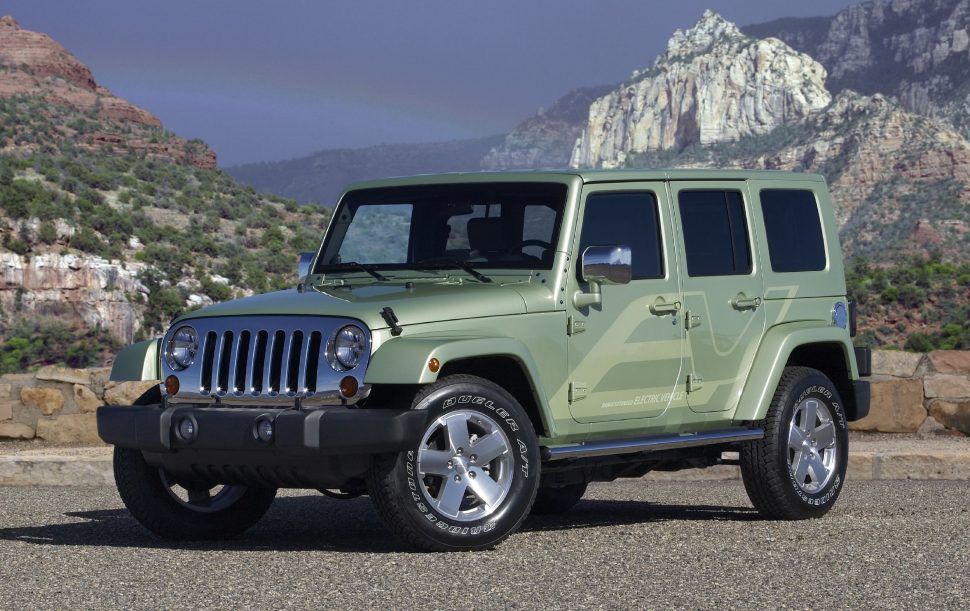 Not long after Jeep showed off the Renegade, however, the brand rolled out a pair of so-called EVs – the Patriot EV and the JK Wrangler-based Jeep EV – as part of Chrysler's suite of ENVI electric vehicle concepts. While described as electrics, the duo used a drivetrain similar to the Renegade in which a lithium-ion battery pack provided 40 miles of range and gasoline engines extended that range to 400 miles, assisted by regenerative braking; the Wrangler was rear-wheel drive only, while the Patriot was front-wheel drive only.
Chrysler formed its ENVI division specifically to create electrified versions of existing products (or, in the case of the Dodge Circuit, to revamp a Lotus Europa into a Dodge-branded electric vehicle) for future production, but by November 2009, Chrysler's new owner, Fiat, scuttled the ENVI division along with any plans to put its vehicles – including the Jeep EV and the Patriot EV – into production.
There rested Jeep's alternative-power plans for another decade. The brand introduced the eTorque mild-hybrid system on the Wrangler in 2019, and earlier this month FCA announced that it'll start to sell plug-in hybridized versions of its vehicles under the 4xe moniker. According to FCA, the 4xe Wrangler, Compass, and Renegade will eventually lead to some level of electrification on all the brand's vehicles by 2022. FCA intends to announce specifications for the 4xe vehicles later this year.