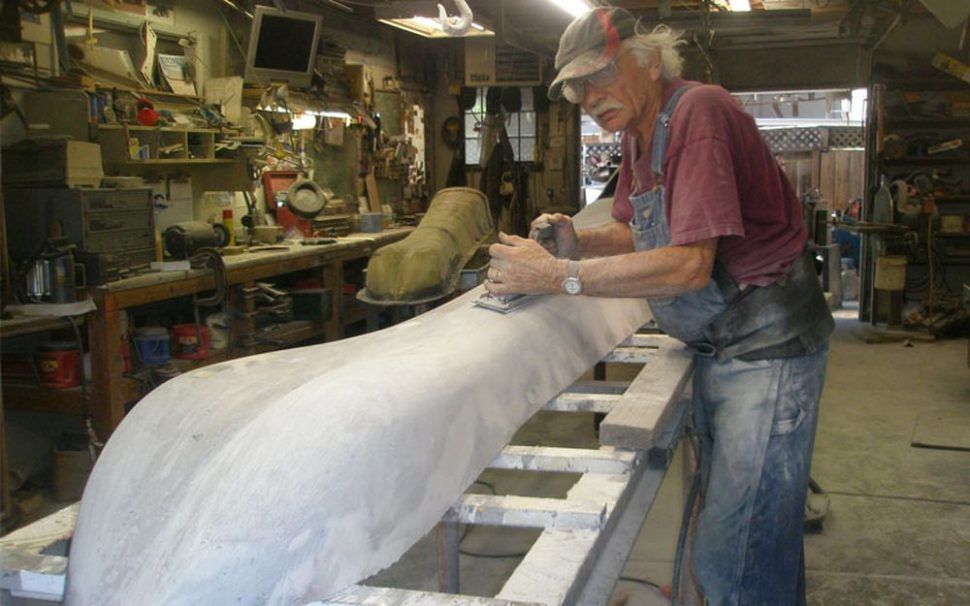 Bonneville 300 MPH Club member Jack Costella dies at 84
For 50 years, Jack Costella returned to the salt at Bonneville in what amounted to a decades-long science experiment, probing the limits of aerodynamics and accepted wisdoms among the go-fast crowd. After more than 130 records – including several in excess of 300 MPH – his part of the great speed experiment has come to an end with his death on Friday at the age of 84.
"I always thought of myself… more as an artist than an engineer," Costella said in his brief autobiography on his website, a sentiment he also expressed in interviews about his land-speed racing career. However, the thought process he outlined in Kelly Loudenberg and Arianna LaPenne's 2011 profile of Costella describes less an artistic endeavor than a scientific questioning of established theories and methodologies, pursued via a series of nearly a dozen long, low, and tiny streamliners dubbed Nebulous Theorem.
"Theory and science and such things are all necessary in our lives, but they're all targets and goals to overcome," he told Loudenberg and LaPenne. "The answers are all there (in aerodynamics books), but it's all up for interpretation."
According to Costella's autobiography, the Northern California native progressed from building model cars and airplanes as a child to dragsters and hot rods in the Fifties and Sixties.
In high school I started getting into dragsters with my first one being a very fast '40 Ford coupe with a 3/8 x 3/8 flathead. Then I built a nitro-burning flathead-powered Crosley with a chopped and shortened slingshot coupe with a fiberglass nose. This was my first introduction to fiberglass. My Crosley took four first place trophies with one being for best looking car. Then I built a series of very small dragsters, which all set records.
His experience building models, planes, and dragsters translated well to a career as a mold maker and prototype builder, first in the fiberglass industry and later for FMC in San Jose. Those skills, in turn, led to decades' worth of tinkering to build ever faster land-speed racing vehicles.
"I had a lot of experience doing things from scratch," he told the San Jose Mercury News. "That fit right into Bonneville racing because I got to express myself."
Costella first ventured to Bonneville in 1969 with a trio of record-setting Bonanza minibikes, which – at speeds of up to 92 MPH – he claimed caused the Southern California Timing Association to change its rulebook to effectively outlaw his bikes. Twenty years later, he built his first Nebulous Theorem, a front-wheel-drive streamliner powered by a twin-turbocharged and fuel injected Honda motorcycle V-4.
That car only lasted a single season; Costella deemed it a failure due to poor handling, set it atop his garage, and went to work on its successor, the rear-wheel-drive Nebulous Theorem II, which set its first record in 1992 in the H/BGS class at 239.696 MPH. More Nebulous Theorems followed – 11 in total, according to Costella's site, most of which entirely enclosed the drivetrain and wheels in accordance with his five Ls principle: little, long, low, light, and languid – as did more records.
Vehicles Costella built – he stopped driving himself in 2006 or so, handing off driving duties to others, including his longtime racing partner Rick Yacoucci – have set a total of 137 land-speed records, reportedly the most by any single builder. Most of those were set under the sanction of the Southern California Timing Association at Bonneville or El Mirage, but at least a couple were FIA/FIM records, and Costella has taken his vehicles as far afield as Bolivia to run in land-speed events.
The majority of those records – 75 of them – were set in excess of 200 MPH. Eight of those 75 exceeded 300 MPH, the fastest of them set in 2018 at 384.657 MPH. His accomplishments over the years landed him in the Bonneville 200 MPH Club, the Bonneville 300 MPH Club (he personally drove one of his streamliners to a record of 304.151 MPH in 1997), and the Dry Lakes Racing Hall of Fame. They also led to an invite for Costella and the Nebulous Theorem III to the Goodwood Festival of Speed in 2007.
Costella, however, was far from content to remain idle after setting records. Streamliners that he built set records as recently as last year, and since retiring in 1997 he seemed to spend every waking moment either at the salt racing or in his garage building another racer.
"If I ever admit I'm half-done on a project, it's like giving up," he told Loudenberg and LaPenne.